By Seth Eggert, Staff Writer
A race changing caution and timing the strategy right earned Parker White the win in the 2022 running of the Hard to Drive 300 at the virtual Darlington Raceway.
Battling for the Lead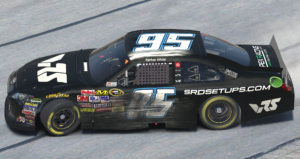 After a hectic start to the 300-mile scheduled race, a long green flag run started just after lap 40. A 150-lap green flag run saw multiple rounds of green flag pit stops. The tire wear also saw many drop off the lead lap.
A caution with 30 laps to go nearly trapped over half of the remaining field a lap down. Of the 39 starters only 21 were still on track and only 10 were on the lead lap as the caution fell in the middle of green flag pit stops.
With the intensity level ramped up, a case of cautions breeding cautions came about. Jake Nichols, who dominated the race, had to fend off Blake Reynolds, White, and Marcus Lindsey on restart after restart.
The cautions did aid Bobby Zalenski. After receiving a pit road penalty, the polesitter and eNASCAR Coca-Cola iRacing Series driver had been trapped a lap down throughout much of the second half of the race. Zalenski received the free pass in his No. 18 Interstate Batteries Toyota Camry.
Overtime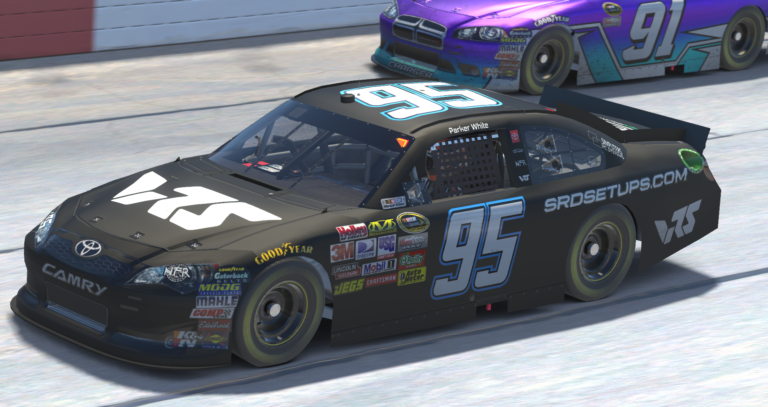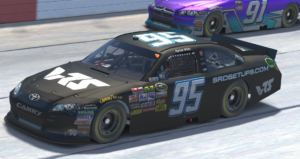 Ultimately, the race came down to triple overtime. Prior to the first attempt both Blake McCandless and Collin Bowden opted to take two tires. While Bowden struggled on the restart, McCandless held off Nichols prior to the next caution.
On the ensuing restart, Nichols spun his tires. That allowed White's No. 95 SRDSetups.com Toyota Camry to pounce. White took second and narrowly nosed ahead of McCandless in Turns 3 and 4 before the next caution waved. A caution immediately in the final attempt at overtime ended the race, handing White the victory.
"I honestly did not expect that," White said. "Obviously we had to pit (before the first overtime), we had fallen off about two seconds. Came down, got four tires and under fueled it. That probably helped me out with the launch to get past Jake. From there it was just making sure that I nailed my restarts because that was everything.
"On that second green-white-checkered Jake spun his tires. That allowed me to just drive right on by. I was trying to get by Blake (McCandless) as fast as I possibly could. If I hadn't then he would have won the race because he would have been the leader on that last overtime."
Nichols, McCandless, Tyler Garey, and Bowden completed the top-five. Shawn Butler, Zalenski, Gabriel Mauricio, Casey Tucker, and Lindsey rounded out the top-10 finishers.
Strategy Games
Outside of a pit cycle around the halfway mark of the race, White didn't take the lead until the second of three overtime attempts. The eNASCAR Contender iRacing Series driver opted to play the strategy game throughout one of the toughest special events of the year.
While most of his competitors were short pitting to maintain fresh tires, White preferred to split the runs as evenly as possible. The strategy may have cost him half a second short-term, but he regained the time long-term.
"Good execution at the end," White explained. "I played some strategy during the race. I was going to split (the runs) up evenly. Everyone else was short pitting. I made up a lot of time on one of those green runs to Blake (Reynolds). He had pit almost 10 laps before me. Everything cycled out to where it was supposed to.
"I was around two to three seconds behind Blake before the cycles started. When it ended, I was about three and a half (behind). Then we got that caution with about 30 to go. I was around sixth and decided I had to get through the field as fast as I could.
"Got up to second behind Jake and he just seemed really tight through the center of Turns 3 and 4. That's where I was able to gain most of my time, but I wanted to set up the pass out of Turn 2. I was just trying to keep the tires on it. That last caution is what won me the race. Just happy I was able to play the strategy right and get it done."
Increasing the Difficulty
Adding to the difficulty of 'The Track Too Tough to Tame,' the Hard to Drive 300 once again featured the unrestricted Gen 5 NASCAR stock cars. The high power and lower grip cars on a track known for high tire wear meant drivers were challenged to conserve their Goodyear tires as best as they could.
The race coincidentally came on the eve of Goodyear Racing announcing their extension as the sole tire supplier of NASCAR.
Unlike the previous two editions of the race, which ran at the Legacy Atlanta Motor Speedway, this year's event moved to Darlington. The Hard to Drive 300 will shift from track to track as promoter Bryan Blackford explained post-race. This is a way to continue to test some of the best oval drivers that iRacing has to offer .
Though Blackford will leave it up to the competitors to vote on where the 2023 race will take place.
The results:
1. 95-Parker White [11], 2. 91-Jake Nichols [9], 3. 71-Blake McCandless [35], 4. 26-Tyler Garey [26], 5. 97-Collin Bowden [6], 6. 32-Shawn Butler [25], 7. 18-Bobby Zalenski [1], 8. 04-Gabriel Mauricio [28], 9. 82-Casey Tucker [22], 10. 1-Marcus Lindsey [3], 11. 66-Blake Reynolds [7], 12. 67-Conor Horn [27], 13. 6-Justin Smith [16], 14. 81-Jayden Hopp [13], 15. 109-Phillip Cecil McCandless [30], 16. 028-Jacob Case [39], 17. 00-Larry Pace [18], 18. 99-James Holtzer [29], 19. 10-Liam Brotherton [4], 20. 13-Daniel Buttafuoco [8], 21. 85-Nicholas Coressel [37], 22. 42-Dylan Ault [12], 23. 21-Allen Boes [10], 24. 24-Brad Wright [14], 25. 40-Ryan Carwile [38], 26. 34-Matt Bussa [2], 27. 41-Josh Parker [19], 28. 8-Braxton DeWeese [34], 29. 08-Ralph Hutchison [36], 30. 75-James Gibson [20], 31. 16-Thomas Lewandowski [33], 32. 55-Vicente Salas [5], 33. 31-Nathan Jurgenson [24], 34. 45-Eric Smith [32], 35. 50-Gabe Wood [31], 36. 80-Brandon Kettelle [15], 37. 4-Nate Stewart [21], 38. 58-Michael Frisch [17], 39. 39-Aiden Kirker [23].
Lead Changes: 16 among eight drivers.
Lap Leader(s): Bobby Zalenski 1-37, Collin Bowden 38-49, Jake Nichols 50-52, Bobby Zalenski 53-90, Jake Nichols 91-96, Blake Reynolds 97-100, Parker White 101-107, Tyler Garey 108-109, Collin Bowden 110-119, Jake Nichols 120-130, Blake Reynolds 131-165, Jake Nichols 166-192, Phillip Cecil McCandless 193, Jake Nichols 194-218, Phillip Cecil McCandless 219, Blake McCandless 221-227, Parker White 228-234.
Laps Led: Bobby Zalenski 76, Jake Nichols 71, Blake Reynolds 39, Collin Bowden 22, Parker White 14, Blake McCandless 8, Tyler Garey 2, Phillip Cecil McCandless 2.
Hard Charger(s): 71-Blake McCandless (+32).
Caution Flags: 11 for 40 Laps.
Margin of Victory: Under Caution.
Time of Race: Two hours, 33 minutes, 52.509 seconds.
Average Speed: 124.638 MPH.
Pole Winner: 18-Bobby Zalenski, 30.553 seconds, 160.953 MPH.
Fastest Lap: 95-Parker White, Lap 198, 30.594 seconds, 160.737 MPH.
Failed to Qualify: Jordan Coren, Aron MacEachern, Davis Warren, Jason Fellenbaum, Donovan Strauss, Tommy Gossett, Chris Henion.
*Race Scheduled for 220 Laps, Extended due to Overtime*