By Seth Eggert, Staff Writer
Avoiding the multitude of accidents, Blake McCandless took the win in the Legends of the Future Series' Holly Farms 200 at the virtual North Wilkesboro Speedway.
Avoiding the Chaos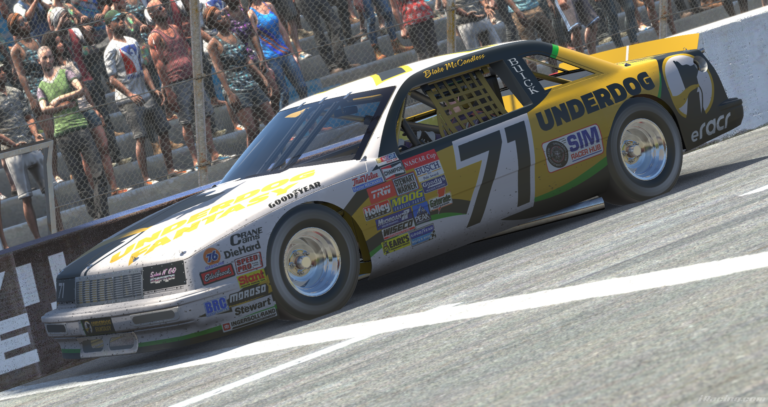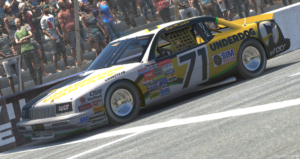 McCandless' decision to pit under an early caution and then again shortly after halfway proved to be a difference maker. The virtual No. 71 Underdog Fantasy Buick somehow escaped multiple restart incidents without a scratch.
In one incident the eNASCAR Coca-Cola iRacing Series commentator did get a shot in the rear bumper. McCandless maintained control while Alex Kolonics spun from inside the top-10. The wreck swept up multiple other drivers while the No. 71 Buick cruised away.
The promoter of multiple iRacing special events moved back into the lead as those ahead of him on a different strategy pitted under caution. As the race struggled to find a rhythm, restarts proved to be important for McCandless. Despite on worn tires in the closing laps, he held off Ryan Andrew, Michael Frisch, and Kevin McAdams.
Overtime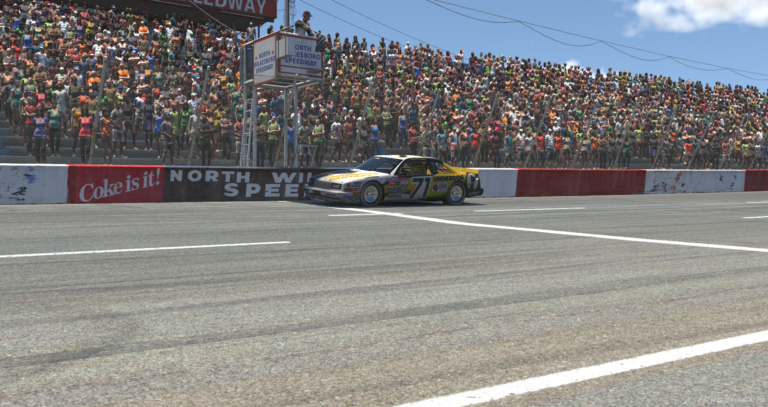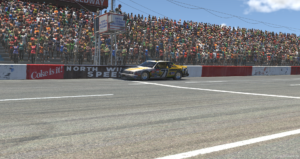 In overtime, Frisch missed the corner, allowing McCandless to pull away. As the field crashed behind him, the Limited Late Model driver took the win by 0.738 seconds over McAdams. Frisch, Andrew, and Phillip Cecil McCandless completed the top-five.
"It was a pretty fun race when we got to race," Blake McCandless said. "We had that one green flag run there. We were able to see what we wanted to do, had some long run speeds. This was fun but it's a difficult car, a difficult track to run at.
"It was all going to come down to when you were going to pit last. I had it in the back of my mind that as soon as I knew you could make it to the end, which was about 70 to go, we took our last set of tires. We filled up on fuel and couldn't made it on fuel at that point but with all of the cautions we were okay. Luckily we picked the right time to pit and raced our when through the field."
Notables
Sean Peleg, Chris Jahnke, Dylan Kehm, polesitter Dylan Roberts, and Matthew Zwack rounded out the top-10. Matt Taylor ran the fastest lap of the race on lap seven. Taylor finished 34th after being swept up in one of the 20 cautions throughout the race.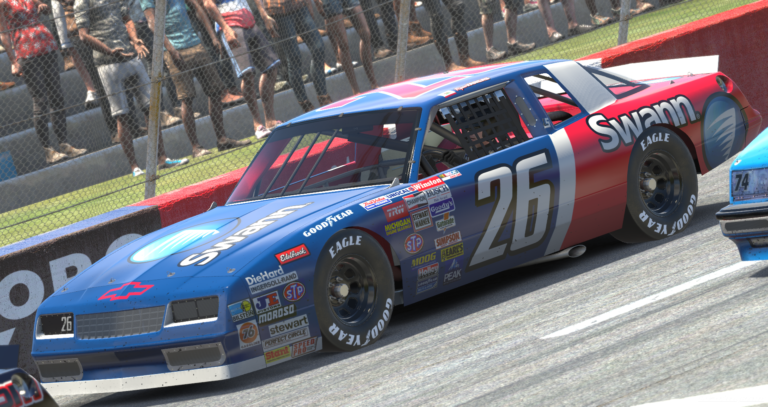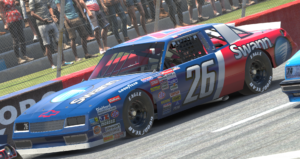 NASCAR Xfinity Series driver Ryan Vargas made his Legends of the Future debut in the No. 026 Swann Security Chevrolet. His debut was a bit of a roller coaster. Vargas qualified 23rd and often reached the top-10 only to be swept up in an accident.
Vargas' highlight of the night came just past halfway. Contact sent the NASCAR Next alum spinning through the infield on the backstretch. Vargas avoided the inside wall and rejoined the race with the car facing the right direction.
The NASCAR Drive for Diversity alum joked, "Turn right to go left," in the driver chat, an ode to 'Doc Hudson' from the movie Cars.
My @LOTF_Series debut did not go to plan, but fun times were had.🫣

Channeled my inner Doc Hudson before working my way back up into top-10 contention before getting turned.

Fun night!💪🏼#eNASCAR | @swannsecurity pic.twitter.com/KCyBxZUin8

— Ryan Vargas (@RyanVargas_23) December 2, 2022
No Bull Five
The Holly Farms 200 was also a 'No Bull 5' qualifier race. Taking inspiration from the NASCAR Winston Cup Series promotion that ran from the 1980s through the early 2000s, the top-five finishers are eligible for a bonus if they win the next race.
Next for the Legends of the Future Series is a 200-lap race at Legacy Atlanta Motor Speedway on Thursday, December 8. The race will be streamed live on Twitch and then available on demand the next day.
The results:
1. 71-Blake McCandless [9], 2. 26-Kevin McAdams [26], 3. 58-Michael Frisch [13], 4. 8-Ryan Andrew [10], 5. 109-Phillip Cecil McCandless [28], 6. 17-Sean Peleg [18], 7. 14-Chris Jahnke [17], 8. 9-Dylan Kehm [36], 9. 74-Dylan Roberts [1], 10. 78-Matthew Zwack [24], 11. 023-Michael Rosero [37], 12. 23-Ben Bafford [7], 13. 99-Michael Cosey Jr [27], 14. 04-Gabriel Mauricio [2], 15. 83-David Brown [21], 16. 79-Danny Thomson [34], 17. 97-Jackson Von Volkinburg [33], 18. 70-Davis Warren [30], 19. 55-Chris Wetz [20], 20. 924-Ian Plasch [25], 21. 80-Brandon Kettelle [30], 22. 49-Art Rymer [38], 23. 63-Logan Helton [6], 24. 95-Chandler Carroll [41], 25. 67-Andrew Schwartz [22], 26. 026-Ryan Vargas [23], 27. 39-Daniel Faulkingham [4], 28. 2-Chris Davis [40], 29. 22-Alex Kolonics [8], 30. 60-Tyler Dubosh [14], 31. 32-Shawn Butler [5], 32. 09-Mitchell Riggs [15], 33. 53-Justin Melillo [35], 34. 98-Matt Taylor [32], 35. 05-Dylan Dreiling [39], 36. 86-Tyler Garey [12], 37. 76-Quami Scott [3], 38. 041-Josh Parker [16], 39. 06-Spencer Burns [29], 40. 82-Kyler Wynn [19], 41. 044-J.D. Willis [31], 42. 33-Bryan Blackford [42], 43. 81-Jon Adams [43].
Lead Changes: Nine among eight drivers.
Lap Leader(s): Dylan Roberts 1-39. Daniel Faulkingham 40-63, Tyler Garey 64-88, Dylan Kehm 89-94, Blake McCandless 95-126, Alex Kolonics 127-140, Michael Cosey Jr 141-152, Phillip Cecil McCandless 153, Michael Cosey Jr 154-168, Blake McCandless 169-203.
Laps Led: Blake McCandless 67, Dylan Roberts 39, Michael Cosey Jr 27, Tyler Garey 25, Daniel Faulkingham 24, Alex Kolonics 14, Dylan Kehm 6, Phillip Cecil McCandless 1.
Hard Charger(s): 14-Chris Jahnke and 023-Michael Rosero (+26).
Caution Flags: 20 for 103 Laps.
Margin of Victory: 0.738 seconds.
Time of Race: One hour, 41 minutes, 56.866 seconds.
Average Speed: 73.945 MPH.
Pole Winner: 74-Dylan Roberts, 19.948 seconds, 112.793 MPH.
Fastest Lap: 98-Matt Taylor, Lap 7, 20.391 seconds, 110.343 MPH.
Failed to Qualify: Ryan Nawrocki, Tom Miller, Cody McCorkle, Terry Murphy, Cole Fralick, Adam Martin, Mike Rasimas, Jake Poulin, Lucas Cram, John Gorlinsky.
*Race Scheduled for 200 Laps, Extended Due to Overtime*