By Seth Eggert, Staff Writer
CHARLOTTE, N.C. – Competing on stage for the first time, in both the eNASCAR Playoffs and Championship Four for the first time, Casey Kirwan captured the 2022 eNASCAR Coca-Cola iRacing Series championship.
Home Field Advantage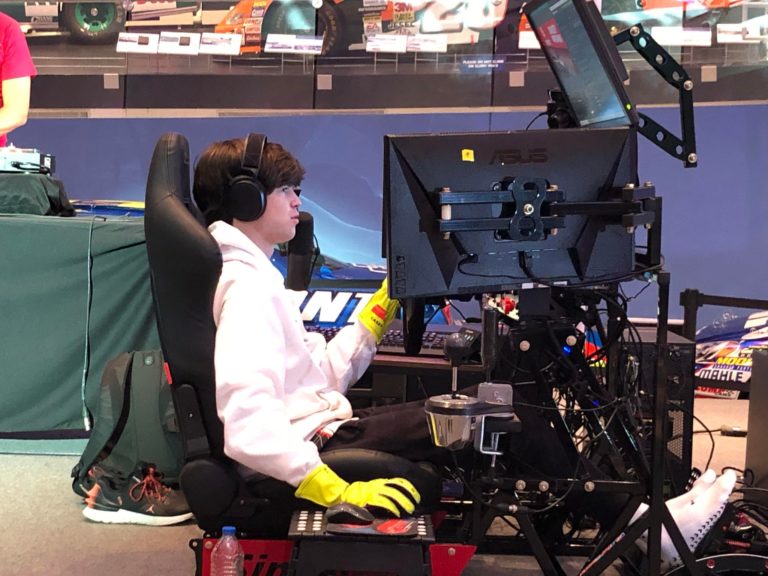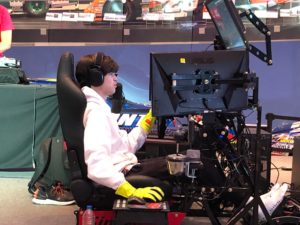 Kirwan qualified the worst of the eNASCAR Championship Four drivers. However, the driver of the virtual No. 95 XSET Chevrolet Camaro ZL1 didn't let that deter him. Aiming as far to the inside as he could, Kirwan performed his best Brad Keselowski impression, skirting the inside wall.
The Matthews, N.C. native had a leg up on his competitors, racing on his own iRacing rig and being able to drive 20 minutes from home to compete on stage at the NASCAR Hall of Fame. Though Graham Bowlin had previous experience from the Carolina eSports Hub's Pro Battle earlier this year.
Game-Changing Pit Stops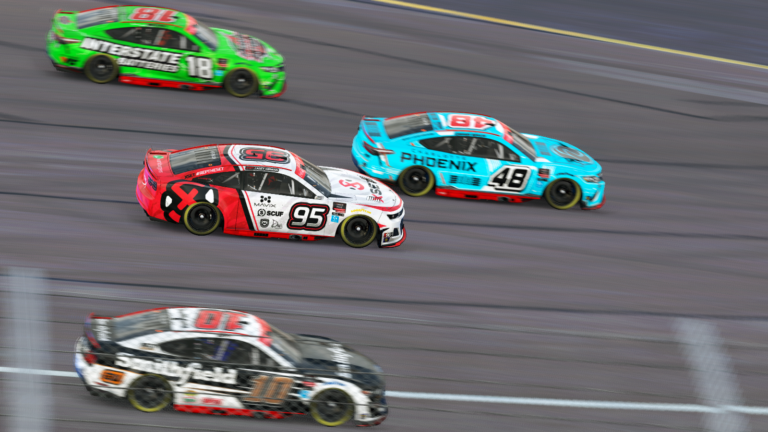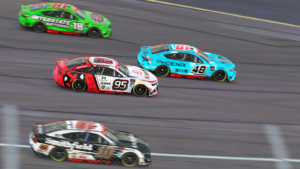 While Kirwan jumped up from seventh to third on the opening lap, he was still behind two of his Championship Four competitors, Bowlin and Bobby Zalenski. Once the race at the virtual Phoenix Raceway found its' footing, Zalenski was the class of the field.
The virtual No. 18 Interstate Batteries Toyota Camry gapped the field. Just before a round of green flag pit stops would have started, the caution waved, bringing the field to pit road.
Unfortunately for both Steven Wilson and Zalenski, fate drew them a bad hand. Wilson slid through his box and took two tires. Meanwhile the Joe Gibbs Racing driver had a slow pit stop.
Battle for the Title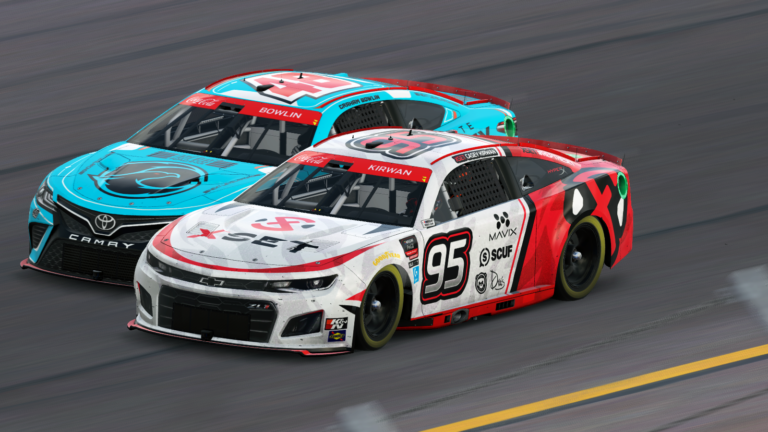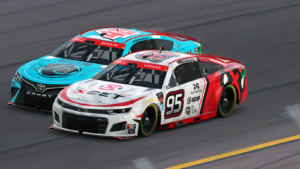 While the eNASCAR Championship Four drivers battled four-wide on the restart, Wilson's old tires forced the Stewart-Haas eSports driver to fade. Bowlin's No. 48 Charlotte Phoenix Toyota Camry also faded on the long run.
With Zalenski stuck in traffic, Kirwan pounced. Driving the No. 95 for Cars' 'Lightning McQueen,' he found the speed and took the lead in the championship. Kirwan leaned on both Zalenski and Bowlin, in an intense battle before leaving the duo behind.
When I first approached @CaseyKirwan23, the only condition was he wanted to drive the number 95. Now look at him 🏆 #Kerchoo #WorldChampions #RepTheSet pic.twitter.com/gx5oyVMj9d

— Anthony Alfredo (@anthonyalfredo) October 26, 2022
Kirwan opted to settle into second in the race instead of challenging leader Leahy, one of Zalenski's alliance drivers. Ultimately, he took the checkered flag second, just over a second behind Leahy, winning the championship, $100,000, and the Dale Earnhardt Jr. Trophy in the process.
"It's crazy, this being my fifth year," Kirwan admitted. "I had never even made the playoffs before. You never know if you'll ever get the opportunity. Last year, this year have been career years for me. That's part of the reason to savor tonight because you never know, you may have speed the rest of your career and it never work out. (eNASCAR champions) is an elite list of people. To be on the list now, forever be a champion, it's pretty incredible."
Champion! 🏆

@CaseyKirwan23 wins 2022 eNASCAR Coca-Cola iRacing Series Championship! pic.twitter.com/dHmRsIYcux

— NASCAR (@NASCAR) October 26, 2022
Racing at the Hall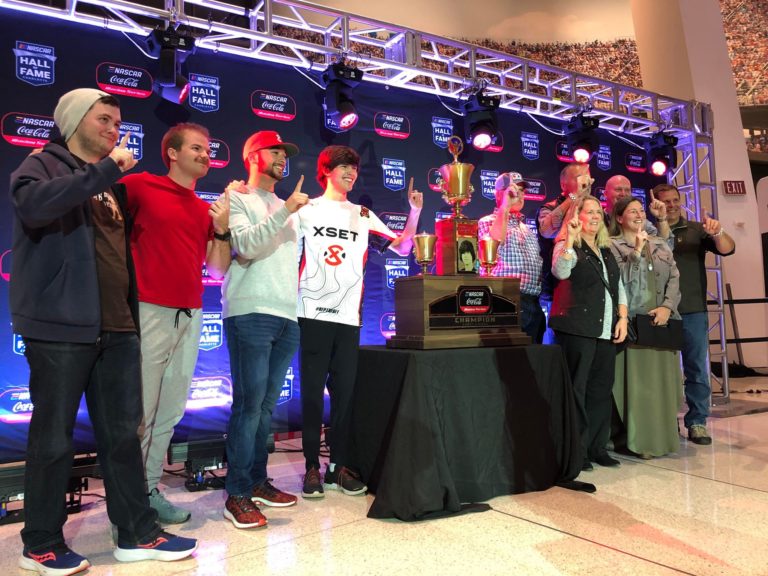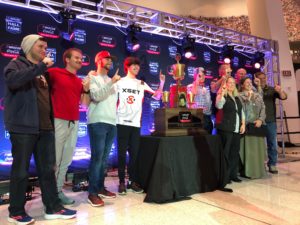 The event at the NASCAR Hall of Fame marked the first officially NASCAR and iRacing promoted LAN event for the eNASCAR Coca-Cola iRacing Series. Monday Night Racing, the Carolina eSports Hub, and others have held similar events in the past.
Between NASCAR and iRacing dignitaries, friends, family, and NASCAR fans, the event had an estimated 100-150 people in attendance.
"It's super special to do it in person," Kirwan explained. "It's crazy how everything worked out. I don't think it's a coincidence that the year I switch to the 95 that I win. Everything just worked out perfectly. The way the final restarts were I just knew I had to be aggressive to get in the right lane. I couldn't even remember what three months ago was like. It's been such a packed year with so many cool things. Part of me going into this I thought that it would be super cool to win.
"Obviously it's super competitive. It's been the best year for me in my career across the board. I've won more races (inside and outside of eNASCAR), big races. This is just really cool to top it off this year. It's wild, been an insane year. It's going to be crazy to look back on all of this."
Notables
Zalenski finished third with Logan Clampitt in his final race fourth and Ryan Luza fifth. Blake Reynolds finished his final eNASCAR race in sixth with Michael Conti, Garrett Mantes, Dylan Duval, and Femi Olatunbosun rounding out the top-10.
Pole winner and Championship Four contender Bowlin finished 18th. Wilson finished 22nd.
Duval's top-10 and Wilson's 22nd-place finish was enough for Stewart-Haas eSports to capture the Team's Championship. The duo held off XSET's Kirwan and Luza, and Jim Beaver eSports' Reynolds and Michael Guest by five and six points respectively.
Rookie Battle
Williams eSports' Donovan Strauss took home the first official Rookie of the Year honors. Strauss finished 20th in points, also avoiding relegation. He was the only rookie to do so.
Brian Mercurio finished second in the rookie standings, 23rd overall, 28-points behind Strauss. Briar LaPradd was third, 25th overall, 37-points back. The rest of the 2022 rookie field finished outside the top-30.
Relegation
Four-time eNASCAR Coca-Cola iRacing Series champion Ray Alfalla finished in 20th. Leahy's win bumped Alfalla out of the top-20. The driver of the No. 51 Toyota Camry was relegated to the eNASCAR iRacing Road to Pro Qualifying Series by a nine-point margin.
NASCAR Xfinity Series and Camping World Truck Series drivers Parker Retzlaff and Kaden Honeycutt also finished below the relegation line.
The next round of the eNASCAR iRacing Road to Pro Qualifying Series featuring the virtual NASCAR Xfinity Series cars begins next month.
The results:
1. 45-Keegan Leahy [3], 2. 95-Casey Kirwan ($100,000) [7], 3. 18-Bobby Zalenski ($25,000) [2], 4. 97-Logan Clampitt [8], 5. 4-Ryan Luza [36], 6. 15-Blake Reynolds [11], 7. 8-Michael Conti [24], 8. 31-Garrett Manes [29], 9. 41-Dylan Duval [5], 10. 79-Femi Olatunbosun [17], 11. 3-Corey Vincent [22], 12. 75-Matt Bussa [21], 13. 9-Michael Guest [25], 14. 23-Mitchell deJong [30], 15. 16-Blade Whitt [31], 16. 42-Darik Bourdeau [35], 17. 43-Kollin Keister [15], 18. 48-Graham Bowlin ($15,000) [1], 19. 24-Cody Byus [10], 20. 51-Ray Alfalla [23], 21. 40-Dylan Ault [34], 22. 10-Steven Wilson ($10,000) [4], 23. 21-Garrett Lowe [20], 24. 5-Zack Novak [16], 25. 17-Kaden Honeycutt [37], 26. 36-Brian Mercurio [26], 27. 2-Liam Brotherton [32], 28. 88-Briar LaPradd [18], 29. 33-Taylor Hurst [14], 30. 20-Donovan Strauss [28], 31. 46-Jimmy Mullis [27], 32. 25-Nick Ottinger [6], 33. 12-Derek Justis [33], 34. 6-Parker Retzlaff [12], 35. 7-Malik Ray [13], 36. 55-Allen Boes [9], 37. 69-Collin Bowden [19], 38. 14-Nickolas Shelton [38].
Lead Changes: Two among three drivers.
Lap Leader(s): Graham Bowlin 1-10, Bobby Zalenski 11-53, Keegan Leahy 54-110.
Laps Led: Keegan Leahy 57, Bobby Zalenski 43, Graham Bowlin 10.
Hard Charger(s): 4-Ryan Luza, XSET, (+31).
Rookie of the Race: 42-Darik Bourdeau, eRacr, 16th.
Rookie of the Year: 20-Donovan Strauss, Williams eSports.
Caution Flags: Four for 15 Laps.
Margin of Victory: 1.243 seconds.
Time of Race: 61 Minutes, 3 seconds.
Average Speed: 108.1081 MPH.
Pole Winner: 48-Graham Bowlin, Charlotte Phoenix, 26.666 seconds, 135.003 MPH.
Fastest Lap: 95-Casey Kirwan, XSET, Lap 63, 27.150 seconds, 132.597 MPH.