By Seth Eggert, Staff Writer
Normally, drivers in the eNASCAR Coca-Cola iRacing Series compete from their home, relatively isolated from distractions. The Pro Battle at the Carolina eSports Hub gave four drivers a different perspective while they competed at the virtual Kansas Speedway last week.
Briar LaPradd
With the Carolina eSports Hub being the home base for Charlotte Phoenix, the crowd was amped for their home team drivers. The energy in the room was felt both by the Charlotte Phoenix drivers and the 'away team,' the drivers from JR Motorsports. Comfort levels varied from driver to driver.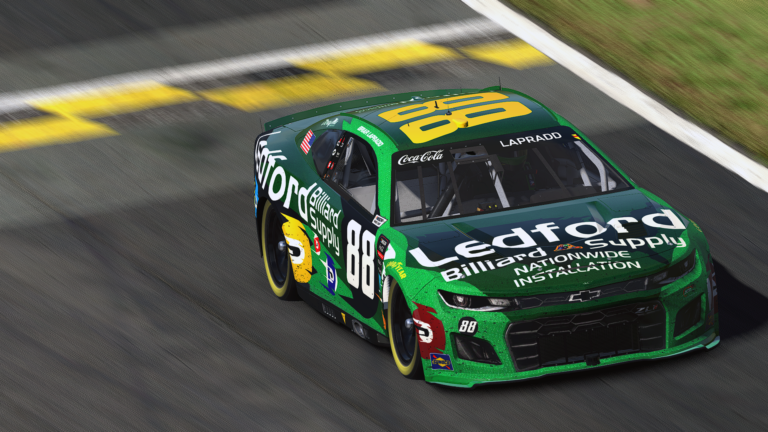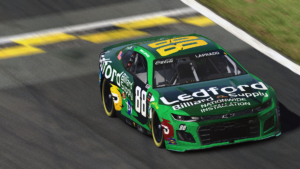 JR Motorsports' Briar LaPradd found comfort from bringing his entire rig from his Nashville, Tenn. area home. The driver of the virtual No. 88 Ledford Billiard Supply Chevrolet Camaro ZL1 1LE was the only driver that opted to use his own equipment. Despite being on stage in front of a crowd of about 60 spectators, LaPradd felt right at home.
"The energy in the crowd was incredible, especially when Graham was up front," explained LaPradd. "Obviously, we're in Charlotte Phoenix, so they're pretty much their arena so, but here in the energy from the crowd was pretty cool. Because I brought everything, I felt just like I was at home. Except you got lights everywhere. That's the only difference. I felt comfortable."
Michael Conti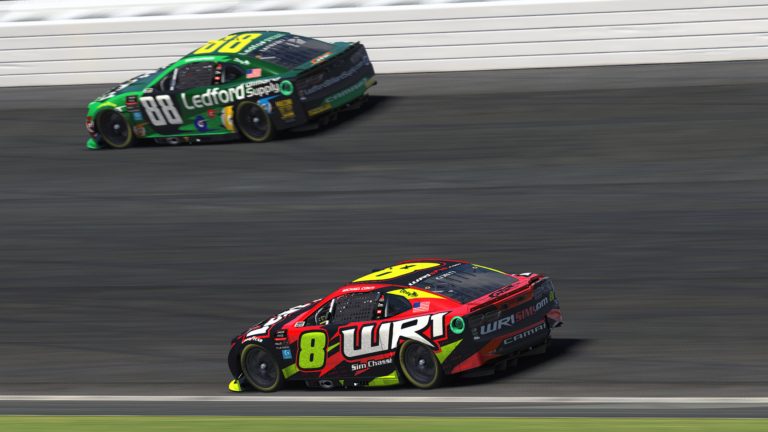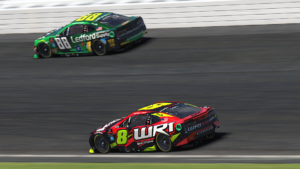 Meanwhile, LaPradd's JR Motorsports teammate, Michael Conti, took a different perspective. The ability to see the driver personalities were front and center, especially in the eNASCAR Coca-Cola iRacing Series Pre-Race show. During Brandon Kettelle's C'Mon Man segment, wrecks for LaPradd and Charlotte Phoenix's Graham Bowlin brought out driver reactions that normally would have gone unseen.
While most of the eNASCAR field is getting younger, Conti jokes about being the 'elder statesman' of the series. Racing on stage in front of a crowd of people led the driver of the virtual No. 8 WR1 Sim Chassis Chevrolet to comparing it to performing as a kid in school.
"The crowd was really good," observed Conti. "It's fantastic and ultimately, that's great to progress this deal because when we're running at home, you're not getting that personality. I feel like you're not seeing that live reaction of driver when something good happens, or something bad happens.
"I mean when I was growing up as a kid, I was constantly performing in front of people. I was I was in band in school. So, I always kind of had attention."
Graham Bowlin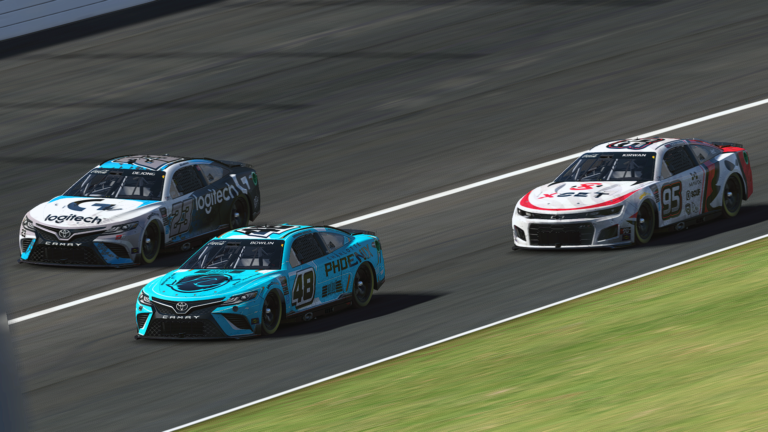 Though the crowd noise might be a distraction to some, Bowlin took the cheering as motivation. Being one of the two 'home team' drivers gave an added boost to the driver of the virtual No. 48 Charlotte Phoenix Toyota Camry. The cheers have taken place both with Bowlin on stage during the Pro Battle and previous watch parties at the Carolina eSports Hub when Bowlin competed from home.
"The crowd gave me more motivation," admitted Bowlin. "Just hearing them cheer was awesome. Obviously, the outcome was different from what everyone wanted but we'll eventually get one. Running up there every race it should happen so I can't wait until Charlotte and Gateway."
Kollin Keister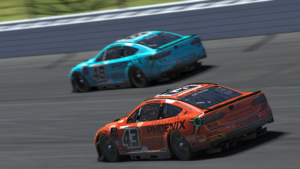 Bowlin's teammate, Kollin Keister, thought the cheering was loud, but ultimately found the humor in it. For the driver of the virtual No. 43 Charlotte Phoenix Toyota the ambient noise was simply something to push through. Keister enjoyed doing the best he could do in front of his team's hometown crowd.
"I could hear people cheering in the background and stuff and it was a little bit loud, but I just focused," stated Keister. "I kept my eyes forward and focused on what I was trying to do, but a couple of times you could hear people yelling and screaming. I was getting a good kick out of it too and I was enjoying it and just doing what I could."
Pro Battle Driver Recap
Ultimately, the four drivers participating in the eNASCAR Coca-Cola iRacing Series Pro Battle had mixed results. The JR Motorsports drivers finished 10th and 17th, with LaPradd bettering his veteran teammate Conti. Despite both drivers running up front and Bowlin leading, a late-race crash left Charlotte Phoenix drivers' 32nd and 33rd.
Though the crowd noise was loud, the ambient noise and music during practice was loud, and the crowd could be seen through the peripherals of some of the monitors, the eNASCAR drivers didn't feel like they were affected by the multiple distractions at the Carolina eSports Hub.
Upcoming eNASCAR events can be found here. The recap of that race can be found here. The drivers thoughts on simply making history can be found here.
Featured Photo Credit: Photo by Seth Eggert / Kickin' the Tires.