By Seth Eggert, Staff Writer
TALLADEGA, AL – For the fifth time in six seasons Joe Gibbs Racing's Bobby Zalenski has secured himself a spot in the Championship 4 for the eNASCAR Coca-Cola iRacing Series.
'Mr. Championship 4'
Entering the Logitech G 200 at the virtual Talladega Superspeedway Zalenski was the only Playoff driver without a victory. The Fresno, Calif. native only led the final 100 feet of the race to capture the win. The win earned him a guaranteed ticket to race for a championship on stage at the NASCAR Hall of Fame next month.
"I keep making this Championship 4, I need to win it one of these damn years," Zalenski explained. "It would be great to win it on the stage at the Hall of Fame. I'll try to make it different this time. This Interstate Batteries Toyota has been fast all year. The last six races or so I've been able to run up front and contend.
"I'm going to go into that Championship 4 race at Phoenix and I have to be the best. Have to go there, be the fastest car and if I don't win, then I don't win."
Winning in Style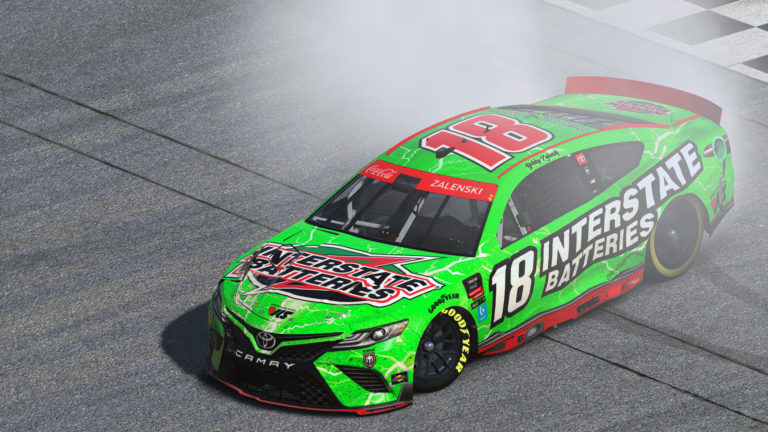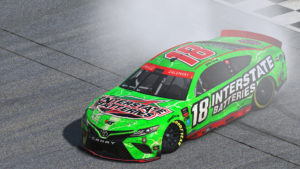 The race entered overtime after multi-car accident wiped out several Playoff drivers with three laps to go. Somehow Zalenski slipped through despite his No. 18 Interstate Batteries Toyota Camry getting clipped and sent towards the inside wall.
When the white flag waved, Zalenski was fifth, behind Michael Guest, Malik Ray, Collin Bowden, and Casey Kirwan. The tandem of Bowden and Kirwan made quick work of Guest and Ray. Zalenski followed the duo through.
Entering the tri-oval, Kirwan made his move to the inside for the lead. Bowden slammed into the XSET driver in a bid to score his first career victory. The momentum lost by the duo allowed Zalenski close in.
The veteran driver dove onto the apron, the double-yellow line rule not in effect in eNASCAR competition. Kirwan, out of control, spun across the nose of the No. 69 Blue Emu Chevrolet Camaro ZL1 and into Zalenski. The trio crashed across the line with the Joe Gibbs Racing driver winning by 0.024 seconds.
"I guess I played that race to perfection at the end of the day," Zalenski joked. "I was sitting at the back, just waiting to go take off in some weird, convoluted way. I was really hyped to win in that fashion. Didn't know if I was going to get a win this year. All of my energy just dropped with that finish."
Notables
eRacr's Bowden finished second with Kirwan third, Kaden Honeycutt taking an emotional fourth, and pole sitter Graham Bowlin fifth. Briar LaPradd finished sixth in a throwback to the early days of JR Motorsports. Ray, Donovan Strauss, Brian Mercurio, and Blake Reynolds rounded out the top-10.
Logan Clampitt ran the fastest lap of the race just past the halfway mark. However, the veteran driver that recently announced his upcoming retirement from eNASCAR competition was swept up in an accident and finished 36th.
Late-Race Chaos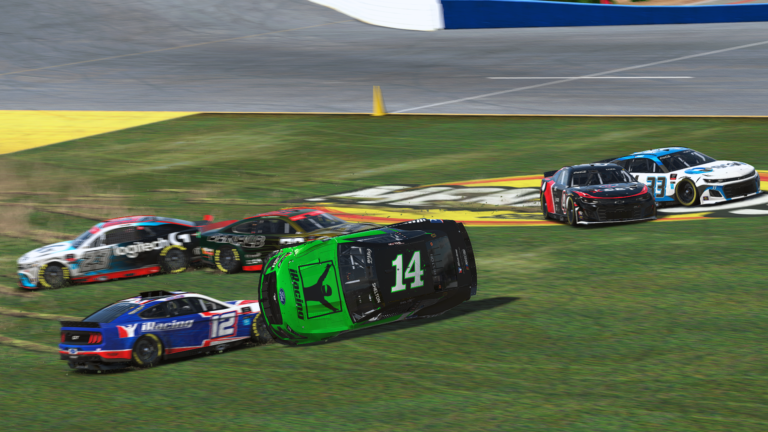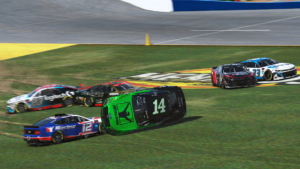 In total the race was slowed four times by cautions for a total of 13 laps. The first incident started with an ill-timed bump sending Daytona winner Femi Olatunbosun spinning in the middle of the field. The wreck ended the day for Stewart-Haas eSports' Dylan Duval.
Just laps after the ensuing restart saw the wreck that ended the day for Clampitt. The first of three 'big ones' also saw Clint Bowyer Racing's Nicholas Shelton flip spectacularly through the infield on the frontstretch.
The only wreck that didn't bring out a caution was when Honeycutt's No. 17 Fastenal Ford Mustang was spun from the lead on the backstretch with 25 laps to go. The real-life NASCAR Camping World Truck Series was racing with a heavy heart, losing his grandfather hours before the race.
A timely caution gave Honeycutt the free pass a few laps later. Despite some minor nose damage, he rallied to challenge for the lead, ultimately finishing fourth when the checkered flag fell.
Points Picture
While Zalenski locked himself into eNASCAR's Championship 4 with his win at Talladega, the battle for the three remaining spots became murkier. After an issue two weeks ago, iRacing is granting each driver one drop week from the first round of the eNASCAR Playoffs.
"Due to an issue with automated race control in the Bristol event, each driver will receive a drop race from within the first three playoff rounds," iRacing stated in their press release. "The worst score from Bristol, Talladega, or Homestead will be dropped for both playoff and non-playoff drivers."
Without a drop week factored in, Bowlin, Kirwan, and Michael Conti are currently in the Championship 4 on points. Unofficially with a drop week factored in, Bowlin, Kirwan, and Steven Wilson would be in the Championship 4.
Seeing that I didn't read @christopherlion's article and shame on me for that (I wasn't the only one though !) Here's an updated look at points considering a drop will be implemented before the championship 4 is decided in full. Migraine time.#eNASCAR | @iRacing | #LogitechG200 https://t.co/dkCNBX4wB6 pic.twitter.com/zW1QFKli7e

— Justin Melillo (@justinmelillo) September 28, 2022
The results:
1 18-Bobby Zalenski [27], 2. 69-Collin Bowden [34], 3. 95-Casey Kirwan [13], 4. 17-Kaden Honeycutt [40], 5. 48-Graham Bowlin [1], 6. 88-Briar LaPradd [29], 7. 7-Malik Ray [10], 8. 20-Donovan Strauss [33], 9. 36-Brian Mercurio [32], 10. 15-Blake Reynolds [24], 11. 9-Michael Guest [9], 12. 16-Blade Whitt [36], 13. 25-Nick Ottinger [5], 14. 24-Cody Byus [11], 15. 12-Derek Justis [14], 16. 8-Michael Conti [3], 17. 40-Dylan Ault [2], 18. 4-Ryan Luza [18], 19. 75-Matt Bussa [16], 20. 6-Parker Retzlaff [38], 21. 33-Taylor Hurst [26], 22. 5-Zack Novak [28], 23. 31-Garrett Manes [19], 24. 51-Ray Alfalla [17], 25. 23-Mitchell deJong [12], 26. 45-Keegan Leahy [4], 27. 79-Femi Olatunbosun [22], 28. 21-Garrett Lowe [2], 29. 43-Kollin Keister [25], 30. 19-Vincente Salas [15], 31. 10-Steven Wilson [7], 32. 55-Allen Boes [8], 33. 42-Darik Bourdeau [21], 34. 46-Jimmy Mullis [30], 35. 3-Corey Vincent [35], 36. 97-Logan Clampitt [37], 37. 2-Liam Brotherton [20], 38. 54-Kyle Peddle [31], 39. 14-Nicholas Shelton [39], 40. 41-Dylan Duval [23].
Lead Changes: 33 among 22 drivers.
Lap Leader(s): Graham Bowlin POLE-0, Garrett Lowe 1, Ryan Luza 2, Casey Kirwan 3, Malik Ray 4, Ryan Luza 5, Kollin Keister 6, Steven Wilson 7, Ryan Luza 8-9, Collin Bowden 10-21, Logan Clampitt 22, Collin Bowden 23, Darik Bourdeau 24-25, Casey Kirwan 26-29, Kaden Honeycutt 30, Allen Boes 31, Blake Reynolds 32-33, Malik Ray 34-35, Keegan Leahy 36-37, Cody Byus 38-39, Malik Ray 40-41, Femi Olatunbosun 42-43, Malik Ray 44, Steven Wilson 45, Dylan Ault 46-47, Malik Ray 48, Liam Brotherton 49-50, Casey Kirwan 51, Nick Ottinger 52-55, Casey Kirwan 56-57, Ray Alfalla 58, Allen Boes 59-63, Malik Ray 64-67, Michael Guest 68-72, Bobby Zalenski 73.
Laps Led: Collin Bowden 13, Malik Ray 11, Casey Kirwan 8, Allen Boes 6, Michael Guest 5, Ryan Luza 4, Nick Ottinger 4, Dylan Ault 2, Darik Bourdeau 2, Liam Brotherton 2, Cody Byus 2, Keegan Leahy 2, Femi Olatunbosun 2, Blake Reynolds 2, Steven Wilson 2, Ray Alfalla 1, Logan Clampitt 1, Kaden Honeycutt 1, Kollin Keister 1, Garrett Lowe 1, Bobby Zalenski 1, Graham Bowlin 0.
Hard Charger(s): 17-Kaden Honeycutt, RFK Racing (+36).
Rookie of the Race: 69-Collin Bowden, eRacr, Second.
Caution Flags: Four for 13 Laps.
Margin of Victory: 0.024 seconds.
Time of Race: 1 Hour, 20 Minutes, 9.753 seconds.
Average Speed: 145.340 MPH.
Pole Winner: 48-Graham Bowlin, Charlotte Phoenix, 53.070 seconds, 180.441 MPH.
Fastest Lap: 97-Logan Clampitt, William Byron eSports, Lap 41, 48.278 seconds, 198.351 MPH.
Race Scheduled for 70 Laps, Extended Due to Overtime.