By Seth Eggert, Staff Writer
TALLADEGA, AL – Just hours before the Logitech G 200 at the virtual Talladega Superspeedway, RFK Racing's Kaden Honeycutt received a call most dread. After learning of the loss of his grandfather, Honeycutt bravely persevered, and earned a career best finish in the eNASCAR Coca-Cola iRacing Series.
Family Loss
Just over five hours prior to the green flag for eNASCAR's annual visit to Talladega, Honeycutt was informed of his grandfather (pawpaw)'s passing. The Willow Park, TX native sat on his bed after learning the news, processing what had happened. Honeycutt's grandfather had already beaten cancer multiple times before.
"Unfortunately, I got I called about the passing of my dad's dad, my pawpaw around 3:30 p.m. ET," Honeycutt explained. "I think I sat on my bed. Luckily it was my day off from getting our superspeedway truck ready for this weekend. I just sat on my bed for two or three hours. I couldn't even get off my bed, that's how hard it was, and this hurts just talking about it right now.
"He's been involved in my racing ever since I've started, so that's why it was really hard to grasp that today he had he's had cancer over five different times and this time that was it. This was God starting to say it's time to not hurt anymore. He brought him home today and unfortunately; he wasn't able to make it back on Hospice when I was trying to go and see him tomorrow after tonight's race. It was time for him to stop hurting."
Racing tonight for one person that's supported me through my whole life of racing. I was not prepared for the phone call I got today and I am completely shot down and broken of the passing of my grandpa. All he wanted was to see me race in NASCAR and thankfully I did before… pic.twitter.com/yssIIbT4j0

— Kaden Honeycutt (@KadenWHoneycutt) September 27, 2022
Persevering Through Loss
The speed of Honeycutt's virtual No. 17 Fastenal Ford Mustang was evident throughout the night. After starting last he took the lead, briefly, with 25 laps to go. However, a miss-matched bump from Dylan Ault sent Honeycutt spinning on the backstretch.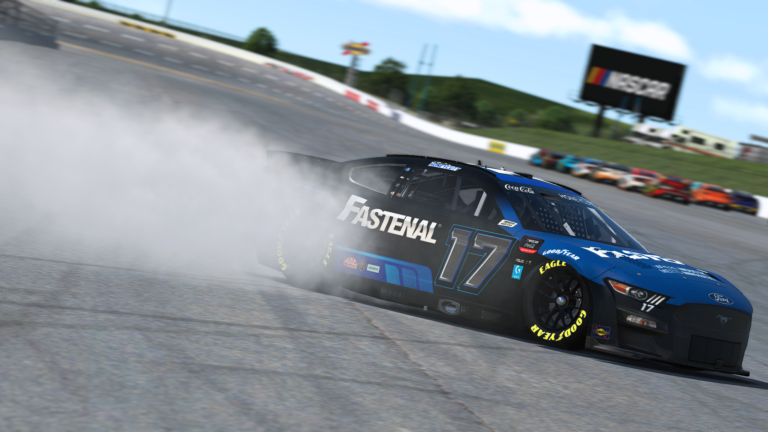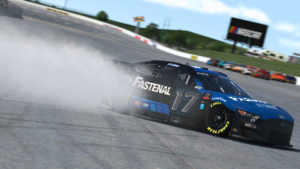 After avoiding major damage, a well-timed caution allowed the rookie eNASCAR driver to earn the free pass. Once back on the lead lap, Honeycutt surged back through the field, avoiding multiple pileups. With little drafting help, he took the checkered flag in fourth, his first top-five of the season.
"We had a good showing tonight, thought we did very well, got caught up in the in the back up messing around," Honeycutt explained. "I don't know what was going on back there. We just made it back up, got to the lead and then it's just how the season has been going for a while.
"Unfortunately, I got bumper hooked with Dylan. I think our connection was a little messed up but avoided major front damage. Thankfully I got some luck, and the caution came out as soon as I was about to get lapped. Then I was able to get the lap back and fight for a top five finish and for the win there."
Season Outlook
Currently, Honeycutt sits 38th in points in the eNASCAR Coca-Cola iRacing Series. Internet connection issues and accidents outside of his control have plagued his season.
The RFK Racing driver will likely be relegated to the eNASCAR Road to Pro Contender Series in the off-season.
Before that happens, Honeycutt has two more eNASCAR races to go. The next race at Homestead-Miami Speedway is scheduled for Tuesday, October 11, at 9:00 p.m. ET. The race will be streamed on enascar.com/live.
Real-Life Racing
In addition to competing in the eNASCAR Coca-Cola iRacing Series, Honeycutt also races in the NASCAR Camping World Truck Series. The 19-year-old has six career starts, four with On Point Motorsports, two with G2G Racing.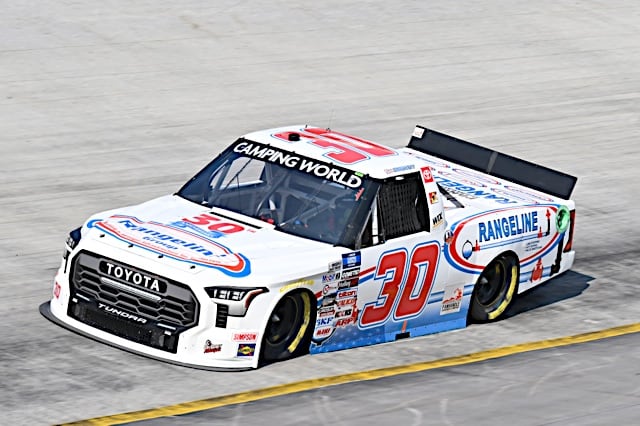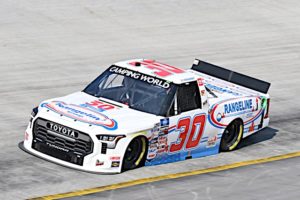 Honeycutt scored a career-best finish, 13th, at Bristol Motor Speedway two weeks ago in the No. 30 Rangeline Group Toyota Tundra TRD Pro. He confirmed post-race that he will return to the No. 30 for the Chevy Silverado 250 at Talladega this weekend.
"I will be in the No. 30 truck for On Point Motorsports, Rangeline Tank Services will be the primary sponsor," Honeycutt stated. "I will also in the Truck for Homestead and Phoenix. I will finish out the season looking to run for a full-time gig with them.
"iRacing nailed the Truck on the sim. I will be turning laps between the Truck and the Cup car for the Coca-Cola Series for the next two or three weeks. I'll turn thousands of laps for Cup and hundreds of thousands of laps in the Truck. I try to mix and vary that, but track time is tracked time. The more and more I'm on the racetrack with different stuff, I think it will actually help me."
'PawPaw Will Always Be Watching'
Honeycutt made his Truck Series debut earlier this year at Martinsville Speedway. His grandfather was able to watch the race, though the result wasn't what they hoped for. Honeycutt was swept up in a crash just past halfway.
Since his debut, Honeycutt has shown marked improvement each race. He has also changed teams, working for On Point Motorsports both in the race shop and behind the wheel.
"All he wanted was to watch a NASCAR race that I was in," Honeycutt reflected. "I'm very, very thankful I was able to do that before that ended up happening. He was definitely watching me, definitely going to be doing that the rest of my racing career. I'll be thinking about every time I step in a racecar here and on out just how much he loved it and how much I loved him.
"It's going to hurt for a very long time, but as do I go off into Talladega this week for the Truck Series and for the rest of my career, he's going to be on my truck. He's going to be somewhere with me in every and any ride that I step into for the rest of my life."
The Chevy Silverado 250 is scheduled for Saturday, October 1, at 12:30 p.m. ET on Fox Sports 1. The race will also be broadcast on the Motor Racing Network and SiriusXM NASCAR Radio channel 90.