By Justin Schuoler, Staff Writer
DAYTONA BEACH, Fla. – Imagine putting some bait on the line and casting it into the lake to enjoy some Saturday morning fishing. It's a relaxing time to enjoy a gorgeous sunrise, calming sounds of nature and solitary moments of tranquility.
If you're like me, you may be good at fishing but not at catching. I guess that's why they call it fishing and not catching. And when I do catch something, it's usually debris or a 'stick fish' of sorts.
But what if you reeled in a racecar?
In this series of 75 Stories of NASCAR, my first story starts where the season begins: at the World Center of Racing. When there is 75 years of anything, there are bound to be stories and this is one that is bound to be unforgettable.
Daytona International Speedway is celebrating their 65th running of the Daytona 500. This 'Super Bowl' of stock car racing began on the literal beaches of Florida, but moved further inland when the 2.5-mile oval was constructed.
That construction included high banks on the western and eastern sides of the circuit with 31-degree banking. So much dirt was needed that the staff dug up a 29-acre hole for the foundation underneath the racing surface.
That dirt came from the infield, creating a crater along the backstretch. Since then it has filled with water and is now known as Lake Lloyd.
When the track was first built, Lake Lloyd was larger than it is today, originally measuring at 44 acres. Herb Branham, former director of ISC Archives & Research Center, shared that the lake was named after Daytona local J. Saxton Lloyd, who owned a car dealership nearby. The connection comes from NASCAR founder Bill France Sr. when he first moved to the area and got his first job as a mechanic.
France embraced the unique style of a lake inside a racetrack that his keen attention to detail took over.
"He literally brought the game commission in, and they stocked it with bass," Branham shared. "I thought that was wild. Talk about the attention to detail."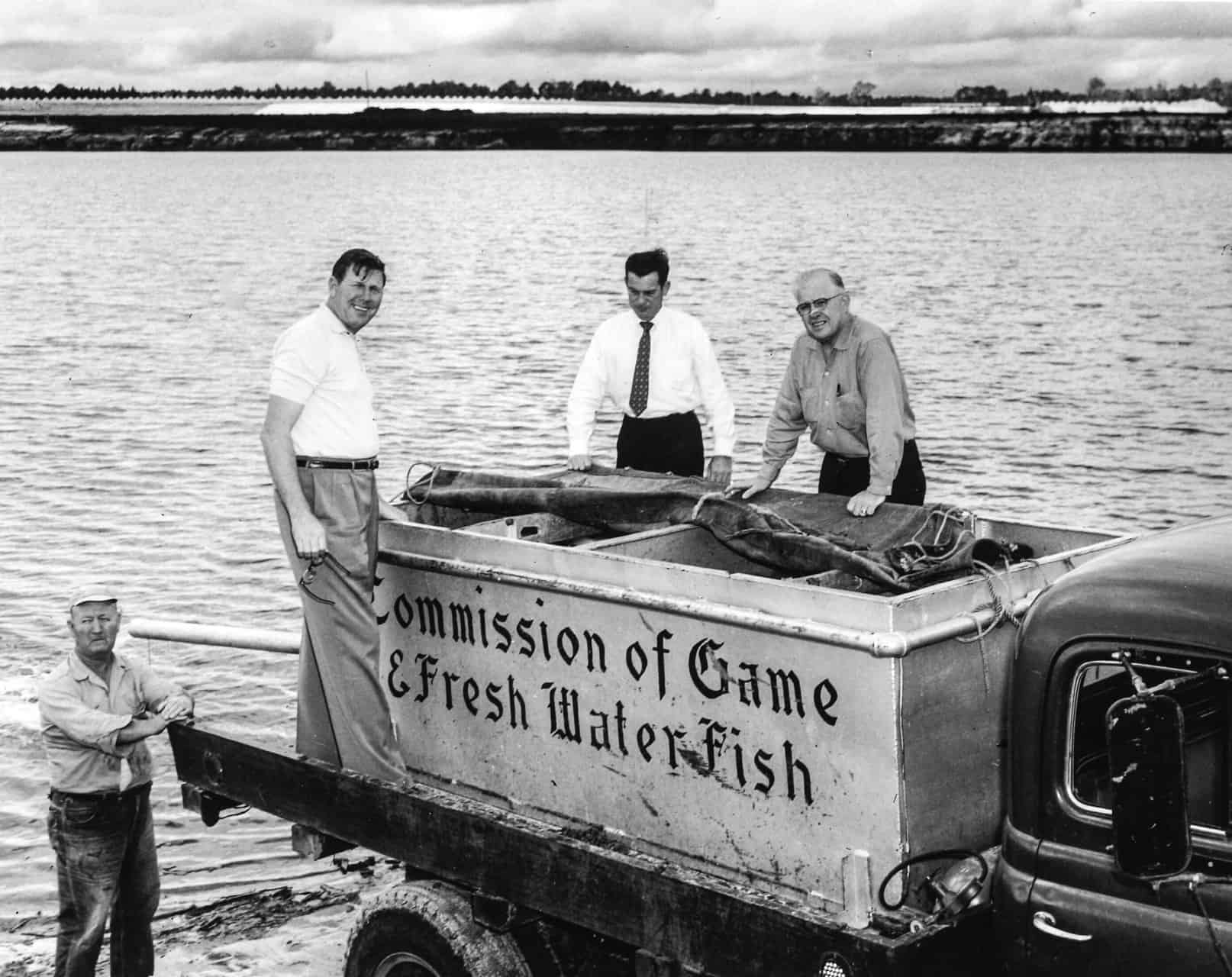 NASCAR's history has seen some spectacular crashes. Cars have crashed over the wall outside of the track, sliced in half by broken gates, and some have gone airborne high enough where nearly the entire field drove under that singular machine.
Even Dale Earnhardt flipped multiple times before looking at his iconic No. 3 from the outside, deeply examining his racecar from the outside, then realizing it could still be driven, climbing back into his Chevrolet to continue in the race.
Daytona is no secret to those astonishing NASCAR wrecks. Austin Dillon, Kyle Larson, Ryan Newman and Geoff Bodine are just a few examples to get you started. However, three crashes stand out as wild and even humorous across the facility's history of stock car racing.
TOMMY IRWIN – 1960
In just the second operational year of the track, Tommy Irwin found his way into the depths of the man-made lake. He took the green flag for the first 100-mile qualifier for the Great American Race, but was involved in a first lap crash and spun off the backstretch into the lake. Irwin was able to climb out of his car before it submerged in the water.
Because his vehicle was submerged, NASCAR officials had no choice but to leave his car in the lake for two days. A wrecker operator was needed to remove Irwin's 1959 Ford Thunderbird from Lake Lloyd at Daytona.
It wasn't the only chaos of the day. Earlier, the Sportsman class had a destructive wreck on the opening lap where 37 cars crashed out of the race. Eight cars ended up flipping, including one driver who climbed out of his car unnoticed with many crew members scrambling to his car and fearfully wondering where he could be.
After Irwin's crash, a dirt embankment was added to prevent cars from crashing into the lake, but his 'sink or swim' experience instilled fear into some drivers, most notably Tom Pistone. Paranoid about driving into Lake Lloyd, when he raced at Daytona, he would keep scuba gear in arms' reach inside his racecar in case his automobile wanted to go for a swim.
BAY DARNELL – 1964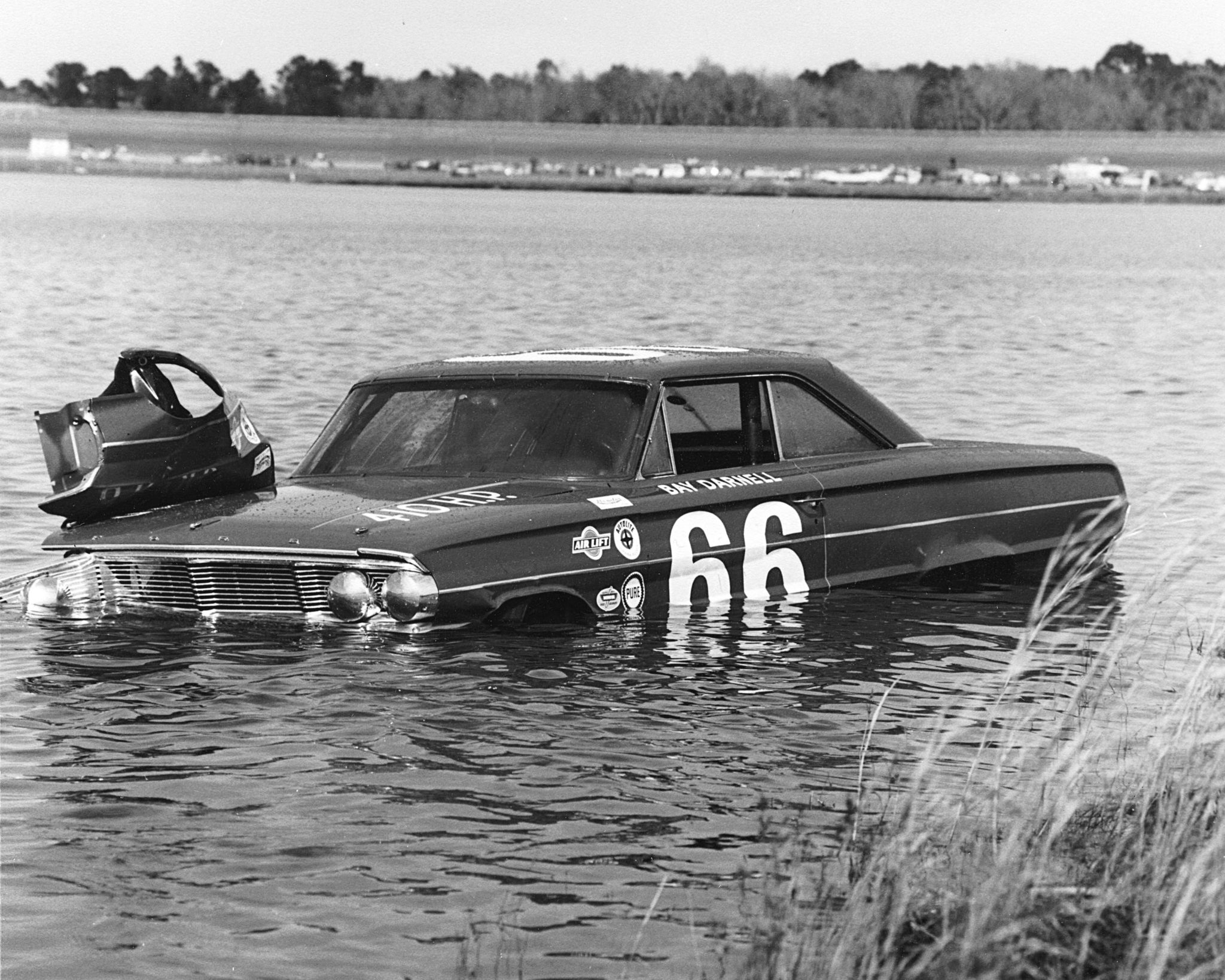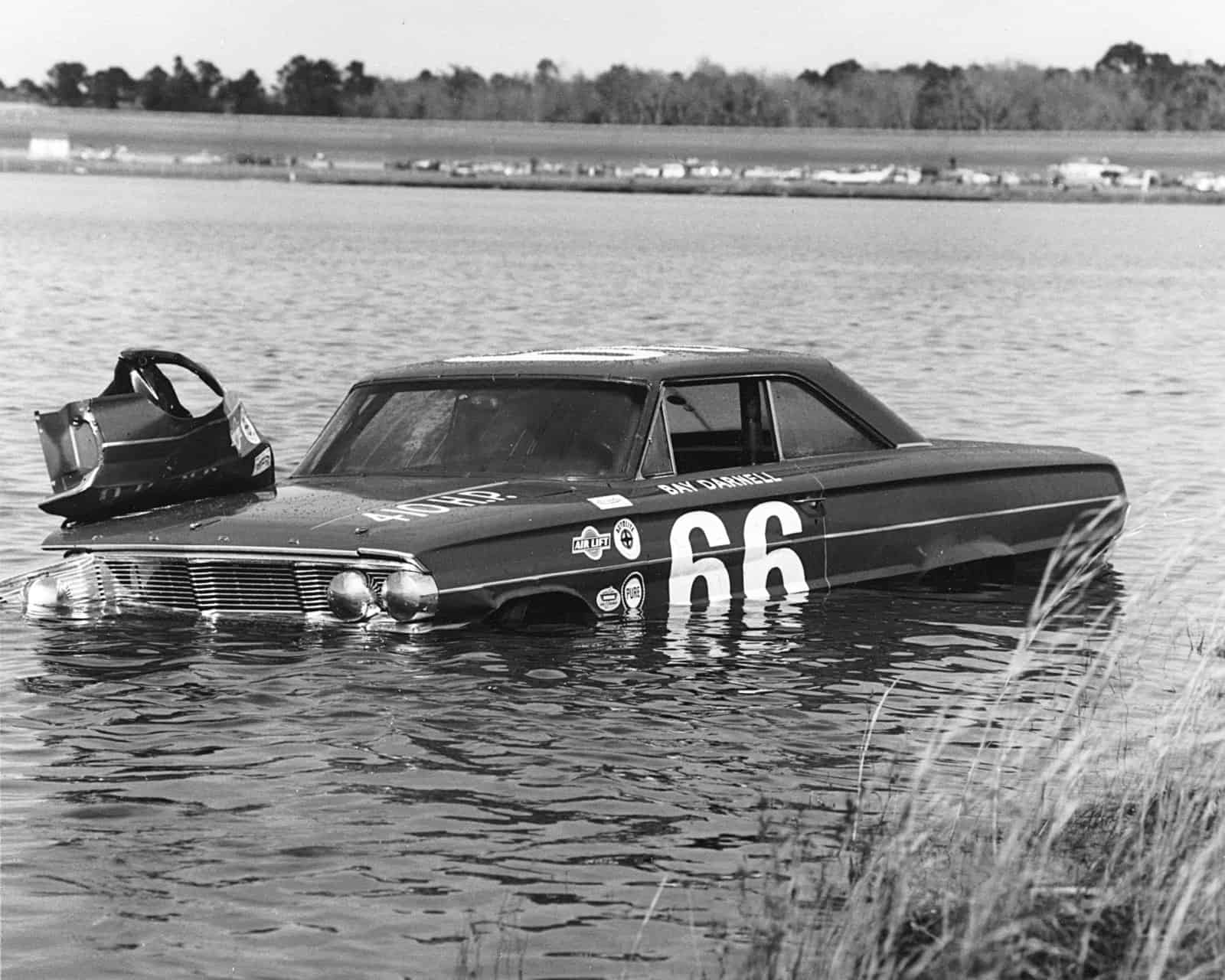 Fast forward to 1964. The Automobile Racing Club of America series, commonly referred to as ARCA, made their inaugural appearance at Daytona. I guess you could say they dropped a cannonball of a splash for their first impression.
Bay Darnell, driver of the No. 66 Ford Galaxie, ran his qualifying session for Saturday's scheduled ARCA 250. However, he lost control coming out of Turn 2 and became the second driver to spin into the lake. Darnell was uninjured and his car was able to stay mostly above water in the shallow banks. A boat and a tow truck worked together to pull his car out of the water.
Surprisingly, Darnell and his crew were able to make repairs for the main race. Darnell would finish 15th.
DAVE STACY – 1994
The third recorded driver didn't make his dive until 30 years later. Dave Stacy crashed in the NASCAR Goody's Dash Series Florida 200. Unlike the first two drivers, he was able to log in laps around the circuit, but his 34th ended with a splash. Coming off the second turn, he lost control of his Ford, slid into the grass and started rolling over the dirt berm before coming to rest in the lake. Stacy's car landed on its wheels, allowing him to safely climb out instead of being trapped underwater.
"This isn't the kind of splash I wanted to make at Daytona. Hey, I did get a fishing card (permit) for the lake," Stacy told reporters after his crash.
"I really don't know what happened. I got tapped from behind and the last thing I remember was getting turned around and then seeing a lot of ground and sky; ground and sky. I didn't know I was in the lake. The crew came on the radio and told me where I was and then the water came in about up to my waist.
"I got a cut lip. It got cut when I yanked the steering wheel off."
After the third visit by a racecar, the lake now has sturdy fencing and more protection from the racing surface. Fans bring ski boats and fishing boats to enjoy the small body of water. The lake has also hosted the swimming leg of a triathlon. A charity fishing tournament was hosted in 2019 with Martin Truex Jr. winning with the largest bass weighing 4.54 pounds.
Had Truex been fishing 55 years ago, he may have caught a racecar instead.