What started as a family trip to a rodeo turned into a chance to bring Autism Awareness to NASCAR for the Brundidge family with the help of Brandon Brown and Brandonbilt Motorsports.
Where Brandon Found His Sign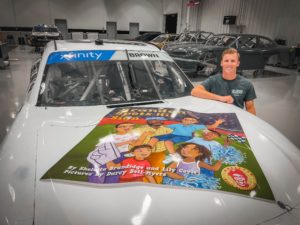 Sheletta Brundidge is a mother of four children, of which three are on the Autism spectrum. Her son, Brandon, who is Autistic, was afraid and shy about trying new things due to social anxiety. That is until he saw 'his sign.' The signs that he saw were actually 'Let's Go Brandon' flags in an RV Park where the Brundidge family was staying. The phrase originated as derogatory slang for F*ck Joe Biden after Brown won at Talladega Superspeedway last year.
"The first week of March, my family and I went to Houston, TX, for the sensory-friendly days at the rodeo there," recalled Brundidge. "We were staying in an RV park near Reliant Stadium (Now named NRG Stadium). My son Brandon's Autism shows through as social anxiety, very shy, reserved. He was afraid to try new things, like taking the training wheels off his bike or learning to swim.
"At the RV park Brandon said, 'Man mom, everybody here loves me. They have my sign everywhere; I've got a lot of fans.' He was sure that the whole RV park was cheering for him. Then he said, 'I think I want to take the training wheels off my bike. Can we go swimming?' I didn't know what was happening to my child. First, he was scared (of breaking his leg falling off a bike, drowning in the pool). Hell, now I'm scared. I had no idea what was going on."
"We were in the golf cart, riding around the RV park and he said, 'Momma, stop the golf cart, do you see it, so you see my sign?' I looked up and it was a 'Let's Go Brandon flag.'"
Writing the Book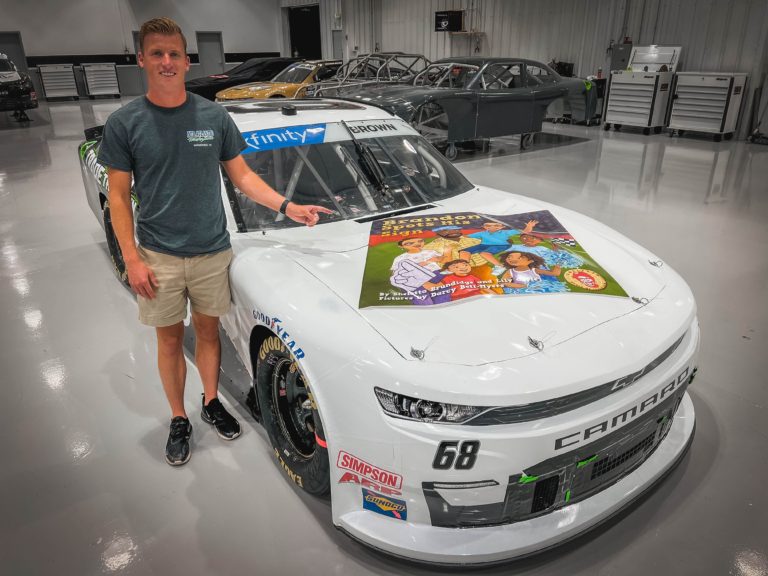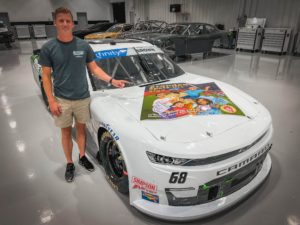 Brundidge had a choice, to tell her son that the flags were not for him and that it was a secret derogatory slang phrase towards the President of the United States of America or allow him to think they were for him. Seeing the inspiring effect that the flags had on Brandon, she opted to allow her son to continue to believe that the flags were for him. The moment also inspired Brundidge to write her third children's book, 'Brandon Spots His Sign.'
While her son saw a sign, Brundidge saw a book.
From the time that Brundidge was inspired to write the book in early March to publishing was about eight weeks. The book debuted on Amazon on April 1, the beginning of Autism Awareness month. Brundidge's book provides an opportunity to change the message and reclaim the phrase 'Let's Go Brandon.' Instead of a derogatory knock, it can be a rallying cry for those with Autism.
Partnering with Brandonbilt Motorsports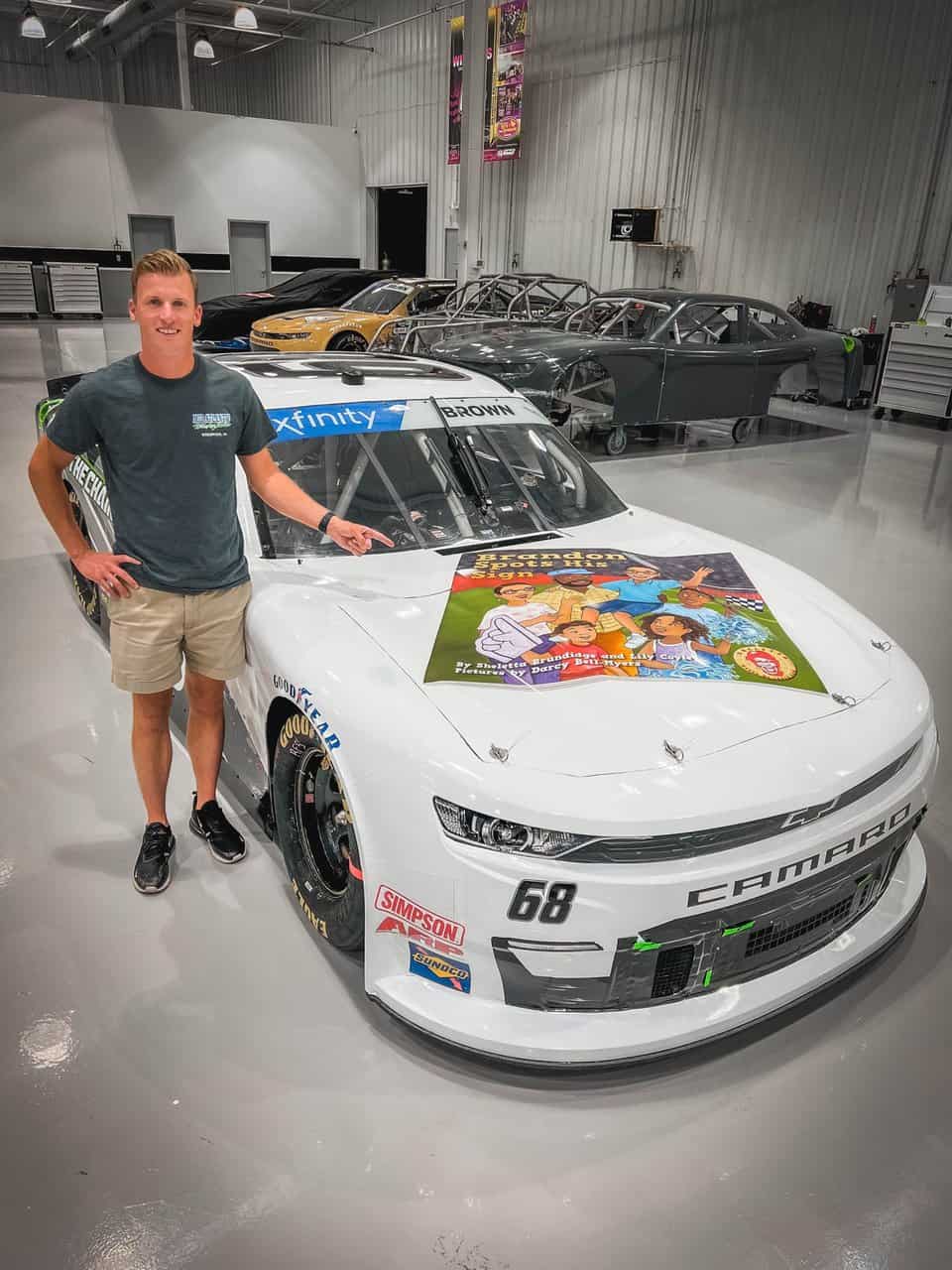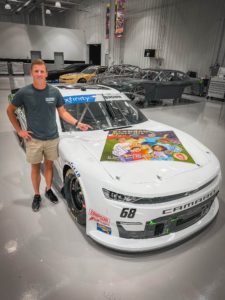 After a post on social media and then reaching out to Brandonbilt Motorsports, Brown's team on Twitter, Brundidge has been able to bring the message full circle. The team responded almost immediately, agreeing to have the book grace the hood of Brown's car.
'Brandon Spots His Sign' will be one of the first children's books to be a primary sponsor of a NASCAR Xfinity Series car in the Henry 180 at Road America. As part of being on board Brown's No. 68 Chevrolet Camaro SS, Brundidge and her family will be guests of the team at the 4.048-mile road course.
"They expect nothing less than victory, so it increases the pressure," admitted Brown about having the Brundidge family at the track as guests. "But it's a really cool experience for us. It's great to hear a good story that's come out of this. It makes us really happy to have a small part in their lives and giving them an awesome weekend to really enjoy racing and NASCAR and everything that I love to have him out there and hopefully give him the experience of a lifetime."
The opportunity to attend the Henry 180 as guests of Brandonbilt Motorsports is the first NASCAR event for the Brundidge family. They've attended other sporting events in the past and have watched NASCAR on TV.
"It is my first time, but I definitely do plan on being in the winner circle because, like I told Brandon Brown, he has a pit crew, now he has a prayer crew 'cause everybody I know is praying," explained Brundidge. "This is just amazing. This is more than just about our children's book being on the recruitment of a racecar. This is about children with autism being seen and feeling like they're represented.
"A lot of times our kids (with Autism), they are left out, left behind, put to the side. When they go to school their classes are in the back of the school, away from all the other kids. When they go to recess, it's after all the other kids have played. When they go to lunch, they're separated to a different side so that they don't disturb their normal developing peers. They're used to being pushed out of the limelight and out of the spotlight, but Brandon Brown and his team are doing is creating autism awareness and acceptance and issue more than just my child book cover."
Representation
Though 'Brandon Spots His Sign' is one of the first children's books to sponsor a NASCAR vehicle, it is not the first time that Autism Awareness has been featured prominently in the sport. Autism Speaks has partnered with the sport. Stewart Friesen, who competes full-time in the NASCAR Camping World Truck Series has a son who is Autistic. Armani Williams became the first driver with Autism to compete when he made his Truck Series debut in 2021.
While the blue puzzle piece of Autism Speaks has been featured on cars and in NASCAR broadcasts, 'Brandon Spots His Sign' being the primary sponsor of Brown's car is another meaningful reclamation of a phrase and a beacon for families with Autistic children.
"I will tell you right now, every parent who has a child with Autism is going to appreciate what Brandon (Brown) is doing, putting the cover of that book on his car."