BRISTOL, Tenn. – On paper, Thursday night's 13th-place finish by Kaden Honeycutt and On Point Motorsports at Bristol Motor Speedway appeared to be non-descript, but the statistics didn't tell the whole story.
For the 19-year-old driver and the team he both drives for and works for, it was a long-awaited step in the right direction.
Honeycutt came through the field from 27th on the grid, used pit strategy to pick up stage points in the second segment, and then spent the latter stages of the race battling with some of the best the NASCAR Camping World Truck Series had to offer. Often, he found himself racing around powerhouse drivers, including pre-season title favorite John Hunter Nemechek and defending Truck Series champion Ben Rhodes.
In the end, the Aledo, Texas, native left 'The Last Great Colosseum' with his career-best NASCAR national series finish and a smile on his face, knowing that his team has a foundation to build on for the final few months of the season.
"There hasn't been a run since I've been running in the Truck Series where I feel like we got the finish that we deserved; it just comes down to things going your way and we haven't had any luck at all like we've needed. Tonight, we finally got a few breaks and had a Rangeline Group Toyota Tundra TRD Pro to go with it," Honeycutt told Kickin' the Tires after the race. "With this finish tonight, it gives us a lot of momentum going into Talladega … and I do think we'll be good the rest of the year. We just have to put together one run, one race at a time.
"We needed this bad, for a confidence booster, for our sponsors and just to show everybody that we can do this and we can run against the best in this series," he added. "We're here and we're not going down without a fight."
Honeycutt didn't make his pit stop for regular service until the second stage break of the night, allowing him to collect two valuable stage points and showcase what he was capable of toward the front of the Truck Series field.
But the notable moment of Honeycutt's night came when he elected to move up to the top groove of the race track after the halfway point, in an effort to pick up speed and make passes in traffic.
From then on, he was relentless at trying to make the high line work, even if it wasn't successful against some of his competitors.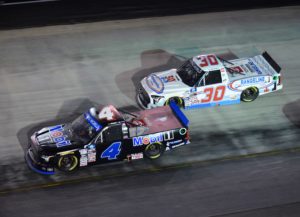 "We didn't have another option. We just had to make moves and figure out how to get around guys," explained Honeycutt of his reasoning behind changing his line. "I was really hoping that it would have come in (better) the first time I went up there, but there was too much trash on the race track at that point and we probably would have wrecked. It stuck eventually, though, and I found a good rhythm for a long time.
"I was able to pass quite a few trucks with it; I just needed a little more right-front turn coming off the corner. Either way, though, it was really hard to pass all night," continued Honeycutt. "The tires just were not falling off, so the whole night came down to make-or-break strategy (calls), and it happened that we stuck with the strategy we planned from the get-go. Unfortunately, it didn't work out as well as it could have, but I'm so proud of all my guys for all their hard work and effort. We busted off (pit) stops that were faster than some of the A- and B-teams … and that's something that we can really build on for the future.
"This is an awesome night and hopefully we can have more runs like this."
Making the night more special was the fact that Honeycutt relocated to North Carolina from Texas over the summer, in order to take on a full-time position with On Point Motorsports that includes both driving duties and work in their Denver, N.C., race shop.
Originally scheduled for three races, Honeycutt's Bristol appearance marked an expansion of his role with the team owned by veteran crew chief Steven "Bones" Lane, and the driver remarked that he hasn't been afraid to "get his hands dirty" in order to find success on the track.
"I'm an employee – whether it's fab, engineer … whatever the truck needs to be ready, I'm on it as much as I can be," Honeycutt said with a laugh. "That makes this feel 10 times better for me, at least, because I'm able to be part of it all the way.
"I know we can have more of these kind of runs, and I know Talladega can be one of those if we survive and don't get caught up in a wreck. This is a step forward for us, that's for sure, and the hope is that we can build on it as a group."
Of note, Honeycutt has either maintained or improved on his starting position in all but one of his six career Truck Series appearances.
On Point Motorsports will return to the race track on Oct. 1, when the NASCAR Camping World Truck Series heads to Talladega (Ala.) Superspeedway for the running of the Chevy Silverado 250. Race coverage begins at 12:30 p.m. ET on FS1 and the Motor Racing Network.