By Seth Eggert, Staff Writer
BRISTOL, Tenn – Parker Kligerman found the magic once again as he scored another top-five finish in the NASCAR Camping World Truck Series at Bristol Motor Speedway.
Kligerman didn't move into the top-10 until the start of the final Stage. His No. 75 Luck's Beans / Food Country USA Toyota Tundra TRD Pro lined up second after staying out during the Stage break. Kligerman slipped behind Ty Majeski as the ThorSport Racing driver chased down Zane Smith.
With the track being about one and a half lanes wide, Kligerman was able to maintain position once he jumped ahead of Derek Kraus. This was despite an apparent lack of speed in qualifying and practice, lining up 28th on the grid.
The NASCAR on NBC pit road reporter kept the competition at bay on two successive restarts in the final Stage. Kligerman pulled away from Kraus on the final restart with 12 laps to go, cruising to a third-place finish behind Majeski and Smith.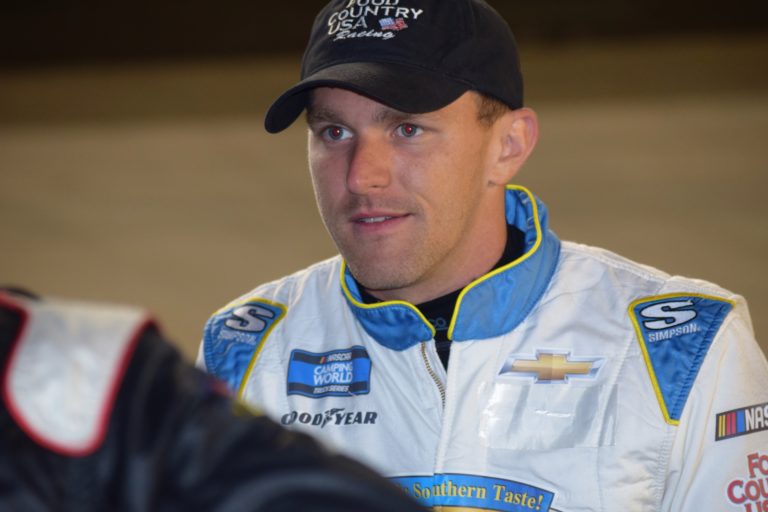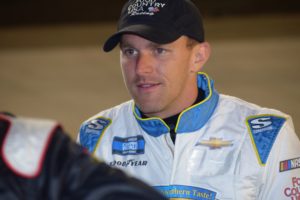 "Well, let's look at (our race)," reflected Kligerman. "We qualified 28th legitimately on speed, like we were that bad and we made a bunch of changes and stuck it out through the night and obviously the cooler temperatures probably helped. The truck was decent, and I think we just decided the heck with it. It was just a track position race and that's what we did. Once we had it, we just had to nail the restarts, which I felt like the 38 and the 66 were similar, but they were just that bit better by a tenth or so on the restarts.
"I tried everything I could, but I just didn't have anything for him. I'm proud of everyone at Henderson, Motorsports, Food Country USA, all the employees at Luck's Beans. This area means so much to them, this is the Super Bowl for this race team. We put a lot of emphasis on this one.
The third-place finish is Kligerman's fourth top-five finish at Bristol on the concrete and his fifth top-five including his fourth-place finish on the dirt earlier this year. To date, 32-year-old has never finished fifth or won at 'The Last Great Coliseum.'
"I've finished in every position except first in the top five now," joked Kligerman. "We've got to have a win coming here soon, whether it's on dirt or concrete, we've got to win here. I love the energy in this place. I love racing here. It's insane. It's frustrating. It's just complete mania at times and you know you're being thrown 1000 things at 1000 mph, but that makes it gratifying when you're successful."
The top-five finish is the 23rd of Kligerman's NASCAR Camping World Truck Series career. The UNOH 200 presented by Ohio Logistics also marked his 50th career top-10 finish in his 108th start.
Bristol also marked the first time that the family-owned Henderson Motorsports team brought a back-up truck to the track. The 'one man band' of crew chief Chris Carrier continues to improve the Abingdon, VA-based team. The next race for the part-time team is likely Talladega Superspeedway, where Kligerman has two career victories.
The Chevrolet Silverado 250 at Talladega Superspeedway is scheduled for Saturday, October 1 at 12:30 p.m. ET on Fox Sports 1. The race will also be broadcasted on the Motor Racing Network and SiriusXM NASCAR Radio Channel 90.