BRISTOL, Tenn. – After several near-misses throughout the NASCAR Camping World Truck Series season, ThorSport Racing's Ty Majeski knew there was a crowd that doubted whether he could seal the deal. He silenced those doubters convincingly on Thursday night.
Majeski raced to his long-awaited first Truck Series victory with late-race dominance at Bristol Motor Speedway, passing Zane Smith on a restart with 45 laps to go and pacing the remaining distance at the .533-mile concrete high banks.
The Seymour, Wis., native held serve following the night's final restart with 12 laps left – following a crash by Dean Thompson in turn three – and pulled away off the top groove to win by 1.152 seconds.
"This is unbelievable. I've been waiting for an opportunity like this," said Majeski in victory lane. "Thank you to Duke, Rhonda and Allison Thorson; thank you guys for this opportunity. I'm just so proud to be here. We came guns blazing for this race and brought our best truck. Joe (Shear, crew chief) was aggressive on pit strategy, got us out front and we were able to get it done.
"This is so cool, and my crew has been so up and down. There's been a lot of people who have helped get me to this point. I know my late model guys are watching back at the shop and they've been a big part of me getting here," he continued. "My parents, my fiancé, this is just damn cool. Road Ranger, Toyota, TRD and all that they do for us – I've been waiting for this for a long time.
"This is a dream come true."
Majeski became the eighth driver all-time to win a race for Duke and Rhonda Thorson's organization, the longest-tenured team that has continuously competed in the Truck Series.
He joins a list that includes Terry Cook, Matt Crafton, Johnny Sauter, Ben Rhodes, Grant Enfinger, Chase Briscoe and Christian Eckes.
"Duke and Rhonda took a chance on me, first as an engineer last year … running a handful of races, and then this year with providing me a full-time opportunity to come and run for a championship. It feels amazing to repay their confidence in me with a win like this," he noted. "The job isn't done – now we have to get ready for Phoenix to go and run for a championship – but we're going to enjoy this one and then get this same truck ready to go race for the big prize out west."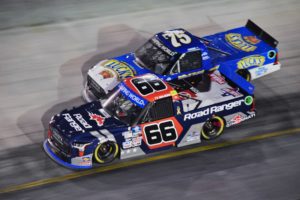 Kyle Busch Motorsports' Chandler Smith dominated the middle of the race, winning both stages and leading a race-high 89 laps. However, pit strategy worked against the Georgia native and left him mired back in traffic when the laps wound down.
That opened the door for Zane Smith and Majeski to take control of the race on strategy, which Majeski did to perfection en route to the trophy after dispatching the three-time season winner.
Thursday night's win means that Majeski can rest easy through the remaining races in the Round of 8, which includes the always-unpredictable Talladega (Ala.) Superspeedway on Oct. 1.
Because of his win, the short-track ace knows he'll be one of the Championship 4 drivers at Arizona's Phoenix Raceway when the series champion is crowned in November.
"I feel like we've been peaking at the right time. We've had a really good back-half of the year and a really good first round. We really wanted to go to Talladega and not have anything to worry about," Majeski admitted. "That meant winning this race and we did it."
Behind Majeski and Zane Smith, NBC Sports analyst Parker Kligerman returned to the driver's seat and notched a third-place finish for Henderson Motorsports in a race that Kligerman called "the Super Bowl for these guys."
Grant Enfinger was fourth and three-time Truck Series champion Matt Crafton finished fifth.
Polesitter Derek Kraus led the first 27 laps but faded to sixth with an ill-handling truck. Stewart Friesen, Christian Eckes, Chandler Smith and Corey Heim closed out the top 10.
After starting from the rear of the field due to a practice crash that relegated him to a backup truck, championship hopeful John Hunter Nemechek fought to a 12th-place finish, which kept him within 11 points of the cut line with two races before the Championship 4 is set.