By Seth Eggert, Staff Writer
From the most recent Mazda MX-5 Cup car to NASCAR's Next Gen car and the Los Angeles Memorial Coliseum track, iRacing has long been at the forefront of motorsports development.
Expanding iRacing's Role in Motorsports
Although iRacing has gotten attention recently for aiding in the development of NASCAR's Next Gen car, the Los Angeles Memorial Coliseum track, Atlanta Motor Speedway's reconfiguration, and Auto Club Speedway's potential reconfiguration, their origin in development started years earlier. The desire and potential for simulation to help develop new racecars and tracks started before iRacing was founded.
The first step in iRacing's role in development was with driver talent. William Byron famously utilized the simulation in the early days of his career. Josh Berry, Rajah Caruth, and Ty Majeski can also point to iRacing as a factor in their careers.
"Truthfully, this is something that I've personally felt like for 20 years, that it was something that (iRacing) could add value to the industry," explained iRacing Executive Vice President Steve Myers. "I look at it that there's nobody in the industry that is putting more time, money, and effort into simulating what racing is than we are.
"I've always felt that whether it be as a platform to help find racing talent, or to even potentially help shape what the future of motorsports can look like. It's exactly what we can do as a company because with how detailed and how much effort we put into recreating racing the way we do.
"For many years now, I've been trying to get into this space. I started on the car side of things and trying to get a manufacturer to understand that 'Hey, we have this platform that could vary the step in the process for people to develop new cars or new racecars or take a street car and turn into a racecar.'"
Racecar Development
One of the first companies that recognized iRacing's ability to help develop new street cars and racecars was Mazda. The 2016 edition of the Mazda MX-5 racecar was the first car that iRacing helped design and bring from sim racing to reality.
"That car actually was one of the first times I got a manufacturer to kind of say, 'okay, well let's experiment with this,'" recalled Myers. "I think it was Tom Long Racing. We developed the prototype of the car that they were working on. One of the areas that they actually used quite a bit of feedback from us was on the shocks."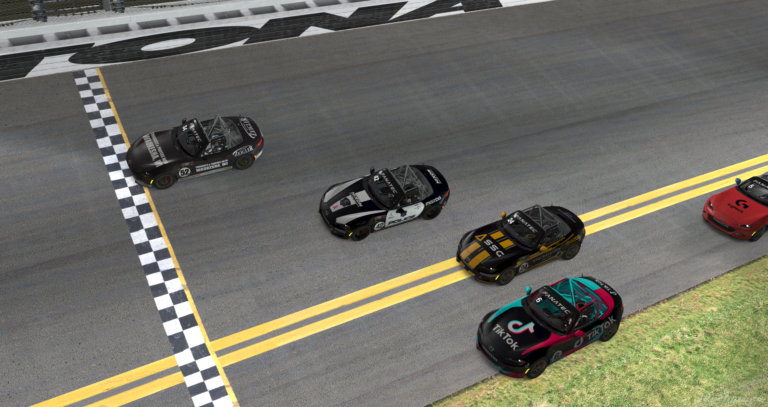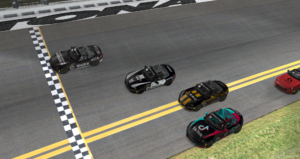 After that, Myers started pitching to different manufacturers that they could help develop new racecars. Among those that he pitched iRacing as a tool to was Ross Brawn from Formula 1. However, those talks ultimately fizzled out.
NASCAR Next Gen
When the talks with Formula 1 fizzle out, Myers turned to NASCAR. The series, which sanctions the eNASCAR Coca-Cola iRacing Series, was more receptive to the concept of utilizing the motorsports simulation to develop the Next Gen car. All three manufacturers, Chevrolet, Ford, and Toyota, sent iRacing data.
"I started pitching kind of the same concept to NASCAR and they became interested," Myers reminisced. "We started working on the Next Gen car in early 2019. Essentially, we're developing our version of the car while NASCAR was developing their version of it.
"Any time that it went to a test, we were getting all that data and going back and implementing into our model. Then we had William Byron who had tested the car early on. He then did a lot of testing on our model to kind of give us feedback on how close it was. That process continued all the way through being involved in the launch. We had the three manufacturers' data for the racecars before anyone else in the world."
iRacing was front and center as the Chevrolet Camaro ZL1, Ford Mustang, and Toyota Camry Next Gen cars were unveiled. The company had data for all three manufacturers and modeled the cars for the sim. They debut the Next Gen cars at the virtual Darlington Raceway in the eNASCAR Pro Invitational iRacing Series. Erik Jones won the race that night.
"We modeled all those cars," stated Myers. "I remember we debuted them on the day that they were unveiled for the first time. Then that night we put them in a Pro Invitational race. I think that's a pretty incredible story by itself. That's how integrated we were through that process."
Next Gen R&D
As the NASCAR Cup Series Next Gen car has started to be tested by race teams in the real-world, iRacing still aids the development of the car. NASCAR has worked with its' vendors to improve the steering. The sanctioning body and teams have also improved issues with heat inside the cockpit. While the car is being tested on both the Charlotte Motor Speedway oval and Roval, tests are ongoing in on iRacing's simulation.
NASCAR competes on multiple different track types, intermediate tracks, road courses, short tracks, and speedways. Each track type represents a different challenge from the tire compound best suited to the gear selection. iRacing currently is aiding in verifying the gear sets that can work with the track type and Next Gen car.
"Even right now we just did some simulation work for the R&D department just to try to figure out some potential problems," explained Myers. "(We've been) trying to figure out with all these different varying track types, is there enough gear sets to work at all the different track types? Even to this day, we're still helping do simulation on the Next Gen project that nobody else really can do."
Track and Car Debuts
Recently, iRacing has helped develop and experiment with reconfiguring and creating racetracks. Two were featured in the 2021 eNASCAR Pro Invitational iRacing Series 'season.'
The first to be seen was the Bristol Motor Speedway Dirt Track. That hosted the 'season opening' Pro Invitational Series race, and was won by William Byron.
The other was the Chicago Street Circuit hosted the 2021 finale. James Davison handily won the race at the Chicago Street Course The virtual street circuit race also featured the Next Gen cars. While scanning the public roads, iRacing also discovered issues that the city can improve with the road surface.
Track Design
Auto Club Speedway, meanwhile, had a wide berth of development and options. Some are still underway because of the reconfiguration's delay due to the COVID-19 shutdown. California's protocols also forced the realignment of the 2021 race. 2022 is currently scheduled to be the final race on the 2-mile oval.
The Los Angeles Memorial Coliseum track that will host the Busch Light Clash was different. Being inside of a stadium, the temporary track is limited in banking, width, and configurations. Positioning of curbing and race packages was one of the main pieces iRacing could simulate.
"Auto Club is definitely a bigger project in that there's more that can be done with the track because of the amount of area that they have to work with," explained Myers. "LA was different. It's already a confined spot. At this point about trying to figure out how we can maximize the space to have a good product for television. In some sense, LA was actually kind of an easier project because we know where the boundaries are."
Testing the Tracks
As iRacing builds each track, they get tested by some of their best drivers. In recent projects, the eNASCAR Coca-Cola iRacing Series drivers have tested each the track. The tests are live streamed to NASCAR. That allows for instantaneous feedback and critiquing. Some of the critiques that have been adjusted are the pace car speeds, restart zones, etc. Those suggestions have led to running sessions to see what the race would look like if the pace car is slowed by 10 MPH, sped up by 10 MPH, among other details.
"But all of these projects, Auto Club, the Chicago Street Circuit, the LA project, the Atlanta project, every single one of these, the eNASCAR Coca-Cola iRacing Series drivers have been involved in," admitted Myers, "because what we're doing is we're doing the R&D work, recreating the tracks. Then we have it so these guys give us feedback immediately on the different configurations, to help us hone in on something that feels and looks good.
"What we then do is we schedule a broadcast with NASCAR management where we'll put all of the drivers into different sessions. We typically have at least two configurations that we'll test. Our broadcast team connects to it, and it gets beamed down to the Charlotte and Daytona offices. All the management sits there and (we're) communicating with them real time.
"We're talking about what they want to see, and we run through all different scenarios. Restarts, green flag runs, half a field on worn tires, half the field on green tires, different pace car speeds. We have a whole script that we go through, that we have all the drivers that, taking feedback from us on what NASCAR wants to see it."
The various scenarios allow NASCAR to be able to see a representation of what a race at the Los Angeles Memorial Coliseum, Auto Club, or the Chicago Street Course may look like. As the Next Gen car is improved in the real-world, that data is sent back to iRacing. The car is then updated in a patch, or a pre-season build. Each update has the potential to adjust the scenario that NASCAR watches.
On-Going Project Status
After iRacing developed a prototype version of a reconfigured Atlanta, Speedway Motorsports Inc (SMI) took the lead on the project. SMI owns Atlanta Motor Speedway. The reconfigured Atlanta was previewed in a promotion with Byron, Dale Earnhardt Jr., and other drivers.
NASCAR owns Auto Club Speedway and made the agreements for the Los Angeles Memorial Coliseum track.
Only time will tell where iRacing's expanding role in motorsports will go from here.
Featured Photo Credit: Photo by Seth Eggert / Kickin' the Tires