By Jerry Jordan, Editor
It feels great to be coming off a big win. I said "load up" on Denny Hamlin last week and it would pay off. It did, and I nailed my first winner in the regular season. I admit it wasn't a pick that a lot of people supported overall because of Hamlin's protracted slump but the Virginia-native brought bettors to the payout window with some great 15 to 1 odds – thanks to the "boost" bet offer from the WynnBET Sportsbook.
So, let's see if we can go two in a row and kick off the action this week by pointing out that our oddsmaker friends over at the WynnBET Sportsbook have given NASCAR fans some amazing plays. Chase Elliott went out and snagged the pole position this week but at 4.5 to 1 or +450, I don't like his odds. The fan-favorite is winless this season so he will be hungry but it's my opinion the payoff isn't worth the risk. That said, I am taking someone, who appears to be overlooked at Martinsville Speedway – Ryan Blaney at 8 to 1 or +800 – as my favorite this week.
Blaney has the second-fastest closing laps of any driver at Martinsville, according to NASCAR's stat sheet. He also has the second-best overall running position throughout a race behind Hamlin. Now, this year, NASCAR shortened the Martinsville race to 400 laps and after looking through the data, I found Blaney has the highest mid-race running position of any driver in the race at 7.6. Finally, he is also shown to have the fastest average speed of any driver in the race when it is late in the run.
Combining all of the stats with 8 to 1 odds makes Blaney a solid play this week at Martinsville Speedway and who I putting some of my winnings on from last week. And don't forget, you can download the WynnBET Sportsbook app on your phone and get from the track. They even have a display set-up in the Fan Zone where you could walk away with some free swag.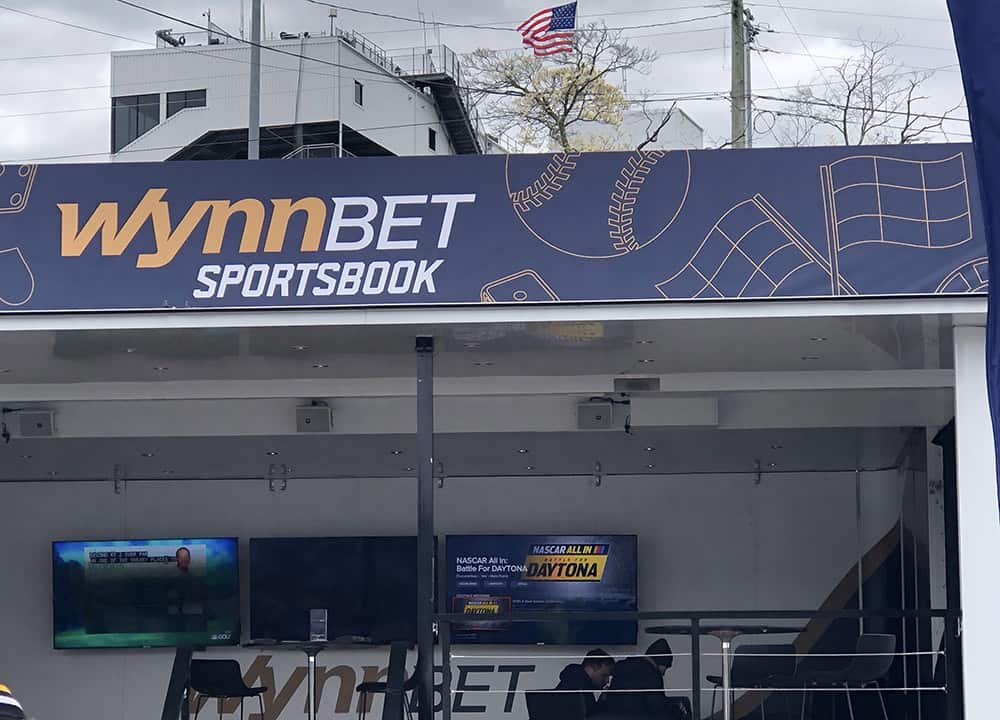 As if the odds on Blaney weren't a big enough gift from WynnBET, the next play – what I call my mid-level or mid-tier value bet of the week – goes to Denny Hamlin. Yes, the oddsmakers must not think Hamlin could go back-to-back but he has five career wins at Martinsville Speedway and his odds are 14 to 1 or +1400.
Even though we haven't seen a driver win two races, so far, in the 2022 Cup Series season, Hamlin has a shot. He will roll off the starting grid in 11th after just getting bested by Kevin Harvick by four one-hundredths of a second in qualifying.
Of active drivers, he is the winningest and only Martin Truex Jr. has won more than two races at Martinsville at three. Kyle Busch, Kurt Busch and Brad Keselowski each have two wins apiece among active drivers.
For this week's longshot pick, I am in a quandary because Brad Keselowski is showing some speed with his new team at Roush Fenway Keselowski Racing. As I mentioned he has two wins at Martinsville and last week he showed speed at Richmond Raceway. So did Chris Buescher. The quandary is do, you pick a driver with 28 to 1 or +2800 odds or do you go with Buescher at 66 to 1 or +6600?
Buescher finished ninth the last time he was at Martinsville and, as I said, he was strong at Richmond for a while last week. Since the odds are so high, it might be worth taking a shot at both the RFK Racing drivers and just hoping one of them hits. When you're betting this far down in the odds you can, kind of, make a few bets and if they hit you reap huge rewards.
Before I wrap up I want to point out some other bets the WynnBET Sportsbook offers on NASCAR. You can actually bet on whether a driver will finish in the Top 3 or even the Top 5. It's a little safer bet than picking an outright winner but you do give up some odds.
For example, my favorite pick this week is sitting at 2.5 to 1 or +250 to finish in the Top 3, so if you think Blaney is going to be at the front, you can give up the 8 to 1 odds and take a safer route. It's not my style. I am more of a "go big or go home" type of bettor but those plays should be considered.
Additionally, you can bet matchups at WynnBET. There is a great matchup between Elliott and Hamlin. If you were to bet on Elliott, you will have to give the casino odds, meaning a $15 bet would bring a $10 return if you bet on Elliott to finish ahead of Hamlin. However, if you take Hamlin then you can get a $12 return for a $10 bet. As always, you get your initial stake back, so if you win you pocket the original $10 plus the winnings.
Remember, my suggestions are based on what I see at the track and from past performances by drivers. It's called gambling for a reason and there is no guarantee the drivers I pick will end up in victory lane. If you can't afford to bet, then don't. And if you aren't 21 years of age, you cannot legally gamble, so don't even think about it. Should you have a problem with sports betting or other forms of gaming, you can get help at 1-800-GAMBLER.
| | |
| --- | --- |
| WynnBET Sportsbook | |
| Blu-Emu Maximum Pain Relief 400 | |
| Martinsville Speedway | |
| DRIVERS | ODDS |
| Chase Elliott | 4.5 to 1 or +450 |
| Kyle Larson | 6.5 to 1 or +650 |
| William Byron | 7.5 to 1 or +750 |
| Kyle Busch | 8 to 1 or +800 |
| Ryan Blaney | 8 to 1 or +800 |
| Martin Truex Jr | 8.5 to 1 or +850 |
| Joey Logano | 12 to 1 or +1200 |
| Alex Bowman | 13 to 1 or +1300 |
| Christopher Bell | 14 to 1 or +1400 |
| Denny Hamlin | 14 to 1 or +1400 |
| Kevin Harvick | 16 to 1 or +1600 |
| Aric Almirola | 20 to 1 or +2000 |
| Brad Keselowski | 28 to 1 or +2800 |
| Ross Chastain | 30 to 1 or +3000 |
| Tyler Reddick | 30 to 1 or +3000 |
| Chase Briscoe | 40 to 1 or +4000 |
| Kurt Busch | 45 to 1 or +4500 |
| Austin Cindric | 60 to 1 or +6000 |
| Chris Buescher | 66 to 1 or +6600 |
| Cole Custer | 75 to 1 or +7500 |
| Bubba Wallace | 90 to 1 or +9000 |
| Daniel Suarez | 125 to 1 or +12500 |
| Austin Dillon | 150 to 1 or +15000 |
| Erik Jones | 150 to 1 or +15000 |
| AJ Allmendinger | 200 to 1 or +20000 |
| Rickey Stenhouse Jr | 250 to 1 or +25000 |
| Todd Gilliland | 250 to 1 or +25000 |
| Harrison Burton | 400 to 1 or +40000 |
| Justin Haley | 400 to 1 or +40000 |
| TY Dillon | 600 to 1 or +60000 |
| Michael McDowell | 750 to 1 or +75000 |
| Corey Lajoie | 1000 to 1 or +100000 |
| Garrett Smithley | 1000 to 1 or +100000 |
| BJ McLeod | 2000 to 1 or +200000 |
| Cody Ware | 2000 to 1 or +200000 |
| JJ Yeley | 2000 to 1 or +200000 |
| Josh Bilicki | 2000 to 1 or +200000 |