By Seth Eggert, Staff Writer
A little over one year ago, NASCAR took the step that I've been longing for years, a step towards a more accepting, compassionate, diverse, and understanding fan base. To understand why I've been longing for that change, I first have to explain how I got here.
Long before I joined the ranks of the NASCAR Media Corps, I was much like most other race fans. However, there was a difference. My family and I are Jewish. Aside from Alon Day's sporadic starts in NASCAR's National Series, I honestly don't remember the last time that someone like me competed in NASCAR in the U.S.
Being a member of a minority religion, I have followed NASCAR's Drive for Diversity program since its inception. Before I even had the thought of working in NASCAR as a journalist, I researched and followed the careers of the drivers that went through the program. However, my continued research and enthusiasm for the Drive for Diversity program almost didn't happen.
Bad experiences at the track in 2013 and 2015 almost drove me, a Jewish NASCAR fan, away from the sport. Since 2015, I have not worn my Star of David necklace, passed down from my grandfather who was a Holocaust survivor and a NASCAR fan, to the race track.
I've talked about these experiences briefly on Twitter, the Drafting the Circuits Podcast, and Motorsports Madness in the past. However, I've never put the pen to paper in actually documenting them. Even as I was writing this story, I was hesitant to publicly state my experiences.
2013
In 2013, at a NASCAR Camping World Truck Series event I went to the restroom and then went to grab some food during the pre-race. I had taken the Star of David necklace off while in the restroom to apply sunscreen. When I put it back on, I didn't tuck it back under my shirt, didn't think anything of it. Leaving the restroom, I took my wallet out, only for another fan to start yelling at me.
"Hey did you just pick up a $20 bill from behind that trash can?" the fan yelled.
Confused, I looked at and behind the trash can and apologized, saying that I didn't see anything.
What happened next was the first personal experience with discrimination, anywhere.
"Let's see what security has to say about this. Just give me the $20, you people are made of money." At that point, I realized what was happening. I did my best to side-step this 'fan,' but he just backed me up into the entrance of the restroom. Feeling threatened, afraid, scared, I gave him $20 out of my wallet. I heard him cackling in the restroom as I stood there in shock.
I never reported it. Didn't know the fan's name. A description of a fan in a baseball cap, sunglasses, and a shirt of a fan-favorite driver wouldn't have done any good. At that point, it was a needle in a 12,000 fan haystack. Embarrassed, I put the event behind me and never talked about it until 2016.
2015
A couple of years later, at a different venue, I experienced the single-most terrifying moment I have had to date. Following the pre-race invocation, while everyone around me said 'Amen,' I said 'Shalom.' It wasn't the first time I've done that. My family and I had done that every race we had attended that I can remember.
In the moments between the invocation and the National Anthem, an open can of beer splashed beside me. Thinking that someone just dropped their beer, I ignored it. Immediately after the National Anthem, I got a rude awakening. This time, an unopened beer can exploded beside me.
Drenched in beer, I turned around. Some other fans also turned to look. A few rows up, a group of four fans began shouting derogatory epitaphs at me. After I watched another beer get thrown at me, which missed and landed in an empty seat two rows down, I packed my gear up and started walking.
Walking up the steps, I saw a couple of the 'fans' that had been hurling the beers and epitaphs at me point in my direction. Two of them began heading towards the opposite end of their row. I had an idea of where I was going, but now, I thought I was being followed.
I ducked in and out of restrooms as I worked my way from my seat in Turn 1 to the start-finish line. Luckily, this race had been rained out the night before and there were plenty of empty seats. Around lap 30, I finally grabbed a seat near where I knew that one of my father's friends sat.
Like in 2013 before, I didn't report it. Although this time I knew exactly who had been attacking me, I was afraid, ashamed, and embarrassed. I thought of my sister who had been beaten in middle school because we're Jewish, despite multiple attempts to bring her issues to the school. I thought of my grandparents, both Holocaust survivors. There was so much going through my head that I don't remember much of what happened in that race.
So, I just didn't talk about it. When I came forward about these experiences there were some fans that attacked me. On Facebook and Twitter, fans commented negatively with, 'that didn't happen,' 'it never would have happened to me,' 'if it happened, why didn't you come forward sooner,' among other comments and memes.
Renewing my Love of NASCAR
The year 2015 was a year of change for me. As I explained, I got to experience some of the worst that there was. Earlier in the year, my work with iRacingNews covering the iRacing IndyCar Series came to an end. A three-month stint as a 'developmental journalist' with the defunct-Popular Speed resulted in just one article and a lot of soul-searching.
I wasn't sure what I wanted to do, I was heading into my last semester of college for a degree in history. At that point, I thought my time in the NASCAR community, 20 years at that point, was coming to an end.
Then, I stumbled across a Facebook post advertising a job as a writer covering NASCAR. On a whim, and advice from my parents, I replied. By the 2016 Daytona 500, I was writing for Motorsports Tribune. Through them, Short Track Scene, and friends such as Speed Sport's Jacob Seelman, TSJ Sports' Peter Stratta and Noah Lewis, I fell back in love with NASCAR. I also became a much better-rounded writer, although I admittedly still have some hiccups every now and then.
I parlayed my experience at Motorsports Tribune into an opportunity as the Staff Writer and eSports Editor for Kickin' the Tires, where you are reading this article.
Josh Reaume's Suspension
On Nov. 10, 2020, I, along with many in the industry learned of Josh Reaume's suspension after he made an anti-Semitic post on social media. The anti-Semitic post was a photo of a swastika. Kickin' the Tires editor Jerry Jordan broke the news eight months ago. NASCAR rightfully suspended Reaume until he completed sensitivity training.
Josh Reaume Suspended for Anti-Semetic Social Media Post
It was frustrating, infuriating, and quite frankly, it made me angry. Again, both of my grandparents are Holocaust survivors. My grandfather survived Auschwitz-Birkenau; my grandmother survived Bergen-Belsen. They were two of nine family members that survived the Holocaust. In total, 70 family members were imprisoned in the Concentration Camps.
I withheld the urge to go into an expletive-filled rant on social media and on various podcasts and radio shows I was invited onto in the wake of the incident. I know I am better than that, but it brought back the memories of my negative fan experiences, which I had mostly suppressed, to the forefront.
Since then, Reaume completed his sensitivity training and has been reinstated by NASCAR.
Inclusion Today
A year ago, NASCAR banned the Confederate battle flag from its properties, tracks, etc. They also partnered with various organizations such as the Urban Youth Racing School, the Trevor Project, the Women's Sports Foundation, UnidosUS and several Historically Black Colleges and Universities (HBCU) among other organizations. Each of these steps has opened the flood gates to potential new race fans.
It's no doubt led to new fans entering the sport after NASCAR returned to racing following the COVID-19 shutdown. Some, such as Alvin Kamara, Bernard Pollard Jr., Renee Montgomery and more began to become more involved following the banning of the Confederate battle flag. Bubba Wallace's No. 43 #BlackLivesMatter Compassion, Love, Understanding Chevrolet Camaro ZL1 1LE at Martinsville Speedway on Wednesday, June 10, 2020 also attracted new fans.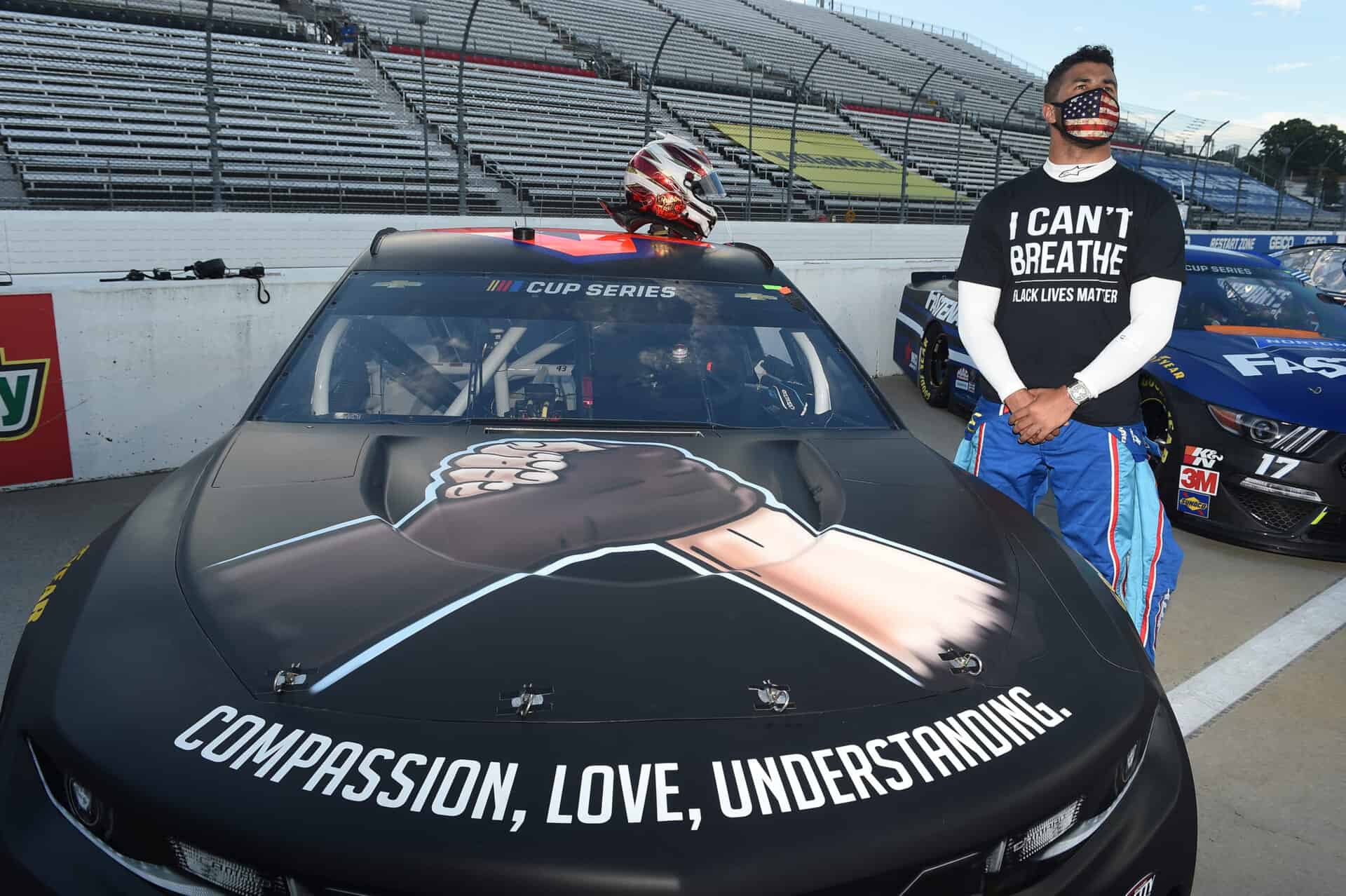 Kamara has since gone on to attend NASCAR races at Homestead-Miami Speedway and Nashville Superspeedway. His company sponsored Ryan Vargas in the NASCAR Xfinity Series at the Daytona International Speedway Road Course. Now, Kamara has been named NASCAR's first-ever growth and engagement adviser.
Pollard's fandom of the sport grew into a partnership with Ally. He's been a guest on Door, Bumper, Clear and joined iRacing. Pollard was the honorary starter of the Ally 400 this past weekend at Nashville.
As Adam Stern of the Sports Business Journal reported in March, NASCAR formed a Diversity Committee that spans the industry.
.@NASCAR has formed a new 15-person diversity committee that spans the industry and has bold-faced names involved, as the sport makes another move in equality and inclusion.

📜: https://t.co/ZWKxGHDDex pic.twitter.com/IHPJHCaqTr

— Adam Stern (@A_S12) March 29, 2021
Coming full circle, as a Jewish race fan, and today, media member, the pre-race invocation most of the time still leaves me feeling awkward. That is the only moment each race day, and each race event I cover or attend in person, that I don't feel included. Now, I am not advocating for the removal of the invocation. Rather to have one that is more inclusive for everyone.
Although NASCAR has made huge strides in inclusivity, there is still progress to be made. I, for one, am excited to see where the sport is going and what a more diverse and inclusive NASCAR will look like in the days, months, and years to come.
Featured Photo Credit: Photo by Chris Graythen | Getty Images via NASCAR Media.