By Lewis Franck, Contributing Writer
This past weekend Roger Penske was the honoree at the Amelia Island Concours d'Elegance. The 83-year old parlayed a championship racing career into a business empire, racing empire and recently purchased the Indianapolis Motor Speedway among other assets.
To describe a Concours d'Elegance, think of cars and coffee, but, on steroids. The annual event drew over 20,000 spectators and the most drool-worthy cars you could imagine.
As part of the weekend's activities, there were panel discussions called "seminars" where many of Penske's associates appeared and regaled the sellout audiences with previously unknown tales.
You can't think of Penske, in NASCAR, without thinking of Roger's first regular driver, the Hall of Famer, Rusty Wallace.
As Penske told the audience "Rusty wasn't a driver who came to the track with his helmet and told you what to do. He knew more about the car than anyone at the shop. We had (crew chief) Robin Pemberton, I was in charge of decals" he said, with a big laugh adding, "don't believe the engineering stuff."
"The success we've had is amazing" Penske continued. "NASCAR is a tough business. Rusty helped us build that championship team."  
Harkening back to early days he added, "I'll never forget the day in Talladega … we had a great car leading the race. Earnhardt got in the back of him on the trioval… (Rusty) flipped about 13-times. "It was a hell of a wreck."
On the helicopter to a hospital in Birmingham, Ala. Penske told Rusty "we'll be back in a race car."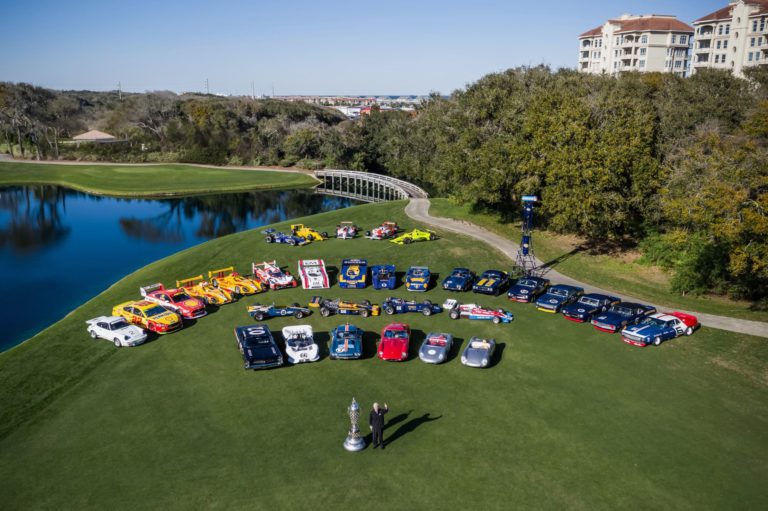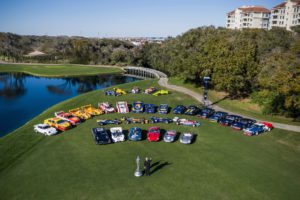 Rusty did get back in one of Penske's cars "weekend after weekend I can't thank you enough," Roger said.
When asked how he chose a prospective driver Penske offered, "you have to look at drivers who had won in some form of racing (previously)."
Going back to his days running sports cars only, "you basically had (the late Mark) Donohue, who was a great road racer and the great Rusty Wallace all these people who had won. We have to make commitments early on. The same thing with our pit crews. We try to put them with a team who doesn't have a pit crew. It's a ladder process. You look at guys like Rick Mears, Donohue and Rusty, who had been with us for (virtually) their whole careers."
One of the iconic images of the weekend is a gathering of cars representing the honorees' careers. You can see it in one of the photographs. I think The Captain underestimated the numbers.
"The thirty-plus of cars that came out of our shops over probably five or six decades." Penske said, "Thinking about the early Porsches and Corvettes, it's amazing for my wife and family,"
Currently, Team Penske's biggest footprint is NASCAR and IndyCar. Kickin' the Tires asked Penske about the future of sports car racing at a time when pickup trucks and SUV amass over 70-percent of vehicles sold in the US.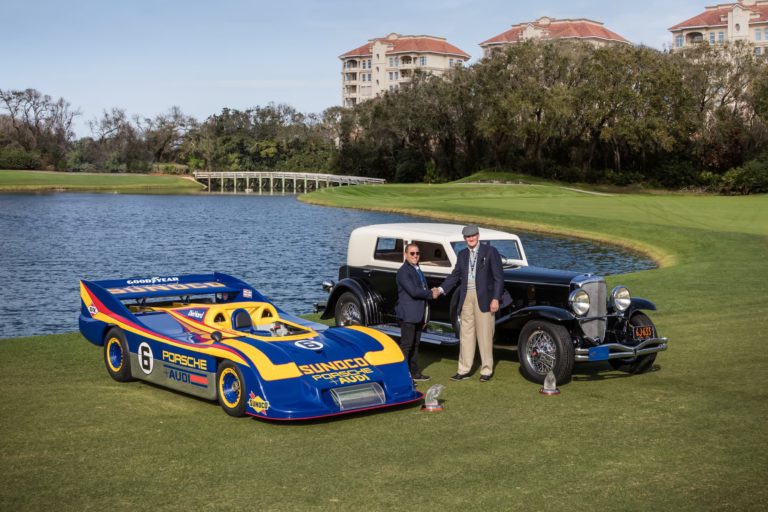 Penske replied, "I think they'll always be a special car. Look at General Motors Corvette. It's not their core business."  
Penske's not worried about the future of sports cars. "I don't think we will ever see a day where people won't want to race each other."
In related news one of Penske's former Can-Am cars the mighty Porsche 917/30 took the honors of the weekend as Best in Show Concours de Sport Trophy. That car is, coincidentally, owned by Rob Kauffman a partner in Chip Ganassi's NASCAR team.