By Briar Starr, NHRA Staff Writer
In this week's first edition of The Driver Q&A, Kickin' The Tires chats with two-time NHRA Funny Car Champion Cruz Pedregon. Pedregon has been in the sport since 1991 when driving in Top Fuel on a part-time basis for Larry Minor before transitioning over to Funny Car in 1992 and ultimately driving for Joe Gibbs in his early years. Throughout the years, Pedregon has made his name known in the sport by winning the 1992 and 2008 championships and winning over 40 career victories.
Meanwhile, starting his own team and continuing to be a successful driver-owner all these years. In this Q&A, we take a look at Pedregon's career in what he thinks his best season is, some memorable moments, favorite paint schemes, and other notable throughout his 32-year career.
Kickin The Tires:
You've run 635 races since making your debut in 1992. During your 32-year career in NHRA, which season do you feel like was your best season and why?
Cruz Pedregon:
"That's hard to answer because there's been so many (seasons) and they all have their own reasons," Pedregon said. "I would say without taking away from my very first championship in my first year in 1992, the 2008 season had the most meaning. That was the first year I won the championship as a Team Owner. I have to mention one other year and that was 1998."
"The championship was within arms reach (four wins in 1998) with Joe Gibbs. I wish I had that season back because that was the year, I was going through a slump as a driver. I feel like the car was one of the best cars I have driven. We had 12 No. 1 qualifiers that season, that was pretty spectacular."
Kickin' The Tires:
Ever since the Countdown was installed in 2007, you made the playoffs eight times and have scored seven victories and two runner-up finishes. Out of those seven victories, which win is the most special win you've achieved?
Cruz Pedregon:
"Oh man, I'm going to have to say 2008 Las Vegas because that really put us in the driver seat to have a chance at the championship," he said. "Additionally, I think the last Vegas race (2021) put us back in the championship picture. Those two Vegas races were probably my most special wins in the Countdown for sure."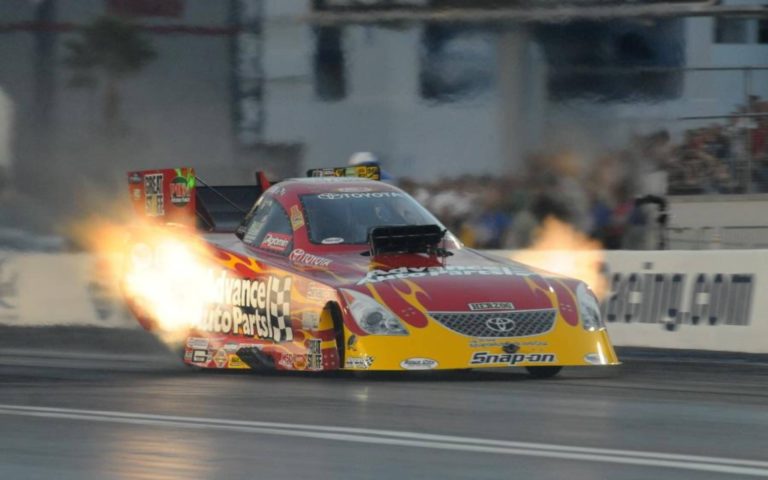 Kickin' The Tires:
At one moment during a driver's career, they usually experience an explosion in the car, the body flying off, etc. In your career, what's a scary moment that you've experienced that you hope to never experience again?
Cruz Pedregon:
"I'm going to say Las Vegas 2006 or 2007, that was by far the scariest," Pedregon said. "I was racing Garry Densham in qualifying, we had a massive explosion and I ended up right behind Densham and into the wall. The explosion is something I never want to go through again. Another comes to mind is the wheel stand back in 2016 (Las Vegas) because there again, the wheel stand I didn't know which way was up and didn't know how bad it can end."
Kickin' The Tires:
I remember you telling me a few years ago in another interview, that Topeka was your favorite track. Is Topeka still your favorite track and if so, what is your favorite memory of racing at Topeka?
Cruz Pedregon:
"There were a few years there it seemed like we would race John Force in every race in the finals," the two-time champion said. "I remember we used to race at Topeka twice a year and I would say the '90s Topeka when we had the Larry Minor days and the Joe Gibbs McDonalds car. It seemed like no matter what we did, we ended up in the finals, Topeka was always a fast track. My cars have always driven well there."
"The other that comes to mind is Denver. If you take the win-loss record at Denver, I'm pretty high up there."
Kickin' The Tires:
Most drivers have their "Welcome to NHRA moment." For you, when did you have that moment and how did you take that learning lesson moving forward?
Cruz Pedregon:
"My learning moment has to go back to the '98 season," Pedregon recalled. "I took that slump experience as a driver and applied it moving forward. You know, the distractions that can come to the driver, I learned to deal with that. I'm kind of the driver and person that likes things a certain way. I guess you can call me a perfectionist personality."
"I had to figure out how to make that work, but once I did, it worked. I wish I could go back and take some of that back and redo things. Everything is a learning experience and you need to take it by such and apply it. That's what helped me win another championship by having gone through that.
Kickin' The Tires:
If your driving career was over tomorrow, but you had the option to stay in the sport whether it's as a crew chief, engineer, specialist, in marketing, etc., what would your other career choice be if you stuck around in motorsports, but were not racing in the Funny Car and with the exception of being a team owner?
Cruz Pedregon:
"Crew chief would be something I would enjoy," he said. "The crew chief is very much like a driver who is in the works of the car and you're not physically driving the car. When the car wins or smoke the tires, you're right in the thick of it."
Kickin' The Tires:
Sometimes people get mistaken for other people and that especially happens in racing a lot. Have you ever been mistaken for someone while at the drag strip and if so, who?
Cruz Pedregon:
"I have to say, it's my brother (Tony Pedregon, NHRA on FOX analyst, and former Funny Car driver)," Pedregon said. "I get called Tony at least half a dozen times on the weekend. On the other hand, my brother Tony gets called Cruz because we're brothers. Some people say we look alike, others say we don't.
Kickin' The Tires:
You've had a lot of moments throughout your career that we've talked about before. However, if you could relive a moment in your career, what moment are you choosing to relive?
Cruz Pedregon:
"The one win and moment that made me was when we won the 1992 U.S. Nationals, that was such a big race," he said. "I felt like okay, no matter what I do going forward, I'm the U.S. Nationals winner and if my career was over that day, my career would be fulfilled. I beat Del Worsham in the finals, so that was a special win for sure."
"If I can win that race two more times, I would be in some great company. I know some people say they don't care about that stuff, but I do. I would like to win the big race four or five times. I'm one win away from putting me in a great category."
Kickin' The Tires:
You have 62 No. 1 qualifiers in your career with your first coming in 1992 at Atlanta. Favorite No. 1 qualifier?
Cruz Pedregon:
"I can't remember the year specifically, but I think in 2011 and 2012, we recorded a lot of three-second runs and not a lot of those were being made at the time," Pedregon said. "We had a knack at Englishtown where we would set the No. 1 qualifier to three or four times in a row with a 3.95 or 3.96. Those were fun because we had no big-name crew chief, just me and a couple of dudes."
Kickin' The Tires:
I am sure there are many achievements that you would like to cross off the list before you retire, however, is there a checklist or bucket list item that you want to complete before retirement?
Cruz Pedregon:
"Most importantly, I would like to be a difference maker driving the car," he said. "I pride myself on being a good driver that contributes to the winning of a good car. If I can do that, I would be satisfied with my career. I've risen to the occasion many times. I'm no spring chicken, I've got a few miles on me."
"I always look at John Force as an inspiration. If you have the desire to take care of yourself, you can still be effective, even in your later years."
Kickin' The Tires:
You've run some really cool paint schemes throughout your career. McDonald's, Interstate Batteries, Advance Auto Parts, the Batman scheme, and the Snap-on cars. What would you say is your favorite paint scheme that you've run?
Cruz Pedregon:
"I would have to say, the Carlo Santana car we did in 2004," Pedregon said. "The Batman car was really cool, we did that in 1995 with the movie. The Small Soldiers car we did with Interstate Batteries. Of course, the Snap-on charitable schemes that Snap-on does every October."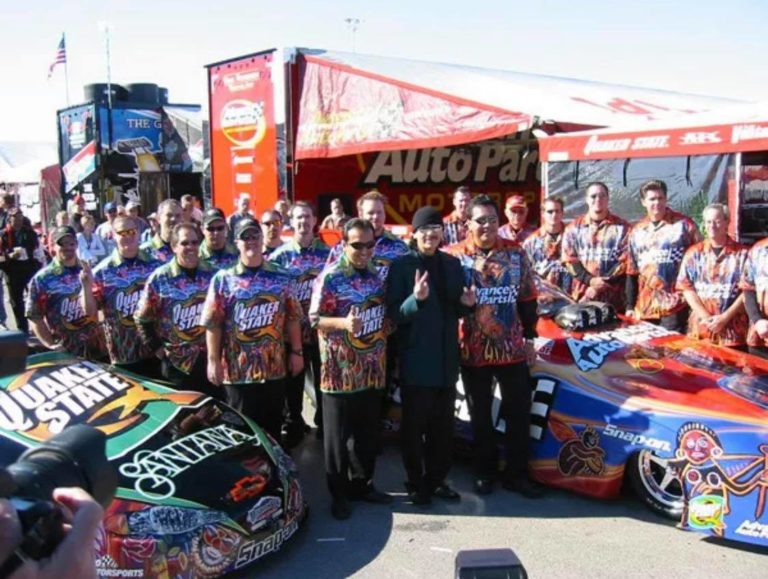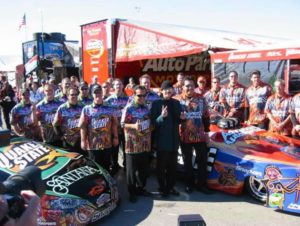 Kickin' The Tires:
What is your favorite race that you will always remember well after you retire?
Cruz Pedregon:
"The Pomona races because Pomona is my home track," he said. "I would also have to add Sonoma, Phoenix, and Denver. Why? Because a lot of my people are there. A large Hispanic population comes out and cheers me on. I feel like when you have your home crowd behind you, that means a lot to you. I have great memories of those tracks."
Kickin' The Tires:
If there was ever a movie made about your career, what would the title of your movie be called and who would play Cruz Pedregon?
Cruz Pedregon:
"I would have Benicio del Toro (male actor) play me and do the movie well," Pedregon said. "The title would definitely be themed after something like the odds stacked against me. When my dad (Frank Pedregon Sr) passed away when I was 18 years old, I had a strong dream of wanting to make it in racing. When he passed, I thought all my hopes and dreams were gone because I put so much emphasis on my dad with us."
"The fact that I rose off that canvas so to speak, to create something of myself in the racing world is pretty amazing. I think that story would resonate with a lot of people. The title would be something simple "The Driver." The reason why I say that is, that I have driven more motorized vehicles than anyone else and I would like that counted one day."
Throughout Pedregon's career, the Garden, California native has won two championships twice in 1992 and 2008 and has made eight playoff appearances. Additionally, Pedregon has competed in 635 races, scored 38 career victories in Funny Car competition, 42 runner-up finishes, and has earned 62 No. 1 qualifiers.
Fans of Cruz Pedregon can follow him on Social Media by visiting his Twitter, Facebook, and Instagram.