By Seth Eggert, Staff Writer
DARLINGTON, S.C. – NASCAR NEXT alumnus Ryan Vargas shows his marketability as a NASCAR Xfinity Series driver with his social media engagements.
With over 23,000 followers on Twitter, 21,000 followers on Instagram, 7,000 followers on Facebook, 2,600 followers on Twitch, and a staggering 416,000 followers on TikTok, the La Mirada, Calif. native has made his presence known on social media. That reach on social media has reeled in Fortune 500 companies and local 'Mom and Pop' companies alike to sponsor Vargas.
Vargas Opens the Social Media Floodgates
It all started in 2020 when Ryan Pistana posted a 'fantasy' No. 15 Ryan Vargas TikTok Chevrolet Camaro SS on Trading Paints for use on iRacing. A few Tweets, and months, later, and the 21-year-old landed TikTok as a real-life sponsor. More recently, Williamsburg Contracting in VA signed on with the JD Motorsports driver after a social media post.
"The TikTok sponsorship that opened up the floodgates," Vargas admitted. "We've got a lot of people look at it like, 'well, if this massive corporate entity in the world, not just America is willing to trust Ryan with their name, then why not trust him with ours?' That's the way I see it.
"When it comes to doing all these partnerships, we've worked with all the way from your global tech giants like TikTok and Swann Security all the way down to your local companies like Monarch Roofing or even for example of another sponsor I got through social media, Williamsburg Contracting in Virginia. It's so important to kind of know what your value is as a driver as well and know what that value could provide."
The Changing Sponsor Landcaspe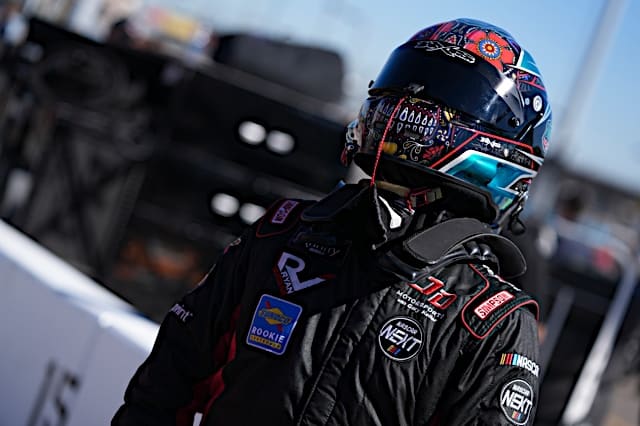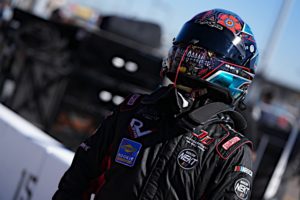 The changing landscape of the business and marketing is something that Vargas recognizes. While social media engagement drives numbers, sales, and sponsor dollars, it also provides a place to be an influencer, role model, and sponsor representative. The NASCAR Drive for Diversity alumnus is keen to utilize social media where he can.
Social media has its' ups and downs, however. Where Vargas has landed sponsorship deals through social media, others have strayed into controversial waters. Hailie Deegan was required to go to sensitivity training after a comment during a Twitch stream. As did Denny Hamlin after he posted a stereotypical meme on Twitter. Josh Reaume also was required to take sensitivity training after posting an anti-Semitic image on Snapchat.
"It's big, especially nowadays when we're in this new age, we're not in 2006 anymore," explained Vargas. "We're in an era where social media, impressions, engagement, being genuine with your audience, is so paramount nowadays. When you have and you're able to go to a sponsor now it should provide value that goes beyond what's on the car. That is so much more important sometimes than others.
"You need to keep in the back of your mind who your audience is. The state of everything right now, you have to be smart. Just keep everything in the back of your mind and know what the best way to say (something). Go to TikTok and you'll see some of the stuff we put out there where I'm making fun of myself for doing some type of meme. It's all about having fun."
Mindfulness on Social Media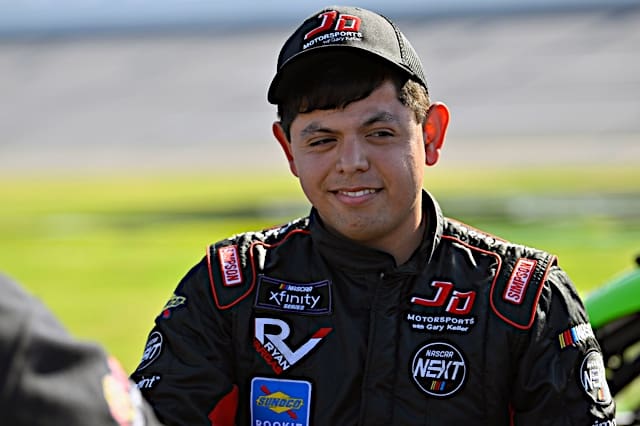 Despite his reach on social media, Vargas is careful when he is looking for sponsorship. The second-year driver doesn't like to post when he does need a sponsor. That doesn't stop him from taking a chance with the various companies that already follow him on Twitter. Vargas will 'shoot his shot,' sending out a DM or tagging the company in a Tweet if he notices them following him.
"I try to avoid doing a post," Vargas pointed out. "I hate posting and saying, 'hey does anybody want to do it?' Hate doing that, but sometimes, when it comes to having a company that I notice follows me, I'll shoot them a DM or tag them in a Tweet, something like that. I did one for Shasta this week. It's a little banter like, 'let's do something since I love their sodas.' It's all about having fun and being organic with it. Never want to come off as begging, but you always want too just be yourself.
"This year has definitely been difficult. We've had a lot of races where we had to figure out what we can do. But it's the belief in us through partners like Swann Security, Monarch Roofing, all the other partners. It's a big, big deal."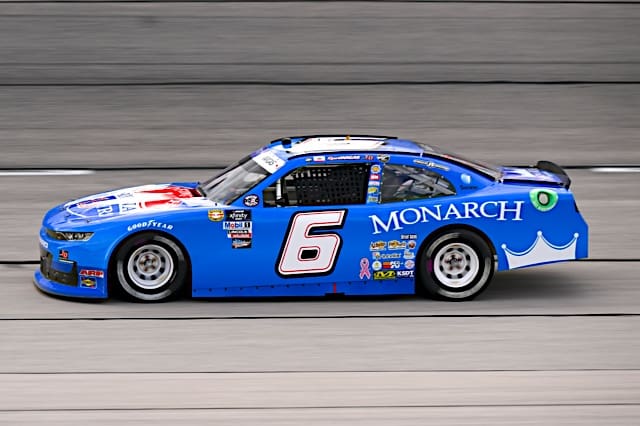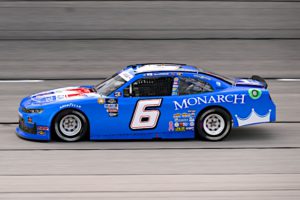 While Vargas has had about six sponsors come through social media, the sponsor for his NASCAR Throwback car is not one of them. Monarch Roofing is the result of a 'cold call message' on LinkedIn. The throwback that Vargas will run in the NASCAR Xfinity Series Mahindra ROXOR 200 at Darlington Raceway harkens back to Jeff Gordon's Busch Series Pepsi car from 1999.
"Monarch Roofing was actually a LinkedIn cold message," Vargas recalled. "It looks absolutely gorgeous, based on Jeff Gordon's 1999 to 2000 Pepsi Busch car. It's always awesome to have this company on board. They're a local company out of Myrtle Beach celebrating 15 years of roofing the Carolinas. They're always a pleasure to work with for these Darlington races and just really excited."
The 2022 NASCAR Throwback weekend marks the third time that Monarch Roofing has graced Vargas' No. 6 Chevrolet Camaro SS. Both of the previous times the company adorned his car it was at the track 'Too Tough To Tame.' Vargas' best finish at Darlington is 25th, twice.
The Mahindra ROXOR 200 at Darlington is scheduled to start at 1:30 p.m. ET on Saturday, May 7, 2022 on Fox Sports 1.
Featured Photo Credit: Photo by NKP / NKP Photo.