By Seth Eggert, Associate Editor
The centenarian edition of the 24 Hours of Le Mans features over 60 entries from Hypercar to LMGTE Am and more. The drivers competing in the twice around the clock classic at Circuit de la Sarthe are a microcosm of the motorsports world with former Formula One drivers, current Formula E, IndyCar, and NASCAR drivers.
Hypercar
In Hypercar there are five American entries, three Cadillacs, of which two are from Chip Ganassi Racing and the other from Action Express Racing. The other two American entries are from Glickenhaus Racing, which field their own hypercars.
Cadillac Racing has former IndyCar driver Sebastien Bourdais and past Indy 500 winner Scott Dixon teamed with past Rolex 24 winner Renger van de Zande. Other notable drivers spread across the Hypercar field are Pipo Derani, Alex Felix de Costa, Ryan Briscoe (no relation to current NASCAR Cup Series driver Chase Briscoe), Esteban Gutierrez, Kamui Kobayashi, and more.
LMP2
LMP2 meanwhile is made up solely of the ORECA 07-Gibson chassis cars. The class may have one kind of car but has a wide array of talent behind the wheel of the 24 entries.
IMSA star Ricky Taylor joins Joe Farano and Rene Rast in the Tower Motorsports entry. PREMA Racing's No. 9 entry features American Juan Manuel Correa, who recently returned to racing after being collected in a crash at Spa-Francochamps that claimed the life of Antoine Hubert.
Also in LMP2 are former F1 drivers Daniil Kyvat and Pietro Fittipaldi. Another notable in this part of the grid is 2021 World Endurance Championship (WEC) champion, Ferdinand Habsburg-Lothringen, who is also the grandson of the last crown prince of Austria-Hungary, Otto von Habsburg.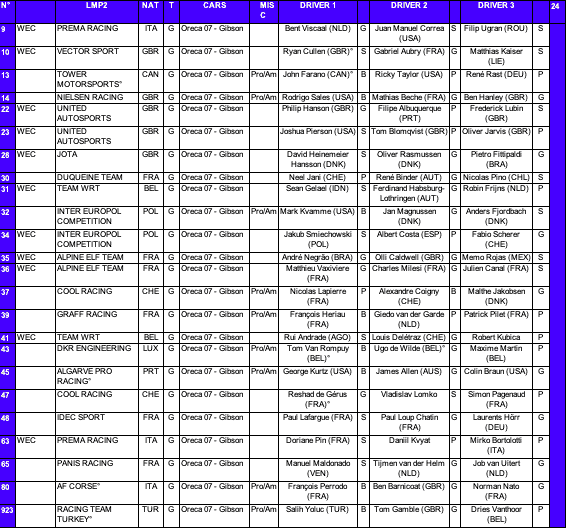 LMGTE Am
In 2023, the GT field is one class, LMGTE Am. Of the 21 cars officially in the class, there is one American team, Corvette Racing. The American outfit has Nicky Catsburg, Ben Keating, and Nicolas Varrone as drivers of the No. 33 Chevrolet Corvette.
Hollywood actor Michael Fassbender follows in the footsteps of Paul Newman, Patrick Dempsey, and others as he will compete in the Proton Competition Porsche 911. The Irish actor will have Martin Rump and Richard Leitz as co-drivers.
LMGTE Am also features the all-female Iron Dames line-up. The trio of Sarah Bovy, Michelle Gatting, and Rahel Frey have been impressive on track in recent months, furthering the achievements of women in motorsports.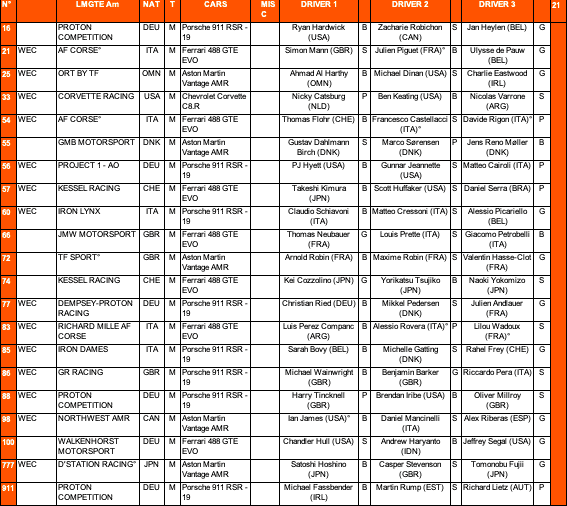 Garage 56
Finally, the 62nd and final car on the 24 Hours of Le Mans grid is the Garage 56 entry, the innovative car from Hendrick Motorsports and NASCAR. The entry is a modified version of the NASCAR Cup Series Chevrolet Camaro ZL1 Next Gen car. NASCAR is celebrating their 75th Anniversary by joining Le Mans for their 100th.
The No. 24 Chevrolet, which will be scored with the LMGTE Am field during cautions, will be driven by seven-time NASCAR champion Jimmie Johnson, 2009 Formula One champion Jenson Button, and 2010 24 Hours of Le Man winner Mike Rockenfeller. It marks NASCAR's first Le Mans entries since the 1970s.

The 24 Hours of Le Mans is scheduled for Saturday, June 10 at 9:00 a.m. ET on Motor Trend TV. The race will also be streamed on MotorTrend+.