The NAPA AUTO PARTS 150 PRESENTED BY WEST COAST STOCK CAR HALL OF FAME, second race of the 2022 ARCA Menards West Series season, kept all its promises with fierce battles on the track, multiple twists and turns until the checkered flag was passed and a first-time winner, rookie barely 16 years old, Tanner Reif. A future star of NASCAR no doubt about it!
The Irwindale race review is available here: www.kickinthetires.net/nascar/arca/arca-menards-west-series-irwindale-race-review-kickin-the-tires/
Complete race results here: www.racing-reference.info/race-results/2022-02/AW/
As after each race we are going to detail the statistics for each driver, embellished with the reactions collected from many of them, drivers, owners and crew chiefs.
The stats
-Race number 995 since the inception of the West Series in 1954.
-2022 race number 2 of 11.
-Race number 31 at Irwindale Speedway since 1999.
-Win number 7 for Ford at Irwindale. Chevrolet leads with 15. Other wins are split between Toyota (8) and Dodge (1).
-Win number 37 for owner Bob Bruncati. The fourth most successful owner in history behind Bill McAnally (98), Fred Elder (45) and Ernie Conn (41).
-Win number 5 for Bruncati Racing at Irwindale (Jason Bowles (3 wins between 2008 and 2009) Trevor Huddleston 2019 and Tanner Reif 2022)
– First career win for Tanner Reif (second career start)
-Tanner Reif is the 198th different race winner in West Series history.
-Tanner Reif is the 17th different race winner at Irwindale
-12th time in 31 races that the poleman wins at Irwindale.
-3rd time the poleman wins the race having led all the laps at Irwindale.
-5th time in 31 races the race is extended by an overtime (formely green/white/checker) at Irwindale.
-Smallest field at Irwindale ex aequo with the July 2020 race (16). The record for the biggest field dating from July 2008 race with 31 cars.
-Smallest field in a West race since Roseville 2020 (13 cars).
-First time in the history of the West Series that a mother-daughter duo (Sarah Burgess and Bridget Burgess) has participated in the same official session.
The West drivers
No. 04 Sarah Burgess (Nascimento Racing) – Start: 16th – Fin: 16th DNS
She had done a few laps during the open practice organized the day before in Irwindale at the wheel of the car driven by her daughter. A huge smile on her face. Then a last minute deal was made with Nascimento Racing for Sarah to drive Sebastian Arias' backup car. A Toyota quickly embellished with tape to transform No. 4 into No. 04. All this for the sole purpose of validating its license with ARCA officials. There was even talk of her taking the start to do a start and park before joining the pit box of her BMI team to resume her role as her daughter's crew chief. As Sarah said: "yeah it's just a start and park, just for ARCA to sign off on my license. As soon as I've done my laps I'll be at (the pitlane) and back to crew chiefing for the car (of Bridget)". The car was on the pre-grid but the decision was made not to start at the last second. But it's only off to see the first mother-daughter duo in West Series history racing as she will race next at Irwindale next July.
| | | | | | | |
| --- | --- | --- | --- | --- | --- | --- |
| Starts | Wins | Top5 | Top10 | Pole | Best result | At Irwindale |
| 1 | 0 | 0 | 0 | 0 | 16th | 0 start, best result: 16th (DNS) |
No. 4 Sebastian Arias (Nascimento Racing) – Start: 8th – Fin: 9th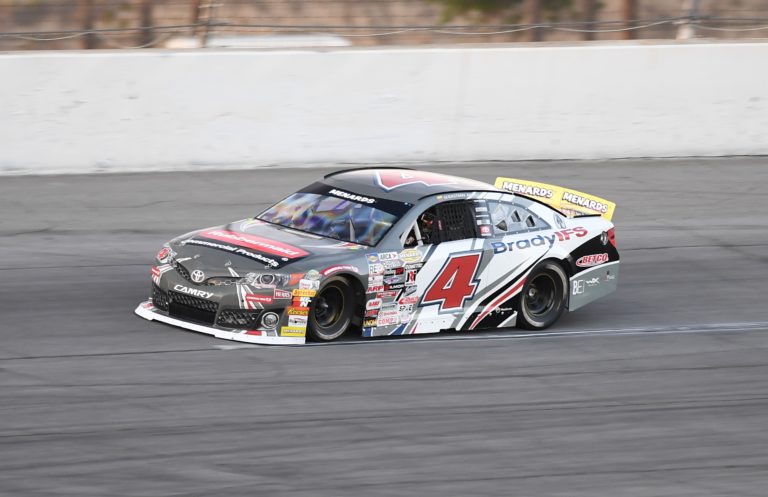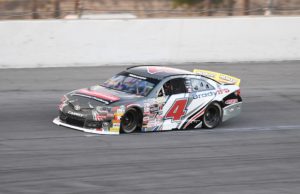 The number one goal at Irwindale was for Arias to get his first top 10. Since he knew the track for having ridden there last year on a practice session with BMR. It is done. And Arias is rather satisfied as he explains to us: "It went good , first full race at Irwindale , so it was lots of learning and progress to be made. We were really consistent and we were pushing towards the end. Our lap times at the end were matching the top 5 drivers so we know we have the speed".
Indeed if the first segment saw Arias evolve at the end of the top10, he quickly lost a lap on the leaders by having difficulty going under 20 seconds per lap. During the second segment, he managed to run regularly in 19.7-19.9 seconds which allowed him to consolidate his first top10.
| | | | | | | |
| --- | --- | --- | --- | --- | --- | --- |
| Starts | Wins | Top5 | Top10 | Pole | Best result | At Irwindale |
| 3 | 0 | 0 | 1 | 0 | 9th | 1 start, best result : 9th |
No. 6 Jake Drew (Bruncati Racing) – Start: 6th – Fin: 4th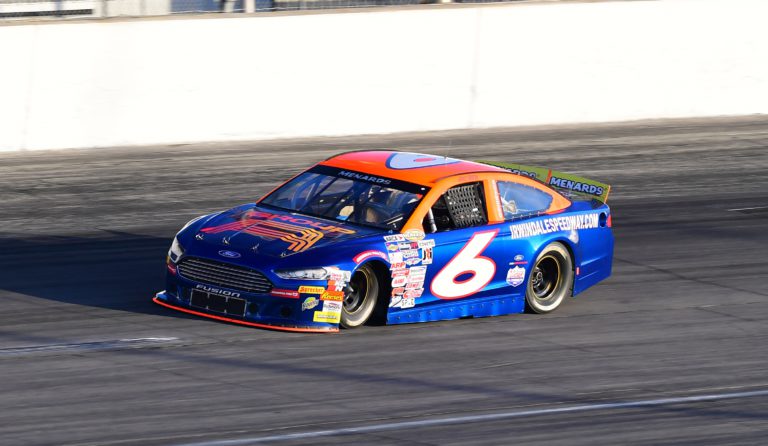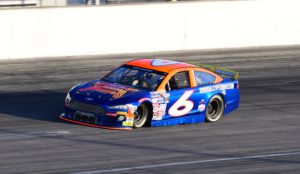 Jake Drew gets his third top-five in as many races at Irwindale. But this one tastes bitter. "I found we were in a really good rhythm and was feeling really comfortable and confident that we could get up there, at least back up to second. But we were lucky to salvage a fourth place." Drew will say.
Indeed Drew had many difficulties to find the good pace. Qualified sixth, he moved up to third position then second once Iest in the wall. But at the restart he could do nothing against Huddleston. However the adjustments made during the midway break allowed him to put pressure on his former teammate for second place.
So focused on his fight with Huddleston, he didn't notice Lowden who he took a lap on and sent the No. 11 Chevy driver into the wall. Which caused the third and final caution of the race and an overtime giving him a last chance to fight for victory. Unfortunately he will be a collateral victim of Moore's "bump and run" on Huddleston when the flagman waves the green flag. He will manage to save a fourth position.
About his race Drew says: "I could tell pretty early that we had a good car but we weren't the best car," Drew shared about the first half of his race. "I was confident that we could make a change and go at it and second half, but we didn't fire off too good which was a bit disappointing especially with the lack of cautions. When we got back to Trevor, he's not easy to pass. That was pretty tough."
Regarding the accident with Lowden, Drew admits his fault: "The situation with Lowden, I just feel absolutely horrible about it. I know how much time and work goes into these cars every week for all these teams, and I feel really bad about the mistake I made. Trevor was on the inside of him on the back straight. I was setting up to get a good run off of Turn 4, and just misjudged where Lowden was going to hit the brakes and flatout drove into him."
Enough to keep the championship lead with three points ahead of his new teammate Reif and four points over Moore. "It definitely feels good, for sure," said Drew with a sigh of relief. "Last year for nine races, we chased and chased and chased. It does add a little bit more pressure being the points leader because you're the top of the board. But I guess the mindset shifts a little bit from last year. When you're chasing somebody, you feel like you take more risks and just have a little more of a go-for-it mindset, whereas this year you don't want to put yourself in a bad situation so you try to be a little bit smarter and a little more cautious." Said Drew.
| | | | | | | |
| --- | --- | --- | --- | --- | --- | --- |
| Starts | Wins | Top5 | Top10 | Pole | Best result | At Irwindale |
| 11 | 0 | 6 | 9 | 3 | 2nd (2x) | 3 starts, best result : 2nd |
No. 7 Takuma Koga (Jerry Pitts Racing) – Start: 10th – Fin: 7th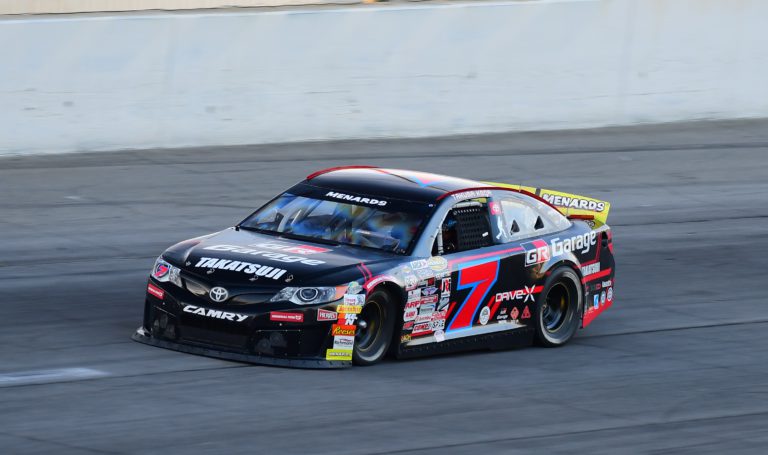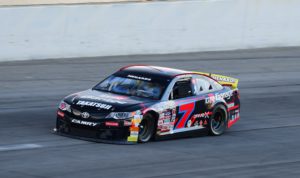 Best career result at Irwindale for Takuma which will have been talked about. Collision with P.J. Pedroncelli on lap 11. However the No. 7 Toyota did not suffer from the impact which allowed Koga to stay in the top-10. He was going to fight at length with Arias and Joanides for ninth position. Benefiting from the free pass at Midway Break, he would climb back up to seventh position and not leave it again until the checkered flag. "It was a great competitive race car tonight. I'm looking forward to the next race". As Koga tells us with his usual enthusiasm.
| | | | | | | |
| --- | --- | --- | --- | --- | --- | --- |
| Starts | Wins | Top5 | Top10 | Pole | Best result | At Irwindale |
| 92 | 0 | 2 | 16 | 0 | 5th (2x) | 13 starts, best result : 7th |
No. 9 Tanner Reif (Bruncati Racing) – Start: 1st – Fin: 1st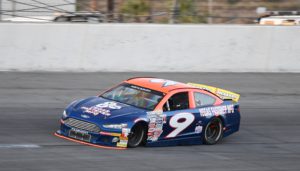 What an amazing performance! What more can be said ? The 16-year-old rookie made a perfect copy. Pole position, he led all the laps, withstood the pressure of an overtime and won his first career victory! He dominates the rookie rankings but above all he is already a candidate for the championship!
Vincent Delforge: A first career pole. Was it a goal or did you favor the race setup during the practice / qualifying session?
Tanner Reif: During practice we worked hard to gain a balanced car. Our first qualyfing run put us fourth on the board. But we kept working towards a better call till we had one. We put on a set of stickers and ran our second qualifying laps. It put us first on the board. All thanks to the wonderful number 9 team!
VD: Traditionally there are many yellow flags in Irwindale. Not this year. The longer the run under green lasted, the more you widened the gap on your opponents. Your car seemed to be on rails. Tire management was the key to winning?
TR: Yes, thankfully their wasn't a large amount of yellow flags, but even if their was we had great restarts and would have been pretty confident. On our long runs I would be able to get a gap on second and back down my pace pretty early and cool the car down. I believe that tire management was one of the major factors that lead us to a dominating race win.
VD: You handled restarts like a veteran. Without the slightest error. You seem insensitive to pressure. Your self control in Phoenix after your spun had already been impressive. So young but already so mature, what is your secret?
TR: Over my racing career I've learned many a times that the best thing you can do as a driver is to stay calm and focus on your line. It never helps to be stressed or to over think what your doing. Also practice is a key thing the more laps and mock restarts you can do the better.
VD: When you had almost won the race there was an overtime. When the yellow flag is raised, what is your first reaction?
TR: I was slightly frustrated and worried but quickly brought myself down from my emotions and made sure I got the restart I needed to win the race.
VD: Doing the race in front, in the clean air is a real advantage?
TR: It is a nice advantage, if your able to remain calm and maintain speed. Im able to gauge myself very well off the car behind me with the help of a great spotter. If they go faster I pick up the pace. If they slow down I slow down. It's all about keeping that pace with your competitors.
VD: Obviously you practice rock climbing. Climbing the fence to celebrate your victory did it come to you like that or had you already thought about it before?
TR: I had a quick thought about it while driving. But it's never a good thing to think about your celebration before the race is over. I've always wanted to climb the fence after I saw one of my friends Noah Gragson do it especially after he did it with his crew at Phoenix raceway. It just felt like the right moment to do it as the stands were packed and this was such a great accomplishment for me.
VD: Your integration into the Bruncati team was quick and is already victorious. The feeling seems perfect between you and your crew chief Jeff Schrader. The pre-season tests were decisive in this process?
TR: Yes, the pre-season practices showed we had real speed in the car and in the team. The practice got me used to the car and how the team works together.
VD: Does this first victory change the game? Already the spirit liberated. Your objective now is to win the championship where you prefer to remain cautious for the future and take it step by step?
TR: The victory doesn't change a thing I'm gonna do what I do every weekend. I'm gonna push as hard as I can for a win and take as many points as I can. If we come out with a championship and rookie of the year that would be great. But I'm gonna push for more wins in this season.
VD: Honestly you expected to do such a big performance at the start of the season?
TR: I expected to do well this year. I didn't know how well but this gives me the reassurance that I'm gonna be a major force in the West series this year.
VD: You will now have to confirm and justify your new favorite status at the next race in Bakersfield. Ready for it?
TR: I'm ready to do the best that I can and justify the fact that I can try my hardest at any track in any car. And maybe even hopefully come out with the win at the end of the weekend.
| | | | | | | |
| --- | --- | --- | --- | --- | --- | --- |
| Starts | Wins | Top5 | Top10 | Pole | Best result | At Irwindale |
| 2 | 1 | 1 | 1 | 1 | 1st (1x) | 1 start, best result: 1st |
No. 11 Chris Lowden (Lowden Motorsports) – Start: 13th – Fin: 13th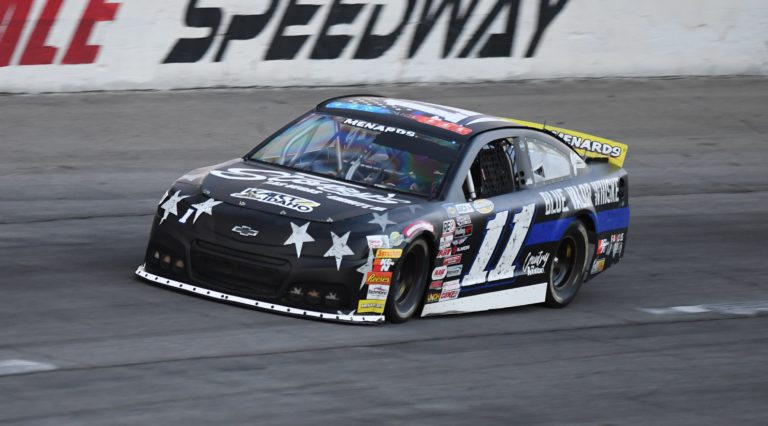 Difficult race for Lowden even if he improved his career best result by two positions by finishing 13th. "I can tell I had zero radio during first half, really shitty second half, helmet cooler didn't work during race and the car was wicked loose….good times!" said Lowden. And regarding his crash at the end of the race, pushed by Drew he says: "Yeah, on lap 174, said he misjudged, apologized a few times. Not too much damage on the car. We'll fix and try again at Kern".
| | | | | | | |
| --- | --- | --- | --- | --- | --- | --- |
| Starts | Wins | Top5 | Top10 | Pole | Best result | At Irwindale |
| 3 | 0 | 0 | 0 | 0 | 13th | 1 start, best result 13th |
No. 12 Kyle Keller (Kyle Keller Racing) – Withdraw
As explained in the race preview, the damaged car in Phoenix was not completely repaired and the team preferred to play it safe and skip Irwindale to better come back to Bakersfield, CA in April."When Kyle went into the wall at Phoenix it caused more damage than we thought. Getting replacement panels and parts has taken longer than expected." as Keller co-owner and team manager Steve Bohanon explains. Currently the team does not yet have a backup car.
| | | | | | | |
| --- | --- | --- | --- | --- | --- | --- |
| Starts | Wins | Top5 | Top10 | Pole | Best result | At Irwindale |
| 4 | 0 | 2 | 3 | 0 | 4th | N/A |
No. 13 Todd Souza (Central Coast Racing) – Start: 5th – Fin: 9th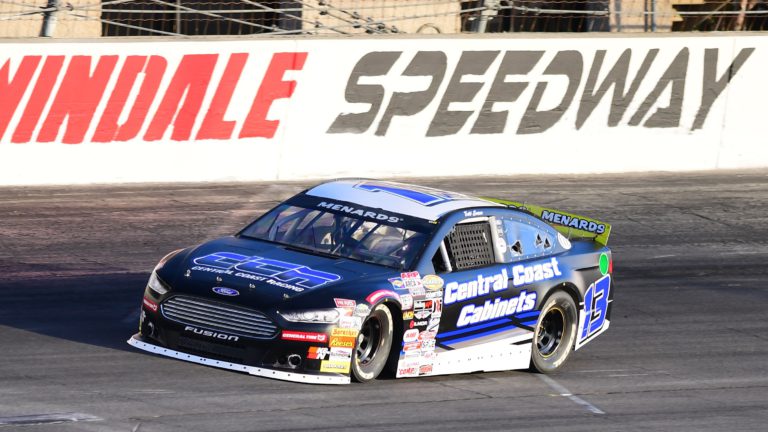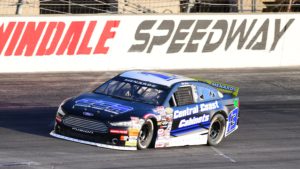 The 99th race was a complicated one for the veteran Souza. A hectic restart on lap 67 will generate flat left front tire. The time to join his pit box, to change the tire. Souza returned to the track three laps behind the leader in 12th position. He will climb back into the top 10 thanks to his speed and one or another retirement. "
Todd had one of the fastest, best handling cars he's ever had at a track that historically has been a challenge to us. Thanks to our amazing crew chief Michael Munoz and our entire team for the time energy and effort they put into this program. We love and appreciate you!" as owner Kelly Souza explains.
It's a philosophical Todd who says: "Starting 5th and getting up to third, a lapped car took us out just about half way through the 150-lap race. We went a couple laps down fixing the damage and got back out finishing 9th. But even damaged, the car was quick. Yes that's racing." The next race at Kern will be his 100th career. But as a follower of discretion. Nothing special is planned to celebrate this milestone.
Note that he will become the 50th driver in history to reach 100 career races. But still far behind the record holder. The late Jack Sellers with his 282 races.
| | | | | | | |
| --- | --- | --- | --- | --- | --- | --- |
| Starts | Wins | Top5 | Top10 | Pole | Best result | At Irwindale |
| 99 | 1 | 14 | 52 | 0 | 1st (1x) | 11 starts, best result : 7th (3x) |
No. 16 Austin Herzog (Bill McAnally Racing) – Start: 8th – Fin: 3rd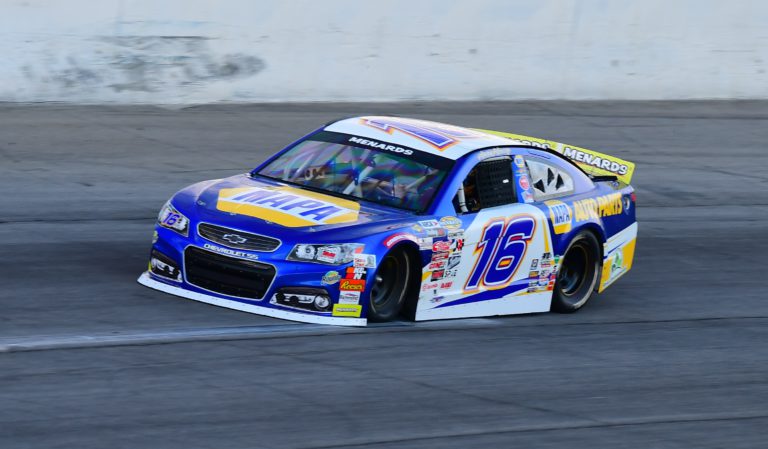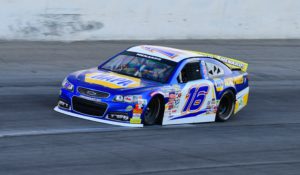 The BMR rookie certainly did not expect such a result with an improbable third position, his best career result. Unlikely for a BMR driver? Yes because Irwindale was really complicated for Herzog. Struggling to find speed on short or long runs. Qualified eighth in a car that Jesse Love had twice taken to Victory Lane here last year.
He sailed for a long time in seventh position. He even almost got lapped by the leader on the 60th lap. Saved narrowly by a yellow flag. The problems of Iest and Souza will allow him to integrate the top5 at the halfway mark. Failing to keep up with the top four. The incident during Overtime between Moore, Huddleston and Drew offered him an unexpected position on the podium.
"It feels awesome. These NAPA guys worked so hard all weekend. We did a lot of adjustments between qualifying and the race and obviously they paid off. We had really good adjustments at the halfway break. Can't thank these BMR guys enough. It's awesome for the BMR cars to come home 2-3. It was a good weekend and excited to get to Kern." Herzog said.
The joy of having obtained this third position seemed to make the young driver amnesiac. Even with the adjustments he had absolutely no pace to do better than 5th or 6th position. Even owner Bill McAnally tempers the words of his young rookie: "A good point day but yes 16 not where we want". But this good result should give the impetus to make further progress.
| | | | | | | |
| --- | --- | --- | --- | --- | --- | --- |
| Starts | Wins | Top5 | Top10 | Pole | Best result | At Irwindale |
| 3 | 0 | 1 | 2 | 0 | 3rd | 1 start, best result: 3rd |
No. 21 Stafford Smith (John Wood-Holleran Performance) – Start: 14th – Fin: 14th DNF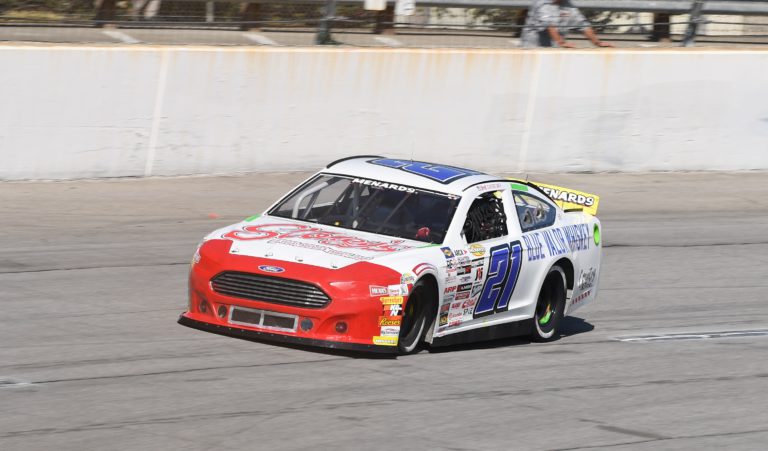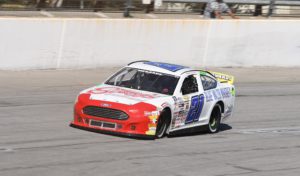 Change of number from 08 to 21 for the owner points of Mike Holleran, The return of Stafford Smith was complicated with an almost undriveable car. Blame it on shocks that were much too hard, causing the car to react brutally and unpredictably. It was for safety that the team preferred to abandon.
But always nice and caring with everyone and even before talking about his race, Smith wants to thank Tim Huddleston: "As usual an outstanding event hosted by Tim Huddleston, the owner and promoter of Irwindale Speedway. Such a vibe, fans enjoying the best of west coast experience. As for the race for us, it was one of those weekends that we just couldn't get it dialed in."
He goes on to tell us: "It became undrivable at speed, ultimately dangerous for me and the others on the track, so we parked at halfway. Still I'm very grateful for the opportunity. Wonderful to see Chris Lowden back in the seat, and for Trevor Huddleston put together a strong team on short notice." Stafford Smith will be in Kern County in April for the next race.
| | | | | | | |
| --- | --- | --- | --- | --- | --- | --- |
| Starts | Wins | Top5 | Top10 | Pole | Best result | At Irwindale |
| 25 | 0 | 0 | 6 | 0 | 6th | 2 starts, best result: 14th (2x) |
No. 31 Paul Pedroncelli (P.J. Pedroncelli Racing) – Start: 15th – Fin: 15th DNF
Not much to say. The original plan was respected. No practice lap and a race consisting of taking the start and doing a start and park. Here are a few more proprietary points in the pocket. And saw the repairs that had to be done on his son's car. A pair of arms was not too much! The same mission awaits the patriarch at the next race in Kern County.
| | | | | | | |
| --- | --- | --- | --- | --- | --- | --- |
| Starts | Wins | Top5 | Top10 | Pole | Best result | At Irwindale |
| 10 | 0 | 0 | 1 | 0 | 8th | 3 starts, best result : 11th |
No. 33 P.J. Pedroncelli (P.J. Pedroncelli Racing) – Start: 7th – Fin: 5th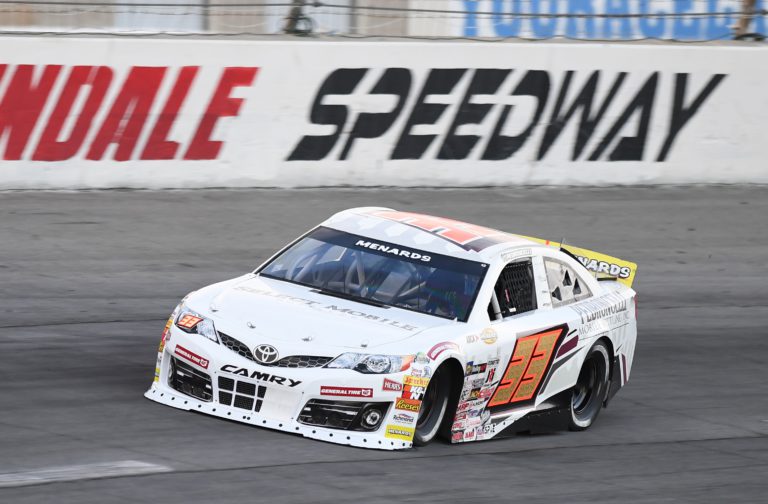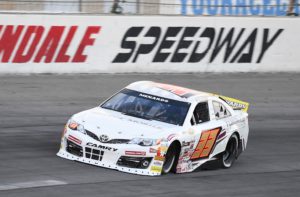 The end result demonstrates two things. First, P.J. knows how to seize every opportunity. Secondly he is a fantastic close racing driver. During overtime, in a tight pack, he was able to sneak in to grab a top5 which will be very important for the rest of the championship.
Because it all started with difficulty. An incident on lap 11 with Koga literally peeling his bodywork around his left front tire. P.J. explains: "We struggled a bit early on in the race, and had some contact with another car pealing the left from fender and door back. We managed to get to the half way point with it still attached and the crew was able to cut it off."
"We again struggled early on the second half going a lap down, then the car started to come in, we got our lap back on a late race final restart and started at the tail end of the field with two laps to go and managed to get up to fiftth. Salvaging a top 5 out of a not very good night. Ty (Joiner, the crew chief) and the entire team worked their butts off all weekend and with out that we wouldnt have had a the finish we did."
But it is full of hope that he sees the rest of the championship although there is still work to be done: " At the end of the race was running some of the fastest lap times on the track and it's was very frustrating when I was a lap down. Onto Kern April 23. One of, if not my favorite tracks. But we need to get figured out what is going on with the car and why we are struggling right now." Said Pedroncelli.
| | | | | | | |
| --- | --- | --- | --- | --- | --- | --- |
| Starts | Wins | Top5 | Top10 | Pole | Best result | At Irwindale |
| 24 | 1 | 5 | 7 | 1 | 1st (1x) | 4 starts, best result : 3rd |
No. 39 Andrew Tuttle (Last Chance Racing) – Withdraw
As indicated in the race preview, Andrew Tuttle had to give up participating in the Irwindale race due to lack of time for his new little LCR team to be able to finish preparing his Chevrolet. He will be back in Bakersfield.
| | | | | | | |
| --- | --- | --- | --- | --- | --- | --- |
| Starts | Wins | Top5 | Top10 | Pole | Best result | At Irwindale |
| 7 | 0 | 0 | 0 | 0 | 15th (2x) | N/A |
No. 50 Trevor Huddleston (High Point Racing) – Start: 4th – Fin: 6th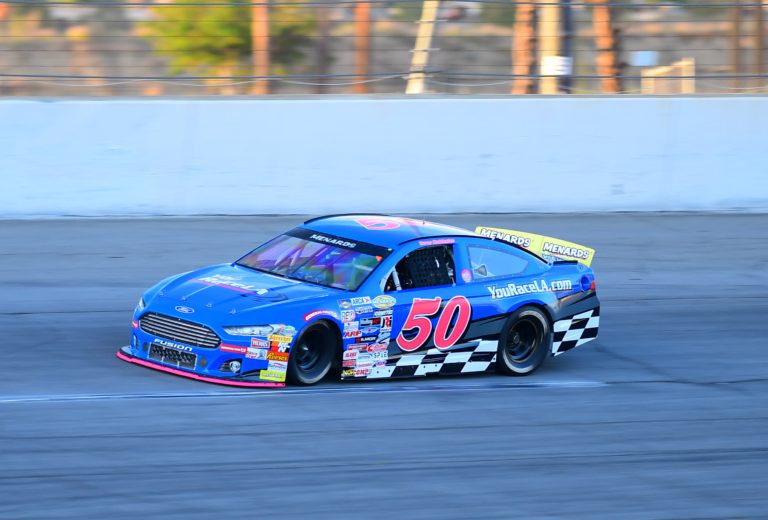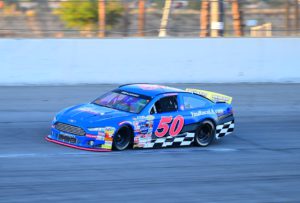 What a heartbreak for Huddleston for his 50th career race. With the HPR family team, led by his father Tim, the Irwindale Speedway president, he seemed to have all the assets to win his third career victory, the second on his favorite track after the one obtained in 2019. The driver had in his hands a very swift Ford. As a reminder, this car was placed on pole last year with Dean Thompson.
Qualified fourth, he would maintain this position until the 60th lap. From there he would gain two positions in about ten laps and become the main, if not the only threat to victory against Tanner Reif. Huddleston sticking to Reif's rear bumper until lap 95. There he was starting to lose some time on the leader by having to concentrate on defending his second position against his former teammate Jake Drew.
The overtime was an additional chance for him but he was unfortunately going to cause his tires to spin a little when accelerating. But the worst was to come. Cole Moore, stalled in his wake and without qualms, did not slow down and sent the Ford No. 50 sideways. Huddleston punching Drew's car. Damaged car he could do nothing and finished the race sixth and last on the leader's lap.
| | | | | | | |
| --- | --- | --- | --- | --- | --- | --- |
| Starts | Wins | Top5 | Top10 | Pole | Best result | At Irwindale |
| 50 | 2 | 18 | 42 | 0 | 1st (2x) | 6 starts, best result : 1st |
No. 54 Joey Iest (Naake-Klauer Motorsports) – Start: 3rd – Fin: 10th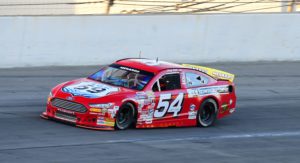 Third at the start, Iest took second position from Moore on the 32nd lap. He was then going to gradually reduce his delay on the leader Reif. When suddenly from the 50th lap he was going to start having a more difficult car to extract from the turns.
On lap 60 his right front tire punctured and he hit the wall violently between turns 3 and 4. In the time to go back to the pitlane, change tire and repair the bodywork, he lost three laps. Restarting in 13th position, he was going to give everything to grab a few places and finish in 10th position. A disappointing result when you aim for victory.
"What a fast car we had this weekend in Irwindale. Started in third position, working early up to second but unfortunately around lap 50 cut a right front tire into turn 3 and got into the wall. We got it fixed but put us 3 laps down, but we're able to finish the race with a 10th place. Thankyou to the entire Naake-Klauer Motorsports. Onto Kern." said Iest.
Mike Naake, the owner, does not hide his disappointment: "Joey riding in second. Waiting till the break. Before all of this happened.. Right front flat tire. Lost laps repairing the damage body from grazing the wall. Car was not the same after that.. Just survive till the end."
| | | | | | | |
| --- | --- | --- | --- | --- | --- | --- |
| Starts | Wins | Top5 | Top10 | Pole | Best result | At Irwindale |
| 15 | 1 | 6 | 7 | 0 | 1st (1x) | 3 starts, best result :3rd |
No. 77 Nick Joanides (Performance P-1 Motorsports) – Start: 12th – Fin: 11th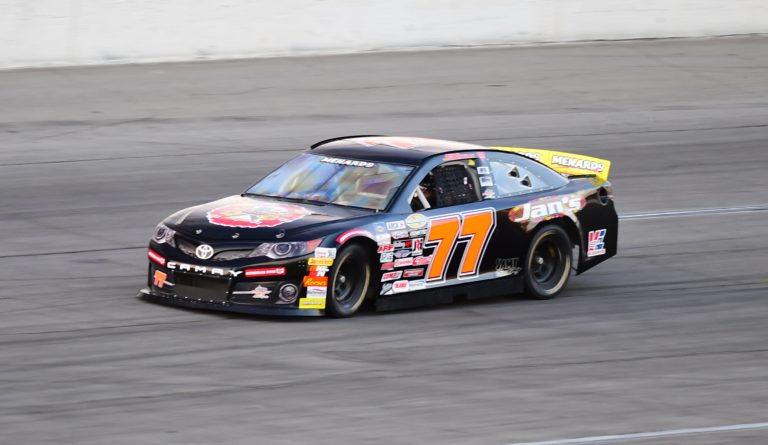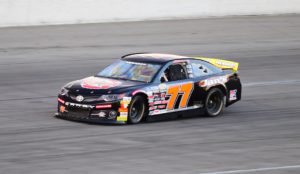 Thanks to loyal sponsor and friend Jan Qualkenbush, of Jan's Towing, the Toyota No. 77 had the opportunity to do the whole race and not the start and park originally planned. However, Nick Joanides did not manage to obtain a top-10 like last year. He was ninth but was passed in the wild overtime by Iest and Souza. "Almost got wrecked by the 54 (Iest) on last lap" being the explanation for his 11th position.
| | | | | | | |
| --- | --- | --- | --- | --- | --- | --- |
| Starts | Wins | Top5 | Top10 | Pole | Best result | At Irwindale |
| 14 | 0 | 1 | 4 | 0 | 4th (1x) | 4 starts, best result : 9th |
No. 86 Tim Spurgeon (David Racing with Nascimento) – Withdraw
Due to lack of logistics, Tim Spurgeon withdrew for this race. But to glean a few points in the owners' championship, Arias' backup car, entered for Sarah Burgess, was put in his name. A logical deal since Spurgeon and his David Racing team have an alliance with Nascimento Racing. We should see him again in Bakersfield.
| | | | | | | |
| --- | --- | --- | --- | --- | --- | --- |
| Starts | Wins | Top5 | Top10 | Pole | Best result | At Irwindale |
| 16 | 0 | 0 | 2 | 0 | 6th | N/A |
No. 88 Bridget Burgess (BMI Racing) – Start: 11th – Fin: 12th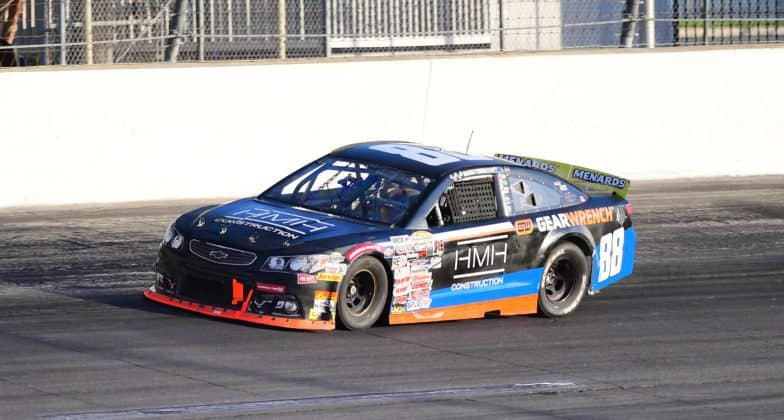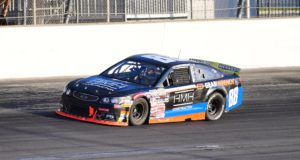 Finally the new chassis was not ready, it was with the car used in Phoenix that Bridget drove in Irwindale. She will have had ups and downs. Abandoning pure performance in the practice/qualifying session by focusing on the race setup. This tactic seemed to be the right one except that Intermittent radio problems plagued the first 25 laps of the race setting the BMI driver back. Once the problem was solved, Bridget was able to move up in the pack from 13th to 10th position at the halfway mark.
Doing good times but the two laps lost at the start of the race will never be recovered. Shortly after the 80th lap, she lost 10th position to Joey Iest. On lap 130, with very worn tyres, she gave up 11th position to Souza, depriving her of her last chances of a top10 finish. But her disappointing 12th final position hides the fact that she drove perfectly over a hundred laps when she had no technical problem. The top 10 will be a realistic goal in Bakersfield.
| | | | | | | |
| --- | --- | --- | --- | --- | --- | --- |
| Starts | Wins | Top5 | Top10 | Pole | Best result | At Irwindale |
| 22 | 0 | 0 | 5 | 0 | 7th | 4 starts, best result : 12th (2x) |
No. 99 Cole Moore (Bill McAnally Racing) – Start: 2nd – Fin: 2nd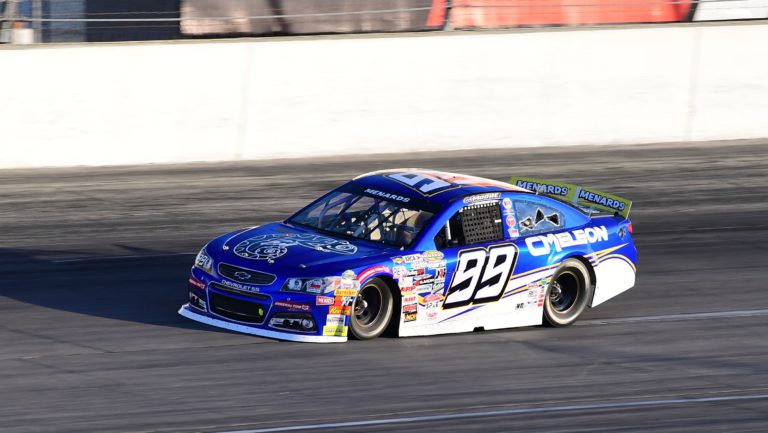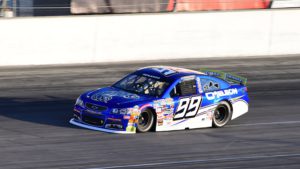 Good qualifying for Moore who only missed pole by 105 thousandths. He was going to make a good start to the race before suddenly losing the pace on the 32nd lap. Passing in three laps from second to fifth position. The No. 99 losing efficiency on long runs. And with only three cautions during the race, the tactic of betting on a short run setup turned out to be the wrong one.
Back in fourth after the accident of Iest, it was going to stay there until overtime. Rubbing against Huddleston's rear bumper, he was going to take advantage of the collision between the latter and Drew to sneak in from the outside in a superb maneuver and seize second position. He thus obtained his best result in his career.
But unlike his teammate Herzog, very happy with his third position, Moore as a more experienced driver nuanced this good and unexpected result by declaring: "It feels really good! We had probably a fourth-place car. We're racing for a championship, so those are some big points we picked up there. I was thankful that Austin ran me clean. We were not great on a long run there. Glad the last restart went in our favor. Trevor spun (his rear tires) in front of me, I stayed in it and got into him and the guys in second and third, I kind of pushed them out of the way. Second is actually really good for what we had"
| | | | | | | |
| --- | --- | --- | --- | --- | --- | --- |
| Starts | Wins | Top5 | Top10 | Pole | Best result | At Irwindale |
| 19 | 0 | 5 | 11 | 0 | 2nd | 3 starts, best result: 2nd |
Next race April 23 at Kern County Raceway Park in Bakersfield, Calif.
Featured Photo Credit: Photo Courtesy of Sal Sigala Jr. via Vincent Delforge.