By Vincent Delforge, special to KickinTheTires.net
The Salute to the Oil Industry NAPA Auto Parts 150, third race of the 2022 ARCA Menards West Series season was won by rookie Landen Lewis. This is the second race in a row that has been won by a 16-year-old rookie!
Jake Drew once again finished second. But it allows him to increase his championship lead over Tanner Reif. A championship led by the Bruncati Racing duo.
The Kern County race review is available here: www.kickinthetires.net/nascar/arca/arca-menards-west-series-kern-county-race-review-kickin-the-tires/
Complete race results here: www.racing-reference.info/race-results/2022_Salute_to_the_Oil_Industry_NAPA_Auto_Parts_150/AW/
As after each race we are going to detail the statistics for each driver, embellished with the reactions collected from many of them, drivers, owners and crew chiefs.
Quick stats
-Race number 996 since the inception of the West Series in 1954.
-2022 race number 3 of 11.
-Race number 12 at Kern County Raceway Park since 2013.
-Win number 1 for Chevrolet at Kern County. Toyota leads with 6. Other wins are all for Ford (4).
-Win number 1 for owner Bruce Cook and his team Cook Racing Technologies. The most successful owners in history are Bill McAnally (98), Fred Elder (45) and Ernie Conn (41) and Bob Bruncati (37).
-First career win for Landen Lewis (first career start)
-Landen Lewis is the 199th different race winner in West Series history.
-Landen Lewis is the 7th different race winner at kern County. The most successful driver is Derek Kraus (4).
-2nd time in history that the driver starting 3rd at the start wins the race at Kern. The other being Greg Pursley in 2013.
– First time in career that P.J. Pedroncelli leads the most laps of a race.
-2nd career pole position for P.J. Pedroncelli. The first at Kern.
-First career start for Tripp Gaylord and Landen Lewis.
-100th start for Todd Souza. He is the 37th driver in history to reach the milestone of 100 races. Jack Sellers holds the record with 282 starts.
The drivers
No. 4 Sebastian Arias (Nascimento Racing) – Start: 10th – Fin: 13th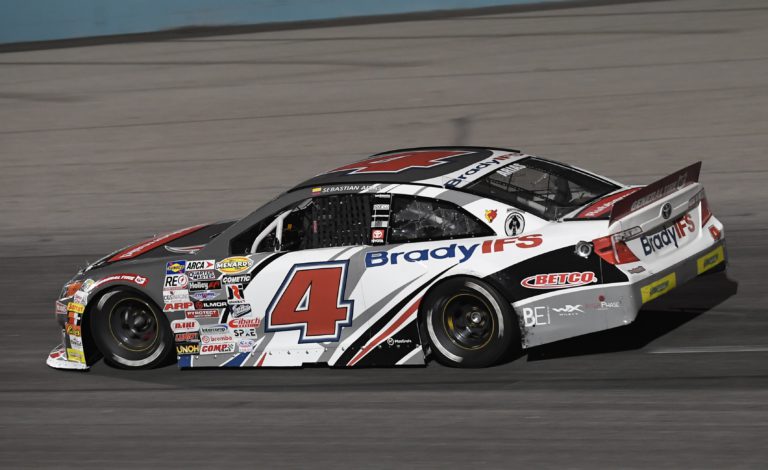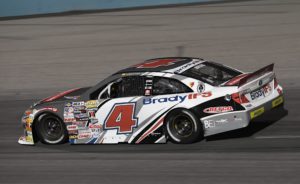 A difficult race for Arias. Like at Irwindale, he showed speed. As proof, he has the fourth fastest lap of the race. But once again he experienced a complicated first segment as he explains to us:
"Trying to pass the No. 50 because mid race I locked my left front tire and caused a huge flat spot on the tire. Then car was not drivable. Yeah really bad luck, I think we were the 4th fastest car on the race. I know we are fast, just need to create better luck. We will keep pushing."
Without this setback the top-10 was possible.
| | | | | | | |
| --- | --- | --- | --- | --- | --- | --- |
| Starts | Wins | Top5 | Top10 | Pole | Best result | At Bakersfield |
| 4 | 0 | 0 | 1 | 0 | 9th | 1 start, best result: 13th |
No. 6 Jake Drew (Bruncati Racing) – Start: 4th – Fin: 2nd
Drew thought he had done the hardest part by overtaking P.J. Pedroncelli at the start of the second segment, but it was without counting on the rookie Landen Lewis who was going to take this first position from him and manage to keep it despite all the efforts of the driver of Ford No. 6. Victory eluded him yet again but with three top-fives in three races he increased his championship lead to five points over his teammate Tanner Reif.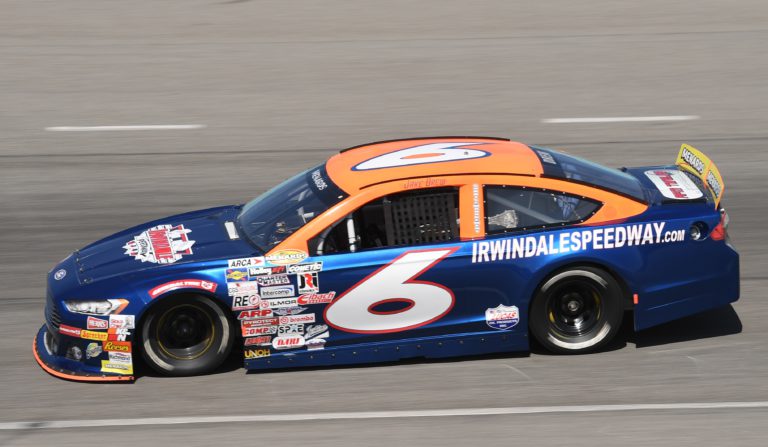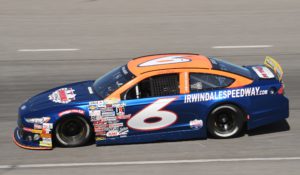 Drew explains: "So close! We had a great race and a very valuable points night. I feel Landen and I were the class of the field in the second half of the race and were very close in the closing stages and it was going to be tough to get by."
"I made a mistake in traffic and just didn't have enough extra to get back to him."
"I'm really looking forward for the races to come to hopefully extend our point lead more. We're still hunting for the win but our consistency is huge right now with three on three 3 top 5's."
Then Drew asks me a question. "Do you know which race this year is the 1000 west series race?" I tell him it's Evergreen in August and he continues: "Man, that's a win I really really want to get."
| | | | | | | |
| --- | --- | --- | --- | --- | --- | --- |
| Starts | Wins | Top5 | Top10 | Pole | Best result | At Bakersfield |
| 12 | 0 | 7 | 10 | 3 | 2nd (3x) | 1 start, best result: 2nd |
No. 7 Takuma Koga (Jerry Pitts Racing) – start: 14th – fin: 9th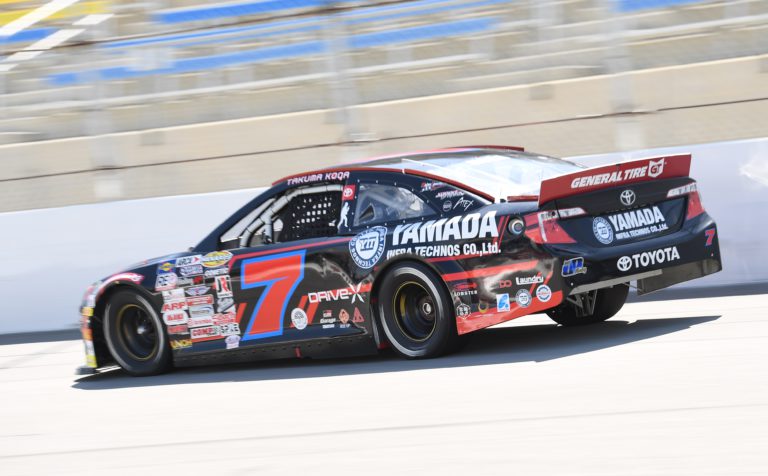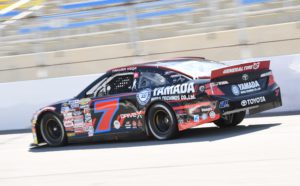 Solid top-10 for Koga at Kern, his first in eight starts there. A trouble-free race. It just lacked a bit of pace on the long runs. Something rare in Kern where there are on average six cautions. Betting on the "short run" setup is ultimately not the right choice. But the Jerry Pitts driver is happy with his race:
"I'm glad I managed to ninth finish. I'm really looking forward to the next race at Portland!"
| | | | | | | |
| --- | --- | --- | --- | --- | --- | --- |
| Starts | Wins | Top5 | Top10 | Pole | Best result | At Bakersfield |
| 93 | 0 | 2 | 17 | 0 | 5th (2x) | 8 starts, best result : 9th |
No. 9 Tanner Reif (Bruncati Racing) – Start: 6th – Fin: 4th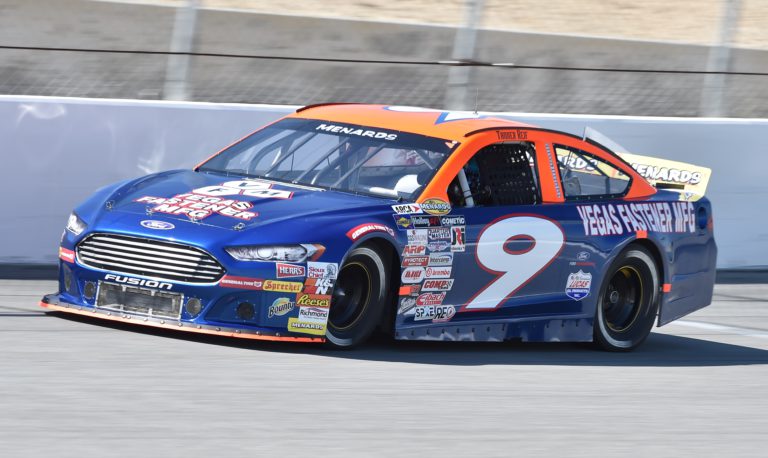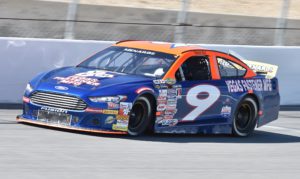 Dominating at Irwindale, Reif was able to confirm at Kern by running a race full of intelligence. Failing to aim for victory, he was able to ensure a big result essential to aim for the championship. At 16, he is already showing maturity race after race. He will have put terrible pressure at the end of the race on Cole Moore, missing the podium by very little.
"What a great weekend at Kern. We struggled all weekend getting the car to work right but we got them figured out in the end. Ended up with a competitive fourth place finish. The crews worked their butts off! I couldn't have done it without them and help from my spotter. Can't wait for the next races!» says Reif.
| | | | | | | |
| --- | --- | --- | --- | --- | --- | --- |
| Starts | Wins | Top5 | Top10 | Pole | Best result | At Bakersfield |
| 3 | 1 | 2 | 2 | 1 | 1st (1x) | 1 start, best result: 4th |
No. 11 Nick Joanides (Lowden Motorsports) – Start: 18th – Fin: 11th
Joanides arrived at Kern shortly before the start of the race. Chris Lowden having had food poisoning had to be replaced at short notice. And it was Joanides, a luxury substitute, who was called to the rescue. Without ever having driven this car before the waving of the green flag, he was able to move up in the pack but failed at the door of the top-10 in 11th position.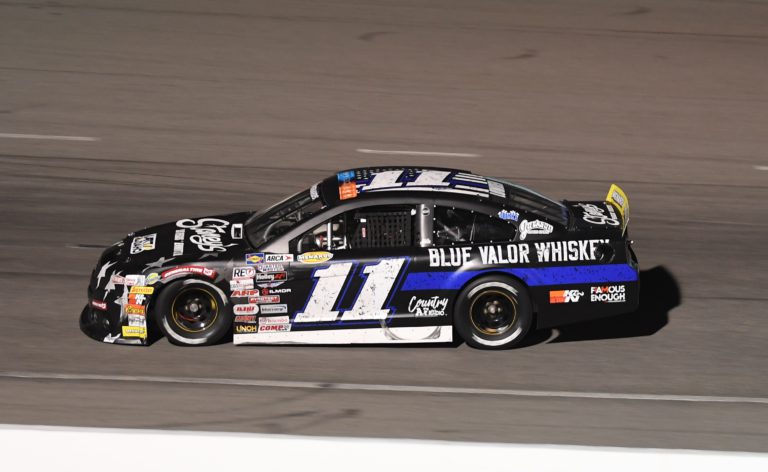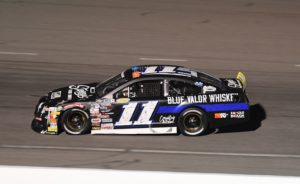 It should be noted that he had not driven at Kern since 2018. With a car whose setup had been done the day before by Lowden during the free practice, Joanides' performance is encouraging. The team and the car are progressing race after race. "Not too bad for a last minute deal", says Joanides.
In his sole role as owner Chris Lowden explains:
"Food poisoning, went down about noon, by two I was toast… sorry for the details but evacuated everything, sweated up a storm, passed out around two, got back up at five, five and half , then watched the race. I was really happy with car in practice night before, really felt like I had a top10 car." "Jackson (Note: David Jackson, the crew chief) really changed the car, it was amazing right out of the trailer."
And about the race: "Nick said he was experiencing some steering box issues, he didn't want to push it, settled for 11. I think we made great progress.»
We were able to ask a few questions to Nick Joanides.
VD: How did you end up at the start of a race that you hadn't planned to do?
Nick Joanides : «"I was appraising a home when my phone starting ringing. Matt Jackson called and asked me to go up to Bakersfield to fill in for Chris Lowden as he was apparently suffering from some food poisoning. Thankfully he was starting to feel better by the end of the evening and the next day. I arrived to the track just prior to six PM to get myself fitted in the car and a couple of hours later, we were off."
VD: Not easy to drive an unknown car?
NJ : "Discovered pulling out for driver intro's that the power steering was not working. That combined with the fact that I usually prep myself at least a week in advance for any race, had me a little concerned if I'd make it to the finish since I hadn't prepped to race this week. My arms felt like rubber at the end, but we managed to make to the checkered flag, passing for a final position with out 10 laps to go. For not having driven the car before and not having raced at Kern in over three years, I can't complain."
VD: Yet you tried a bet during the last yellow?
NJ : "Was a little disappointed to fall a lap down there with about 5 laps to go. We came in on the last yellow flag to make a chassis adjustment, so we had to come from the back, which might have made the difference. All in all, the car ran all night with no problems, I think we got the hard charger award for passing the most cars, including many of them twice after we pitted with 40 laps to go. Would have been nice to get the top 10, but being that I had no clue what position we were in at the time, I was actually pleasantly surprised to find that we ended 11th. My disappointment at the time was only that we lost the lap with just 5 or so laps to go."
"Glad Chris is feeling better and appreciative of the fact that they thought of me to fill in. Got to go out and drive a race car at a fun track and pass a bunch of cars. Always a better day than doing appraisals! Thank you »
VD: And for the rest of the season?
NJ : Not sure what the plans are for any races going forward. I'm basically the "substitute driver" when someone needs me! Fill in when Joe Nava doesn't find someone and in this case, which was certainly unexpected. We'll see if anything comes. Would be fun to be a part of the milestone 1,000th West Series Race!"
| | | | | | | |
| --- | --- | --- | --- | --- | --- | --- |
| Starts | Wins | Top5 | Top10 | Pole | Best result | At Bakersfield |
| 15 | 0 | 1 | 4 | 0 | 4th (1x) | 2 starts, best result : 11th |
No. 12 Kyle Keller (Kyle Keller Racing) – Start: 12th – Fin: 14th (ignition)
After having to skip Irwindale following his accident in Phoenix, Keller was back with another car.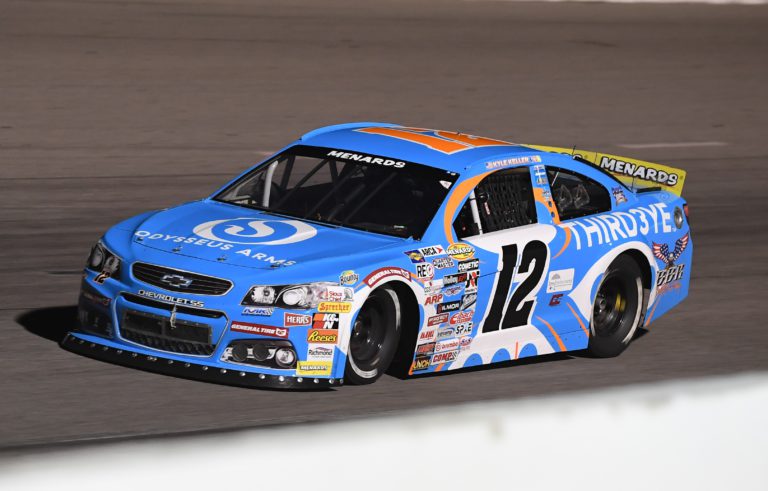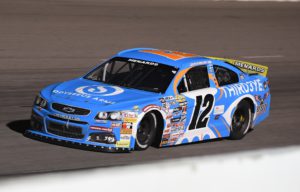 "We had to convert our road course car to circle track. Lost the motor when into the wall at Phoenix and we still working on repairs the chassis."
However, everything seemed to be going in the right direction. He was fighting the whole race for the top-10. He was ninth when three laps from the end he suffered an electrical failure. This 14th position does not reflect the good race he was doing.
Steve Bohanon, co-owner explains: "The distributor rotor fried causing the motor to shut down. Unbelievable way to finish. Very frustrating. We will continue to move forward."
| | | | | | | |
| --- | --- | --- | --- | --- | --- | --- |
| Starts | Wins | Top5 | Top10 | Pole | Best result | At Bakersfield |
| 5 | 0 | 2 | 3 | 0 | 4th | 2 starts, best result : 6th |
No. 13 Todd Souza (Central Coast Racing) – Start: 2nd – Fin: 6th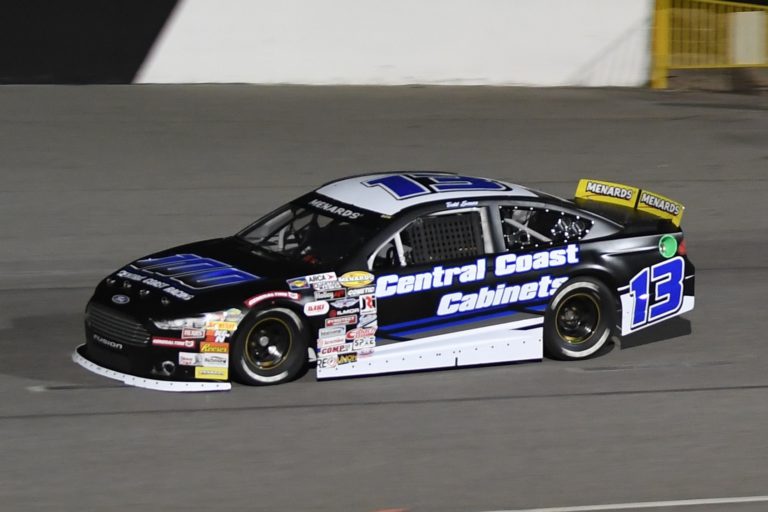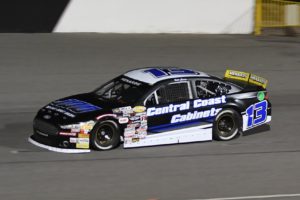 For his 100th career race, he almost won his first pole position. Just too short for two small thousandths of a second! In the race, he showed great control to keep his Ford on the track. It slipped quite a bit on corner exit during the first segment. Sixth position rewards his efforts. His crew chief Michael Munoz brings us a clarification:
"I just made to small of adjustments to help our problem during the break. I felt like we learned a lot and will continue to work hard and get ready for the next one."
As for Tood Souza, he is satisfied and grateful:
"Thank you NASCAR/ARCA for the recognition! Qualified second and unfortunately finished 6th for our 100rh start in this series. A special thank you to Michael Munoz and all our crew throughout the years. This is all because of you!"
| | | | | | | |
| --- | --- | --- | --- | --- | --- | --- |
| Starts | Wins | Top5 | Top10 | Pole | Best result | At Bakersfield |
| 100 | 1 | 14 | 53 | 0 | 1st (1x) | 7 starts, best result: 5th |
No. 16 Austin Herzog (Bill McAnally Racing) – Start: 11th – Fin: 8th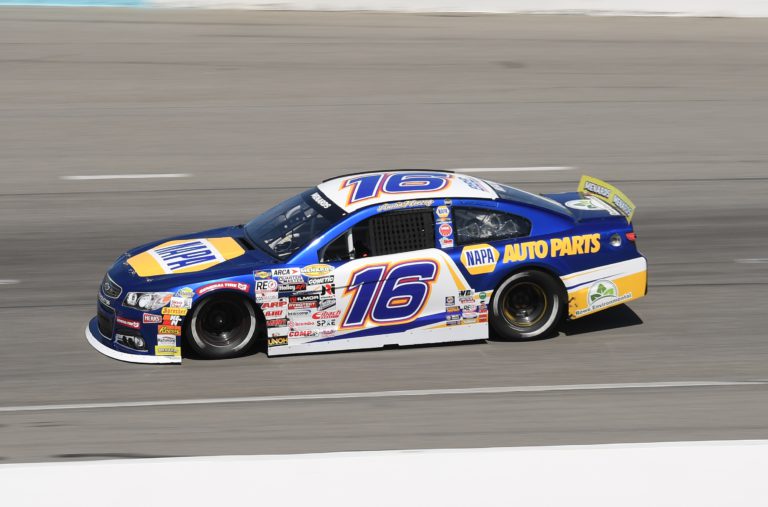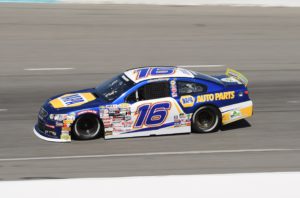 Austin Herzog's start to the season is complicated to say the least. The bright spot in Irwindale already seemed like a distant memory at Kern. Out of the top 10 in qualifying, he gained a few positions in the race… but also lost some. In short, this eighth position allows him to stay in the top five in the championship, 15-points behind the leader. Nothing is played. But he has to find the little something extra that will allow him to aim for victory.
Bill McAnally is encouraging: "Not enough experience on a very green track. Lack of aggressive driving. We will continue to work hard with Austin. The potential is there.". To be honest, Herzog is having a good rookie season so far, it's just that we're so used to seeing the No. 16 winning races that we lack patience.
| | | | | | | |
| --- | --- | --- | --- | --- | --- | --- |
| Starts | Wins | Top5 | Top10 | Pole | Best result | At Bakersfield |
| 4 | 0 | 1 | 3 | 0 | 3rd | 2 starts, best result: 8th (2x) |
No. 17 Amber Slagle (McGowan Motorsports with Cook Racing Technologies) – Start: 5th – Fin: 10th
Amber has once again shown to be very fast in qualifying with fifth position. The start of the race was good as she maintained her position. Then, it will gradually slip in the rankings to finally get out of the top 10 at the end of the race. In question, the choice of a setup for short run. She recovers the 10th position thanks to the abandonment of Keller. But her race was not bad either. The only problem is that she lacks seat time. Because she has the qualities to do much, much better.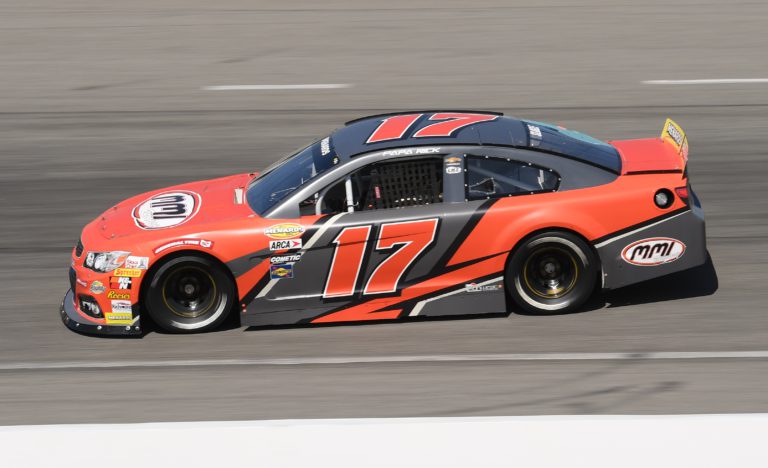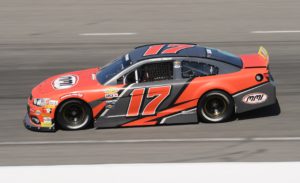 "I think Kern went well for us given the very little seat time I get! We qualified 5th and had a great run going the first half of the race. During the break we made some adjustments and unfortunately it made me too loose and we lost a lot of ground in the long run. However there's a lot of things I learned as a driver through out the weekend.
"My team worked their butts off to give me a good car and I felt everyone knew we were there. I can't thank Steve McGowan and Bruce Cook enough for believing in me and giving me the opportunity to drive for them. None of this would be possible without their support," says Slagle. "And I'm so proud of my team and teammate Landen Lewis on his big win!"
If she will be present with the team in Portland and Sonoma it will be in her role as crew chief. To find her behind the wheel, we will have to wait until Irwindale, on July 2.
| | | | | | | |
| --- | --- | --- | --- | --- | --- | --- |
| Starts | Wins | Top5 | Top10 | Pole | Best result | At Bakersfield |
| 4 | 0 | 0 | 2 | 0 | 10th (2x) | 1 start, best result: 10th |
No. 31 Paul Pedroncelli (P.J. Pedroncelli Racing) – Start: 17th – Fin: 18th (vibration)
Vibration after two laps. This is the "official" reason given for his abandonment. In reality it was a planned start and park. As we know on ovals, the team's resources are above all intended for the car of his son P.J. And it works rather well. The next race is a road race and the driver of the No. 31 can finally have fun and aim for the checkered flag.
| | | | | | | |
| --- | --- | --- | --- | --- | --- | --- |
| Starts | Wins | Top5 | Top10 | Pole | Best result | At Bakersfield |
| 11 | 0 | 0 | 1 | 0 | 8th | 1 start, best result: 18th |
No. 33 P.J. Pedroncelli (P.J. Pedroncelli Racing) – Start: 1st – Fin: 5th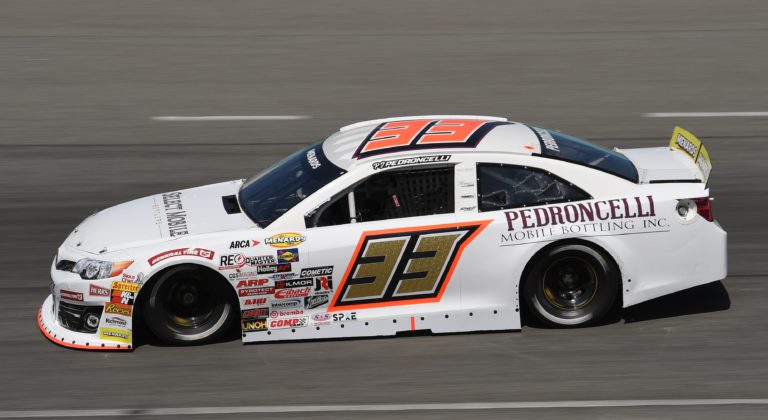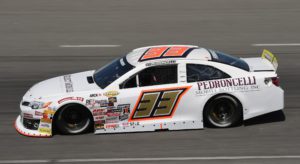 In his first race at Kern, P.J. was impressive in securing pole position. His second career after that obtained in Irwindale last year. He will lead almost all laps in the first segment, only losing the first position on the 72nd lap. He who had led only one lap in his career so far, a lap that gave him victory last year in Roseville, had just received the bonus point for having led the most laps during a race. He will then lose a few positions but will retain the top five at the end.
"The guys busted their butts all weekend. They didn't give up and that paid off. At the start of the race I was able to get out front and and led the most laps of the race. The car started to lose some drive off the corners causing me to fall back and ending up with a P5 finish." Says P.J.
"We feel we have been struggling with speed this year and think we found the problem during practice. So being able to get the pole and leading the most laps gets out confidence headed back in the right direction."
But P.J. rubs his hands, the road races are coming: "On to two road course races. My two favorite tracks in a row, one week apart from each other, can't wait to turn left and right." He has not said his last word for the championship. Last year in Portland he finished second.
| | | | | | | |
| --- | --- | --- | --- | --- | --- | --- |
| Starts | Wins | Top5 | Top10 | Pole | Best result | At Bakersfield |
| 25 | 1 | 6 | 8 | 2 | 1st (1x) | 1 start, best result: 5th |
No. 39 Andrew Tuttle (Last Chance Racing) – Start: 15th – Fin: 15th
The life of owner/driver is not easy. Especially with a new team under construction. The team is still in the process of acquiring equipment and is getting structured. A job normally done during the off season for an already existing team. Every step forward is a small victory and Tuttle is on the right way.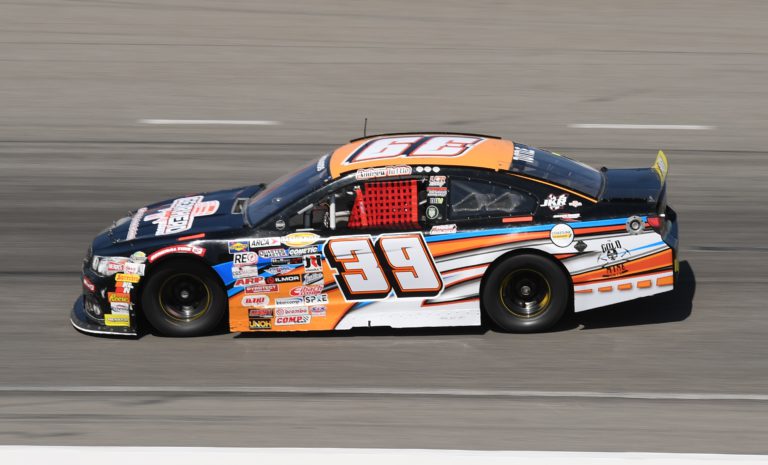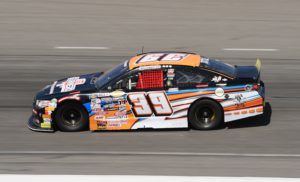 He tells us about his race: "The race day started off good , the car felt good during practice and with a few adjustments we were able to dial it in a little better. I was happy with our qualifying time we were making gains from the start of the day. During qualifying we lost our starter so it made for an interesting start to the race."
"The track changed a bit with the temp it felt like and what we gained in practice we lost at the beginning of the race. After our mid race break the car handled a lot better and we're able to be a little more competitive. All and all we were happy with the gains we made this race. I have to thank Darrel Herzog, Vince Little, Joe Brasil, Jake Jacobson and my wife and all the crew that put the time in to make Kern happen for us. »
| | | | | | | |
| --- | --- | --- | --- | --- | --- | --- |
| Starts | Wins | Top5 | Top10 | Pole | Best result | At Bakersfield |
| 8 | 0 | 0 | 0 | 0 | 15th (3x) | 2 starts, best result : 15th |
No. 42 Landen Lewis (Cook Racing Technologies) – Start: 3rd – Fin: 1st
He is a young driver promised a bright future in NASCAR. At 16, whether on dirt or asphalt, he has an incredible ability to adapt. It is fast, precise, consistent and just keeps getting better! As the race progressed, he was more and more threatening for victory. Once at the head of the race, he was going to resist the pressure of Drew, who had stuck in his rear bumper for a long time and even took advantage of the traffic of the latecomers to widen a gap protecting him from a possible attack in the last laps.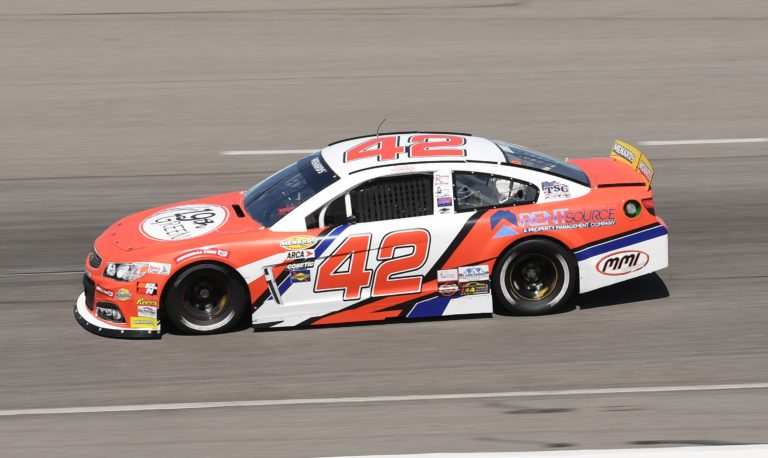 Landen Lewis says: "Words can not describe how happy I am! Thank you to Bruce Cook, Roundy and the entire team for giving me an amazing car and opportunity! I can't believe we just won out on the West Coast! Thank you from the bottom of my heart to everyone that has made this possible! This is so awesome!"
For his first career race, he won a superb victory. His mentor, former champion Ron Hornaday, Jr., did not hide his pride when he came to give him a big kiss on Victory Lane. It is also the first victory for Derek Peebles, his crew chief and for Bruce Cook's team.
| | | | | | | |
| --- | --- | --- | --- | --- | --- | --- |
| Starts | Wins | Top5 | Top10 | Pole | Best result | At Bakersfield |
| 1 | 1 | 1 | 1 | 0 | 1st (1x) | 1 start, best result: 1st |
No. 50 Trevor Huddleston (High Point Racing) – Start: 7th – Fin: 7th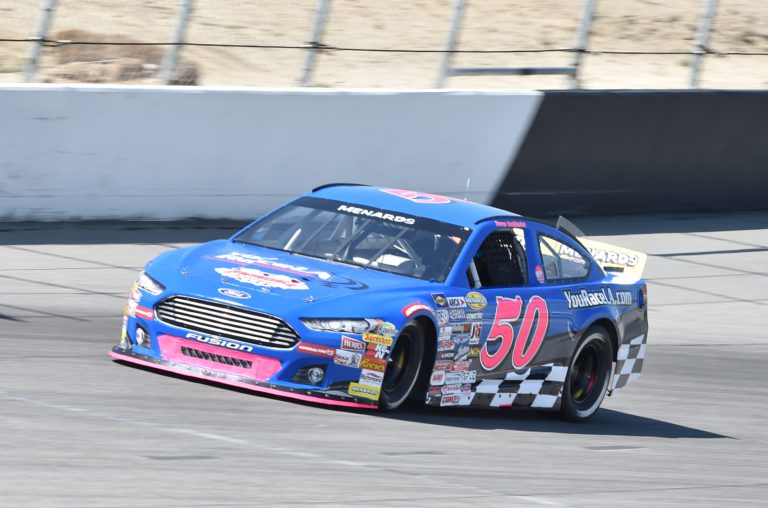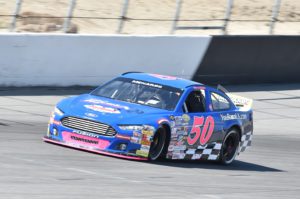 If you didn't pay attention, you would think that Huddleston's race was not spectacular. That it was a solid race without more. And yet it was quite the opposite because Trevor had to fight with an unwieldy Ford for two thirds of the race. Gradually descending to 12th position about fifty laps from the end, he would produce his effort and climb back into the top 10 to seventh position. He indeed seemed more comfortable with older tires at the end of the race.
| | | | | | | |
| --- | --- | --- | --- | --- | --- | --- |
| Starts | Wins | Top5 | Top10 | Pole | Best result | At Bakersfield |
| 51 | 2 | 18 | 43 | 0 | 1st (2x) | 5 starts, best result: 3rd |
No. 54 Joey Iest (Naake-Klauer Motorsports) – Start: 9th – Fin: 17th (engine)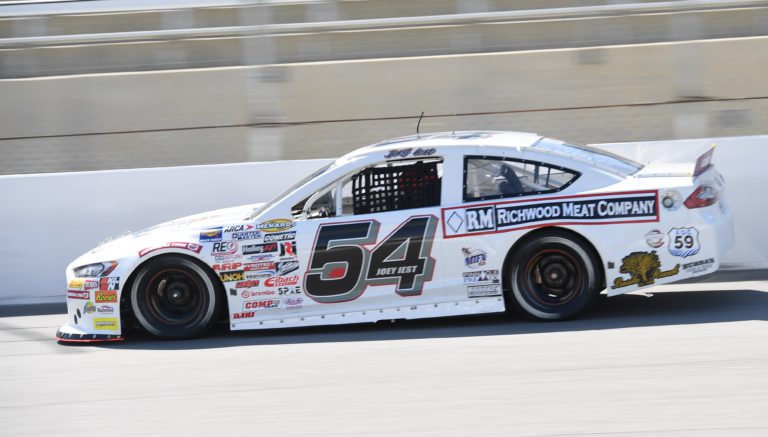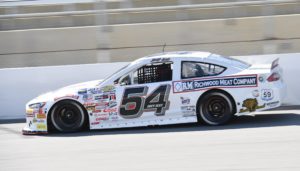 The disappointment is great for Iest and his team. He had moved up to seventh position halfway through the race and could easily claim the top-five when his engine failed. Without the slightest warning. A blow to the championship. Let's say he used his joker here. Fortunately, the road circuits are coming and this should allow him to regain his confidence and win some big points.
But Joey keeps a positive spirit by stating: "Had a fun weekend racing in the ARCA West race at Kern! Had a fast car but unfortunately our engine blew and ended our night early. Thank you to Mike Naake and Naake – Klauer Motorsports for bringing a fast car!"
"Yes. Unbelievable. What worse. Is how lucky some others are !" says Mike Naake.
| | | | | | | |
| --- | --- | --- | --- | --- | --- | --- |
| Starts | Wins | Top5 | Top10 | Pole | Best result | At Bakersfield |
| 16 | 1 | 6 | 7 | 0 | 1st (1x) | 2 starts, best result : 12th |
No. 77 Tripp Gaylord (Performance P-1 Motorsports) – Start: 16th – Fin: 16th
On Friday during free practice, Tripp and the team had found some interesting settings but the changes made on race day would turn out to be the wrong ones. The car losing its speed and handling. For his first career race, the son of former driver Scott Gaylord was going to experience many difficulties. Limits an ordeal which ended with a retirement on the 123rd lap. But at that time he was already four laps behind and was sailing very far from the top-10.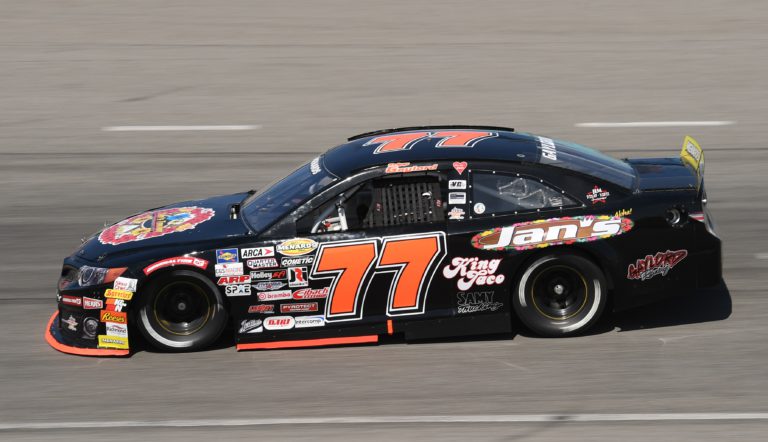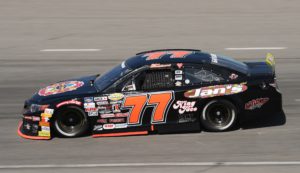 "It could have been a lot better. We lacked motor a bit and struggled to find handling, no drivetrain and right front issue in turn. And ended up pulling off due to vibration with the brakes." Says Gaylord.
Owner Joe Nava's disappointment is big but he's happy with Tripp's debut: "Car was 100 percent different from last night. Input from their friends sent us in the wrong direction. The set up was wrong. We should of went with what we practiced with Friday night. Brakes put us out. I'm disappointed. The kid is good."
| | | | | | | |
| --- | --- | --- | --- | --- | --- | --- |
| Starts | Wins | Top5 | Top10 | Pole | Best result | At Bakersfield |
| 1 | 0 | 0 | 0 | 0 | 16th (1x) | 1 start, best result : 16th |
No. 88 Bridget Burgess (BMI Racing) – Start: 13th – Fin 12th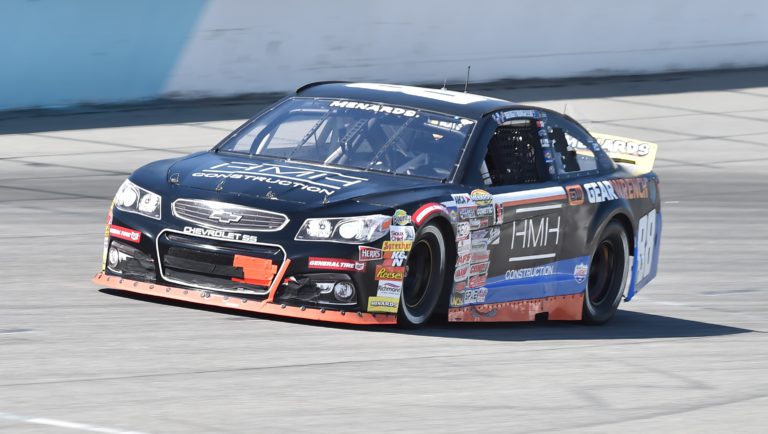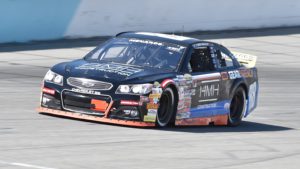 Badly rewarded. That's the sentiment towards Bridget's strong run. Back in the top-10, she seemed able to maintain this position when in the middle of the second segment she brushed the wall coming out of Turn 2. Prior contact, though not very important, but which was going to generate a vibration making the car difficult and preventing the young Australian to resist against other pilots at the end of the race. The 12th position is a disappointment because she had shown to deserve a good top10. Road races are coming and last year Bridget was impressively fast, especially in Sonoma. Good omens to restore her confidence.
| | | | | | | |
| --- | --- | --- | --- | --- | --- | --- |
| Starts | Wins | Top5 | Top10 | Pole | Best result | At Bakersfield |
| 22 | 0 | 0 | 5 | 0 | 7th | 1 start, best result: 14th |
No. 99 Cole Moore (Bill McAnally Racing) – Start: 8th – Fin: 3rd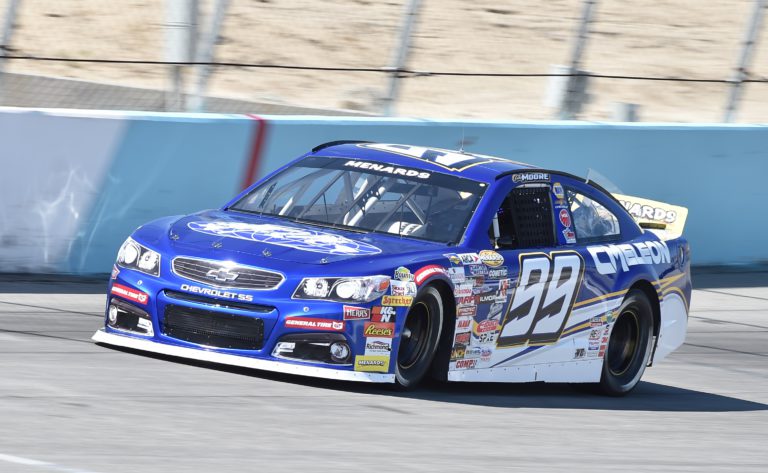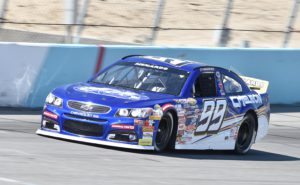 Only eighth in qualifying, Moore knew he would have to push hard to get back to the front. And that's what he managed to do. Methodically, position by position, he obtained a new podium having resisted the pressure of Reif during the last 30 laps. Thanks to his tenacity he kept all his chances for the championship since he was third only six points behind Drew.
"It was a battle out there," Moore said. "I think my experience of knowing where to move around here when the car got tight. I'm satisfied. This is very critical. I was thinking when I crossed the finish line that tonight was a championship kind of night. A little bit less aggression and I could have easily been sixth. Things played out and we fought hard."
| | | | | | | |
| --- | --- | --- | --- | --- | --- | --- |
| Starts | Wins | Top5 | Top10 | Pole | Best result | At Bakersfield |
| 20 | 0 | 6 | 12 | 0 | 2nd | 1 start, best result: 3rd |
Race results : www.racing-reference.info/race-results/2022-03/AW/
Driver standings: www.racing-reference.info/standings/2022/AW/
Next race June 4, 2022 on the first road race of the season at Portland International Raceway (1.967-mile) in Portland, Oregon.
Featured Photo Credit: Photo courtesy of Sal Sigala Jr via Vincent Delforge.