By Jerry Jordan, Editor
Most auto races are long, even boring at times – regardless of the series – when cars line up single file and make lap after lap, so it allows fans time to grab a beer, eat a hotdog or check out the souvenir stands. However, there is one form of racing that you'd be lucky to finish swallowing, chewing or even standing up from your seat before the race was over.
According to Britannica.com, formerly known as an encyclopedia publisher, the Romans used teams of two, four or six horses in chariot races. It was the original form of "horse power" but not actually "horsepower" because one horse produces about 15 horsepower, according to the University of Calgary.
So, if chariot racing was the original form of utilizing horsepower, then the National Hod Rod Association (NHRA) has created the ultimate form of it. At 11,000-plus horsepower, a Top Fuel Nitro Dragster goes from zero to 330 mph in just 1,000 feet. Putting two of them side-by-side on the track produces more horsepower than 33 NASCAR Cup Series cars (670 hp each), 29 IndyCar machines (750 hp each) or 22 Formula 1 cars (1,000 hp each). When the green light is illuminated, all of that horsepower is essentially transferred directly to the wheels through a multi-part clutching system that gets so hot that it can fuse together.
The sound from the engines at full throttle is so intense it can damage the eardrum. In decibels, it's somewhere just above 150 but it's not just the sound, the percussion of the sound and the engine vibration as the dragster leaves the line is bone-jarring and the exhaust produces over 1,000 pounds of downforce. ESPN once reported that a seismologist team recorded a 2.3 on the Richter scale at the green.
But that's the technical side of things. What is actually happening to ensure the dragster goes down the track? How is it kept under control or is it too much to control, at all? Dragsters aren't run by remote. There is a driver behind the wheel, basically riding a rocket ship on wheels and trying to hold on, mash and release the clutch, let go of the handbrake, stomp on the gas peddle, steer the car and pull the parachutes – oh yeah, all of this has to be done in less than four seconds. Actually, about 3.7 seconds, if he, or she, wants to have a shot at winning the race.
"There's so much that goes on from the time you pull up into the water box, like where you do your burnout, how long you do your burnout based off of track temperature and conditions and that will, kind of, set you up for where you run in your positioning on the track. Sometimes you might be right in the middle, sometimes you might be on the inside or outside depending on bumps and depending on grooves," Landon explained, as he stood near his DHL-sponsored Kalitta Motorsports Toyota Gazoo Racing North America Top Fuel dragster, while the crew worked in the background. "A lot that stuff is, kind of, communicated before but a lot of the stuff when I am inside the car is trying to keep the burnout consistent and straight and maintaining consistent run times. About every 12 seconds, you burn a gallon of fuel at an idle and a gallon of fuel is nine pounds. Our fuel tank is on the nose so if you are 20 or 30 seconds long and you burn two gallons off it throws the balance of the car off because now you have almost 20 pounds less on the nose. So, there are a lot of things with consistency that you try to develop as a driver, that way your crew chief knows what to expect."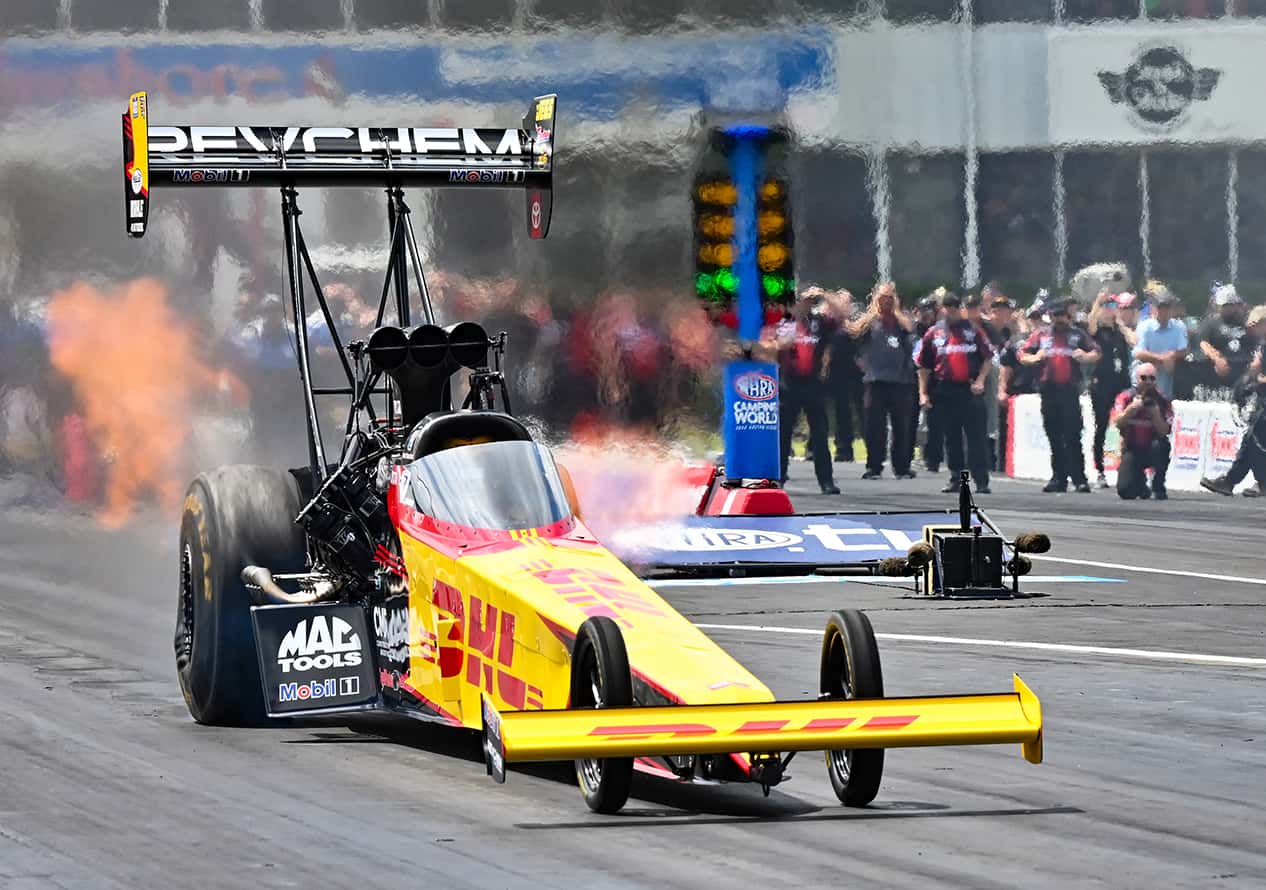 For those new to drag racing, from the time the car is pushed to the water box, does his burnout and rolls up to the line to race, it takes under 90 seconds. In circle track racing, it's the green flag that starts the race. In drag racing, it's a series of lights mounted on a pole. The top light is the staging light and it's divided into two halves – the top and bottom. If both halves are lit, the next series of lights are a row of quick yellows illuminated at the same time and then the green. Once the green light is lit it's less than four seconds to the finish line – jump the start and the bottom light shows red and your race is over before it ever began.
"When you roll into the tree, trying to cut a light, trying to be fast on the tree, trying to gain as much can by getting a holeshot, hopefully," Langdon said. "There is a lot of stuff that really goes into that."
Much like in circle-track racing, track conditions play a major part in how the car handles. According to Landon, it also allows the driver a little "wiggle room" in case they make a mistake or get a little bit out of the groove. A hot, slick track isn't near as responsive as a cool track and the car, engine and clutch are set up based on track temperatures and other conditions. Getting the setup wrong can cause wheelspin or worse.
"It is really crucial to keep the car stable and straight," Langdon said. "A lot of times just turning the (steering) wheel too hard can upset the car and smoke the tires. There's a lot of stuff like that and then you get into peddling the car (getting on and off the gas), what are the track conditions for peddling the car, shutting the car off at the proper time and not running it too long."
Shutting the car off is crucial because when a Top Fuel dragster runs out of fuel, it usually ends very poorly for the engine.
"The longer you run it, there's a good chance of blowing it up," Langdon said. "There is a lot that goes into it. Basically, you have a run time of 90-seconds from the time you set up to do your burnout until you make your run and shut it off and that actual run time is about 3.7 seconds, so there is a lot that goes on."
Another key procedure a driver must execute is to make sure to release the parachutes. Yes, there is a handbrake but the parachutes bring the car down from 330 mph very quickly. They are not only the primary stopping mechanism they are an important safety feature. Once the run is over, the car is towed back to the pits, where the crew completely tears down and rebuilds the engine and supercharger in about 46 minutes while Langdon repacks his parachutes, mixes the fuel and gets ready to go back out for another pass.
At 39 years old, Langdon has been racing for nearly three decades. He won the National Jr. Dragster Championship at age 14, the NHRA U.S. Nationals in 1999 and the Top Fuel World Championship in 2013. He's been racing so long it has become second nature and doesn't really think about what he does behind the wheel.
"After time, in a sense, it becomes like riding a bike," he said. "A lot of the stuff that you do is just routine, so it's just really important to build a consistent routine so you, kind of, know what to do without really thinking about what to do. You just do it and it's reactional. When you first start your career, there are a lot of things that you think about that you don't want to forget, so your process is a little bit slower but as your progress … you just hop in the car and do your deal.
Another difference between drag racing and stock car, IndyCar, F1 or many other forms of motorsports, is there is no real practice or simulation outside of racing and actually going down the track, which isn't always practical because the engine must be rebuilt after every pass. iRacing doesn't have a drag-racing simulator.
"Your simulator is on Sunday, on race day, that is where you learn," Langdon quipped.
So, what happens if something goes wrong? After all, it's an 11,000 hp nitromethane engine that will likely result in a violent explosion if it runs out of fuel, is run at full throttle for more than 10 seconds or if any of the hundreds of parts or pieces fail.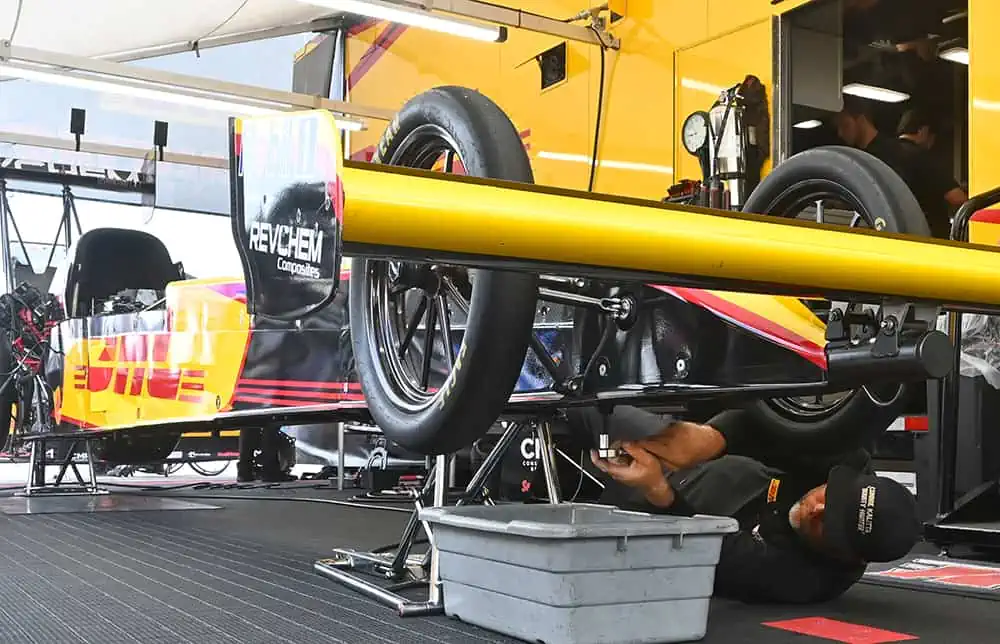 "There's a lot of stuff that is really out of your control," Langdon said. "You can only control what you can control, so I mean, for me, I just don't think anything negative when I get in the car, I don't think about what could happen or anything. I just take the run as it comes. I try to be in the right mental frame of mind, have enough knowledge of my surroundings and everything that is going on and try to be a better driver. That is why always keep up with what is going on and talk to the crew chief, go over the information and ask a million stupid questions. I try to flood myself with enough knowledge that I feel like I can handle any situation in the racecar. I have never felt I have been in a situation in the racecar where I said, 'man, I didn't know what to do.' My mind is always on things that are going on, I don't really ever get my mind off of it. I always try to be prepared for any situation."
This weekend, the NHRA descends on NASCAR country with the 4Wide Nationals at zMAX Dragway across from Charlotte Motor Speedway. Langdon said NASCAR fans wanting to experience the excitement of the NHRA should come out to the track because it isn't a sensation that can be achieved by watching on television.
"It is, kind of, one of those sports where you come for the experience and there is no other experience like it. No other car goes 330 mph, there's no other car that makes you feel like there is an earthquake under you and there is no other car that will burn your nose when you smell the nitromethane," he said. "It is just an experience that hits all of your senses."