By Vincent Delforge, special to KickinTheTires.net
The first ARCA Menards West Series race of the year was combined with the national ARCA Menards Series. Taylor Gray, full-time ARCA Menards East Series driver, scored an emotional victory dedicated to his David Gilliland Racing team member Steven Stotts, who died in a tragic road accident three days before the race.
The full race review is available here: kickinthetires.net/nascar/arca/arca-menards-west-series-phoenix-race-review-kickin-the-tires/
As a reminder, this combined race between the National Series and the West offers stats that count for both championships. But this article is devoted only to regular West Series drivers.
We will detail the statistics of this race for each driver embellished by the reactions collected from many drivers, owners and crew chiefs.
The stats
-Race number 994 since the inception of the West Series in 1954.
-2022 race number 1 of 11
-Race number 49 at Phoenix Raceway since 1977
-13th time the Phoenix hosts the opening race of the season (2000-2006; 2011-2014 and since 2021)
-Win number 13 for Ford at Phoenix. Chevrolet leads with 16. Other wins are split between Toyota (9), Pontiac (6), Dodge (3) and Buick (2).
-Win number 2 for David Gilliland Racing at Phoenix (David Gilliland 2020 and Taylor Gray 2022)
-Biggest field at Phoenix since the 2011 fall race (40).
-Biggest field in a West race since Iowa 2015 (Combination race with the East Series with 39 cars) and since Sonoma 2015 for a stand-alone West race (38 cars).
-Fourth fastest West pole in history at Phoenix at 133.726 mph (Sammy Smith). The record being 135.064 mph by Ty Gibbs in November 2021.
-Fourth win for Taylor Gray in the West Series in 11 starts. Note, here he was contracted as a National Series driver and not a West regular.
The West drivers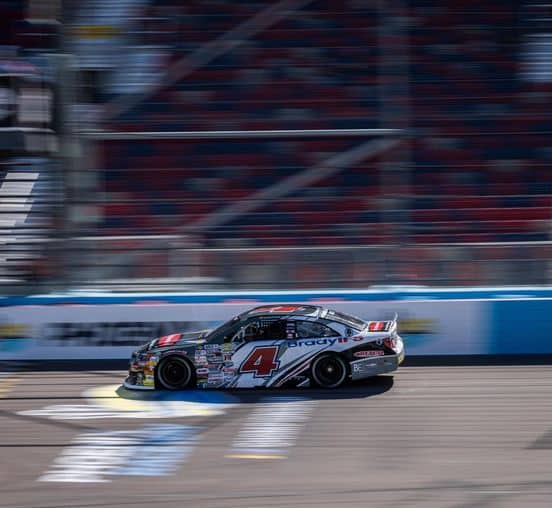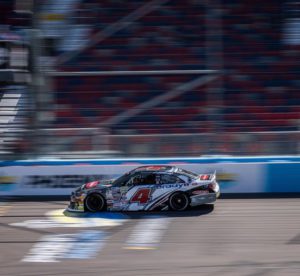 No. 4 Sebastian Arias (Nascimento Racing) – Start: 26th – Fin: 25th
The deal with Nascimento Racing having arrived late, Sebastian's second career race can be considered a success despite a technical problem.
"We were moving up to the front but my alternator didn't work well after a few laps, explained Arias. "We had to come in to the pits and we lost a lot of laps."
A race serving as a practice session but strong in lessons for the rest of the season. We also know a little more about Arias' program for 2022. Currently it is planned that he will do the two races in Irwindale, Kern, Sonoma, Roseville and the final in Phoenix.
"And we are really close to get more," Arias stated. "We are working on the other ones."
| | | | | | | |
| --- | --- | --- | --- | --- | --- | --- |
| Starts | Wins | Top5 | Top10 | Pole | Best result | At Phoenix |
| 2 | 0 | 0 | 0 | 0 | 25th | 2 starts, best result : 25th |
No. 6 Jake Drew (Bruncati Racing) – Start: 9th – Fin: 5th
Jake Drew was the West's best regular rider throughout the race. The adjustments made during the midway break giving him even more speed, he was able to gain several positions and afford a 5th position. His best result in Phoenix. There is no doubt that he will be a big favorite for the championship.
Justin Schuoler and I were able to ask him several questions.
Kickin: How was your race?
Jake Drew: "We really just wanted a smooth day to start the year and that's exactly what we got. I wanted to put last year behind me and get a good start on this new season. Practice went very well and I felt very comfortable with the car and we didn't make many large changes. I was super pleased with our speed and was looking forward to the race! In the beginning of the race I felt I was going to be fighting to stay in the top 10 but quickly found a good rhythm and slowly starting moving my way up. I was happy with where we were at in 7th and those late cautions were really making me nervous but happy we came out with and even stronger result."
"A top-five to start this season has me feeling very proud and thankful. Proud to see how far I've come since last year but also thankful to have another chance. This finish also helps a lot in our championship as I've already built a little cushion to start the season with."
Kickin: You finished ahead of some big names, including Josh Berry and Derek Kraus. Is that a confidence booster, or are you more focused on those you're racing against in the championship?
JD: "It's definitely a confidence booster but they also taught me a lot. Derek and I were battling a lot of the night and I feel they both taught me valuable lessons on the race craft side of things."
Kickin: It's the first race, but how do you feel about where your team is at with the competition?
JD: "I feel we are very strong right now and I hope our momentum will carry on through the year. I'm confident it will but I just want to take it race by race and as a team do our job the best we can. If we do that we will surely be in the championship chase."
Kickin: You worked with crew chief Jeff Schrader last year and now you're with legend Bill Sedgwick. What differences are there in their way of working? Do you learn a lot with someone so experienced as a crew chief but also as a pilot?
JD: "From my perspective they aren't too different. We are collectively one big team in my opinion all working together. One difference I'm seeing this year is my understanding of changes being made. I'm not sure if it is stemming from having a year under my belt now or if it's the words Bill is able to explain from a drivers perspective."
Kickin: No victory lane yet, but your best career finish was at Irwindale with a 2nd. You finished top 5 in both visits, and we're headed there next. How are you feeling and what are you doing prep-wise to get a couple more spots to earn that first victory at your home track?
JD: "Last year when we got 2nd at Irwindale I truly felt I let that slip away. We didn't have the winning car but we were in a position to capitalize and I didn't make it happen. This year I feel much more confident in my abilities in the car which helps me have the confidence to control the race better."
"I didn't get to do an interview after the race but there are tons of people I have to be thankful for! The best support team I could ask for made up of all my friends and family that come to each race or watch live at home. Jay Braxton and Stilo USA, Offset sport, Group A apparel. Everyone in the shop Mike, Mode, Chris, and Bill. The whole sunrise, team 6 and 9 everyone is so supportive and helpful I could never ask for any more. And finally and most importantly Bob Bruncati. I'm so thankful for everything he does for me to give me the opportunity to do what I love and succeed."
| | | | | | | |
| --- | --- | --- | --- | --- | --- | --- |
| Starts | Wins | Top5 | Top10 | Pole | Best result | At Phoenix |
| 10 | 0 | 5 | 8 | 3 | 2nd (2x) | 3 starts, best result : 5th |
No. 7 Takuma Koga (Jerry Pitts Racing) – Start: 20th – Fin: 18th
The race ends better than last year when Koga had an accident but the rhythm was lacking in the last third of the race for the driver of the Toyota No. 7.
"Tonight P18. I just had bad luck, but the hot rod was really good! But three crashes ahead of us at the end of the race and avoiding one of them I had a problem with my own machine, I was 18th out of 40 entries. The team is not giving up. On the way to Irwindale Speedway!" said Koga.
However, he seems to be closer in pure speed on new tires than last year. He was in the group of BMR drivers, Souza, Reif and Pedroncelli during the first 100 laps.
| | | | | | | |
| --- | --- | --- | --- | --- | --- | --- |
| Starts | Wins | Top5 | Top10 | Pole | Best result | At Phoenix |
| 91 | 0 | 2 | 15 | 0 | 5th (2x) | 9 starts, best result : 15th |
No. 9 Tanner Reif (Bruncati Racing) – Start: 17th – Fin: 16th
The Bruncati Racing rookie was diligent during the only practice/qualifying session with no less than 51 laps. Thanks to that, he had a very good race. Long in contention for a position between 11th and 15th position. He has known the misadventure of many rookies who tickle too closely the bodywork of a veteran, in this case Todd Souza. But that's also how we learn. And we learned one thing: Tanner, at 17, has incredible car control. Despite a 360° at high speed, he was able to avoid the outside wall and keep calm.
"It went pretty well but can't control the way others drive," explains a disappointed Reif. But he can be proud of his first career race.
| | | | | | | |
| --- | --- | --- | --- | --- | --- | --- |
| Starts | Wins | Top5 | Top10 | Pole | Best result | At Phoenix |
| 1 | 0 | 0 | 0 | 0 | 16th | 1 start, best result : 16th |
No. 13 Todd Souza (Central Coast Racing) – Start: 13th – Fin: 12th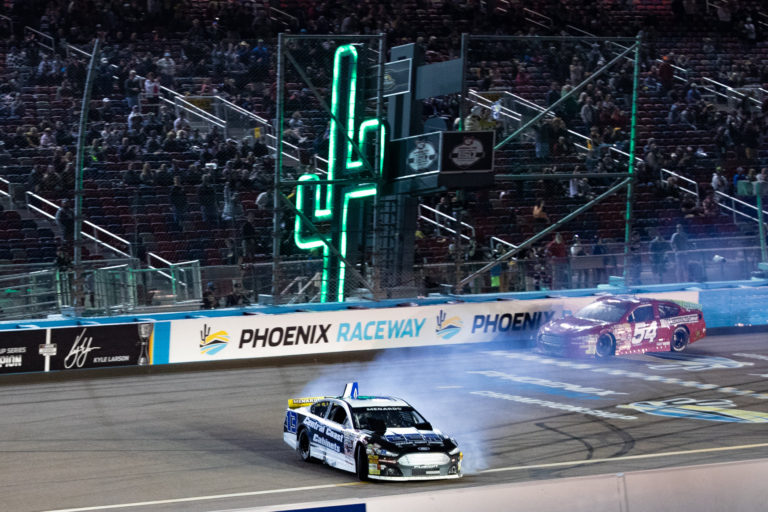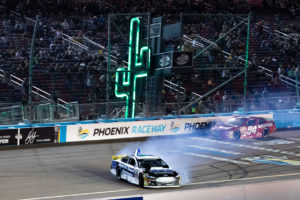 At 57, he has the ardor of a young man of 20. Todd is rough on the track. Many young pilots who can testify. But that's how we love Souza. This ability to always be at 100% from the first to the last lap. Sandwiched between Josh Berry and Tanner Reif, he transferred his dissatisfaction to the rookie while when we watch the replay, the fault is more on the side of Berry who swerves towards the middle of the track after having rubbed the wall in exit of turn 2. The officials having seen nothing punishable in the "love tap" on Reif, Souza was able to continue on his way and cross the finish line by also demonstrating that he knew how to control a car in distress!
"Just trying to stay off 99 (Moore) made him spin" as his crew chief Michael Munoz explains.
| | | | | | | |
| --- | --- | --- | --- | --- | --- | --- |
| Starts | Wins | Top5 | Top10 | Pole | Best result | At Phoenix |
| 98 | 1 | 14 | 51 | 0 | 1st (1x) | 12 starts, best result : 7th |
No. 16 Austin Herzog (Bill McAnally Racing) – Start: 16th – Fin: 14th
The BMR rookie was studious during the practice/qualifying session. Maybe a little too careful. But his car was hard to turn as the tires wore out. We saw it in the race where he was more efficient at the start of each segment.
We will see, but his teammate Moore also had this problem, as owner Bill McAnally explained:
"Good event for all three drivers got in all the laps cars in good shape in the end. We can and need to get the cars to be better we lacked grip and drive with the 99 (Moore) and 16 (Herzog) and we had the 19 (Kraus) with to much needed more turn so we will work and be better in the fall race. Phoenix was a good start to build on and move forward great field of cars to kick off 2022!"
This is how a rookie learns the trade! But he only loses 9 points on the "virtual leader" of the championship Jake Drew.
Herzog concluded, "Thanks to everyone on the NAPA AUTO PARTS team to helping us battle back to a 14th place finish at Phoenix! Next stop Irwindale! Thanks Bill McAnally Racing Nick Rowe and everyone else who makes this possible. "
| | | | | | | |
| --- | --- | --- | --- | --- | --- | --- |
| Starts | Wins | Top5 | Top10 | Pole | Best result | At Phoenix |
| 2 | 0 | 0 | 1 | 0 | 8th | 1 start, best result : 14th |
No. 17W Josh Berry (Cook-McGowan Racing) – Start: 11th – Fin: 8th
His first career West Series race had one goal. Give him seat time to be better prepared for his Xfinity Series race. And it was effective as he finished third the next day. With a fast and super well-prepared car as they always are with Steve McGowan, Berry has throughout the race been close to around 10th position. He was able to use his experience in the upper categories to take advantage of the overtime to climb up to eighth position.
"We had a really good run with Josh I think a lot of drivers had a struggle with dirty air and it made it hard to pass. But Josh gave a lot of good feedback to the team and I think it helped him out for the Xfinity race the following day." said Amber Slagle, his crew chief.
I took the opportunity to ask Slagle what the plans were for No. 17. "We will not be at Irwindale. The first race back with the 17 will be at Kern on April with me as a driver." She tells us.
| | | | | | | |
| --- | --- | --- | --- | --- | --- | --- |
| Starts | Wins | Top5 | Top10 | Pole | Best result | At Phoenix |
| 1 | 0 | 0 | 0 | 0 | 8th | 1 start, best result : 8th |
No. 19 Derek Kraus (Bill McAnally Racing) – Start: 14th – Fin: 9th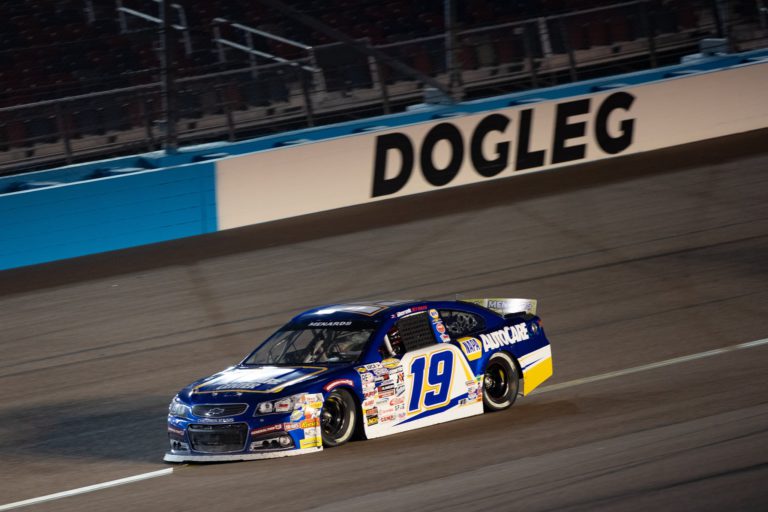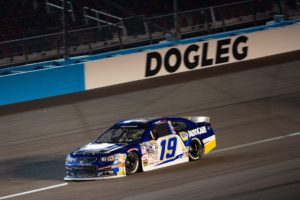 It is for the same reason as Berry that we find Kraus in Phoenix. The 2019 champion had already made a freelance last year for the opening race of the championship. Its sponsor NAPA AutoCare enjoying a weekend off in the NASCAR Camping World Truck Series. The perfect opportunity to develop his working relationship with his new crew chief Shane Wilson. Despite a tight car in the dirty air, he was again the best BMR driver and obtained his 35th career top-10.
"We went there to try and help BMR West program and get myself some seat time. Any seat time is good seat time. In practice we worked on the car the whole time so that's why we weren't closer to the front on the starting grid." Kraus tells us.
And he continued, "In the race the first race segment we struggled because it the car was to tight. Then Shane (Wilson) and all the guys worked in the car during the break and they made it a lot better and I thought it was pretty good. And on the final restart I was stuck on the bottom and couldn't get up and finished 9th. Everytime Shane and I get to work together helps our communications and relationships get better and better. Overall it was a fun weekend in the racecar."
| | | | | | | |
| --- | --- | --- | --- | --- | --- | --- |
| Starts | Wins | Top5 | Top10 | Pole | Best result | At Phoenix |
| 44 | 10 | 29 | 35 | 8 | 1st (10x) | 3 starts, best result : 3rd |
No. 21 Chris Lowden (Lowden Motorsports) – Start: 34th – Fin: 31st
Lowden had a complicated day. A touch against the wall during practice prevented him from making a good setup, the team concentrating on repairs. Because of this the car was unstable at the start of the race.
And he experience another mishap in his pit box by wanting to restart too quickly, as he explains to us:
"Oh yeah, because just to pushy in, turns out I broke the screw jack and the locker. We'll fix her up and head to Irwindale!"
He will be forced to retire after 54 laps to avoid further damage to his car.
| | | | | | | |
| --- | --- | --- | --- | --- | --- | --- |
| Starts | Wins | Top5 | Top10 | Pole | Best result | At Phoenix |
| 2 | 0 | 0 | 0 | 0 | 15th | 1 start, best result : 31st |
No. 27 Bobby Hillis, Jr. (Tim Richmond Racing) –Start: 31st – Fin: 26th
Hillis was only in Phoenix to score owner points for Tim Richmond's team and not for Fierce Creature Racing, his own team. Indeed this pilot of the national series of the ARCA not having planned to do this race on the West coast. And since Hillis has the same number 27, that was a good thing. Richmond paying the registration fees. Initially it was only to be a start and park before putting the fluorescent yellow Chevrolet on sale. But with Hillis, there is always a story to tell!
VD: In the end, change of your plans ?
BH: "As you know was just planning on a start and park. But there were so many cautions at the start of the race and the car felt pretty good so decided to stay out for a while.
VD: So how was your race?
BH: "Typical race for me! Brake problems on that car are finally fixed and the car was driving and handling much better than last year here at Phoenix. We were holding our own in the back, not trying to hard, just staying out of trouble. All was good and was starting to pick up some pace when we got a left rear flat around lap 50. Since we really weren't planning on racing the guys weren't ready for it.
"No pry bar in the pits or enough people to pick the car up enough to get the jack under it to change the tire. Lost about 20 laps. Was getting near halfway so I decided to go back out until halfway. Left rear tire we put on was not so great and had some vibration and not enough grip.
"By the way, I didn't buy tires at all since I wasn't planning on racing. There was a old set of Bristol tires at General from last year from the 25 Venturini car. Acquired those and ran the entire race on them except for the flat which was a 3 year old Phoenix tire that I had. Finished 26th but minus the flat thinking we could've been top 20 without really trying that hard because I was protecting the car for the auction next Friday."
VD: This time it's sure ? It was the last race with this car ?
BH: "As you I really just went out there to run the car through technical inspection so I have the NASCAR tech sheets showing that it's a legal car with everything ready for competition. Figured that might help it bring more money at auction. It's televised nationally and the car runs through Friday between 5-6 pm. I'll let you know how it goes"
| | | | | | | |
| --- | --- | --- | --- | --- | --- | --- |
| Starts | Wins | Top5 | Top10 | Pole | Best result | At Phoenix |
| 90 | 0 | 0 | 7 | 0 | 8th (1x) | 18 starts, best result : 11th |
No. 31 Paul Pedroncelli (P.J. Pedroncelli Racing) – Start: 32nd – Fin: 38th
Mission accomplished for Paul Pedroncelli. He checked that everything was working fine on the car by doing a few laps, practice and race included. As we know, it is the backup car of his son P.J. Pedroncelli.
| | | | | | | |
| --- | --- | --- | --- | --- | --- | --- |
| Starts | Wins | Top5 | Top10 | Pole | Best result | At Phoenix |
| 9 | 0 | 0 | 1 | 0 | 8th | 2 starts, best result : 34th |
No. 33 P.J. Pedroncelli (P.J. Pedroncelli Racing) – Start: 15th – Fin: 17th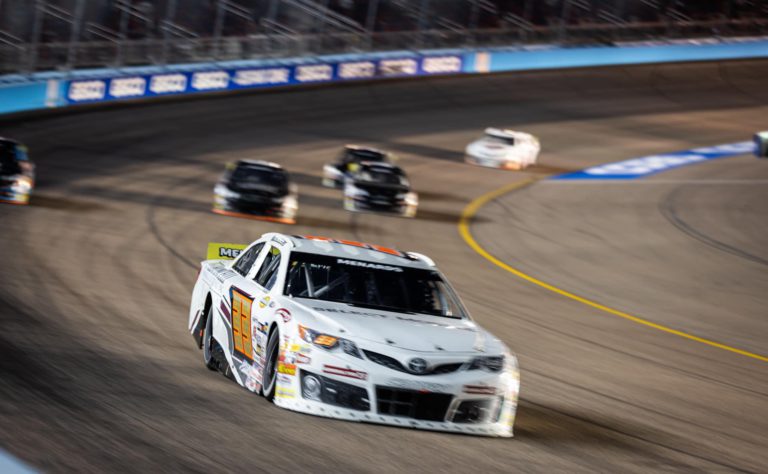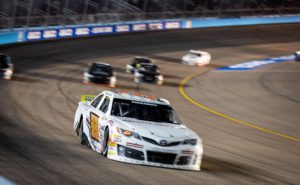 The Toyota No. 33 lacked grip in the first segment. P.J. lost a lap to the leaders on lap 64. The modifications made during the midway break did not sufficiently modify the behavior of the car.
It was only in the last quarter of the race, on used tires that P.J. finally found a good rhythm but it was too late to hope to enter the top-15 as he explains to us:
"We struggled a bit on handling and got behind. Be the time the car came in and I could pass cars again I was already two laps down. Got a lap back at the end. The car was pretty good at the end I was just not in a position to push the car as they were starting to get a little crazy in front of me and I didn't want to jeopardize the car when I wouldn't benefit any."
| | | | | | | |
| --- | --- | --- | --- | --- | --- | --- |
| Starts | Wins | Top5 | Top10 | Pole | Best result | At Phoenix |
| 23 | 1 | 4 | 6 | 1 | 1st (1x) | 4 starts, best result : 11th |
No. 39 Andrew Tuttle (Last Chance Racing) – Start: 37th – Fin: 35th
The car is ready at the last minute, not easy for the driver/owner to hope for better on a fast track like Phoenix Raceway with a chassis designed for small short tracks. Although the behavior of the car was good.
"We had a great car car was on rails had lotta power it was a good filling car for the track. We made some some pretty big moves early on in the race jumping up 13 spots within 20 laps car was on handling perfect coming out of turn two. I notice something snap free from the car and we had a major vibration and we lost our ability to keep the car under control and safe. We decide to bring it in keep a clean race car let everybody else have a clean race." said Tuttle.
"We will be back for Irwindale with the same rocket we started with at Phoenix. We have every confidence in the world will be able to move that car from back towards the front put on a good show and hopefully Irwindale brings a really good finish for us Really got to give props to my crew chief Michael Parker forbgetting the car set up and running like a champ his hard work with Josh Fanopoulos in the shop this last week really showed through. Can't thank the Fanopoulos team enough for all there hard work it sure paid off."
| | | | | | | |
| --- | --- | --- | --- | --- | --- | --- |
| Starts | Wins | Top5 | Top10 | Pole | Best result | At Phoenix |
| 7 | 0 | 0 | 0 | 0 | 15th (2x) | 1 start, best result : 35th |
No. 54 Joey Iest (Naake-Klauer Motorsports) – Start: 12th – Fin: 13th
Ignition problem for Joey at the start of the race causing him to lose a lap. After repair during the break, he found a good rhythm. Benefiting from the free pass about twenty laps from the finish, he managed to climb from 19th to 13th position.
Iest being quite satisfied with the result considering the problems:
"I was very satisfied with a 13th place finish with having the problem of the spark plug wire coming off early in the race and then having to start back at the rear after fixing it on a bail."
Its crew chief and owner Mike Naake also believes that team 54 did well as he explains to us:
"We were good. Had a spark plug wire come off after about 15 laps, ran on 7 cylinders till the next yellow. Lost a lap doing that, pitted to fix it. Got lap back, then drove back to 13th. We are just racing the west cars at that race, this puts us only a couple of points out of 2nd. Kind of wore our car out coming from the back twice! Onto Irwindale."
| | | | | | | |
| --- | --- | --- | --- | --- | --- | --- |
| Starts | Wins | Top5 | Top10 | Pole | Best result | At Phoenix |
| 14 | 1 | 6 | 6 | 0 | 1st (1x) | 4 starts, best result : 12th |
No. 66 Eric Rhead (66 Rhead Racing) – Start: 29th – Fin: 39th
For a rookie, Rhead had found a good rhythm by obtaining the 29th time out of 39 pilots in qualifying. Unfortunately he made a mistake at the end of practice and damaged his car. Impossible to repair in such a short time, barely two hours between the end of qualifying and the start of the race. And without a backup car, mass was said and prevented the tall bearded guy from making his first career start.
"We had brake issues in practice and ended up backing the car into the wall. Decided to load it up and get it fixed at our shop. We will debut later this season at Irwindale. confided Roxi Gabbard, his crew chief.
| | | | | | | |
| --- | --- | --- | --- | --- | --- | --- |
| Starts | Wins | Top5 | Top10 | Pole | Best result | At Phoenix |
| 0 | 0 | 0 | 0 | 0 | 39th | 0 start, best result : 39th |
No. 70 Kyle Keller (Kyle Keller Racing) – Start: 24th – Fin: 32nd
The number 70 will not have brought him luck. But Keller will have No. 12 for the rest of the season. He had an interesting pace but made a mistake on lap 28 in turn 4. The damaged rear of his Chevrolet. He returned to the track after repair but the engine showed signs of weakness.
Decision was made to return to the garage. Steve Bohanan, manager and co-owner of the team saying:
"Tough day at the race! We will be back bigger and stronger. Several issues and then into the wall with the back end causing damage. Patched it together then the motor had issues."
| | | | | | | |
| --- | --- | --- | --- | --- | --- | --- |
| Starts | Wins | Top5 | Top10 | Pole | Best result | At Phoenix |
| 4 | 0 | 2 | 3 | 0 | 4th | 1 start, best result : 32nd |
No. 77 Nick Joanides (Performance P-1 Motorsports) -Withdrew
Budget problem, Joe Nava, the owner, had to make a difficult decision, that of withdrew of the entry list. But the team went to Irwindale for a Late Models race where their hauler caught fire. Fortunately no one was injured unlike the tragic accident of the DGR hauler three days earlier. The team hopes to be present in Irwindale.
| | | | | | | |
| --- | --- | --- | --- | --- | --- | --- |
| Starts | Wins | Top5 | Top10 | Pole | Best result | At Phoenix |
| 13 | 0 | 1 | 4 | 0 | 4th (1x) | 1 start, best result : 16th |
No. 85 Ryan Roulette (Last Chance Racing) – Start: 30th – Fin: 22nd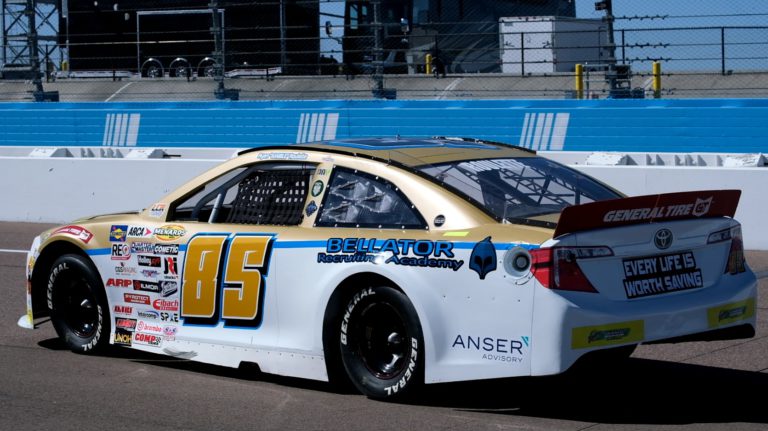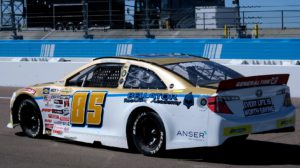 Car finished on site. There were even a few stickers missing. Difficult start to the race with a spun between turns 3-4. Fortunately the Toyota was not damaged and after a passage in the pit box, Ryan "Gamble" Roulette found his rhythm, allowing him to finish 22nd.
A good result on which the team will rely for the rest of the season as explained to us by its owner and teammate Andrew Tuttle:
"Started off the weekend good and solid had a great crew got some of the best guys on the West Coast to get Ryan up to speed with our two driving coach's Vince Little. And josh Fanopoulos (crew chief) coaching him up get him to speed and be a little more comfortable in the car for being his second race in the ARCA West Series. A race that he completed start to finish starting from the very back making it all the way up to 22nd running as a mid pack driver is a huge accomplishment that shows the skills that he has crafted coming from the dirt sprint car world transferring over into the asphalt."
Tuttle concluded: "Very proud of all of everybody's hard work crew came together put a driver in from dirt to asphalt and got close to top 20 finish, that's a win in our book. Ryan Roulette shows extreme promise for the rest of the season is a fast learner good driver we can see him going quite a ways up the ranks this year."
| | | | | | | |
| --- | --- | --- | --- | --- | --- | --- |
| Starts | Wins | Top5 | Top10 | Pole | Best result | At Phoenix |
| 2 | 0 | 0 | 0 | 0 | 22nd | 2 starts, best result : 22th |
No. 86 Tim Spurgeon (David Racing with Nascimento) – Start: 18th – Fin: 19th
For a first race on an asphalt oval, Spurgeon returned a good copy. Avoiding problems he was able to integrate the top20. A result that satisfies Mike David, his crew chief and champion in 2007. Will this make Spurgeon want to do the full season? Case to follow.
| | | | | | | |
| --- | --- | --- | --- | --- | --- | --- |
| Starts | Wins | Top5 | Top10 | Pole | Best result | At Phoenix |
| 16 | 0 | 0 | 2 | 0 | 6th | 1 start, best result :19th |
No. 88 Bridget Burgess (BMI Racing) – Start: 27th – Fin:23rd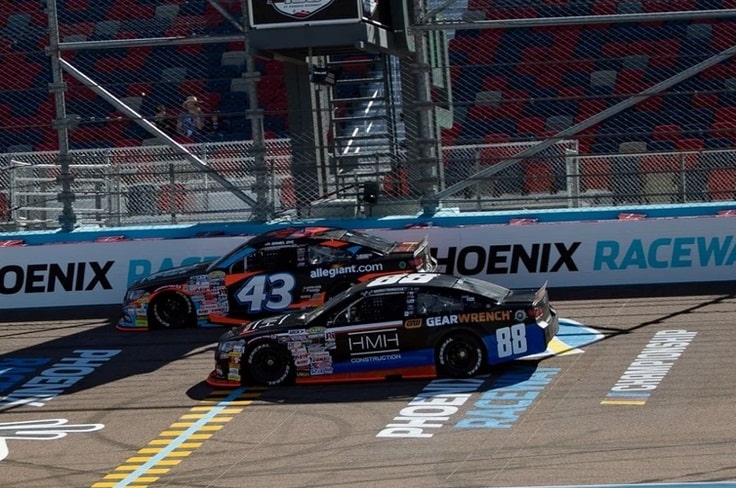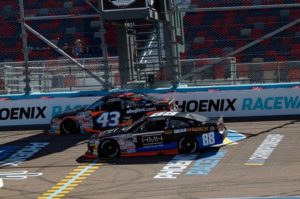 Solid race for Bridget Burgess despite the announcement less than 10 days before the race of her participation in the full 2022 season. The pace was good at the start of the race but contact with another car punctured the left rear tire forcing the Australian to do a pit stop under a green flag. Which caused her to lose several laps.
Her mother and crew chief Sarah Burgess explaining to us:
"The Phoenix race was a tough one due to everything coming together at last minute we didn't have the preparation time like we wanted to. We'll stay positive and immediately get ready for Irwindale."
I was able to learn a little more about the acquisition of their second car and their plans for 2022.
"We learned a lot in 2021 and want to build on that. We're excited about three road course races this year. we still have our race shop at Utah Motorsports Campus, and Bridget will get plenty of seat time leading into the road course races. The only issue is that it's going to be tough with Portland and Sonoma back to back. The plan will be to use the Gen 5 car, the one we used last year and here at Phoenix as the road course car, and the second chassis from Levin Racing for ovals." said Sarah Burgess.
| | | | | | | |
| --- | --- | --- | --- | --- | --- | --- |
| Starts | Wins | Top5 | Top10 | Pole | Best result | At Phoenix |
| 21 | 0 | 0 | 5 | 0 | 7th | 4 starts, best result : 22nd (2x) |
No. 99 Cole Moore (Bill McAnally Racing)
Only 19th on the starting grid, Moore will make a spectacular comeback to 12th position in the first 25 laps. It will constantly maintain itself between this position and 15th. The Toyota 99 becoming more efficient at the end of the race, Moore entered the top 10 just before the last caution. He lost a position by delivering a good fight against Todd Souza and Connor Mosack on the very last lap. The ROTY 2021 only concedes six points to Jake Drew who will be his main opponent this season for the championship. Note his consistency at Phoenix where in three races he respectively obtained 12th, 10th and 11th position!
| | | | | | | |
| --- | --- | --- | --- | --- | --- | --- |
| Starts | Wins | Top5 | Top10 | Pole | Best result | At Phoenix |
| 18 | 0 | 4 | 10 | 0 | 4th (2x) | 3 starts, best result : 10th |
Next race for the ARCA Menards West Series on March 26 in Irwindale, CA for the NAPA Auto Parts 150.
Featured Photo Credit: Photo Courtesy of Diego Alvarado via Vincent Delforge.