By Vincent Delforge, special to KickinTheTires.net
With the debut of the 66 Rhead Racing team this year in the ARCA Menards Series West, driver Eric Rhead and his wife, and crew chief, Roxi Gabbard join the list of of husband-and-wife driver/crew chief pairings.
This wasn't the first time in the show's history since its inception in 1954. In fact, since the very first season this scenario has occurred. The driver/crew chief duos can be composed of either a male driver and a female crew chief or vice-versa.
It was in Oakland on August 1, 1954, at the famous Oakland Stadium that the now-ARCA West Series found their first racing couple. It was Eddie Pagan and his wife Marian. Eddie, as a driver, was known for having won four races in the NASCAR Cup Series, and 14 in the West Series. However, that day it was not he who was driving the Plymouth No. 52 but his wife Marian, nicknamed 'Mopsy'.
Eddie acting as crew chief. For her one and only career race, she will start but leave the wheel to Eddie after 57 laps, completely exhausted. Eddie will eventually cross the finish line in a respectable 18th position out of the 33 cars at the start. Note that this race was combined with the Grand National, the current NASCAR Cup Series.
It will only take a few years to see another couple of Californians in the West Series. Between 1956 and 1957, Hila Paulson will do three races with her husband Ummie Paulson as crew chief. Ummie who is known to have given valuable advice to a young rookie driver in whom he believed in, Parnelli Jones. Jones recounting many years later that without Ummie's advice, his career would surely not have been as successful in the Cup, West and USAC with, among other things, a victory at the Indy 500 in 1963.
As for Hila, she was doing well in the local races but was not successful in the West Series, not always managing to qualify. Her best result being a 17th position at Gardena in 1956.
It was not until the end of the 1970s that we found not one but two more racing couples.
The first was made up of Sharon Bishop and her husband Bruce. Sharon being the driver. She was the first woman to perform well in the West Series. Indeed, despite a short, part-time career between 1978 and 1981, she did 28 races and obtained three top-10s. Her best result was sixth at Gardena in 1979. She also obtained a ninth-place finish at Portland in 1981 as well as a 10th the same year on the Riverside road course. This undeniably talented driver unfortunately left us on July 5, 2021.
The other couple that debuted in 1978 is St. James Davis and his wife LaDonna Davis. But unlike the other couples already mentioned above, this time he the driver and she was the crew chief and owner.
It should be noted that at all times in NASCAR seeing the name of the wife as team owner is common. But it is usually a 'ghost' job since the wife is not part of the crew. Except sometimes a role of time scorer.
But the Davis couple are amazing in every way. A life worthy of a novel, Hollywood worthy!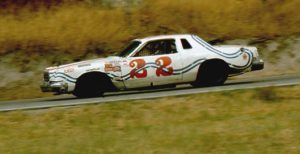 St. James wanted to race in NASCAR with his Indian name, "Whitecloud", but NASCAR refused. As a result, he will drive throughout his career a white car with lines drawing a kind of cloud on the bodywork. LaDonna was a former model converted into owner, crew chief and even engine builder! She did all the jobs in their little family team!
The Davises also had a chimpanzee named Mogambo whom they considered their child. If Tim Flock was known to have taken his little monkey Jocko Flocko during a few Cup Series races in 1956, Mogambo, nicknamed Moe, never took part in a race, it must be said that he was particularly big with more than 150 pounds!
NASCAR did not take kindly to the presence of the Davis turtle on the tracks and even tried several times to exclude them. But each time the fans mobilized and signed petitions to let Whitecloud run! Some even dare to attribute the 'Start and Park' phenomenon to the Davis family.
Moe will have offered them a lot of happiness but also a lot of trouble in more than 30 years, complaints from neighbors, from associations for the protection of wild animals. The story will also end badly since they will be victims of terrible bites from of the chimpanzee. But that's another story.
Back to racing. With the means at hand, that is to say without the slightest budget, the Davis surveyed the tracks of the West Series from 1978 to 1999. In total 113 races but also 27 DNQs. The balance sheet is weak with only four top-10s. They had to wait until 1985, their 26th race, to finally obtain their first good result with a ninth position at Stateline Speedway in Idaho. It was a race where only eight drivers crossed the finish line. St. James was no less than 22 laps behind winner Jim Robinson!
10th at Evergreen Speedway in 1991 despite 45 laps behind leader Mike Chase. They will demonstrate that their tactic of riding 'cautiously' can be effective because in 1992 they will experience their best season with two top 10s. In Saugus, ninth position awaits them with only 20 laps behind Rick Carelli, their best performance.
The final top-10 with 10th position 'only' 21 laps behind Bill Sedgwick at Shasta. Sedgwick who is still there today as he is Jake Drew's crew chief. They would never again manage to finish in the top-10 for the next 35 races. The adventure ending with a DNQ in Fontana in 1999.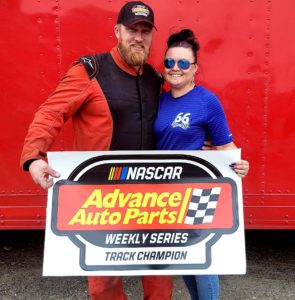 And then nothing… Until March 11, 2022, with the arrival of a team based in Utah, 66 Rhead Racing. Eric Rhead was born in 1984. The racer from West Jordan, UT won numerous Late Model and Modified races in Utah, Nevada, and Idaho between 2008 and 2021.
He's the 2021 champion at Magic Valley Speedway, ID. Number 66 is his usual number regardless of the series in which he competes. His wife Roxi Gabbard being his crew chief. It is therefore the second couple in history where it is the man who pilots and the woman who is crew chief.
However, an accident during ARCA's practice/qualifying session in Phoenix prevented the duo from taking part in their first race. Even though they are officially considered DNS. It's only gone and we'll see them again throughout the season since they have announced a full schedule. 66 Rhead Racing acquired a Chevrolet from Telford Racing. Zach Telford drove it three times between 2019 and 2020 with two top-10s.
Featured Photo Credit: Photo Courtesy of Scott Baker via Vincent Delforge.