By Seth Eggert, Staff Writer
When the green flag waves for the Lucas Oil 200 driven by General Tire at Daytona International Speedway, ARCA Menards Series history will be made. For the first time in the 70 year history of ARCA two women, Amber Balcaen and Toni Breidinger, will compete full-time in the same season, and both are no strangers to making motorsports history.
Amber Balcaen
Balcaen will drive for Rette Jones Racing with sponsorship from ICON Direct. The 29-year-old Canadian driver will have Canadian companies on her ARCA entry throughout the 20-race schedule. Team co-owner Terry Jones is also a Canadian. The team has fielded the No. 30 Ford Fusion in recent years in both ARCA and ARCA Menards Series East competition.
"It is really special for me as a Canadian competing in the United States to be representing all Canadian companies on my car with Rette Jones Racing," Balcaen said. "To have the hometown support is amazing. I couldn't do this without them."
Balcaen is the third woman to drive for Rette Jones Racing. Dominique Van Wieringen drove for the team from 2016 through 2020 in the ARCA Menards Series East and national ARCA Series. Van Wieringen earned four top-five and six top-10 finishes in 15 ARCA East starts. Brittney Zamora drove for Rette Jones Racing in the ARCA season opener in 2021. Zamora was swept up in an accident, which ended her day after seven laps.
"Everyone at Rette Jones Racing is excited about the 2022 ARCA Menards Series season," Rette said. "As a company, we are thrilled to return to the premier ARCA Menards Series on a full-time basis. We look forward to the opportunity to strengthen Amber's craft as a driver in a series that has always provided a lot of diversity.
"Our goals for the season are obtainable, and we look forward to producing the results we know that we are capable of and giving Amber a shot at the ARCA Menards Series championship."
In 2021, Balcaen drove part-time for Bill McAnally Racing in the ARCA Menards Series West. She earned her best career-finish to date, 11th, at Irwindale Speedway.
"Racing in NASCAR's national ARCA Menards Series has always been my dream," Balcaen explained. "To compete at historic tracks like Daytona and Talladega is something I have visualized for years. I have dedicated the last eight years, working hard to make this dream become reality, and I cannot be more excited to live it."
The 2022 ARCA season is not the first time that Balcaen will make racing history, let alone ARCA history. In her first full-time season competing on pavement she became the first Canadian female to win a NASCAR-sanctioned race in the United States.
Last year, Balcaen made ARCA Menards Series West history as one of five women that competed at the Las Vegas Motor Speedway Bullring. Amber Slagle, Bridget Burgess, Jolynn Wilkinson, and Mariah Boudrieau joined Balcaen on track that night. The Winnipeg, Manitoba native finished 22nd after an early crash ended her night.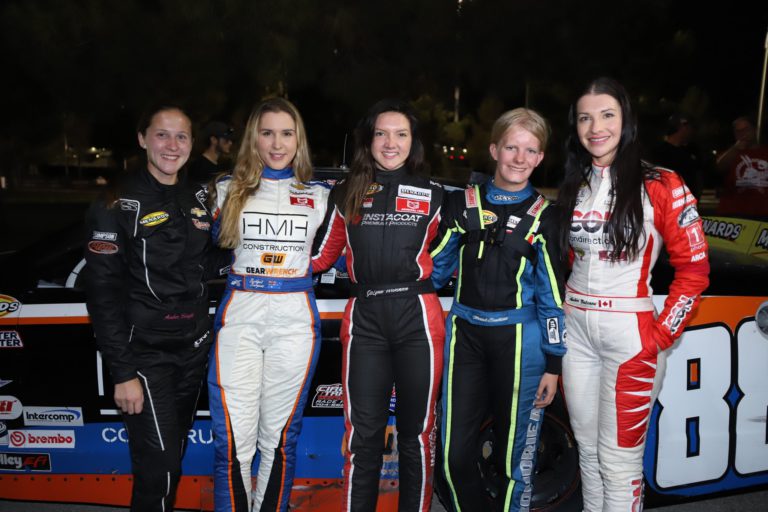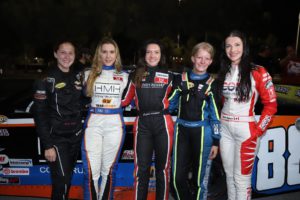 Toni Breidinger
For the 2022 ARCA season, Breidinger will compete full-time for Venturini Motorsports and Toyota Racing Development in the team's No. 25 Toyota Camry. However, she is no stranger to making history on the high banks of Daytona. In 2021, Breidinger became the first Arab-American female to make a start in a NASCAR-owned series at Daytona driving for Young's Motorsports.
In total. Breidinger has 12 career starts in ARCA competition with three top-10 finishes. She also was a part of history in 2018 when she joined Natalie Decker and Leilani Munter at Venturini Motorsports at Charlotte Motor Speedway. It was the first time that three women were teammates in ARCA.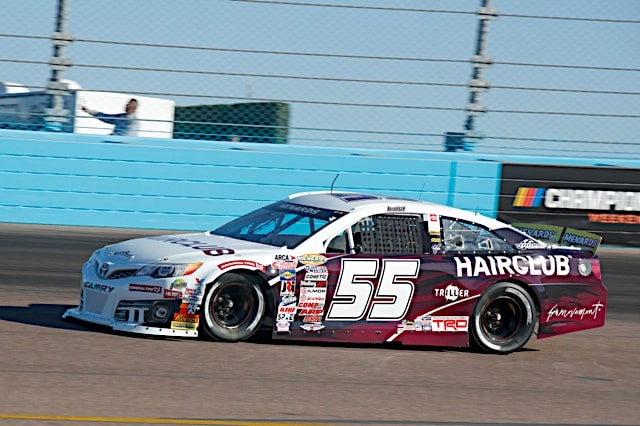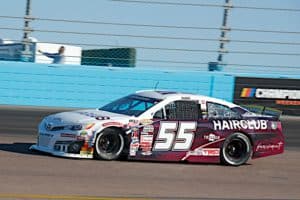 "This is a proud moment not only for me but also my family," Breidinger admitted. "I'm incredibly excited for the opportunity to run my first full season in NASCAR's ARCA with Venturini Motorsports and Toyota. I've worked a lifetime to get to this point in my career. It's taken a lot of hard work and support from countless people.
"Racing is a business. It takes more than just desire. I truly cannot thank my supporters and business partners enough for believing and providing the support to get me to this stage. There's still a lot of work ahead but I'm ready to get this season started at Daytona."
Between her stints in ARCA competition, Breidinger has competed in various Late Model divisions. In nine Carolina Pro Late Model starts, she earned four top-five and eight top-10 finishes.
A Brief History of Women in ARCA
Over the past decade, the number of women competing in ARCA has been increasing. Sarah Cornet-Ching, Decker, Hailie Deegan, and Milka Duno have each competed full-time in the national series. Deegan scored the best season-ending finish, ending the 2020 season third in the championship standings.
Since 2000, Gabi DiCarlo, Christi Passmore, and Shawna Robinson have also competed full-time on the national stage in ARCA.
Deegan earned two runner-up finishes in her 26 career ARCA starts. One at the season opener at Daytona in 2020 and the other at Springfield later that season. Robinson also earned a runner-up finish at Daytona in 1999.
Per available records, Patty Simko-Schacht was the first woman in ARCA history to score a top-five finish, as well as a top-10 in 1987 when she finished third at Toledo Speedway. Charlotte, N.C. native Barbara Ann Young was the first woman to start an ARCA race in 1985 at Atlanta Motor Speedway.
Women have earned a combined 22 top-five and 114 top-10 finishes in the national ARCA Series since Young's first start in 1985.
Both Balcaen and Briedinger now have the opportunity to continue to add to the ARCA record books.
The season opening Lucas Oil 200 driven by General Tire is Saturday, February 19.
Featured Photo Credit: Photo by NKP / NKP Photo.