By Vincent Delforge, special to KickinTheTires.net
Is racing on a 1/3-mile in the spotlight a good idea? Without hesitation the answer is yes!
The All American Speedway in Roseville, CA put on an incredible show. Sometimes wild, sometimes epic, but every moment full of emotions. Putting the nerves of drivers, team members and fans to the test! To win you had to stay lucid until the last few yards and in this game, it was P.J. Pedroncelli who won! His first career victory.
Back on a crazy race from the first to the last lap.
Practice – Qualifying session
The single hour and 15-minute session was instructive. First, Dean Thompson managed to win his second career pole after that obtained on July 3 at Irwindale. Just a thousandth of a second ahead of Jesse Love. The top-10 ten drivers were within three tenths of a second!
For his comeback, Travis Milburn in the car hired by Jack Wood, who also served as spotter, showed everyone that he wasn't rusty despite a year and a half without driving a West Series car. Seventh on the starting grid.
Once again, Amber Slagle was the fastest female driver in 11th position.
The 23rd and last on the grid Andrew Tuttle who replaced Chris Lowden in the No. 11 at the last minute. Lowden ultimately did not receive clearance from the officials to race.
"As you know, last August I had a small stroke," Lowden explained the last-minute change. "Today I feel good. Actually, two of my doctors released me, but yesterday NASCAR at the super last minute requested a medical certificate of aptitude made by a neurologist, but mine being on vacation, I could not have time to find one in this short notice."
Tuttle is an Idaho driver who competed in six West Series races between 2013 and 2018.
Good news, this time no mechanical problem for Caleb "The Lawman" Costner who will be able to make his first career start.
Note that Brandon Hargrave is appointed interim crew chief of Bobby Hillis, Jr. Ed Ash was unable to come for family reasons.
Green Flag
As soon as the green flag waved, Jesse Love took first place against polesitter Dean Thompson. It wasn't long before Cole Moore passed the driver of the No. 51 Ford as well. Paul Pedroncelli, just like in Las Vegas, headed for the pitlane after two laps.
The race was quite fluid during these first laps. Moore takes the first position to his teammate Love in the fifth lap. Jake Drew is back in the group of leaders. He took the advantage on lap 15 over Taylor Gray. Three laps later he did the same over Thompson and was already third. He is the fastest driver on the track. Five laps later he passed Jesse Love and is now second, one second behind leader Moore.
First in a long series of yellow flags!
On lap 26 John Wood went into spun on Turn 4 with the help of Christian Rose. Rose, in 16th position, benefits from the free pass and as in Las Vegas, he will be able to take advantage of it as we will see later in the race. On the restart on lap 36, the top-10 is next with Moore leading ahead of Drew, Love, Thompson, Joey Iest, Trevor Huddleston, Travis Milburn, Todd Souza, PJ Pedroncelli and Jolynn Wilkinson.
Moore retained the lead, behind Milburn was practically on fire and gained three positions in two laps to integrate the top-five. He is followed like his shadow by PJ Pedroncelli. Conversely, Thompson loses position after position.
Second caution on lap 41 for a spin in Turn 4 by Caleb Costner. He too got a little help from Bobby Hillis, Jr. Takuma Koga gets the free pass.
The restart lasted barely two laps before the first big moment of the race. PJ Pedroncelli pushes Taylor Gray into a spin Turn 2. Unfortunately, the David Gilliland Racing No. 17 Ford was hit by Brian Kamisky and Josh Fanopoulos. Gray and Fanopoulos manage to reach the pit lane but they both were done for the day. Bridget Burgess enjoys her first free pass of the race. It won't be the last. The red flag to clean the track lasted eight minutes.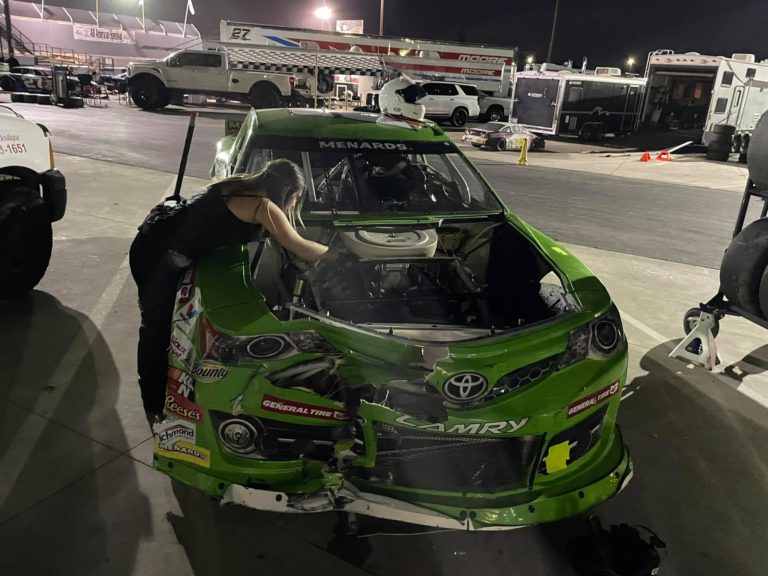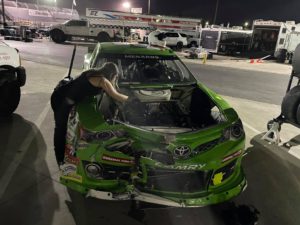 The restart is given after we have just finished the first third of the race. The top-10 is made up of Moore, Drew, Love, Milburn, Thompson, Iest, Pedroncelli, Souza, Huddleston and Wilkinson.
Cautions Breed Cautions
Drew attacked Moore from the restart and took the lead on lap 53. The drivers only completed five laps before the flagman once again draws the yellow flag. Takuma Koga spun in Turn 2. Free pass for Costner.
On the restart, Drew and Moore gave us a nice side-by-side duel. Love wasted no time in joining them.
Catastrophe for Milburn who was pushed by PJ Pedroncelli on Turn 1. It was the start of a long night for the driver of the No. 78 Toyota from Velocity Racing. Pedroncelli also lost a lot of positions. Koga receives the free pass for the second time in the race. In the top-10 we can see Burgess in eighth position and Wilkinson 10th.
The restart is given shortly before the halfway point. Drew is a solid leader despite attacks from BMR drivers. Just behind there is a superb and intense battle between Thompson, Huddleston and Stafford Smith for the fifth position. Smith is one of the fastest on the track at this point in the race. Huddleston won't resist him for long. Behind the leading duo, Love lost a few lengths and was mistreated by Iest who took third position on the 83rd lap. We are in the second longest green flag since the start of the race.
The leaders had been in traffic for several laps when Moore took advantage of Drew's struggling behind Wilkinson to regain the top spot on lap 90. Thompson slowed on the track and caused the sixth caution. His left rear tire is punctured and he spun in Turn 4. Kamisky was the free pass while he is last in the top-10.
The 100th lap is reached behind the pace car with Moore leading ahead of Drew, Iest, Love, Souza, Huddleston, Smith, Rose, Pedroncelli and Kamisky. The 11th, 12th and 13th positions were occupied by the three female racers with respectively Burgess ahead of Amber Slagle and Wilkinson.
The green flag waved with 43 laps to go. Moore is under pressure from Drew every second! Souza has part of his rear bumper hanging down and threatening to come off.
The seventh yellow flag waved for a crash between Bridget Burgess and Jolynn Wilkinson in Turn 2. They had a solid race so far. Officials waved the black flag at Souza because of his loose rear bumper. He managed to get into the pitlane, solve the problem and come back without losing a lap! But he dropped from fifth back to 10th position.
On the restart Drew spun his tires and Iest took the opportunity to take second position. Stafford Smith also lost a few positions. Iest briefly took the lead from Moore! The battle is incredible as Love joins the group and it is almost four abreast that they arrive on Kamisky, in ninth position, who spun right in front of them! Drew did the best for avoiding the contact and took first place moments before the yellow flag waved, the eighth in the race. Koga receives the free pass for the third time.
There are only 20 laps left when the restart is given. Drew leads ahead of Iest, Moore and Love. But three laps later Milburn stopped on Turn 4. Another yellow flag, the ninth. The tow truck is called in to push the No. 78 towards the pitlane. The night was over for Milburn. Slagle receives the free pass.
The spirits are heating up!
The restart is going to be epic! Iest pushes Moore who himself spun leader Drew into Turn 1. Love is embroiled in their rout. He had nowhere to go. This is the 10th yellow flag of the evening! Iest assumed the lead. Love, Drew and Moore are now in ninth, tenth and 11th positions. Adrenaline is at its peak! Burgess received the free pass.
At the restart Iest leads ahead of Pedroncelli and Huddleston. Souza and Smith complete the top-five. Rose, Koga and Slagle precede the old leaders. But a few laps later, Drew and Love hook up coming off Turn 2. Love goes into spun and loses a lap … Burgess receives her third free pass.
OVERTIME!
Once again, we are entitled to an overtime finish. The race will finally be extended by eight laps! And it's on just one lap that the race will be played out! Iest managed to hold onto the advantage but came out less well on Turn 2 than Pedroncelli. The No. 33 Toyota driver dives inside Turn 3 and neatly pushes the young No. 54 Ford driver out of his way. Pedroncelli came out of Turn 4 in the lead and crossed the finish line three seconds later! He will only have led a few tens of meters but the most important!
This is the first career victory in 21 races for Pedroncelli! But since the start of the season, we felt that it was possible. He is the 201st winner since the inception of the West Series in 1954.
Iest finished second. This is his sixth consecutive top-fives! After a difficult start to the season, Huddleston finished third for the second time in a row. Souza can jump for joy. After so many problems in recent races, he is back in the top-five with a good fourth position. Moore completed the top-five.
Smith achieved his career best result with the sixth position. He was ahead of Rose who had a superb race, Drew, Koga and Slagle who obtained his first top-10 in her career. Love was 12th. His third result outside the top-10 of the season and second in two races.
In the championship, Jesse Love is just one point ahead of second-placed PJ Pedroncelli. Jake Drew (-3), Joey Iest (-5) and Cole Moore (-6) also gained points on Love. The championship has never been so close, as even Trevor Huddleston (-15) can also win the championship.
Post-Race Reactions:
P.J. Pedroncelli: "What an unbelievable night. Started ninth, at the start, I was just riding around. Then started making the way up got into fifth and unfortunately got into the back of 78, spun him and we both came to a stop. So, we had to go to the back and restart 14th. Started coming back through the field and up to second. Caution came out on last lap sending us into overtime, with a one lap battle between the 54 and I. I led my first ARCA West lap, and it was the only lap that matters."
"Ty Joiner is the man and has made all of this success this year possible. I can't thank everyone that helps me do this enough. To be able to get my first win at one of my home tracks with all my friends and family there was an amazing night. Thank you I'll always remember this one.
We go into Phoenix, the final race of the year second in points, one point behind the leader Jesse Love. Phoenix here we come."
Andrew Tuttle: "Back in the seat after three-and-a-half-year break. I was called the night before to jump in a backup car we were short on crew, and everything was last minute. We were able to shake the car down during practice and make some changes to get the car set up and ready for the tight short track here at Roseville.
By the mid-point in the race, I was finally comfortable in the car and was able to start opening her up. The crew that we had gave me a good car and I just had to drive it. It was a great time from halfway to the finish. Got a little interesting the last few laps but rubbing is racing and it was a great race. We started 23rd and finished 16th and I was very happy with the turn out given the circumstances."
Takuma Koga: "We survived a wild short track racing."
Stafford Smith: "After Vegas went back to my set up form my last full season, and while the times wouldn't show it, we knew it was going to be quick. And right from the green flag we knew we had something, so it was a matter of pushing hard and staying out of trouble and seeing where it all ended up. We're a very small team with my dad and a few friends from college to help. So, thanks to John Wood for providing a great car and help."
"Getting up with Trevor in the No. 6 was great fun. Exchanged some waves. Funny thing is he lives just a few miles down the road from me in California."
"Honestly the car felt superb from start to finish. Went where I pointed it. Slowed where I wanted it."
Bobby Hillis, Jr.: "Well… mission accomplished. We came here to essentially stay out of trouble and protect our top 10-points position after a rough last three races tearing up shit. Now we can bring the neon hot rod to Phoenix and hopefully run good."
Christian Rose: "Super proud to come home with another Top-10. Finished seventh in my second ARCA Menards West appearance!"
Josh Fanopoulos: "Well our night was done early. We had a hell of a car tonight. Dennis Wurtz Jr. (crew chief) gave me a fast hot rod. We qualified 14th out of 23 and made a few big changes before the main. We drove to about eighth before the 17 spun and came down the track nowhere to go. Thank you Chris Lowden, Bret Erin Buchanan, Dennis Wurtz, Bailey Fanopoulos and everyone else that has helped me along the way. Hopefully we have a hot rod for Phoenix."
Todd Souza: "Our car was getting better and better while others started to fade. I really could've used some more green laps. Getting tangled with the No. 6 car on the front straightaway popped the rear crush panel off leading to that black flag. That didn't help. I'm happy with the car after having a couple of disappointing races.
"The disrespectful driving with these young kids is getting out of hand though. It would've been nice to race instead of spending half the time going in circles on yellows. Michael and the guys always give me their all. I just try to give them mine. We have a new car coming from DGR for Phoenix. We're looking forward to the race to see what we have."
Amber Slagle: "We finally got the monkey off our back this race. My one goal was just to finish. We have a lot of bad luck my last two races and all I was focusing on was seeing the checkered flag and we made that happen with a top-10!
"I felt patience was key this race such a small racetrack with a lot of beating and banging. But we stayed out of trouble. I can't thank my team enough for the fast car and for giving me the opportunity of a lifetime. This time Last year I never thought I would have made three ARCA starts now! It's truly a dream come true. Now we've got a top-10 under our belt so hopefully there will be more to come next year."
Jake Drew: "I was really pleased to get a hang of the track and be third fastest after our first run. Most of the tracks we've run this year it's my first time ever being there but I'm lucky to have a great team to give me all the tips and advice I need to be quick. I don't think we had the fastest car to run just one lap but as far as long run pace and consistency we were very strong.
"I think we were able to show that when we were able to get to the lead pretty easily. It was really unfortunate to get knocked out of the lead again but nothing more I could've done about it. I know everyone saw what happened between Jesse and I. And just like I told him, it wasn't intentional. We talked after the race and were both able to give our perspective, shake hands, and start focusing on the finale in Phoenix."
"Looking ahead to Phoenix I'm super excited. Not only to see how I've progressed this year but also to be fortunate enough to be in the hunt for ROTY and the overall championship. I had tons of fun at the season opener in Phoenix and have been looking forward to our return ever since. As for myself and my team our focus is the same, we will continue to work hard as we have all year and wherever we end up we will all know we gave it our all. And after being in the hunt to win in the last 4 races, I think we will be in great shape!"
Caleb Costner: "Last night we definitely learned a lot. Our ultimate goal for our first start out was to finish the race and bring the car home in one piece. Coming in I knew it would be a lot of beating and banging short track style. We started out trying to get into a rhythm, but it didn't take long in the race before we got dive bombed by another car who dove in on us in turn 3 getting in our left rear quarter which turned us around.
"We recollected ourselves and stayed out of all the other wrecks that happened during the race. Got stuck being the first car two laps down from the spin with the other car and couldn't get that second lap back from all the lap down cars in front of us which was frustrating. However, we kept the car clean and ended up fighting our way back up to 14th.
"Overall, in a race where we saw a lot of torn up cars and nights end early, we accomplished what we set out to do and finished the entire race with almost no damage besides the contact made from the spin. At the end of the day, I'm thankful our team worked together so well, and we made the right calls throughout the race to put ourselves in position to bring home a clean top-15 finish.
"I just want to say thank you to my sponsors, crew, family, and friends for all their support. I'm excited to see what we can accomplish from here. PP1M already has a driver for the upcoming race so I'm currently finalizing a deal to secure our ride with another team to be in Phoenix. I plan to finish the season out strong as we begin to plan and prepare for our 2022 season plans."
Jesse Love: "Led laps tonight and kept our car clean. Felt like we raced our championship competitors with respect this year. But that respect didnt go both ways. We got wrecked by the 9 who we're racing against for the championship. But my approach to Phoenix is narrowed down, just run hard!"
Did you know?
With PJ Pedroncelli winner and his father Paul last of the race, has this ever happened in the history of the West Series? The answer is no. But the opposite situation happened on May 30, 1999, at Mesa Marin when Butch Gilliland won the race and his son David finished last.
There is only one race left this season in Phoenix on Saturday, November 6 for the Arizona Lottery 100. The start is scheduled for 3:00 p.m. (ET). About thirty cars are announced. The battle for the championship will be intense. Each position will have its importance!
Complete results on Racing-Reference www.racing-reference.info/race-results/2021-08/AW/
Featured Photo Credit: Photo Courtesy of Diego Alvarado via Vincent Delforge.