By Vincent Delforge, Special to kickinthetires.net
It is with sadness that we learned on October 16 of the death of a great man from the West Series, George Jefferson, Jr. He was 81 years old.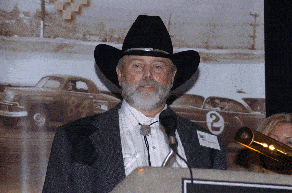 Sparkling eyes, bearded face, most often with a hat on his head, this is how he walked the pitlanes of the NASCAR West Series (the current ARCA Menards West Series) for several decades.
Let's pay tribute to him by talking about his career and his contribution to the West Series.
Born on February 14, 1941, George Jefferson, originally from Naches in the state of Washington, began his career in a stock car in the Pacific Northwest in 1966. But he quickly put the helmet aside to take care of his team, Jefferson Racing, leaving the wheel to his younger brother Harry when they decide to move up to the NASCAR Sportman Division in 1970. With the help of engine builder Parky Nall, they will achieve incredible results, especially in 1972 where Harry will win 27 victories in 35 races including a staggering 17-games winning streak.
The 1970's
It was also in 1970 that George entered a car for the first time in the NASCAR West Series with, of course, his brother Harry behind the wheel. It takes place on July 2 in Yakima, WA, on a 0.500 mile oval, and the result will exceed their expectations since the Ford No. 94 finishes in fifth position. They are preceded only by tenors of the West like Jack McCoy or Ray Elder.
Two days later, they tried their luck again in Monroe, WA, at Evergreen Speedway, finishing sixth.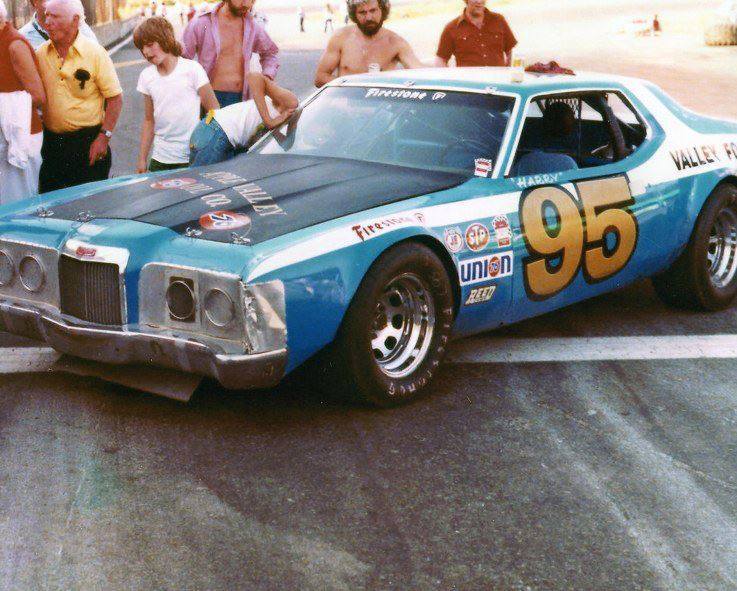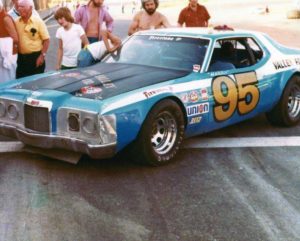 Skipping the West Series races of the 1971 season, George, Harry, always accompanied by Park Nall, will again be talked about in 1972 in the West Series with three top-fives in four races contested including a second position in Yakima. Their radius of action being generally limited to the states of Washington and Oregon, they will make two exceptions by trying their luck during the combined races of the West with the Winston Cup Series at Riverside and on the Ontario Speedway. Unfortunately, they failed to qualify.
The 1973 season will not remain a good memory for the Jefferson brothers. Two races ended with two retirements. But above all George almost lost his life there.
George used to watch the race up close. When I say closer, it was really closer. At a time when the notion of safety was relative… George ventured as always… on the track to see the cars go by.
The terrible story takes place on September 2 at Evergreen Speedway. It is described here by Allen Madding in an article published on December 1, 2009.
"Parker Nall was appointed by the team as Jefferson's "guardian angel" – to watch the track and pull Jefferson away from the track surface and out of harm's way in the case of a crash.
On September 2, 1973, in Monroe, Washington tragedy struck.
While Jefferson stood next to the front straight-away watching his car, another car blew an engine, and the car following slid in the oil and headed straight for where Jefferson was standing. Nall grabbed Jefferson by the arm and both of them started running.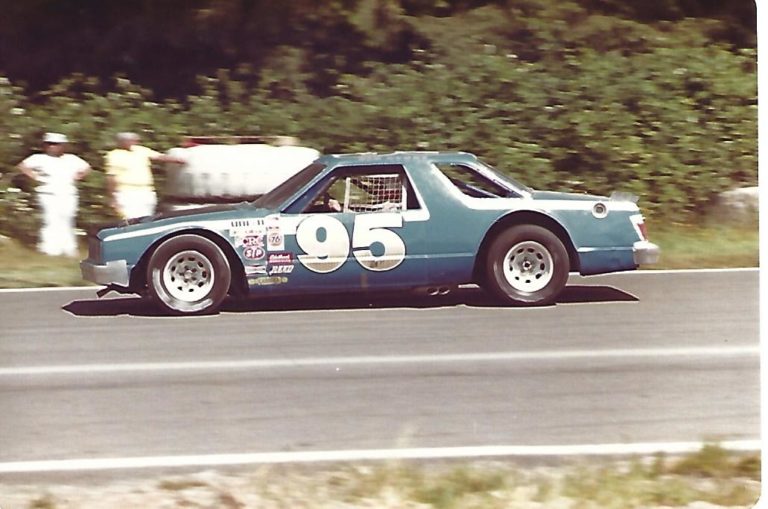 An out of control car struck Jefferson knocking him through the air. Jefferson landed hard and suffered two broken legs, facial lacerations, a broken jaw and internal injuries. NASCAR Official Samuel "Pat" Pattison ran to Jefferson's aid and was struck by another out of control car and was killed by the contact.
The track ambulance crew attended to Jefferson and quickly loaded him into the ambulance and headed for the hospital. According to Parker Nall, the back doors flew open and the stretcher that Jefferson was on fell completely out of the ambulance. Jefferson miraculously survived the ordeal and returned to fielding race cars."
While taking care of his business, Jefferson Logging, George will prepare particularly well for the 1974 season. The team will be at the level for the combined races at Riverside and Ontario by qualifying with the national stars. The highlight of their season will be the two victories won. Qualified second at Evergreen on September 1, Harry made perfect use of the car prepared by George and flew over the race, winning by two laps ahead of Jack McCoy. The following week they will win again in Yakima.
A season that will end on a high note with the seventh position obtained in October in Charlotte, NC. Their first top-10 in the Cup Series. A race won by David Pearson. The latter will drive for George a few years later in 1978 at Sonoma in the West Series.
George and Harry will thus continue their part-time adventure in the West Series until 1979. Obtaining four other victories. Legend Hershel McGriff took the car to eighth position at Portland in 1979, the year Harry decided to put his racing career on hold.
The 1980's
But George will continue the adventure the following year with Don Dowdy as the driver. At Evergreen, Dowdy will get his best result with a second place.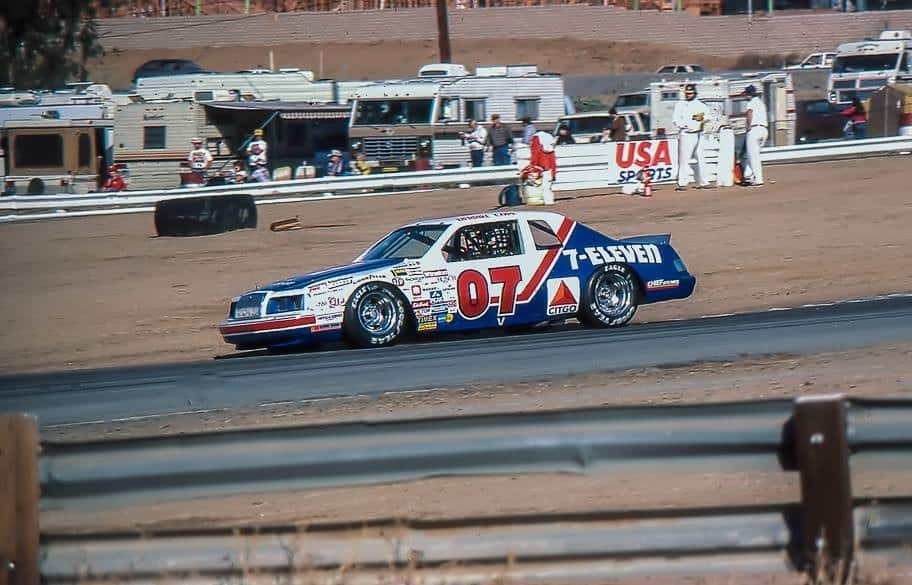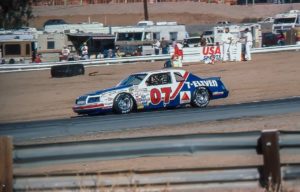 In 1980 Derrike Cope was Late Model Sportsman Driver of the Year that season at Yakima and won his first race at Portland. That's when he met George Jefferson, who asked Cope if he wanted to drive his Grand National Ford Thunderbird. Cope leaped at the chance.
"I think we've got one of the best cars in the country," Cope says of the Jefferson Racing T-Bird. "And we've certainly got one of the best crew chiefs."
And the arrival in 1981 of Derrike Cope as a pilot will change a lot of things for George Jefferson. First on July 5 for their first race together at Rose City Speedway in Portland, OR. Indeed Derrike gets the pole position. The very first for the team.
The relationship between George and Derrike Cope will continue until 1985 and will be decisive in their respective careers as Cope explains to us today: "George Jefferson lived his life with enormous passion…that passion was racing. He lived for it. He was a kind man that I respected and truly enjoyed working with early in my career.
"Our relationship was a major reason that I would reach my goals of making it to NASCAR Winston Cup Racing. His love and loyalty to the Ford brand was what provided the catalyst for our 7-Eleven and Ford Sponsorship that set the stage for things to come. His was a life well lived doing what he loved to do, and making a difference in so many lives. He will be missed."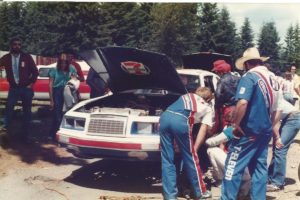 If in 1982 and 1983, the team continues to participate on a part-time basis, the year 1984 will be a major turning point for the team led by George Jefferson, Jr. For the first time the car will be entered in all the races and the success is the appointment. With the help of Jackie Johnson as crew chief, Cope would win the races at Portland and Shasta.
Without a more complicated end to the season at Riverside and Phoenix, Cope could have offered the title to Jefferson Racing. He is crowned rookie of the year and misses the championship against Jim Robinson for only four small points. Note that Cup Series stars Tim Richmond (Phoenix) and Kyle Petty (Kent) will each race for George Jefferson.
Derrike Cope who tells us this anecdote concerning the Evergreen race in 1983: "George had a habit of never leaving things alone…always knew he could make it go faster and quicker with "just one more combination" to the set-up. I remember a race at Evergreen Speedway in Monroe, WA, just before the race George decided to change all four springs, a sway-bar, and a few other minor adjustments. "Boss"
"I have tuned her up he said…I said no…say it's not so. Early in the race a caution came out, I have said nothing on the radio as we have gone backwards from the start of the race. I see George walking out to the frontstretch with his hand on the headset to talk to me and I was wearing these bright orange driving gloves, and I stuck my hand out the window and gave him the bird! He walked calmly back to my dad and said I guess he is pissed off! What was your first clue George?"
The following year, change of number for the car which now sports the 07. The season will be more difficult with several accidents and mechanical problems. But Cope's win at Evergreen is heartwarming. It is also the first year that George has entered two cars in certain races. Indeed he partnered with Chuck Little to run the latter's son, Chad Little.
The four races are not crowned with success but this will allow the young Chad, aged 22, to prepare for his first full season in 1986. Note that at Evergreen Bill Elliott operated with Harry Melling another team car usually entrusted to Derrike Cope. It will also be the only time that three cars leaving the workshops of Jefferson Racing have found themselves in the same race.
Derrike Cope reflects for us on this discussion he had with George shortly after breaking his primary car in Yakima in 1985: "I had wrecked the Ford Fairmont that we were running at Yakima Speedway. It was going to require a great deal to get it back in shape and we had to race again the next weekend. I was at the Logging operation and race shop surveying the damage and said what are we going to do?
"George said come with me. We walked out the back of the shop out into the field in really tall grass and I said where are we going? We stop and he says here…laying out in the field is this faded out blue and yellow Ford Cougar race car. I said what is this? George said "Best car I own Boss" I said what's it doing out here then? He was always the eternal optimist…never fear George is here!"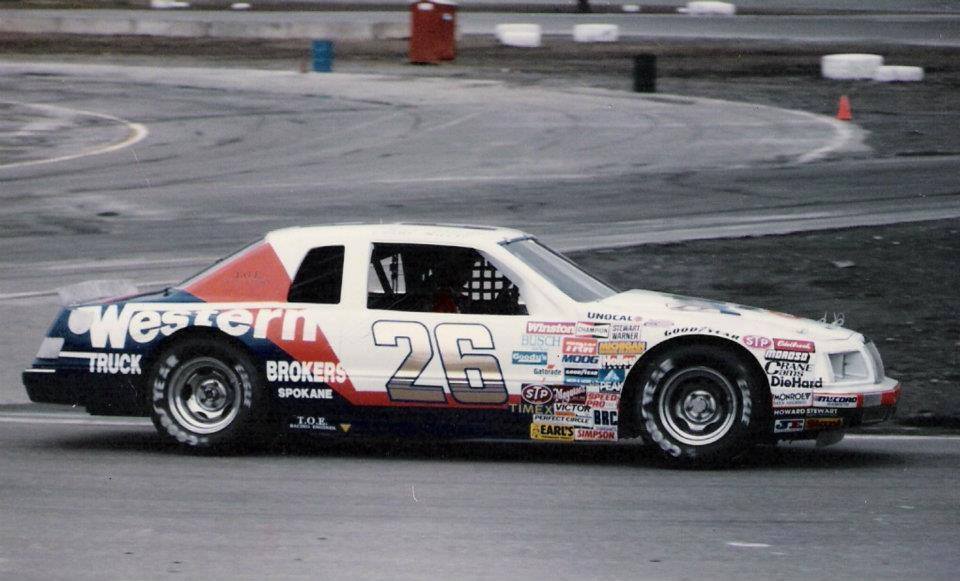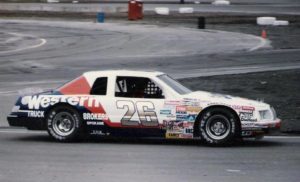 In 1986, in eight races, Little would get six top-10s with the best result being his first career victory at Evergreen. Chad who will finish second in the championship won by Hershel McGriff but will win the rookie of the year award.
George was a passionate and enthusiastic guy but knew how to give good advice as Chad Little recalls: "When I was fighting for the ROTY title (in 1986), he knew how to remind the fiery young driver that I was "You can't win unless you finish.", what I have tried to do throughout my career.»
The Consecration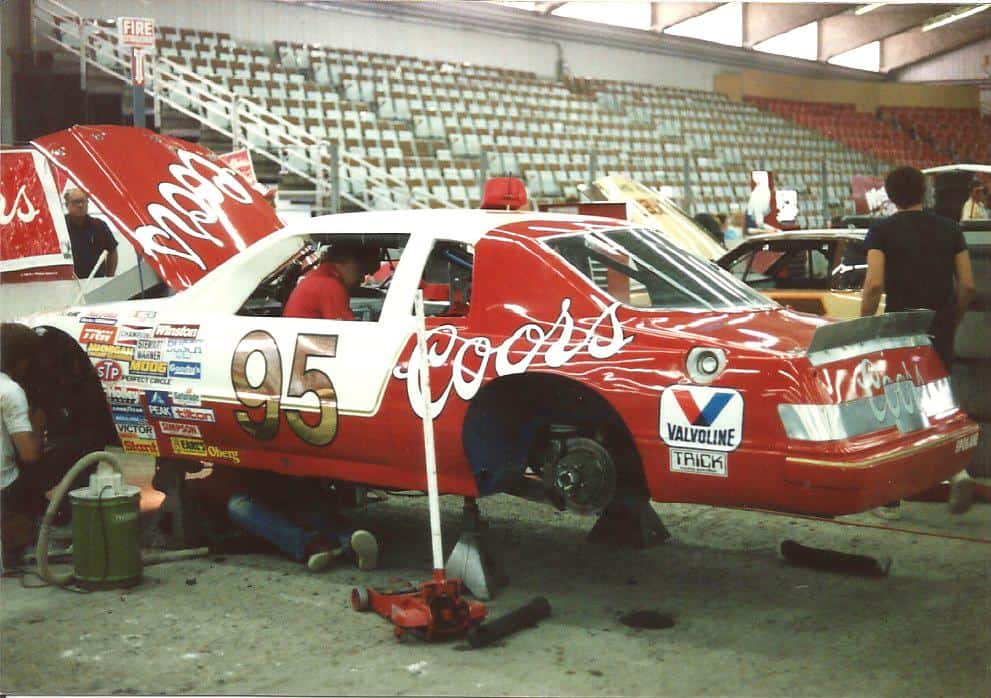 The long-awaited consecration for George will come in 1987. Chad Little is constantly on the podium in every race, except for the two races combined with the Cup Series in Riverside, CA. This consistency in addition to his two victories in Portland, OR and on the streets of Tacoma, WA, gives Little and Jefferson their first, and only, West Series championship title.
The 1988 season saw George team up with Fred Stoke to run Chad Little's car. The year will be good with a final third place in the championship. Chad Little winning the Evergreen race. At the end of the season, George will concentrate on his lumber business in central Washington and will become more and more involved in the racing careers of his sons Jason and Jeff.
In 1989 still associated with Fred Stoke, they rolled Chad Little on the one and only Evergreen race. And it's a masterstroke since Little wins the 500 lap race. The very last race for Jefferson Racing.
Post-Jefferson Racing era
From 1990 and until 1995 George will occupy the position of crew chief for Butch Gilliland and Mike Hurlbert. He will return to do some freelancing as crew chief until 2004 for Jim Inglegright, John Moore or Jason Jefferson.
Never stingy with advice, he was always there to help others.
ARCA official Becky McBride tells us one of her favorite George story:
"We had to pick Hoosier or Goodyear Tires when we got to the track. You had to choose. It was a lot of pressure. You have to research what worked temp wise, track surface condition and if you guessed wrong there went your race. I walked up to George at Las Vegas. We were running the big track. I didn't want him to feel like I was asking direct, so I said:
If I choose Hoosier what would I be? Im thinking Winner? Loser?
He answered in his drawl : "A blister"
I went with Goodyear and we were running top-five.
"He was your friend and competitor to the fullest degree.
A lot like his Boys. Jeff & Jason, have the heart of a racer through and through."
"Jefferson's are a class act. Harry & George are bench racing with some of fastest today."
George was inducted into the West Coast Stock Car Hall of Fame in 2004.
George Jefferson, Jr. West Series stats as an owner
Races
Wins
Top-5
Top-10
Poles
102
14
43
51
4
As crew chief, he earned seven wins and 10 poles.
Note that George Jefferson also participated in 13 Cup races between 1973 and 1978 with Harry Jefferson (12) and Hershel McGriff (1) on the most prestigious Cup Series tracks such as Talladega or Charlotte. Jefferson Racing will return for 11 races from 1982 to 1988 with Derrike Cope and Chad Little in the era of combined races between the Cup Series and the West Series. In total the team will obtain four top-10s.
George joined his little brother Harry, who passed away on August 23, 2021. The West Series tradition at the Jeffersons has continued over the years through George's sons, Jason and Jeff, as driver, crew chief or team owner and successfully.