By Vincent Delforge, Special to Kickin' the Tires
It is with sadness that we learned on July 22, 2023 of the death of a great man from the NASCAR West Series, Geoff Burney. He was 74 years old.
Geoffrey Oliver Burney was the only child born to Harold Lee Burney and Hazel "Pat" Burney on July 30, 1948, in Cleveland, OH. Geoff later graduated high school in Washington D.C.
During summer breaks he would ride the train from Washington D.C. to Rocky Ford, Colorado, where he loved spending his summers with his grandparents, Oliver Steele and Hazel Powers Steele. Geoff started his career at their family business, Oliver Manufacturing Company, Inc., when he was 11 years old.
Geoff attended Oregon State University, where he graduated with a BA in History and a minor in Business. After college, Geoff returned to the place he spent his summers as a child, making Rocky Ford his home.
Geoff worked 41 years at Oliver Manufacturing , many of which he was the President and CEO. Geoff retired from the fifth generation family business in 2012, remaining the chairman of the Board of Directors until his death, having worked alongside his grandparents, mother, two sons, daughter-in-law's, grandsons, and granddaughter and many Oliver employees, who he considered close friends.
Geoff Burney was a fervent world traveler during his lifetime. He raced in the Sports Car Club of America (SCCA) for 30 years, winning several class championships. Fast cars were a constant enjoyment throughout his life. Burney was a NASCAR team owner between 1988 and 2007 where the Oliver Racing team participated in the NASCAR West Series (current ARCA Menards West Series) with his friend Scott Gaylord as the driver of the famous car No. 00 in the colors of Oliver Gravity Separators.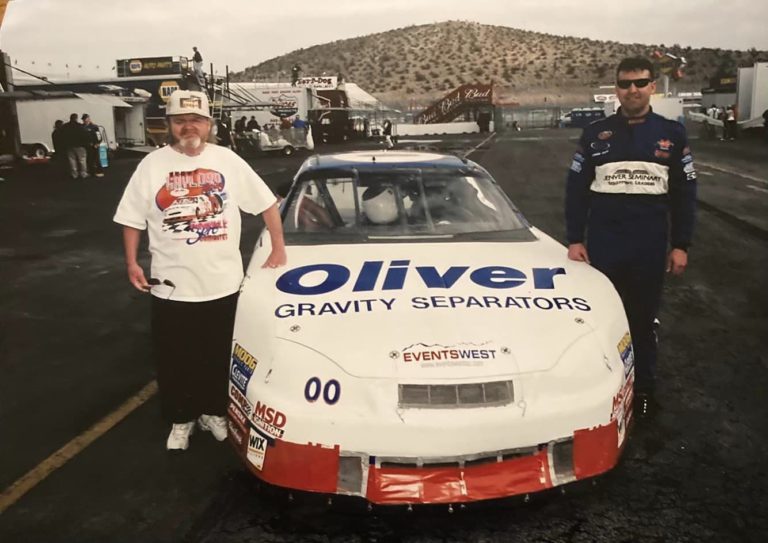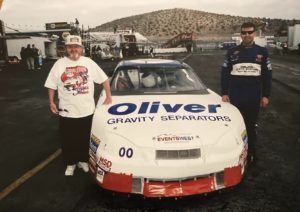 Even if at the beginning they did some races with No. 2 for example. The friendship between Burney and Gaylord began when they were SCCA drivers in Colorado. When Geoff Burney decided to create a NASCAR team at the dawn of the 1988 season, the choice of driver was obvious, it would be Gaylord.
Together they will participate in 161 races, sometimes with the help of Jimmy Means or Mike Duncan as during the trip to Motegi, Japan, in 1999. They obtained 35 top-fives, 84 top-10s and five poles. Only one victory is missing from their list, failing very close to victory, in second place, four times. In 17 seasons they will finish 12 times in the top-10 in the championship including twice in the top-five in 2003 (fifth) and 2004 (fourth).
The duo also participated in four NASCAR Cup Series races between 1988 and 1997. They were even among the 86 that entered the inaugural Brickyard 400 at the Indianapolis Motor Speedway in 1994 but did not qualify for the race. They also competed in NASCAR exhibition races in Japan in the late 90s.
They also partnered with Jimmy Means Racing for several NASCAR Busch Series (current Xfinity Series) and NASCAR Cup Series events.
Geoff was also an avid Broncos fan and spent more than 30 years participating in his long time fantasy football club with life long Rocky Ford friends. Burney also had an avid love for trains. He enjoyed everything about trains including their history and engineering. Dedicating his spare time to building N-Scale model trains, he was a true model railroad hobbyist.
Additionally, he was a devoted cat lover and throughout his life he always had a cat or two around and did not go anywhere without his favorite furry friend.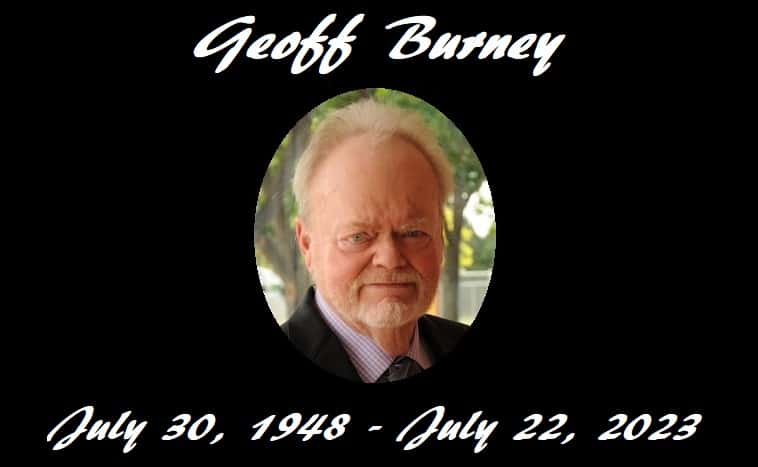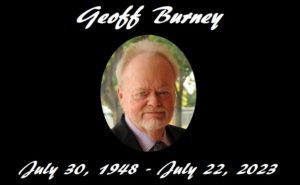 Geoff is survived by his two sons: Adam (Ann) Burney of Bedford, TX, and Brian (Melanie) Burney of Rocky Ford. He is also survived by three grandchildren: grandson Daylen (Emily) Burney of Kansas City, MO; grandson Christian Burney of Durango; and granddaughter Megan Burney of La Junta. Geoff was preceded in death by his grandparents Oliver W. Steele, Hazel P. Steele, parents Harold and Pat Burney, granddaughter Erica Burney, and various aunts, uncles, and cousins.
To all his family and friends, the Kickin' the Tires staff send their deepest condolences.
Rest in peace Geoff Burney.