By Vincent Delforge, Special to Kickin' the Tires
The seventh race of the ARCA Menards West Series season, the Big Valley Sanitation Shasta 150 presented by West Coast Stock Car Hall of Fame, ended with the third win of the year for Sean Hingorani who halved his championship deficit against leader Landen Lewis, fourth here. Trevor Huddleston finished second in the race, which allowed him to climb from fifth to third position in the championship.
But with the team changes for some drivers, the newcomers and the return of the 2022 champion Jake Drew. A lot has happened on this short track. All in front of a full crowd of enthusiastic spectators. Shasta Speedway is back and please ARCA officials keep this track for future seasons!
The top-five in the championship being the following: Landen Lewis (331 points), Sean Hingorani (-7), Trevor Huddleston (-21), Bradley Erickson (-24), Tyler Reif (-31).
For a complete recap of the race, I invite you to read the article « Race review » available here:
www.kickinthetires.net/nascar/arca-series/arca-west-shasta-race-review/
Complete race results: www.racing-reference.info/race-results/2023-07/AW/
Driver & owner point standings: www.racing-reference.info/standings/2023/AW/
As after each race we are going to detail the statistics for each driver, embellished with the reactions collected from many of them, drivers, owners and crew chiefs.
ARCA West Quick stats
-70th season in history.
-Race No. 1011 since the inception of the West Series in 1954.
-2023 race No. 7 of 12.
-Race No. 15 at Irwindale Speedway since 1967. The second after the 2015 edition on the current 0.375 mile oval. The first 13 races were contested on the old 0.333 mile layout.
–Win No. 2 for Toyota at Shasta. Chevrolet leads the dance with 4 wins ahead of Pontiac (3), Oldsmobile (3), Ford (2), Toyota (2) and Buick (1).
-78th win for Toyota in West Series
-Third win for owner Bill Venturini.
-Win No. 3 for Venturini Motorsports team. The all-time most successful owners in history are Bill McAnally (99), Fred Elder (45), Bob Bruncati (42) and Ernie Conn (41).
–Win No. 1 for Bill Venturini and Venturini Motorsports at Shasta. The most successful owner is Gerald Cracker (2) and Lois Williams (2) ahead of Marshall Chesrown (1), Bill Clinton (1), Ron Eaton (1), George Jefferson (1), Bill McAnally (1), Bill Schmitt (1), Jim Schmitt (1), Wayne Spears (1), Jim Walker (1), Jack Williams (1).
-Third career win for Sean Hingorani (12th career start) and the first at Shasta. Jim Robinson is the most successful driver at Shasta with three wins ahead of Jimmy Insolo (2), Bill Schmitt (2), Scotty Cain (1), Rick Carelli (1), Derrike Cope (1), Ron Eaton (1), Chris Eggleston (1), Bill Sedgwick (1), Jim Walker (1)
-First pole position for Toyota at Shasta. Among the manufacturers, Chevrolet leads with 6 poles ahead of Buick (3), Ford (2), Pontiac (2), Oldsmobile (1).
-Second time in 15 races the driver who started in 2nd position wins at Shasta. The only other driver was Jimmy Insolo in April 1978.
-Second career pole position for Trevor Huddleston in his 60th career start. The second of the year after Irwindale in April.
-First pole for High Point Racing and owner Tim Huddleston at Shasta. Gerald Cracker is the most successful owner with 4 poles ahead of John Kieper (2), Bill Schmitt (2), Tom Craigen (1), Ron Eaton (1), Steve McGowan (1), Bill Clinton (1), Bill Morehart (1), Charles Williamson (1).
-Second pole for High Point Racing in West Series
-First career start for Kole Raz and … Derek Copeland (DNS)
-Best career result in West Series for Kole Raz (3rd) and Derek Copeland (17th / DNS)
-First top-five in career in West Series for Kole Raz (third).
-First top-10 in career in West Series for Kole Raz (third).
-Sixth win for the No. 15 in history. The first at Shasta.
-Tenth pole for the No. 50 in history. The first at Shasta.
-4th career win for crew chief Kevin Reed, Jr. The first at Shasta.
-28th career pole for crew chief Jeff Schrader. The first at Shasta.
-252nd pole for Ford in West Series. The all-time most successful manufacturer is Chevrolet with 257.
-Third pole for Ford at Shasta. The most successful manufacturer is Chevrolet with 6 poles ahead of Buick (3), Ford (3), Pontiac (2), Oldsmobile (1).
-676th paved oval race in history.
The Drivers
No. 05 Dave Smith (Shockwave Racing) Start 16th –Fin: 15th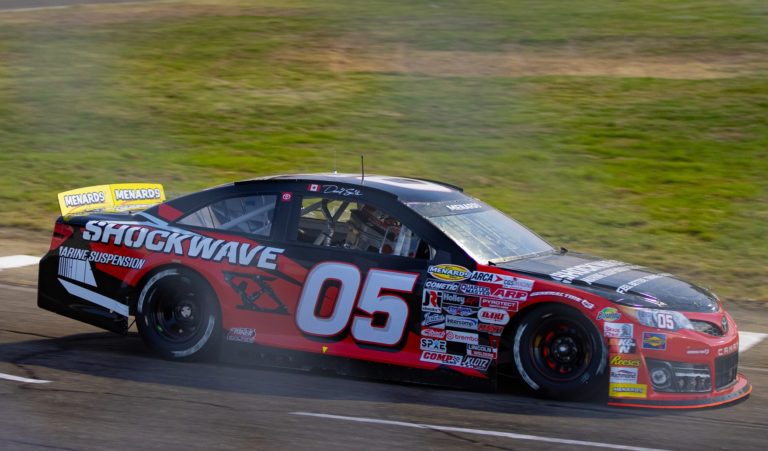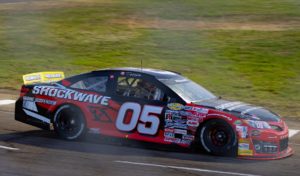 Difficult race for our Canadian veteran due to low tire pressure problems causing the Toyota to scrape the asphalt on the corners. Not to mention the heat in the car. And with this long green flag run, Smith lost several laps to the leaders. The objective of finishing the race without damage to the car has been achieved. By cons far from the top 10.
"Shasta was the hardest and hottest I ever worked. The tire pressure did not come up and the car was bottoming hard which led to a bad push. We have never found the speed in ARCA we have in SLMs. ARCA is way, way harder than I thought and gone are any second rate cars and drivers. I don't intend to quit but figuring out how to ramp it up and get competitive speed." Smith said.
| | | | | | | |
| --- | --- | --- | --- | --- | --- | --- |
| Starts | Wins | Top5 | Top10 | Pole | Best result | At Shasta |
| 11 | 0 | 0 | 1 | 0 | 10th | 1 start, best result : 15th |
No. 3 Todd Souza (Central Coast Racing) Start: 10th – Fin: 10th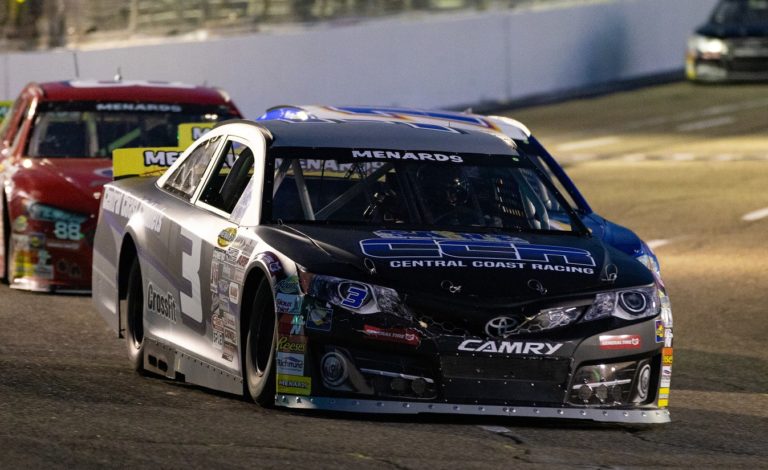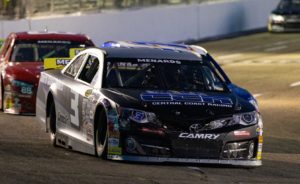 For a first race with Jason Dickenson as crew chief, Souza finished 10th. But it was a tough fight especially with Bradley Erickson during the first 50 laps. The close racing at Shasta was intense. But this top-10 was not easy to obtain. Toyota No. 3 being tight on corner entries. He will have to fight at the last restart to overtake Koga and secure his 65th career top-10.
| | | | | | | |
| --- | --- | --- | --- | --- | --- | --- |
| Starts | Wins | Top5 | Top10 | Pole | Best result | At Shasta |
| 115 | 1 | 20 | 65 | 0 | 1st (1x) | 1 start, best result : 10th |
No. 4 Eric Nascimento (Nascimento-Joiner Motorsports) Start: 8th – Fin: 5th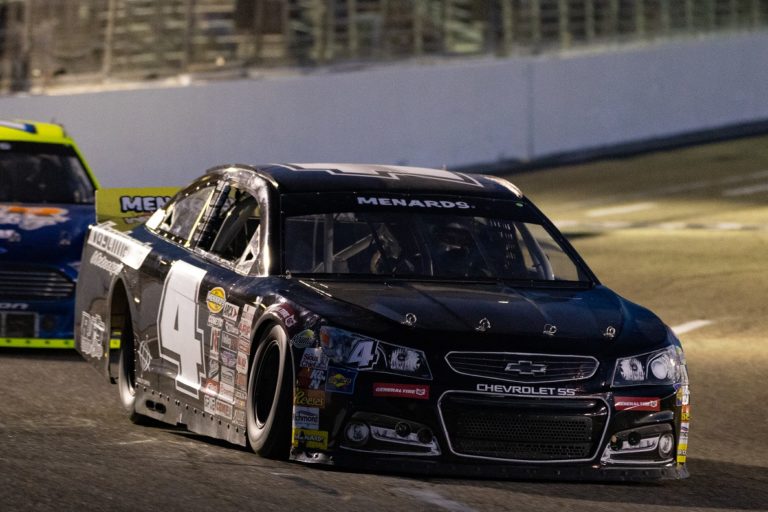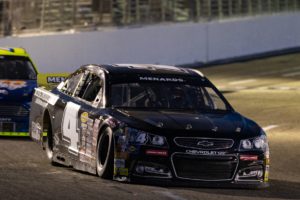 Excellent performance from Bubba who had to go up several positions on this Shasta track where it is difficult to overtake. Friday's optional practice was important because due to work obligations, Bubba missed the first half hour of Saturday's practice. Which complicated his race because he had little time to get used to the new tyres. The setup was done with run-in tires.
Everything could have ended badly during the last restart when he and Landen Lewis collided on the frontstretch. Nascimento managing to avoid the spun in the grass thanks to an incredible car control! That said, without mechanical problems, he proves once again that he is a great driver with a second top-five in a row.
"We had great long run speed Friday with old tires. Never put on new tires so we didn't really know what we were gonna have come Saturday. I had work Saturday so I came thirty minutes late to practice and struggled with new tires and didn't have enough time to get it where we wanted for qualifying.
"We started eighth and just started marching forward car was super free hard to pass anyone especially those Ilmor motors. We prove to have fast cars just need to put it all together. My crew chief TyJjoiner and Mike Nascimento have some stuff figured out. We are pushing for some coming wins." Nascimento said.
| | | | | | | |
| --- | --- | --- | --- | --- | --- | --- |
| Starts | Wins | Top5 | Top10 | Pole | Best result | At Shasta |
| 15 | 0 | 3 | 5 | 0 | 2nd (1x) | 1 start, best result : 5th |
No. 5 Kole Raz (Jerry Pitts Racing) Start: 5th – Fin: 3rd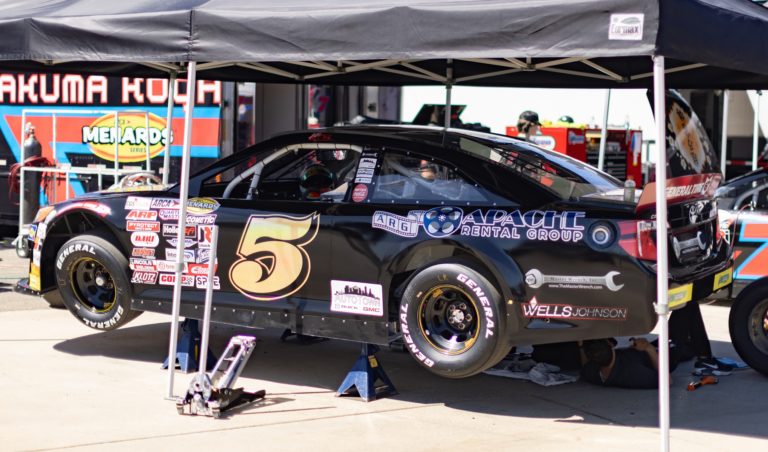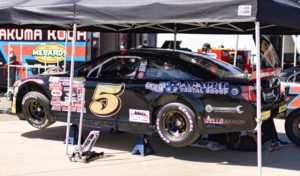 The young driver made an impressive debut in the West Series. Very fast in practice and during the qualifying session. He manages to set the fifth fastest time. Funny thing to know, his big brother Gracin also had the fifth best time in the qualifying session for his debut in 2014 at Evergreen. But if Gracin had finished his first race in sixth position, Kole did better by climbing on the last step of the podium.
He spent almost the entire race in the top-five or top-three. Taking advantage of an error by Huddleston during the first restart, he took second position. He seemed to be heading for that result when the second yellow flag was waved. At the final restart with five laps to go, he will be overtaken by the experienced Huddleston. But third for his debut is a great result. And this race was a "training session" for his next race on his hometrack at Evergreen where he will be a candidate for victory, no doubt about it!
"For our first race together, it's a huge statement for us, Jerry Pitts Racing, these guys have worked so hard. I'm just so incredibly thankful to be in this position, and we're going to go give them hell at Evergreen." Raz said.
| | | | | | | |
| --- | --- | --- | --- | --- | --- | --- |
| Starts | Wins | Top5 | Top10 | Pole | Best result | At Shasta |
| 1 | 0 | 1 | 1 | 0 | 3rd | 1 start, best result : 3rd |
No. 7 Takuma Koga (Jerry Pitts Racing) Start 15th – Fin: 11th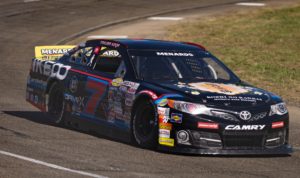 Just not the good pace for Koga. The first long green flag run of 112 laps will put him in difficulty. Losing a first lap to the leader on lap 37. He will survive until the finish. The last restart gave him a last chance to break into the top-10, but he finally lost to Souza three laps from the end.
| | | | | | | |
| --- | --- | --- | --- | --- | --- | --- |
| Starts | Wins | Top5 | Top10 | Pole | Best result | At Shasta |
| 108 | 0 | 4 | 23 | 0 | 5th (4x) | 1 start, best result : 11th |
No. 13 Tyler Reif (Central Coast Racing) Start: 4th – Fin: 14th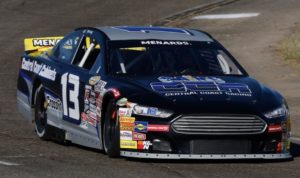 Hyper fast from the optional practice on Friday, Tyler confirms during the practice on Saturday that he leads in front of the one who took place behind the wheel of his old car, Jake Drew. He made a small mistake on his second lap in the qualifying session and missed pole by 120 thousandths. In the race, he held on to fourth position before suffering damage with one of his shocks.
His car becoming very difficult to drive. He loses time and tumbles to the bottom of the top-10. He will be taken a lap on the 112th lap when he is hit by Huddleston, in the middle of a fight with Hingorani for the first place. Ford No. 13 comes to rest in the backstretch. Time to repair and he lost four laps to the leaders. He finished in a distant 14th position. A result that in no way reflects his very good start with his new team.
"Up and down first weekend with the new team. Being on top of the board both practices Friday and Saturday. I made a mistake in qualifying ending up P4. Starting strong in the race coasting in fourth place and thinking we had a shock go bad causing us to fall of hard and get in a wreck. Thank you to Kelly and Todd Souza and my crew chief Michael Munoz for making this happen." Tyler Reif said.
"Tyler is a hard worker and has a ton of respect and is a team player! Working with Tyler has been an easy transition because he has been raised to be a racer and he knows what he wants out of the car. For us to be first in both practices and have a shot at the pole our first race together, should prove the connection is going in the right direction! All we will do is keep getting better every week and the wins will come." Explains to us, enthusiastic, the crew chief Michael Munoz.
And Kelly Souza, the owner, to tell us more from her heart: "Thank you everyone who has followed and supported my little race team throughout the years. For those of you who don't totally get it, we run in a developmental series that pretty much is turning out future nascar superstars. Mostly full of kids now, the ARCA series is a professional level of stock car racing that gives race car drivers the experience needed to eventually realize their dream of being a Cup driver.
"Last night CCR was trusted to help be this vessel for a racing phenom barely old enough to have a driver's license but has spent most of his life behind some sort of steering wheel. As a team owner and especially a parent, I can't describe how disappointing it is when you don't get the outcome you hoped for, and you're left with a kid needing to show off his character instead of a trophy."
| | | | | | | |
| --- | --- | --- | --- | --- | --- | --- |
| Starts | Wins | Top5 | Top10 | Pole | Best result | At Shasta |
| 9 | 1 | 2 | 4 | 0 | 1st | 1 start, best result : 14th |
No. 15 Sean Hingorani (Venturini Motorsports) Start: 2nd – Fin: 1st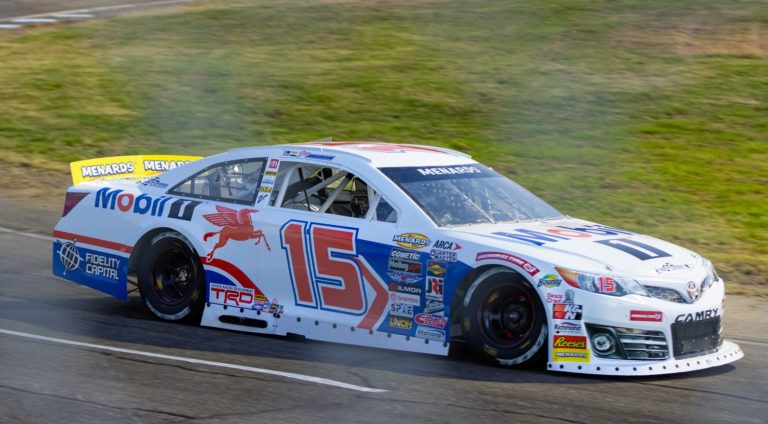 Hingorani will have been quick every time he hit the track. Missing pole by 33 thousandths of a second against the one who will be his main opponent during the race, Trevor Huddleston. Huddleston would lead the first 111 laps before being passed by Hingorani on turn 2. Sean dove on the inside line while Huddleston did the same. But with a straggler (Tyler Reif) on the outside, Huddleston found himself sandwiched and crashed into the latter.
The car was a little damaged and he missed a shift gear during the restart. From then on Hingorani found himself in sole control of the first position. He will resist a final restart five laps from the end to claim his third victory of the season. He halved his championship deficit over leader Landen Lewis. The latter only having a seven-point lead.
"What an amazing night of racing at a great racetrack! Thank you to all the amazing fans that made it out, you guys are awesome! Thank you to Kevin (Reed, Jr. his crew chief) and the entire Venturi Motorsports team for giving me a great car. It takes so much work to be able to race at this level and I cant thank them enough." Hingorani said.
Hingorani who will climb the fence to celebrate his victory before going over to offer the checkered flag to a young fan in the grandstand. This is how to take care of your image with the fans!
| | | | | | | |
| --- | --- | --- | --- | --- | --- | --- |
| Starts | Wins | Top5 | Top10 | Pole | Best result | At Shasta |
| 12 | 3 | 3 | 4 | 1 | 1st (3x) | 1 start, best result : 1st |
No. 16 Tanner Reif (Bill McAnally Racing) Start: 11th – Fin: 7th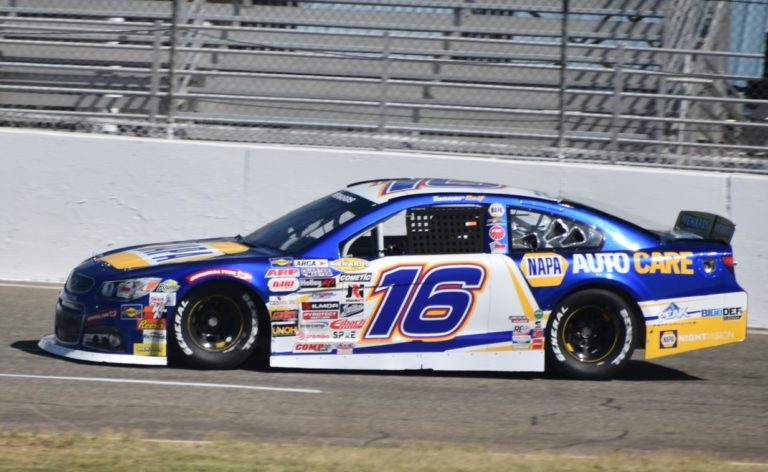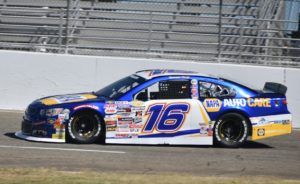 Fast in practice, he misses completely in the qualifying session. He will quickly climb from 11th to seventh position in barely ten laps of the race. He gains a position following the problems of his little brother. But he is stuck during the restart behind Huddleston who misses a shift when he had the possibility of entering the top-five. He fights with Erickson when he touches him on the 140th lap. During the last restart, he rubbed the outside wall and fell back to seventh position behind Nascimento and Keller.
"We had a rough qualifying run and started 11th. But our NAPA Chevrolet was really fast and rolled really good on the top side of the track for the first 30 laps. Then the top side faded away and I had to search for a new line. I found it after about 20 laps and we were super fast on the bottom of the track. I started catching up to the pack and picking off cars.
"We were in sixth when a caution came out. A driver in second missed a shift on the restart and slowed down the whole outside row. We fell back, with the outside row holding us up. We got stuck on the outside on a later restart and hit the outside wall. We were a bit slower after that hit and ended up finishing seventh. I couldn't do this without my amazing NAPA Auto Care crew. They put together a very fast Chevy." Tanner Reif said.
| | | | | | | |
| --- | --- | --- | --- | --- | --- | --- |
| Starts | Wins | Top5 | Top10 | Pole | Best result | At Shasta |
| 18 | 2 | 7 | 13 | 2 | 1st (2x) | 1 start, best result : 7th |
No. 17 Landen Lewis (McGowan Motorsports with Cook Racing Technologies) Start: 6th – Fin: 4th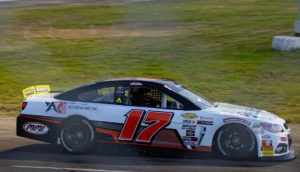 A difficult start to the weekend on Friday during the optional practice due to an engine problem. A top-five car for the championship leader. No more no less. Blame it on a rear shock absorber problem quickly in the race. He will have spent almost the entire race in Jake Drew's rear bumper.
He managed to overtake him during the first restart when Drew hits the rear of Huddleston who missed on reacceleration. Once in fourth position. Lewis couldn't do anything against the three cars ahead of him and will have to concentrate on keeping Nascimento behind him with authority. He maintains a seven-point lead in the championship.
"Not a bad finish tonight at Shasta. We started P6 and was able to salvage a P4 finish after both rear shocks blew out causing an ill handling racecar. Super proud of all our guys at Cook Racing Technologies who worked their guts out all weekend.
"Started yesterday in practice with a motor issue and they never gave up as well as Tim with Ilmor who worked hard to find the issue. One thing about this team is they won't stop fighting. Looking forward to the next race. Thank you to everyone that supports me and helps make this all possible." Lewis said.
| | | | | | | |
| --- | --- | --- | --- | --- | --- | --- |
| Starts | Wins | Top5 | Top10 | Pole | Best result | At Shasta |
| 15 | 2 | 8 | 12 | 2 | 1st (2x) | 1 start, best result : 4th |
No. 21 Tim Spurgeon (Nascimento-Joiner Motorsports) Start: 13th – Fin: 12th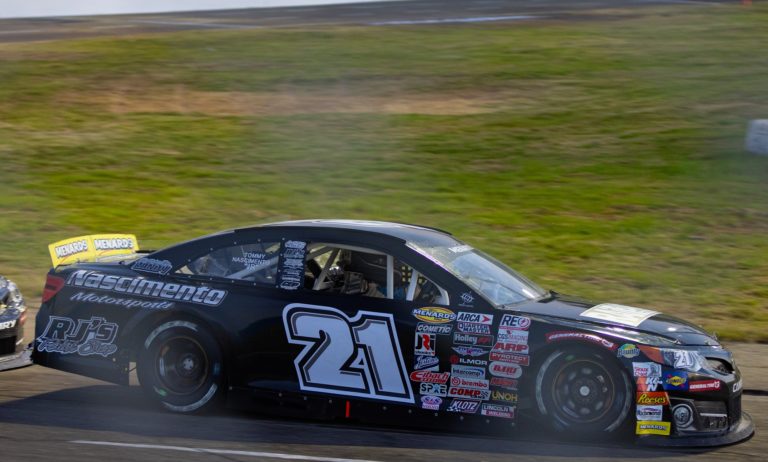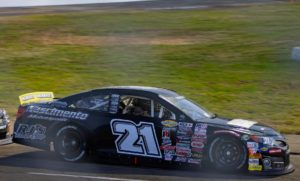 For his first race on a paved oval in the West Series, road ringer Spurgeon performed well. In a fight with more experienced drivers than him on this kind of track like Koga or Philpott. Spurgeon, who will have his moment of glory on the 37th lap when he will be sandwiched, live on TV, by the leading duo who took him a lap. Nothing is determined yet for Evergreen. Will he be behind the wheel of the No. 21 again or will Ethan Nascimento make a comeback?
| | | | | | | |
| --- | --- | --- | --- | --- | --- | --- |
| Starts | Wins | Top5 | Top10 | Pole | Best result | At Shasta |
| 19 | 0 | 0 | 3 | 0 | 6th (1x) | 1 start, best result : 12th |
No. 41 Jake Drew (Lowden Jackson Motorsports) Start: 3rd – Fin: 16th Radiator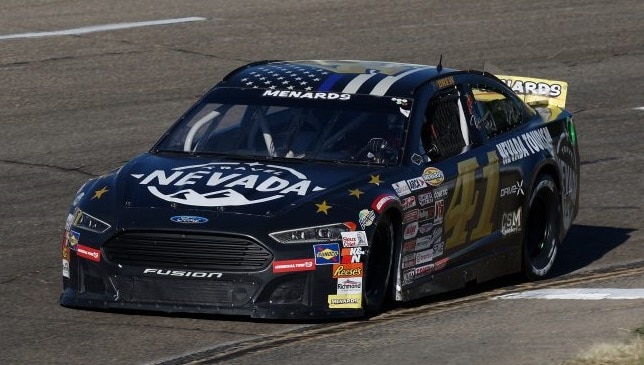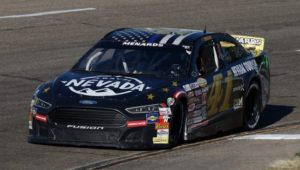 The 2022 champion has lost none of his talent. He was directly at the top of the hierarchy in practice and in qualifying session. Candidate for victory by maintaining himself in the top-five with ease, he was the victim of an accident during the first restart. He was just behind Huddleston, second in the race, on the outside line when the latter missed a shift during the restart on lap 120.
Drew will hit Huddleston's rear bumper and break his radiator. The car will then start to overheat and he will be forced to park it permanently in the garage on the 132nd lap. He is the only driver not to take the checkered flag.
"Working with Lowden Jackson Motorsports and being back in the West series was a blast! We had a great weekend showing great speed in practice and qualifying. Heading into the race I felt we had a great racecar that could contend for a win. I chose to attempt to save in the early parts of the race to make sure I had something left in the latter stages of the race.
"When the caution came out I thought it was just the break that we needed but some contact on the restart damaged our nose and radiator ending our race early. Nevertheless I'm super proud of the team and happy to have been back behind the wheel in 2023." Drew said.
"Well, putting in Jake was definitely the best choice, the feedback from him to make the car faster was detailed, accurate and productive. His experience, maturity and respect was awesome. The team worked incredibly hard and very well together. We clocked a 16.28 in Friday night practice, we thought was fastest, everyone had their stop watch. Then we qualified P3.
"Pretty good start to race, car started to get slippery after lap 30. Still in fourth, then as leaders were about to lap the 13 (Reif), they grazed him, the 13 just stopped on track and brought yellow out about lap 112. Unfortunately we restarted directly behind the 50 (Huddleston), said he missed a shift and we collapsed radiator shroud, had to come in, night was done." Chris Lowden, owner, explains to us.
| | | | | | | |
| --- | --- | --- | --- | --- | --- | --- |
| Starts | Wins | Top5 | Top10 | Pole | Best result | At Shasta |
| 21 | 4 | 13 | 17 | 7 | 1st (4x) | 1 start, best result : 16th |
No. 50 Trevor Huddleston (High Point Racing) Start: 1st – Fin: 2nd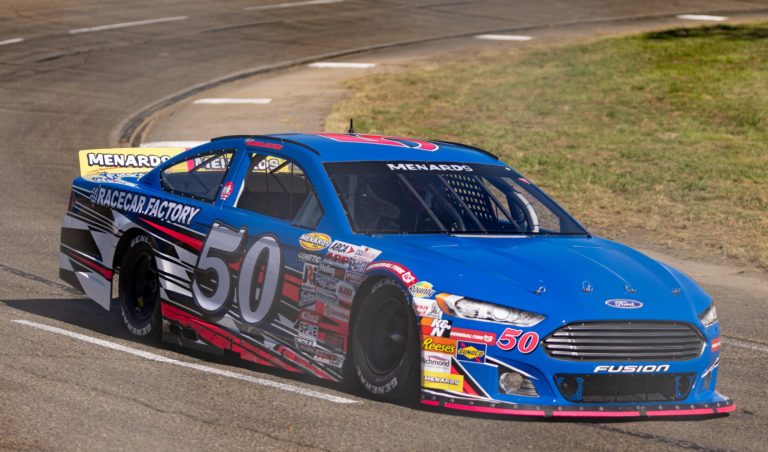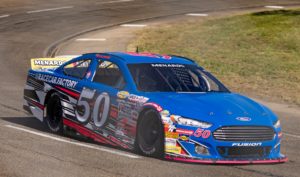 Definitely one of the strongest men of the moment. Huddleston takes his second pole of the season and will lead a race full of authority against Hingorani. As comfortable on the outside line as on the inside line, he will lead the first 111 laps. But when Hingorani launched an attack at the start of lap 111, Huddleston would find himself sandwiched between the No. 15 driver and Tyler Reif, 10th and struggling at that time. Huddleston crashes into Reif's Ford.
He lost position to Kole Raz and seems to be struggling to keep up with the pace, losing 5.2 seconds to the leader in less than 20 laps. His car was damaged. His only mistake of the race, he will make it during the first restart by missing a shift on reacceleration. But ultimately of no consequence.
But the last restart five laps from the end will offer him a new possibility. In "old fox" that he is now (he is young but already has 60 races in his career), he will surprise the rookie Raz and finish the race in second position, reducing his deficit to 21 points on the leader of the championship.
"Proud of our team. P2 it's not where we wanted to be, but we picked up some points, so all in all, it is what it is." Huddleston said.
| | | | | | | |
| --- | --- | --- | --- | --- | --- | --- |
| Starts | Wins | Top5 | Top10 | Pole | Best result | At Shasta |
| 60 | 3 | 23 | 50 | 2 | 1st (3x) | 1 start, best result : 2nd |
No. 52 Ryan Philpott (Philpott Racing) Start: 14th – Fin: 13th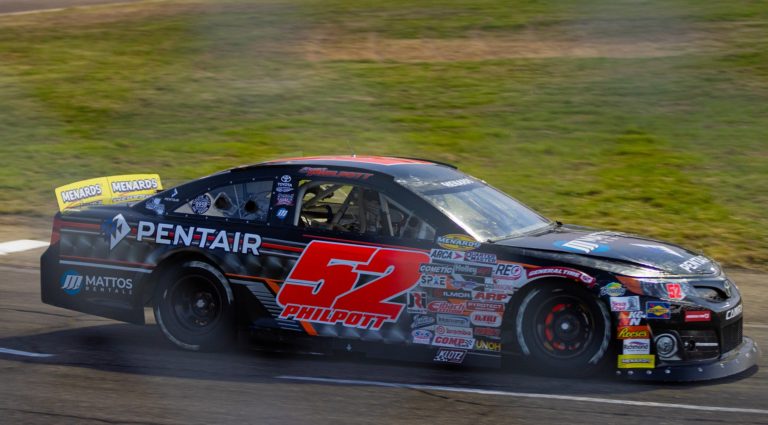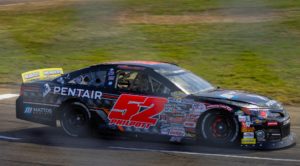 For his first West Series race on a paved oval since 2013, Philpott held his ground with a road track car fitted for short track. He battled with Koga and Spurgeon the entire race at the door of the top-10. But the pleasure of seeing him back on the track will bring back a lot of memories for the fans. He is now at 40 career starts. Hoping to see him again in other races by the end of the season.
| | | | | | | |
| --- | --- | --- | --- | --- | --- | --- |
| Starts | Wins | Top5 | Top10 | Pole | Best result | At Shasta |
| 40 | 0 | 0 | 9 | 0 | 6th (2x) | 1 start, best result : 13th |
No. 70 Kyle Keller (Kyle Keller Racing) Start: 7th – Fin: 6th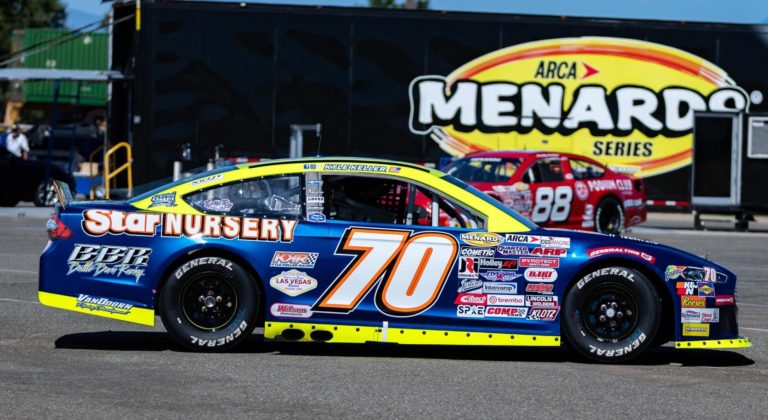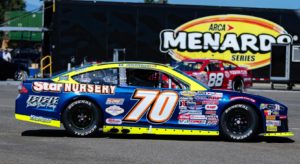 Nice race from Keller who after a difficult start where he lost a few positions will take the measure of several of his opponents especially in the last 20 laps. He will put pressure on Erickson and Tanner Reif. After Erickson spun off, Keller won another position at the last restart against Tanner Reif and finished in a good sixth position.
Though frustrated with the end result, he had a good race, full of maturity. And for once it is spared from mechanical problems, it demonstrates that it is efficient. And when he has fine-tuned the setup of his car, he will find the top-five, no doubt about it.
Keller details his race for us. "On Friday we started on older tires to make sure we had our car high enough, after that we went to work for race speed! We got the car where we felt was good needing a bit more drive off. For Saturday the car started off tight through the center and very loose off. Putting us 12th.
"Then we put on our first set of stickers of the weekend for qualifying and knew we had to push harder to gain time. From running only a 16.7 in practice I was able to run a 16.35 in qualifying putting us 7th only less then a tenth of top-five!
"Then for the race it was time to save and let everyone come to us fell back fast but they came back to us and after a long green flag run a yellow came out and it was time to push worked our way back up. Car was a bit tight and loose off but was one of the fastest cars on the long runs just wanted to stay out of trouble my team worked super hard and proud to have a good finish P6 hoping for a better finish at Evergreen."
| | | | | | | |
| --- | --- | --- | --- | --- | --- | --- |
| Starts | Wins | Top5 | Top10 | Pole | Best result | At Shasta |
| 17 | 0 | 6 | 10 | 0 | 4th (3x) | 1 start, best result : 6th |
No. 77 Nick Joanides (Performance P-1 Motorsports) Start: 12th – Fin: 8th
Joanides finished the race strong after having benefited from the free pass during the second and last yellow flag. An eighth position which can be considered a victory as the race was complicated. However, it does not satisfy either the pilot or the PP1M team. The long run under the green flag will complicate the task of the driver of the No. 77.
Finding himself one lap of the leader at the door of the top-10. But the team still needs to find some speed, especially with the new tires. On worn tires, the experience of Joanides makes it possible to compensate a little and reduce the gap with the young guns.
"Another solid top-10 run that we earned on merit, but was actually a little disappointed as I know the car has so much more in it. We've struggled to get that last two to three tenths out of it, which I know is there to get. With this field as tight as it is, that's the difference between a Top-3 or 4 and a 10th to 12th.
"We'll keep working at it. Once we hit on it, we'll really start making some noise and no longer be talking about getting the "free pass"! Thanks to my team for working their tails off in the heat and glad we could bring home another solid result and at a new track for us. Shasta was a fun place to race at. Hopefully it stays on the schedule." explains to us Joanides.
Joe Nava, owner and crew chief says: "We had a real fast car Friday night. Track was different Saturday. They sprayed it and our car didn't react well to the treated track. I was hoping for a better finish. Top tens are good, top fives are better."
| | | | | | | |
| --- | --- | --- | --- | --- | --- | --- |
| Starts | Wins | Top5 | Top10 | Pole | Best result | At Shasta |
| 24 | 0 | 1 | 8 | 0 | 4th | 1 start, best result : 8th |
No. 80 Derek Copeland (Derek Copeland Racing) Start: 17th – Fin: 17th DNS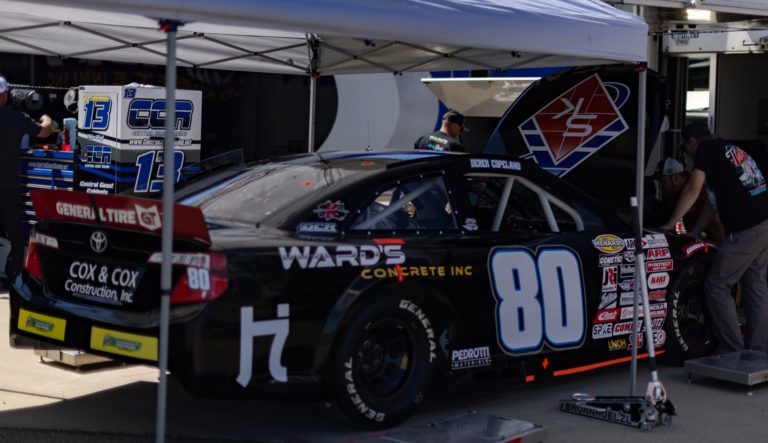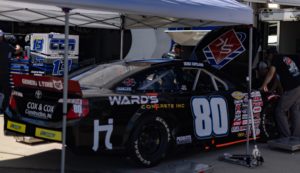 For his big debut in the West Series, Brian Kamisky's usual crew chief did quite well, setting the 13th time in practice. Unfortunately his engine was damaged during the session and could not be repaired for the race. He will therefore not be able to start on his hometrack. Hoping to see him again soon.
| | | | | | | |
| --- | --- | --- | --- | --- | --- | --- |
| Starts | Wins | Top5 | Top10 | Pole | Best result | At Shasta |
| 1 (DNS) | 0 | 0 | 0 | 0 | 17th | 1 start (DNS), best result : 17th |
No. 88 Bradley Erickson (Naake-Klauer Motorsports) Start: 9th – Fin: 9th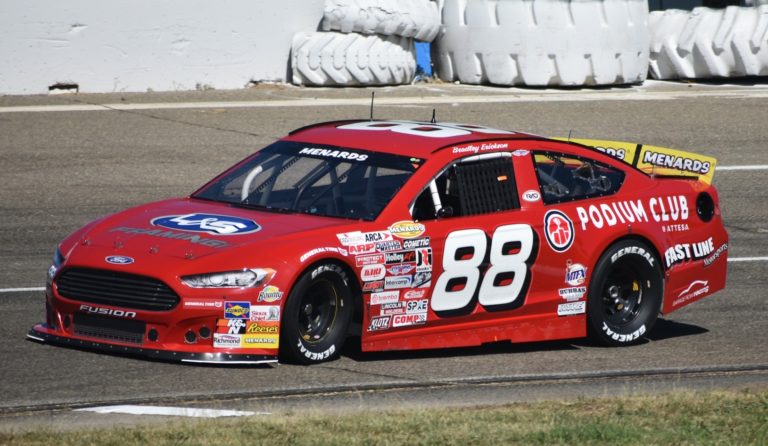 Not the result Erickson was hoping for. Qualified in the middle of the pack, he will fight hard with Souza for more than 30 laps in the beginning of the race. The two touching several times! Back in seventh position, he will then fight in a group made up of Tanner Reif, Kyle Keller and Eric Nascimento, Jr. All for a place at the door of the top-five.
After the first restart and the "mess up" he even found himself briefly in fourth position but he will lose speed due to a deflating tire. He will try to keep his position but he was pushed into a spun in Turn 3 on the 140th lap by the driver of the No. 16 of BMR. Performing a "beautiful" 360° to get back in the right direction. Back down to ninth position, he will survive the last restart with poor tires to keep this top10.
"It was OK we were up to fifth and got a flat tire at the end a slow leak and got really loose because of that at the end of the race the right rear had 11 psi in it." Explains to us Mike Naake, owner and crew chief.
"We didn't qualify as well as we had hoped, P9. But we made up a little bit of ground in the race. We went 111 laps straight under green and drove up to seventh before the first yellow. Then on the restart we made our way up to fourth until we got spun for fifth at the end and finished 9th." Erickson said.
| | | | | | | |
| --- | --- | --- | --- | --- | --- | --- |
| Starts | Wins | Top5 | Top10 | Pole | Best result | At Shasta |
| 11 | 0 | 2 | 8 | 0 | 3rd | 1 start, best result : 9th |
Next race on August 19 at Evergreen Speedway, Mornoe, WA.