By Seth Eggert, Associate Editor
23XI Racing's Michael Guest checked not one, but two boxes in Tuesday night's eNASCAR Coca-Cola iRacing Series event, as he earned his first career win and made the eNASCAR Playoffs.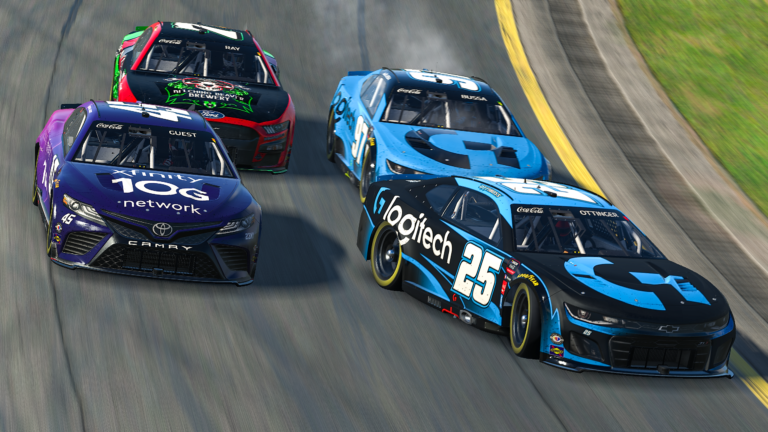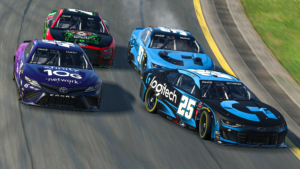 Facing a must-win scenario, Guest's virtual No. 45 Xfinity 10 G Toyota Camry narrowly took the lead from Garrett Lowe when the caution waved to push the race into overtime. The veteran eNASCAR driver then had to hold off charges from those inside and outside of the playoff grid in two attempts at overtime.
The first attempt at overtime at the virtual Pocono Raceway ended after a crash in the back of the pack. That gave 2020 eNASCAR Champion Nick Ottinger a chance to contend for the lead and both Malik Ray and Dylan Duval opportunities to try and sneak their way into the playoffs.
On the restart Ottinger took the lead. The polesitter led the field to the white flag. Already in on points, and the position of Jimmy Mullis further back in the field, briefly gave the final playoff berth to Ray. Guest and Ottinger drag raced down the Long Pond Straightaway and the short chute between Turns 2 and 3. Ray opted not to use the bumper and attempt a clean pass. That is until Ottinger's teammate, Matt Bussa, made a late dive.
Bussa' No. 97 Logitech Chevrolet Camaro ZL1 slammed into Ottinger's rear bumper. The William Byron eSports drivers drifted through the corner as Ray was forced to check up. Unfazed by the contact, Guest cruised on the outside to his first career eNASCAR Coca-Cola iRacing Series victory and an eNASCAR Playoff berth. Ray finished second with Duval, Ottinger, and Bussa completing the top-five.
"I definitely wanted to win one of these before I stopped," Guest admitted. "I'm six years in, glad it finally paid off. I've always considered myself pretty good at these fixed setup races. Luckily, I had a great strategy in the Xfinity 10 G Network Toyota Camry tonight. I'm so happy."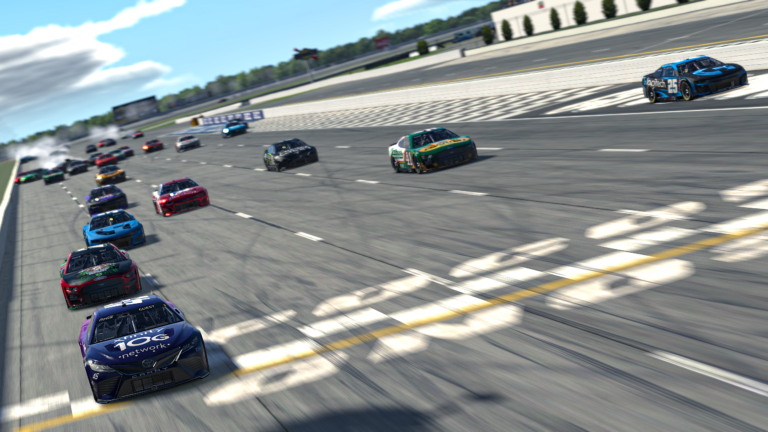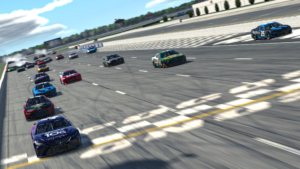 Darik Bourdeau, Parker White, Collin Bowden, Ryan Doucette, and defending eNASCAR Champion Casey Kirwan rounded out the top-10. Only three of the top-10 finishers, including Guest, were playoff drivers.
While Guest took the win and was the story of the race, his good friend Ray was the show. In the opening laps the Jim Beaver eSports driver's game 'crashed,' after he started from pit road. Falling out of the server, he was forced to wait for a caution to take the free pass. Luckily, he only lost one lap through the ordeal, but also lost a set of tires. Ray made quick work, climbing through the field and into the top-10 before green flag pit stops.
In total, the eNASCAR regular season finale was slowed seven times by cautions. The biggest wrecks took place on lap 14 and on the final lap of the race.
Next for the eNASCAR Coca-Cola iRacing Series is the first race of the 2023 playoffs at the virtual Michigan Int'l Speedway on Tuesday, August 15 at 9:00 p.m. ET. All eNASCAR races are streamed live at enascar.com/live.
The results:
1. 45-Michael Guest [32], 2. 7-Malik Ray [35], 3. 41-Dylan Duval [3], 4. 25-Nick Ottinger [1], 5. 97-Matt Bussa [4], 6. 1-Darik Bourdeau [17], 7. 11-Parker White [15], 8. 69-Collin Bowden [29], 9. 77-Ryan Doucette [23], 10. 95-Casey Kirwan [21], 11. 23-Keegan Leahy [13], 12. 38-Michael Cosey Jr. [34], 13. 51-Donovan Strauss [36], 14. 66-Tyler Garey [39], 15. 40-Dylan Ault [10], 16. 46-Jimmy Mullis [7], 17. 43-Femi Olatunbosun [37], 18. 8-Michael Conti [11], 19. 15-Garrett Lowe [2], 20. 3-Jordy Lopez [20], 21. 75-Zack Novak [25], 22. 88-Kevin King [24], 23. 10-Steven Wilson [18], 24. 4-Ryan Luza [30], 25. 36-Brandon McKissic [14], 26. 18-Bobby Zalenski [5], 27. 2-Corey Vincent [26], 28. 6-Timmy Holmes [16], 29. 48-Graham Bowlin [8], 30. 20-Wyatt Tinsley [6], 31. 17-Kaden Honeycutt [27], 32. 54-Daniel Faulkingham [28], 33. 12-Garrett Manes [31], 34. 34-Allen Boes [38], 35. 31-Derek Justis [22], 36. 33-Tucker Minter [12], 37. 42-Kollin Keister [33], 38. 27-Cody Byus [19], 39. 14-Joey Brown [9].
Lead Changes: Six among six drivers.
Lap Leader(s): Nick Ottinger POLE-0, Matt Bussa 1-34, Malik Ray 35, Michael Cosey Jr. 36-49, Garrett Lowe 50-57, Michael Guest 58-65, Nick Ottinger 66, Michael Guest 67.
Laps Led: Matt Bussa 34, Michael Cosey Jr. 14, Michael Guest 9, Garrett Lowe 8, Nick Ottinger 1, Malik Ray 1.
Hard Charger(s): 7-Malik Ray, Jim Beaver eSports (+33).
Rookie of the Race: 11-Parker White, Kanaan eSports, Seventh.
Caution Flags: Seven for 21 Laps.
Margin of Victory: 0.183 seconds.
Time of Race: 1:22:24.666
Average Speed: 121.950 MPH
Pole Winner: 25-Nick Ottinger, William Byron eSports, 53.317 seconds, 168.802 MPH.
Fastest Lap: 41-Dylan Duval, Stewart-Haas eSports, Lap 40, 53.391 seconds, 168.568 MPH.