By Seth Eggert, Associate Editor
The 'protest' by Garrett Lowe and his Jim Beaver eSports (JBe) team resulted in a statement win in Tuesday night's eNASCAR Coca-Cola iRacing Series Maconi Setup Shop 101.
Protest Paint Scheme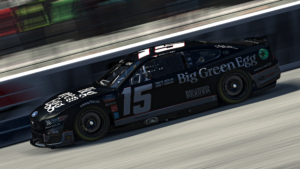 Two weeks after he was moved out of the way for the win by Jimmy Mullis at Nashville Superspeedway, Lowe and the Jim Beaver-owner team pulled out the stops. Both JBe cars, Lowe's virtual No. 15 Big Green Egg Ford Mustang and Malik Ray's No. 7 Ford were decked out of all black paint schemes.
It was both a statement and a throwback to the 'protest paint scheme' from Kyle Petty and Felix Sabates at Dover Motor Speedway in 1996.
"I guess you kind of have to (consider this a successful protest)," Lowe admitted. "I think the protest idea was more a defense (against) junking people for the win. You can say I roughed up Donovan (Strauss), but I wasn't going to wreck him for it. That kind of shows where my mentality is at. If you race me clean, I'm going to run you hard, might rub you, but I'm not going to wreck you for it."
Battle for the Win
Using skills he learned in Legends Cars at the real-life Cook Out Summer Shootout at Charlotte Motor Speedway, Lowe muscled by his fellow Legends Car competitor Donovan Strauss for the lead. Though the virtual NASCAR Cup Series cars are dramatically different from the Legends Cars he competed in, the premise of the bump and run was still the same.
On a late-race caution, both Lowe and Strauss were among 11 cars that opted for track position instead of fresh tires. 2019 eNASCAR champion Zack Novak on the other hand elected to take tires. Aided by repeated cautions, Novak climbed up the running order. However, Lowe's advantage as the leader and control car on restarts kept the Rise eSports driver at bay.
In overtime, and the final restart of the night at the virtual New Hampshire Motor Speedway, Lowe had his best launch. By Turn 1 he had gapped Novak and Strauss by several car lengths. The advantage at 'The Magic Mile' proved to be too much and Lowe easily took the checkered flag. Novak, Strauss, Michael Conti, and Wyatt Tinsley completed the top-five.
"The mindset was 'just go get a win,'" Lowe explained. "I felt like we got robbed at Nashville. We've had everything clicking along since Nashville and knew what we had to do. I had to use the bumper a couple times but that's the way we're racing now. That's short track racing and we should be locked into the Playoffs now going into Pocono Raceway."
Notables
Steven Wilson, Mullis, Corey Vincent, Tyler Garey, and Michael Guest rounded out the top-10. The top-10 finish for Mullis moved him into the top-20 in points and eligible for the eNASCAR Playoffs. Polesitter Jordy Lopez finished 20th after getting collected in 'the big one' on a late-race restart.
In total the race was slowed six times by cautions. The first was for a spin by Dylan Duval in the middle of a round of green flag pit stops. That twisted the race, putting both Lowe and Strauss back up front and ending the chance that any of their competitors could have tried to stretch the fuel tank without stopping.
Next for the eNASCAR Coca-Cola iRacing Series is Pocono Raceway for their regular season finale. With the Pocono, race one week after New Hampshire, on Tuesday, August 1, at 9:00 p.m. ET, the series will utilize fixed setups for the final time this season. The race will be streamed at enascar.com/live.
The results:
1. 15-Garrett Lowe [3], 2. 75-Zack Novak [23], 3. 51-Donovan Strauss [2], 4. 8-Michael Conti [33], 5. 20-Wyatt Tinsley [9], 6. 10-Steven Wilson [6], 7. 46-Jimmy Mullis [27], 8. 2-Corey Vincent [15], 9. 66-Tyler Garey [24], 10. 45-Michael Guest [39], 11. 95-Casey Kirwan [12], 12. 48-Graham Bowlin [4], 13. 11-Parker White [8], 14. 33-Tucker Minter [7], 15. 43-Femi Olatunbosun [34], 16. 41-Dylan Duval [17], 17. 18-Bobby Zalenski [22], 18. 88-Kevin King [25], 19. 1-Darik Bourdeau [16], 20. 3-Jordy Lopez [1], 21. 25-Nick Ottinger [21], 22. 23-Keegan Leahy [31], 23. 6-Timmy Holmes [18], 24. 77-Ryan Doucette [28], 25. 27-Cody Byus [37], 26. 42-Kollin Keister [10], 27. 97-Matt Bussa [11], 28. 17-Kaden Honeycutt [19], 29. 14-Joey Brown [13], 30. 54-Daniel Faulkingham [26], 31. 36-Brandon McKissic [5], 32. 69-Collin Bowden [40], 33. 55-Vicente Salas [38], 34. 12-Garrett Manes [20], 35. 34-Allen Boes [35], 36. 38-Michael Cosey Jr. [30], 37. 40-Dylan Ault [32], 38. 7-Malik Ray [14], 39. 4-Ryan Luza [29], 40. 31-Derek Justis [36].
Lead Changes: Five among five drivers.
Lap Leader(s): Jordy Lopez 1, Donovan Strauss 2-49, Wyatt Tinsley 50, Casey Kirwan 51-62, Donovan Strauss 63-73, Garrett Lowe 74-105.
Laps Led: Donovan Strauss 59, Garrett Lowe 32, Casey Kirwan 12, Jordy Lopez 1, Wyatt Tinsley 1.
Hard Charger(s): 8-Michael Conti, JR Motorsports and 45-Michael Guest, 23XI Racing (+29).
Rookie of the Race: 20-Wyatt Tinsley, Kansas City Pioneers, Fifth.
Caution Flags: Six for 24 Laps.
Margin of Victory: 0.724 seconds.
Time of Race: 1:07:56.834.
Average Speed: 98.097 MPH.
Pole Winner: 3-Jordy Lopez, Team Dillon eSports, 30.225 seconds, 126.015 MPH.
Fastest Lap: 8-Michael Conti, JR Motorsports, Lap 57, 30.407 seconds, 125.261 MPH.
*Race Scheduled for 101 Laps, Extended due to Overtime.