By Seth Eggert, Associate Editor
Nexxus eSports driver Logan Helton avoided the chaos, brushed off the damage, and took the win in the 2023 eRacr.gg Firecracker 400 presented by Thrustmaster in thrilling fashion.
Helton Collected in a Crash …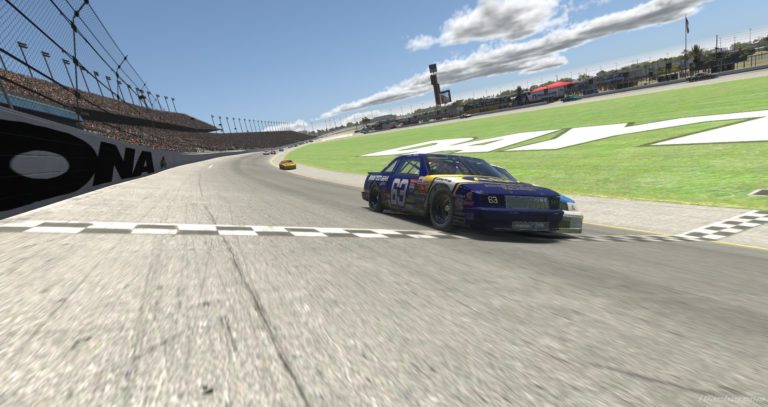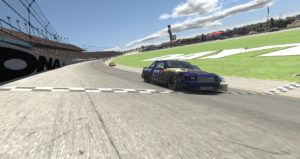 The driver of the virtual No. 63 Advanced Sawmill Machinery / Roasted Gems Coffee Buick was collected in one of the late-race cautions. The spin at the virtual Daytona Int'l Speedway resulted in minimal damage for Helton, and likely aided his escape in the next melee.
With about 20 laps to go, eNASCAR Coca-Cola iRacing Series driver Femi Olatunbosun stayed out to move back onto the lead lap. A missed shift entering Turn 1 sparked a wreck reminiscent of the Cup Series big one from the 2022 Coke Zero 400 caused by a passing rain shower. eNASCAR drivers Michael Cosey Jr., Ryan Doucette, and Casey Kirwan escaped the carnage as did Helton and polesitter Alek Martinez.
In a matter of 10 laps Martinez had climbed from outside the top-30, and a lap down, to be inside the top-10. The 2023 polesitter had elected to take the Whitz Racing Products 'Last to First' challenge for a chance at $10,000. Martinez made it closer than any other driver to take the challenge in the Firecracker 400, however he was spun on the final restart.
… And Picked Up the Win
The carnage didn't stop with Martinez's spin on the restart. After taking the white flag, Cosey, Kirwan, Seth DeMerchant, Kevin McAdams, and more crashed in Turns 1 and 2. Once again, Helton was collected in the incident as the defending eNASCAR champion slammed into his right rear. Luckily, the contact was not enough put Helton out of control let alone slow his momentum.
With the pack crashing behind them and 1987 NASCAR rules in play, the drive to the checkered flag became a drag race between Doucette and Helton. The Altus eSports driver hugged the inside as Helton drafted to the outside. Exiting Turn 4, Doucette dove low to get away from the Buick. He then swept back up to avoid the grass as Helton drifted low.
The duo slammed into each other, their cars almost becoming one. The beating and banging reminiscent of that from 'Days of Thunder,' saw Helton beat Doucette to the flag by 0.005 seconds. Helton captured the prize of $2,000 and a new direct drive Thrustmaster T818 wheel. Former eNASCAR driver Nathan Lyon finished third with Larry Pace and Colton Salek completing the top-five.
"We're Firecracker 400 winners!" Helton said in disbelief. "Oh my gosh I've been waiting for this. I need to take a breath. I knew I had to follow those guys and then when we got into Turn 3, I just let them do their stuff. They did and I was able to get clear. Coming to the line I gave Ryan a little bit of a bump. That might be dirty in some people's books, but this is the Firecracker 400 and I've been wanting this since 2021.
"Coming out of Turn 4 I thought I didn't have it because I thought Ryan was going to beat me to the line with the side draft. In my mind I just thought about the 1987 cars and beating and banging and I just gave him a little bit of a bump. I'm sorry to Ryan, so glad he still finished second. This is just crazy."
Notables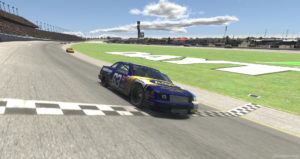 Blake Reynolds, Seth DeMerchant, Michael Frisch, Jake Nichols, and Conor Horn rounded out the top-10. Polesitter Martinez finished 19th. Chris Overland and Michael Guest tied for most laps led, 19, finishing 12th and 21st respectively. Kirwan finished 24th.
Other notables included four-time eNASCAR champion Ray Alfalla in 22nd, current eNASCAR driver Parker White 27th, Michael Conti 31st, Nick Ottinger 37th, Collin Bowden 41st, Olatunbosun 42nd, and Malik Ray 43rd.
In total the 2023 running of the Firecracker 400 was slowed just six times by cautions. The first caution didn't wave until the final 40 laps of the race. The rapid pace of the race created an average speed of over 213 MPH.
The results:
1. 63-Logan Helton [28] ($2,000), 2. 77-Ryan Doucette [34], 3. 10-Nathan Lyon [38], 4. 00-Larry Pace [25], 5. 91-Colton Salek [18], 6. 66-Blake Reynolds [24], 7. 57-Seth DeMerchant [31], 8. 58-Michael Frisch [5], 9. 73-Jake Nichols [32], 10. 61-Conor Horn [42], 11. 32-Shawn Butler [19], 12. 47-Chris Overland [29], 13. 89-Brandon Hawkin [7], 14. 67-Eric Smith [11], 15. 13-Daniel Buttafuoco [13], 16. 87-Sander Nijhof [6], 17. 26-Kevin McAdams [4], 18. 23-Matthew Zwack [26], 19. 51-Alek Martinez [1], 20. 99-Michael Cosey Jr. [43], 21. 45-Michael Guest [9], 22. 27-Ray Alfalla [23], 23. 82-Kyler Wynn [36], 24. 95-Casey Kirwan [10], 25. 14-Justin Bolton [16], 26. 33-Bryan Blackford [20], 27. 11-Parker White [15], 28. 52-Will Norton [2], 29. 98-Eddie Kerner [27], 30. 71-Blake McCandless [21], 31. 5-Michael Conti [41], 32. 109-Phillip Cecil McCandless [12], 33. 94-TJ Burske [39], 34. 80-Brandon Kettelle [30], 35. 46-Teemu Toikka [35], 36. 84-Cosmin Ioanesiu [8], 37. 25-Nick Ottinger [22], 38. 4-Nate Stewart [17], 39. 30-Corey Carpenter [37], 40. 01-Justin Nasseir [40], 41. 69-Collin Bowden [14], 42. 43-Femi Olatunbosun [33], 43. 7-Malik Ray [3].
Lead Changes: 59 among 20 drivers.
Lap Leader(s): Alek Martinez POLE-0, Will Norton 1, Malik Ray 2, Will Norton 3-6, Kevin McAdams 7-12, Daniel Buttafuoco 13-14, Parker White 15-16, Daniel Buttafuoco 17-20, Ray Alfalla 21-22, Daniel Buttafuoco 23-26, Shawn Butler 27-32, Ray Alfalla 33, Shawn Butler 34-35, Jake Nichols 36-38, Michael Guest 39-40, Bryan Blackford 41, Michael Frisch 42-43, Michael Guest 44-59, Chris Overland 60, Daniel Buttafuoco 61, Chris Overland 62, Daniel Buttafuoco 63-65, Chris Overland 66-68, Casey Kirwan 69-72, Brandon Kettelle 73-76, Casey Kirwan 77-78, Malik Ray 79-82, Bryan Blackford 83-84, Kevin McAdams 85, Blake McCandless 86, Michael Frisch 87, Shawn Butler 88-90, Corey Carpenter 91-98, Daniel Buttafuoco 99-101, Casey Kirwan 102-103, Michael Cosey Jr. 104, Casey Kirwan 105, Michael Cosey Jr. 106, Ray Alfalla 107, Michael Cosey Jr. 108, Ray Alfalla 109-110, Seth DeMerchant 111-112, Michael Cosey Jr. 113, Chris Overland 114-119, Blake McCandless 120, Chris Overland 121-122, Seth DeMerchant 123, Michael Guest 124, Seth DeMerchant 125-127, Blake McCandless 128-130, Chris Overland 131-138, Ray Alfalla 139, Corey Carpenter 140-141, Blake McCandless 142-146, Ray Alfalla 147-149, Ryan Doucette 150, Seth DeMerchant 151-152, Ryan Doucette 153-159, Logan Helton 160.
Laps Led: Michael Guest 19, Chris Overland 19, Daniel Buttafuoco 13, Shawn Butler 11, Blake McCandless 11, Ray Alfalla 10, Corey Carpenter 9, Ryan Doucette 9, Casey Kirwan 9, Seth DeMerchant 8, Kevin McAdams 7, Malik Ray 6, Will Norton 5, Michael Cosey Jr. 4, Brandon Kettelle 4, Bryan Blackford 3, Michael Frisch 3, Jake Nichols 3, Parker White 2, Logan Helton 1, Alek Martinez 0.
Hard Charger(s): 10-Nathan Lyon (+35).
Tough Luck: 7-Malik Ray (-40).
Caution Flags: Six for 17 Laps.
Margin of Victory: 0.005 seconds.
Time of Race: 2:20:21.539.
Average Speed: 213.738 MPH.
Pole Winner: 51-Alek Martinez
Fastest Lap: 47-Chris Overland, Lap 147, 42.052 seconds, 214.021 MPH.