By Seth Eggert, Associate Editor
BRISTOL, Tenn – Chase Briscoe battled for the win late and scored a top-five finish in Sunday night's Food City Dirt Race despite having a splint on his left middle finger.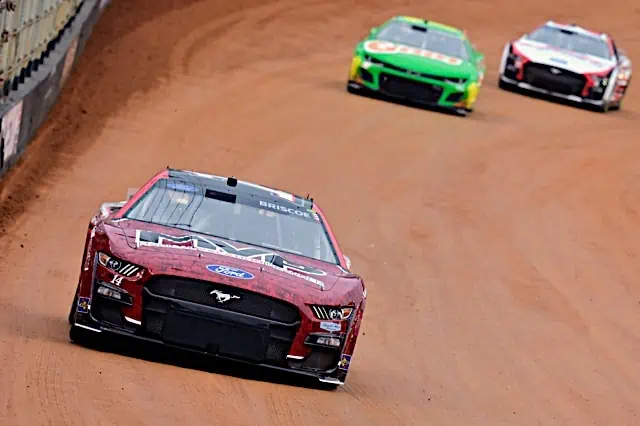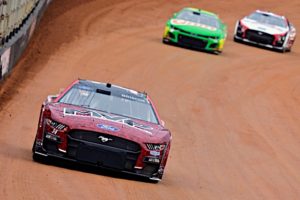 In the lead up to the NASCAR Cup Series, Briscoe joined Kyle Larson running Dirt Late Models. Contact with the wall while turning broke the Stewart-Haas Racing driver's finger. Practice being rained out on Friday gave him time to get used to the brace.
Fast forward to the race on the Bristol Motor Speedway Dirt Track and Briscoe chased eventual race winner Christopher Bell for the lead. Though he appeared to be faster, the 28-year-old couldn't build the momentum to sneak by. Briscoe checked up when Bell slipped, allowing Tyler Reddick to sneak by.
"I'm still my normal self, can still go battle for wins," Briscoe said. "I might have a messed-up finger but I'm still capable. Before today, I was for sure having surgery. Then today about 2 hours before the race the doctor said, 'hey, as long as what you're doing with your hand, as far as the splint goes is okay, then we might forgo surgery.'
"They're going to do x-rays first thing tomorrow morning, see where we're at and then just evaluate from there."
A late-race caution set up a restart. In the inside lane, Briscoe pushed Ryan Blaney into the corner. As he attempted to dip to the inside in Turn 1, Briscoe hit a 'dirt turtle.' That threw his car into Blaney, sending the Ford Performance driver spinning. With no caution, Briscoe was forced to fend off charges from other drivers.
Both Austin Dillon and Ricky Stenhouse Jr. ultimately snuck by for position. Briscoe kept Justin Haley at bay just long enough to hold onto fifth when a race-ending caution waved. That put six 'dirt specialists' inside the top-six.
"There was definitely contact, I was trying to show (Blaney) all the way down the front straightaway because that seems like it's the only way to get the bottom lane going on restarts," Briscoe explained. "Just got in there and I was trying to run a lane lower when I saw he was going to the middle, and I hit that dirt turtle deal.
"I did it to myself by going that low. I hit it and as soon as I hit it, it popped me up, drove me straight into his left rear and absolutely ruined his day. I'm sure that there's going to be payback on that side, I definitely deserve it. I ruined his day; he had been doing a good job all day long.
"Just a stupid move on my part. That's two years in a row that I've made a dumb move, dumb decision late in the race and cost somebody else a good day."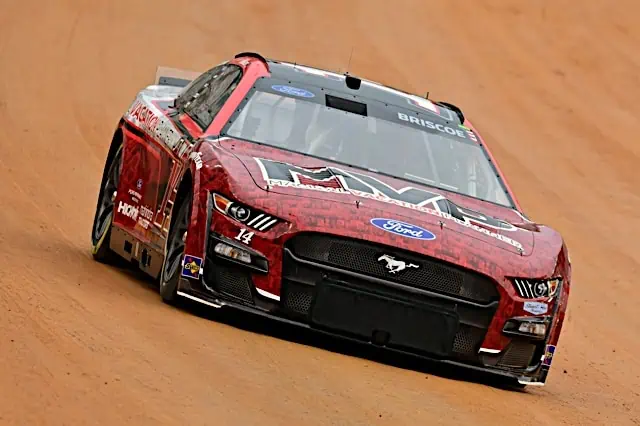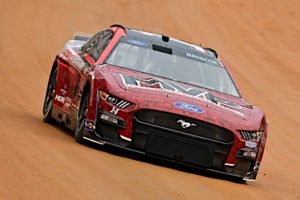 As far as his future in dirt racing, Briscoe is taking a temporary step back… at least until his finger is healed. With team owner Tony Stewart a stalwart of the dirt racing world, the need for approval for extra curricular activities may not be as stringent.
"I might have to get a little more approval because of my situation (in the future)," Briscoe joked. "I still feel like I can still battle, be in contention to win, it's not like I need to be out of the car. As of now, I'm just going to put the dirt racing on hold until I get it all cleared up."
The fifth-place finish was Briscoe's first top-five of the 2023 Cup Series season. It was also the seventh of his Cup Series career.
The top-five finish moved Briscoe up from 21st to 20th in the points standings, 118 behind leader Bell. He is also 20-points behind the playoff cutline, currently held by Chris Buescher.
Next for Briscoe is the NASCAR Cup Series race at Martinsville Speedway. In four starts at 'The Paperclip' he has two top-10 finishes. Briscoe finished ninth in both races last year.
The Cup race at Martinsville is scheduled for Sunday, April 16, at 3:00 p.m. ET on Fox Sports 1. The race will also be broadcast on the Motor Racing Network and SiriusXM NASCAR Radio, channel 90.