By Seth Eggert, Associate Editor
BRISTOL, Tenn – Serving as a substitute for Cody Ware in the NASCAR Cup Series, Matt Crafton makes his Next Gen debut in the Food City Dirt Race.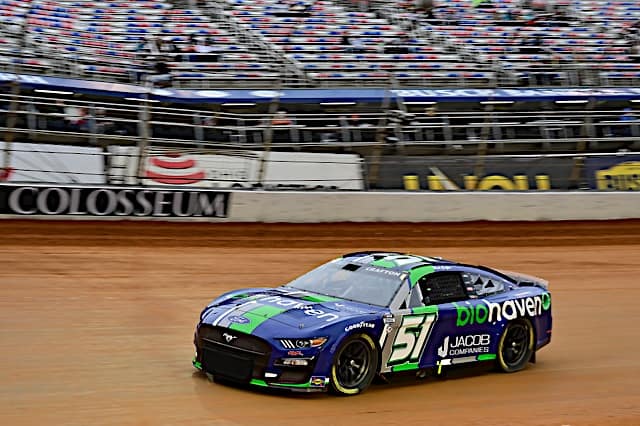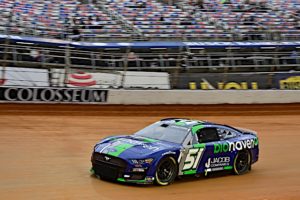 The three-time NASCAR Craftsman Truck Series champion was tabbed by Rick Ware Racing to fill-in for Cody Ware earlier in the week leading up to the Cup race at Bristol Motor Speedway's Dirt Track. Ware is taking care of personal matters and the team asked for privacy at this time as he sits out of the car this weekend.
However, when practice was rained out, it pushed his first laps in NASCAR's Gen 7 (Next Gen) car to Saturday's heat races.
Crafton started Heat 3 fourth in the No. 51 Biohaven / Jacob Companies Ford Mustang. His first time racing the Next Gen car saw the 46-year-old take a conservative approach in the opening laps and fell back. Though as the laps clicked off and Crafton got used to the style the Next Gen car requires, he improved. He ultimately finished the heat race in sixth.
"(Rick Ware Racing) just called me Tuesday and asked me if I would be interested in doing it and I said yeah," Crafton said following the Truck race. "Then they told me on Wednesday that if I wanted to do it, I could drive it. I don't know all the circumstances but had a lot of fun in the heat race, so I look forward to (the race).
"I'm just trying to get just trying to get used to a Cup car. I've never [driven] one of (the Next Gen) car and I had two or three laps when they let us warm them up. That's first I've ever shifted (with) a sequential gearbox and all that. Everybody told me they're going to have so much less grip and I didn't drive it as hard as I should have the first half of that race and then started driving it like I should have and started making ground."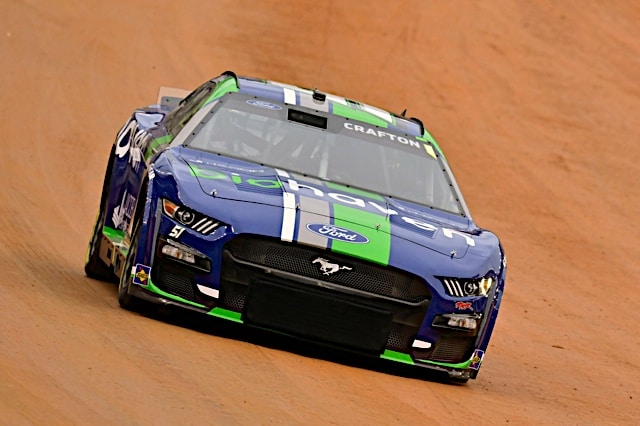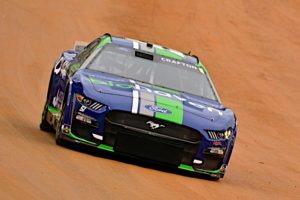 Ultimately, Crafton lines up 24th for the Food City Dirt Race. Not being a full-time competitor in the Cup Series, the Tulare, Calif. native has less to lose than many of his competitors on track. Though he has 'less restrictions,' Crafton is still realistic with his goals for his first race in the Next Gen car.
"Go kick their ass," Crafton joked. "(At) the end of the day around top-10. They get to 'ride their bike a lot more' I call it. They get to race a lot more. I have nothing to lose and a lot to gain, so I'm just [going to go] out and have fun."
The Food City Dirt Race marks Crafton's first NASCAR Cup Series race since the 2019 First Data 500 at Martinsville Speedway when he substituted for Matt Tifft.
The Dirt race is the ThorSport Racing driver's third Cup race, all of which have come in a substitute role. Crafton filled-in for Kyle Busch in the 2015 Daytona 500, which marked his Cup Series debut. He's also filled in during practice sessions for Paul Menard.
The extra work didn't take away from Crafton's day job in the NASCAR Craftsman Truck Series. He finished fourth after starting eighth.
On dirt tracks in NASCAR competition, Crafton has one win, three top-five, and 11 top-10 finishes in 12 starts. He also has several wins in dirt Late Model competition.
The Food City Dirt Race at Bristol is scheduled for 7:00 p.m. ET on April 9 on FOX. The race will also be broadcast on the Performance Racing Network and SiriusXM NASCAR Radio, channel 90.