By Sarah Handy, Staff Writer
StarCom Racing's Quin Houff recently spoke with our Sarah Handy about his second full-time season in the NASCAR Cup Series, iRacing, preparing for Kansas Speedway and much more.
Second season with StarCom Racing
Quin Houff entered the 2021 NASCAR Cup Series season having come off his rookie campaign at NASCAR's elite level. A season that dealt with the beginning of the COVID-19 pandemic and little to no qualifying or practice. 2020 had its challenges for a driver who had yet to see most of the tracks on the schedule. When the 2020 season concluded, Houff had earned one Top-15, three Top-25 and 10 Top-30 finishes.
Ten races into 2021, Houff told Kickin' the Tires he feels more prepared heading to the race track each week. "Being in my second full time season in the Cup Series, I definitely feel more prepared heading to the track each week," said Houff. "Last year, all I had to go off of was what other people have done. This year having done it before, we're able to go back to review and critique what to improve, which helps a lot."
With limited events in 2021 providing practice or qualifying, Houff spoke about the challenges and pressure it adds.
"Having many events still without practice or qualifying is still definitely a challenge," explained Houff. "It puts [a lot] of pressure on the guys back at the shop; to have the car the best prepared and setup, with knowing the first laps are under green flag conditions. Many times, without practice, the beginning portions of the race you have to fine tune the car and make adjustments which could make or break your race depending on strategy and how the race plays out."
Back-to-Back Top-25's
For the first time in his NASCAR Cup Series career thus far, Houff earned back-to-back Top-25 finishes on the dirt at Bristol Motor Speedway and the following week at Martinsville. Houff expressed his feelings on the accomplishment to Kickin' the Tires.
"It is definitely nice to put back-to-back Top-25's up at some short tracks that I consider home tracks," said Houff. "My team and I have been working hard on our short track program and I'm glad to see progress there. I look forward to going back to short tracks later this year and continuing to improve!"
The Cup Series has already announced that they will race on dirt at Bristol again next Spring and it's something Houff is excited about and expressed that it's good for the sport.
"I am definitely excited that the Bristol Dirt Race is coming back next season! I think it is something that's [very] good for our sport and got a lot of fans interested. It was nice to have a new event with so many unknowns that put a lot in the driver's hands to find speed."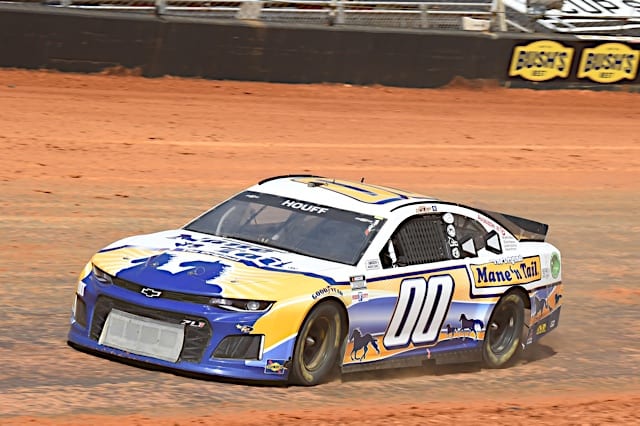 With so many unknowns heading into the dirt race at Bristol; Houff utilized iRacing heading into the event to try and gain experience.
"iRacing definitely was a tool I utilized a lot heading into the Bristol dirt race. It was honestly the only tool I had to gain dirt experience. I have never run dirt before that in my career," explained Houff. "Between iRacing and dirt film in general, I definitely felt comfortable heading into the event."
New Sponsor: 8-Ball Premium Chocolate Whiskey
Quin Houff and StarCom Racing welcomed 8-Ball Premium Chocolate Whiskey on board the No.00 Chevrolet at Homestead-Miami Speedway back in February. With an 11-race partnership kicking off, the company has since adorned Houff's Chevrolet at Las Vegas and Atlanta and will return this weekend at Kansas.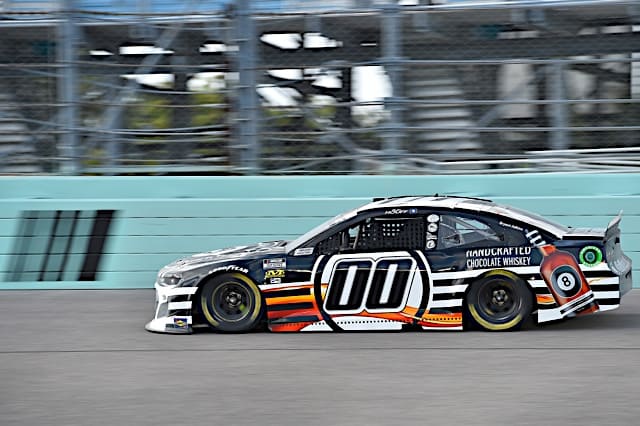 "Having a new company like 8-Ball Chocolate Whiskey come on board meant a lot to me and my team. Continuing to have partners believe in us and invest in what we are doing is [definitely] a confidence booster all around, said Houff. "Without great partners being involved with the teams and the sport, race cars would not be on the track week in and week out."
Furthermore, we had to ask Quin his thoughts on the whiskey.
"The Chocolate Whiskey itself is great. Definitely have never had anything like it, but it goes great after dinner to knock out that sweet tooth or putting some into your coffee or ice cream is fantastic as well!"
Looking ahead to Kansas & the race fans
The NASCAR Cup Series will head to Kansas Speedway's 1.5-mile tri oval racetrack for Sunday afternoon's Buschy McBusch Race 400. The event will mark Houff's fourth Cup Series start at the track and he's excited to head to one of his favorite racetracks.
"Heading into Kansas I'm excited. It is one of my favorite 1.5 mile tracks we go to. It's a real fun place to search around from the bottom to top trying to find speed," said Houff. "I will [definitely] be reviewing data, notes, and previous races to best prepare myself to go there this weekend and have a strong run."
Last season, the Virginia native earned finishes of 24th and 33rd at Kansas. Having captured a Top-25 in the first of two races there last season; he will look to do just that again on Sunday.
Speaking of last season, Kickin' the Tires asked Houff if him and his team are referring back to last year's race data, even though the schedule was mixed up slightly due to COVID.
"Absolutely! Reviewing last year's data and notes is something we do before heading into every event this year," said Houff.
With racetracks having fans in attendance more so this season compared to 2020; Houff also gave us a driver's perspective on having fans back in the stands regularly.
"From my perspective it is great to see fans back in the stands! Last year was very weird racing with no fans around," said Houff. "Almost made it feel like it wasn't even a [real] race sometimes. Fans are a big part of our sport and I know NASCAR has and is working diligently to get fans back in a safe manner."
Rebounding from Talladega
In last Sunday's GEICO 500 from Talladega Superspeedway, Houff had a solid and clean race going. After starting the event in 32nd, he found him and his No. 00 playing it smart but eventually running in the Top-15, Top-20 with plenty of time for him to work his way further to the front. Then on lap 168, Houff was involved in a single-car incident that found him in the wall and done for the day. The result was a disappointing 37th place finish.
With a solid run going to only to end up with a tough finish, Houff reminisced on Talladega and remains optimistic.
"Talladega definitely had its ups and downs, as superspeedway racing almost always does. The guys brought me what I thought was one of our best cars at a superspeedway yet," said Houff. "We were able to stay tucked up in the lead pack the majority of the race and mix it up for position. Even though we didn't finish the way we wanted to, I am excited that we continue to bring more speed to the racetrack and that's the mindset we all have heading into Kansas."