By Jerry Jordan, Editor
Several people have pointed out that while Martin Truex Jr. has had some solid runs at New Hampshire Motor Speedway, he has never parked a NASCAR Cup Series car in Victory Lane and that was surprising. Looking at his performance in practice and qualifying, I am thinking this might be the week all of that changes and that is why he is my favorite to win.
Looking at his practice and qualifying speeds, Truex was the only driver to carry over a 127+ mph run to the final round, which could bode well on a run with older tires. He drove 127.011 mph in practice and then went out after two rounds of qualifying and put up a chart-topping 127.113 mph speed.
The odds on Truex don't change much regardless of the sportsbook you are using. This week, the oddsmakers at WynnBET Sportsbook didn't give full-field odds on drivers but luckily – of the 21 drivers you could bet on their platform – Truex was included at +700 on race day. His early line at WynnBET was +800, which is his race day odds at BetMGM Sportsbook and Sportsbook.ag.
I included screenshots this week from BetMGM since the oddsmakers at WynnBET didn't round out the field for bettors. Hopefully, this is just a one-off because there could be some decent mid-tier and longshots that get overlooked if leaving out a large number of drivers from the betting pool continues. That's one of the reasons I check different sites each week, to see what the trends are.
Speaking of a mid-tier value bet, I think Joey Logano would like to hoist a lobster in the air considering New Hampshire Motor Speedway is his home track. WynnBET places Logano at +1100 on race day and that is down from earlier in the week at +700.
Now, Logano was mediocre in practice at 125.961 mph but he picked things up in qualifying. He will roll off the grid in 12th after posting a speed of 126.723 mph.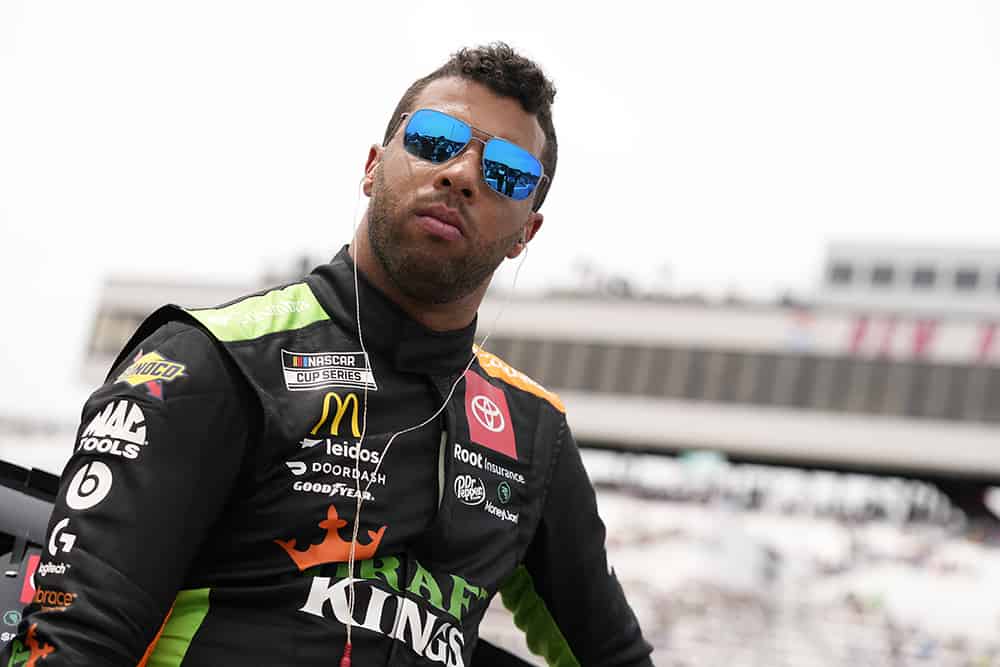 Since I had to pull in odds from other sportsbooks, if you want to bet on Logano, your best odds are actually going to be with BetMGM. They have Logano going off at +1400. The math is pretty simple on this one. You can make a $5 bet at WynnBET and get a return of $55 or you can make a bet at BetMGM and get a return of $70. If Logano wins that is a 27 percent increase in what you get at the payout window. In other words – FREE MONEY!
Rounding things out with this week's longshot bet, I am going with Bubba Wallace. In practice, Wallace ran a top speed of 126.492 mph and he picked up a little speed during qualifying at 126.513 mph. That will put him behind his teammate, Kurt Busch on the second row in the fourth position.
There is no line on Wallace from WynnBET Sportsbook but BetMGM has him at +4000. He's a longshot but that's why you bet them; if they hit … cha-ching.
Remember, my suggestions are based on what I see at the track and from past performances by drivers. It's called gambling for a reason and there is no guarantee the drivers I pick will end up in victory lane. If you can't afford to bet, then don't. And if you aren't 21 years of age, you cannot legally gamble, so don't even think about it. Should you have a problem with sports betting or other forms of gaming, you can get help at 1-800-GAMBLER.
New Hampshire Motor Speedway Betting Odds – WynnBET Sportsbook
| | | |
| --- | --- | --- |
| DRIVER | EARLY ODDS | RACE DAY ODDS |
| Kyle Busch | +600 | +700 |
| Joey Logano | +700 | +1100 |
| Denny Hamlin | +800 | +900 |
| Martin Truex Jr. | +800 | +700 |
| Chase Elliott | +900 | +700 |
| Ross Chastain | +1000 | +1300 |
| Kyle Larson | +1100 | +1100 |
| Christopher Bell | +1400 | +1200 |
| Kevin Harvick | +1500 | +1100 |
| William Byron | +1700 | +1000 |
| Tyler Reddick | +2000 | +2500 |
| Aric Almirola | +2200 | +1500 |
| Chase Briscoe | +2200 | +2200 |
| Daniel Suarez | +2500 | +2800 |
| Alex Bowman | +2800 | +3300 |
| Kurt Busch | +2800 | +2200 |
| Austin Cindric | +5000 | +7500 |
| Erik Jones | +7500 | +7500 |
| Austin Dillon | +10000 | +15000 |
| Michael McDowell | +10000 | +10000 |
BetMGM Race Day Odds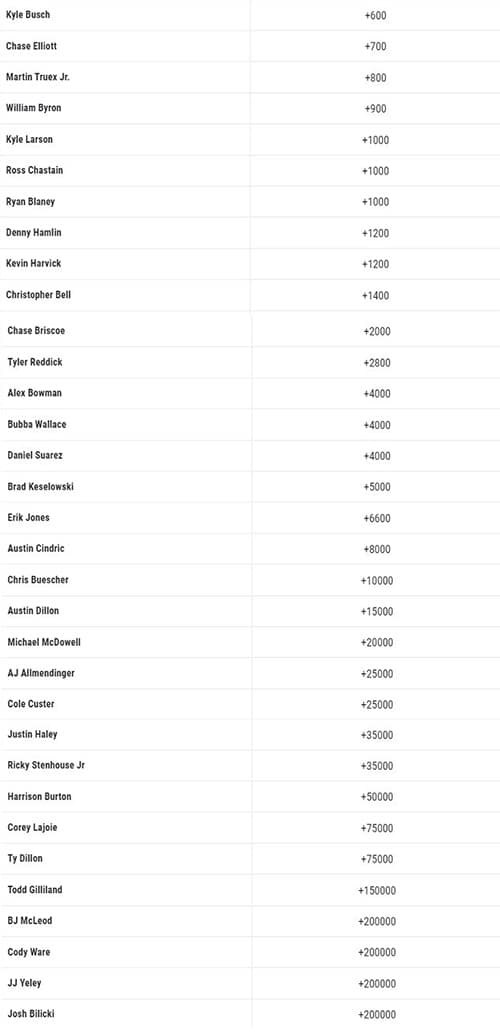 FOR PREVIOUS BETTIN' COLUMNS: CLICK HERE