By Seth Eggert, Staff Writer
Two years ago, Portuguese artist Bruno Rafael Vieira Aguiar was creating NASCAR comics for fun and for laughs. In that time many from the industry, including NASCAR, the Door Bumper Clear podcast, Corey LaJoie, and others have taken notice.
Reaching New Heights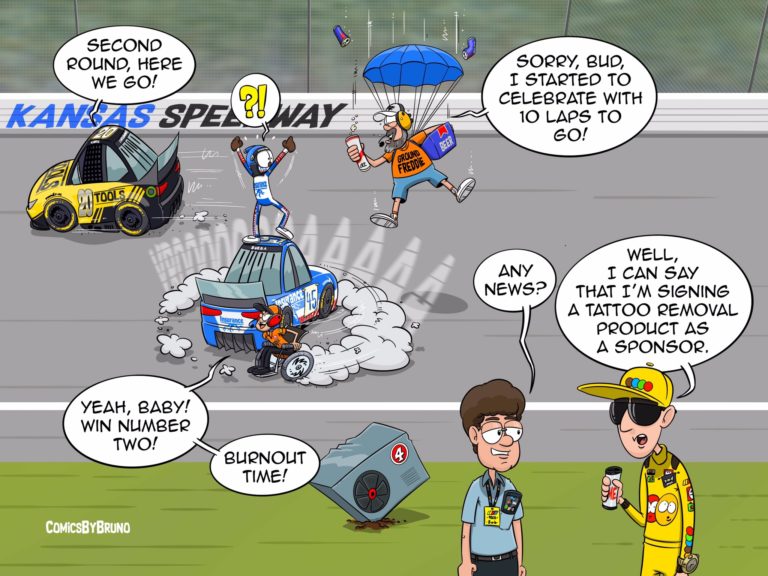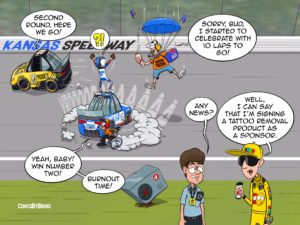 In 2020, Aguiar created a comic that had featured the NASCAR Cup Series driver. LaJoie liked it and reached out to Aguiar. Soon, the NASCAR comic artist was creating an illustration for the Spire Motorsports driver's next t-shirt.
Since then, Aguiar created the new logo for the Stacking Pennies podcast. He has also made 2D animations that have accompanied some of the stories that LaJoie has told on the podcast.
"It's been really fun working with Corey and the Stacking Pennies crew," Aguiar explained. "I did a comic back in 2020 in which Corey was the main focus. He liked it and then contacted me asking if I was interested in doing an illustration for a t-shirt. Last year he told his team from the podcast I should do the logo for it. I also did it this year, making a few 2D animations for NASCAR with stories from the podcast."
… at least the pistachios were good! 😂@CoreyLaJoie | @Blaney pic.twitter.com/xIHp8gGMTL

— NASCAR (@NASCAR) August 30, 2022
In addition to his work with LaJoie, Aguiar has also created some comics for Texas Motor Speedway.
Fan Reaction
While Aguiar has been doing work for LaJoie and others, he still comments about motorsports on TV in his native Portugal. He still considers the comics as a fun hobby, though as time has marched on there's been an added tinge professionalism to the stories he tells through the comics.
On Twitter alone, Aguiar gets between 400 and 1,500 engagements in likes and retweets per comic. In total, his engagements range between 2,500 and 10,000 depending on the illustration.
On Instagram, those numbers are more dramatic, reaching between 1,000 and 2,200 fans. And on Facebook, Aguiar reached between 300 and 500 fans just from his original posts, which expands dramatically as the posts are shared.
The wide variation is often in part due to the subject matter. Much like Lionel Racing diecasts, the NMPA's Most Popular Driver Award, etc., the comics that are focused on fan favorite drivers do better than others.
"It still surprises the amount of impressions some of the comics get and every time someone from the NASCAR industry shares one of them," Aguiar said. "I just know some people have fun with them and that's the most important for me."
The Easter Eggs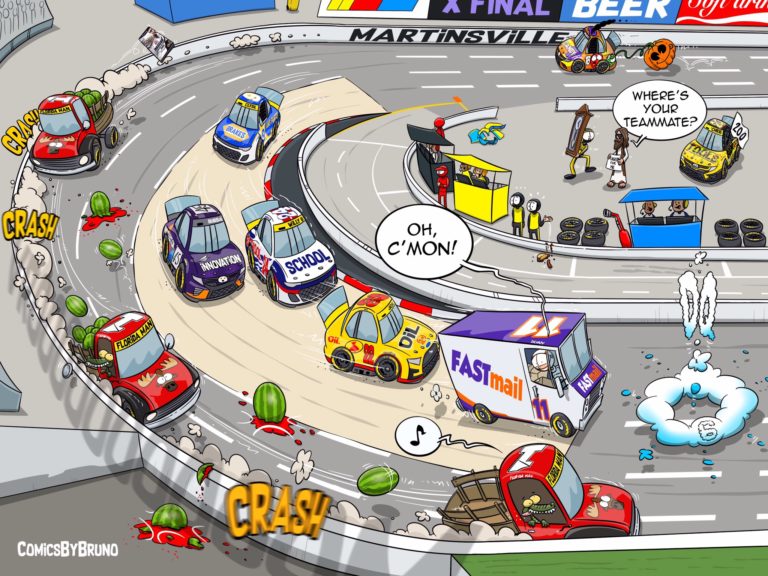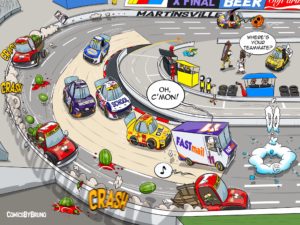 In every single one of Aguiar's comics he still includes an 'Easter Egg' surprise. Most times the eagle-eyed NASCAR fans are able to spot the surprise instantly.
In the NASCAR Cup Series championship race comic, it was a touching tribute to Coy Gibbs. For Martinsville Speedway, it was Jesus looking for Ty Gibbs. However, the NASCAR fans didn't find the 'Easter Egg' in Aguiar's most recent comic, one focused on the 1993 Daytona 500.
"I know a lot of people go looking for those, but there's been so many comics that it's hard to choose which had my favorite 'Easter Egg,'" admitted Aguiar. "I always liked my version of the 'Door Bumper Clear' logo in 'The Blockers,' the comic about the Kansas race in 2020. I can tell you that in one of the last comics I did, the one about the 1993 Daytona 500, I wrote 'Yanni' in the belt Kyle Petty's fire suit, hoping that someone would catch it, and it never happened."
Historical Comics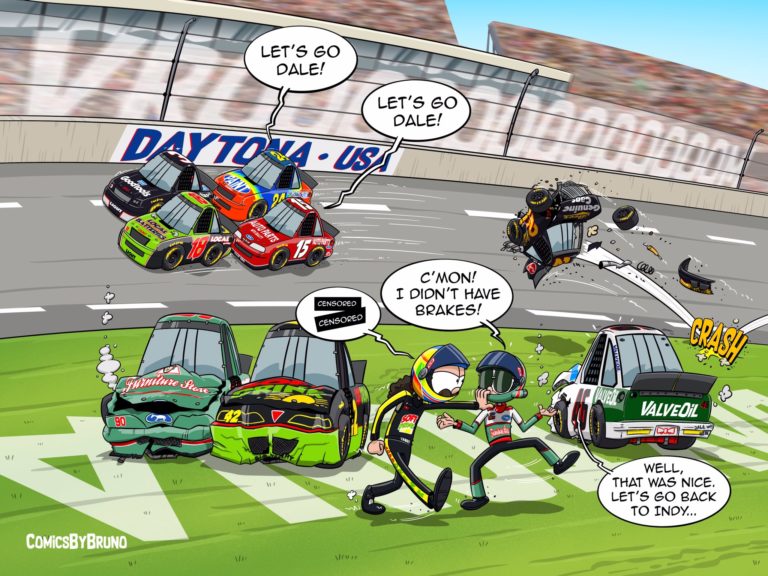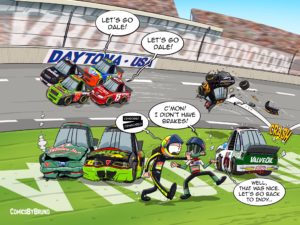 The 1993 Daytona 500 and it's 'Dale and Dale show' is not the first historic NASCAR comic that Aguiar has created. He's made one on the 1990 Daytona 500, Ernie Irvan's testing return, and more.
The Portuguese native does want to create more historic comics. While the 75th Anniversary of NASCAR provides a perfect opportunity to do so, Aguiar needs a bit of time and inspiration to create the illustrations. Though he does have a couple of ideas in mind for some historic comics.
"I just need the time and inspiration to work on more historic comics," Aguiar explained. "Two that I have in my bucket list, for personal reasons, are the Fall 1995 race at North Wilkesboro which saw Ernie Irvan return to racing, because he's my all-time favorite NASCAR driver. The other is the 2001 New Hampshire race that Robby Gordon won, his first win. Robby was my favorite all around driver.
"Other than that, maybe the 1994 Brickyard and a few others from the early 90s as it was when I became a fan. I would also like to do some Indy 500 ones."
Staying Humble
Aguiar may have gained notoriety within the racing community, but he doesn't feel like a celebrity. On the contrary, he still feels like the average TV commentator.
"The fame that I've gained surprises me," Aguiar humbly stated. "My work may be known in the racing community, but around me here in Portugal nobody cares. I'm fine with that. I'm just the Bruno that does the commentaries of those weird American races on TV."
Being Respectful
The joke and the few laughs that come with it might be the ultimate aim of Aguiar's comics, but he's still careful. The NASCAR comic artist's goal is not to offend anyone that he's included within the illustrations that he creates. While that can be a fine line, it's one that Aguiar has navigated well.
"I always try to not offend the participants, so that's the line I try to walk on," Aguiar adamantly stated.
With the 2023 season approaching and NASCAR's 75th Anniversary being an early storyline, Aguiar will very likely have plenty of inspiration to pull from for future illustrations.