By Seth Eggert, Staff Writer
After a strange and wild Legends of the Future Series race at Bristol Motor Speedway, Logan Helton walked away with the victory.
Strategy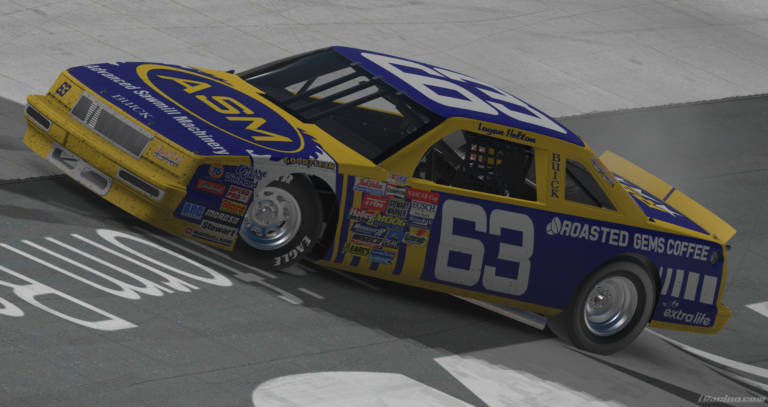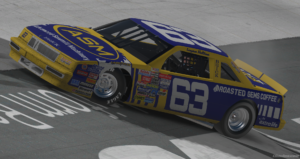 A two-tire stop under caution with under 50 laps to go in the Puffer Zone Birthday Bonanza moved Helton's No. 63 Advanced Sawmill Machinery Buick LeSabre into the lead. The battle for the lead quickly became a multi-car battle between Helton, Tyler Garey, Kevin McAdams, Shawn Butler, and Michael Frisch.
Contact between Garey and Frisch sent the No. 58 Barr Visuals machine spinning into the inside wall. The wreck collected David Brown, Nate Stewart, and others. It also set off a chain of cautions.
On-Track Madness
Pushed into overtime, Helton lined up alongside Garey. The mad scramble at 'The Last Great Coliseum' saw Butler's No. 32 Pennzoil Ford Thunderbird spinning inside the top-five. As multiple drivers piled in, the white flag was already waving. Helton, Garey, and others raced back to the checkered flag.
With the on-track chaos, Helton easily cruised to the checkered flag with three car lengths to spare over Garey. McAdams finished third with a broken right front suspension after being caught in one of the final lap wrecks. Blake Reynolds and Michael Cosey Jr rounded out the top-five.
"What a race there," Helton said. "The high side is dominant here at Bristol, especially on those restarts late race. It might have been a little bit 'Mickey Mouse' but I'll take a 'Mickey Mouse' win in this league any day if that means that I can get up there and compete with these guys.
"I wasn't so great at the beginning of the race. Bristol has never been an amazing track for me, but I figured something out in the middle of the race. I proved to be good in the middle stint because it was in that really long run that I was faster than most of the people on track. Really excited to get this win."
Notables
Despite his earlier wreck, Frisch rebounded to finish sixth. Dylan Roberts, Seth DeMerchant, Gabriel Mauricio, and Nate Stewart completed the top-10. Pole sitter Phillip McCandless finished 12th. The No. 53 Traxion.GG Buick of Justin Melillo was the hard charger of the race, up 27 spots from 41st to finish 14th.
However, Melillo's top-15 finish nearly didn't happen. During the first caution of the race, a miscommunication led to a chain of events that ultimately ended the day early for several drivers.
The 'Big One' Under Caution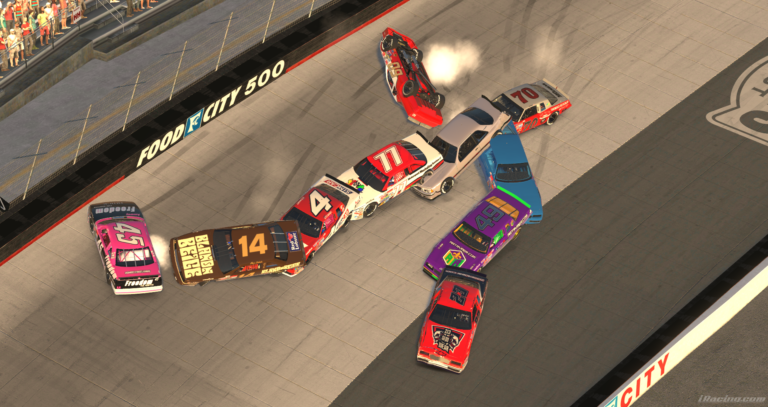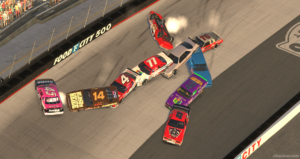 A handful of drivers that took the wave around did so too early. The server then possibly and mistakenly waved the green flag in Turn 2, with the field still behind the pace car. On the frontstretch, behind Adam Martin, one driver saw the green and hit the gas, only to realize the caution was out.
Before Jackson Van Vulkinburg could safely slow down, he was hit by Chris Jahnke, Ben Bafford, Stewart, Art Rymer, Davis Warren and more. In total, 11 cars piled into the wreck under caution.
oh no pic.twitter.com/p0oYPchc5k

— Zack Johnson 🏳️‍🌈 (@ZJohnson527) December 16, 2022
Melillo slowly drifted through the wreck, narrowly avoiding becoming the 12th car in a track-blocking wreck under caution. The eNASCAR Coca-Cola iRacing Series reporter also barely avoided incidents after receiving the free pass under one of the final cautions of the night.
Further Oddities
The green flag mysteriously waved early twice more in the 250-lap scheduled race. However, race control acted quickly, designating the race leader to state when they were in the restart zone before the field could launch, preventing more accidents under caution.
The next race for the Shenandoah Shine Legends of the Future Series iRacing league is at Rockingham Speedway on Thursday, December 29 at 8:45 p.m. ET.
The results:
1. 63-Logan Helton [5], 2. 86-Tyler Garey [2], 3. 26-Kevin McAdams [14], 4. Blake Reynolds [3], 5. 99-Michael Cosey Jr [9], 6. 58-Michael Frisch [6], 7. 74-Dylan Roberts [11], 8. 057-Seth DeMerchant [13], 9. 04-Garbriel Mauricio [22], 10. 4-Nate Stewart [28], 11. 71-Blake McCandless [4], 12. 109-Phillip McCandless [1], 13. 053-Benjamin Easterday [36], 14. 53-Justin Melillo [41], 15. 49-Art Rymer [25], 16. 32-Shawn Butler [33], 17. 67-Andrew Schwartz [30], 18. 83-David Brown [15], 19. 22-Alex Kolonics [8], 20. 84-Jon Adams [7], 21. 39-Daniel Faulkingham [17], 22. 14-Chris Jahnke [12], 23. 97-Jackson Van Volkinburg [10], 24. 35-Santiago Tirres [21], 25. 90-Michael Sturgill [27], 26. 09-Mitchell Riggs [16], 27. 87-Adam Martin [37], 28. 79-Danny Thomson [34], 29. 17-Sean Peleg [23], 30. 70-Davis Warren [32], 31. 77-Terry Murphy [42], 32. 021-RJ Williams [38], 33. 54-Cody McCorkle [40], 34. 05-Dylan Dreiling [43], 35. 2-Chris Davis [39], 36. 72-Chandler Parsons [26], 37. 041-Josh Parker [29], 38. 60-Tyler Dubosh [31], 39. 98-Matt Taylor [19], 40. 023-Michael Rosero [20], 41. 28-John Gorlinsky [18], 42. 23-Ben Bafford [24], 43. 6-Christopher Norris [35].
Lead Changes: 15 among eight drivers.
Lap Leader(s): Phillip McCandless POLE-0, Tyler Garey 1-15, Blake McCandless 16-25, Tyler Garey 26-48, Art Rymer 49, Blake McCandless 50-74, David Brown 75-88, Phillip McCandless 89-103, Seth DeMerchant 104-124, Blake Reynolds 125-143, Tyler Garey 144-200, Kevin McAdams 201-211, Logan Helton 212-256.
Laps Led: Tyler Garey 96, Logan Helton 45, Blake McCandless 35, Seth DeMerchant 20, Blake Reynolds 19, Phillip McCandless 15, Kevin McAdams 10, Art Rymer 1.
Hard Charger(s): 53-Justin Melillo (+27).
Caution Flags: Nine for 46 Laps.
Margin of Victory: 0.283 seconds.
Time of Race: One hour, 35 minutes, 2.080 seconds.
Average Speed: 86.146 MPH.
Pole Winner: 109-Phillip McCandless, 16.069 seconds, 119.41 MPH.
Fastest Lap: 63-Logan Helton, Lap 216, 16.250 seconds, 118.08 MPH.
Failed to Qualify: David Cabrera, Jeremy Clapper-Newell, Paul Gallimore, Matthew Griechen, Bret Guzik, Michael Klein, Tyler Lahnen, Trevor Perry.
*Race scheduled for 250 Laps, extended due to Overtime*