By Jacob Seelman, Featured Contributor
DAYTONA BEACH, Fla. – The scenery for Alex Bowman in the NASCAR Cup Series won't be changing anytime soon.
Announced to kick off Daytona 500 Media Day on Wednesday at Daytona Int'l Speedway, Bowman has inked a three-year contract extension with Hendrick Motorsports that will keep the Tucson, Ariz., native behind the wheel for the Rick Hendrick-owned organization through at least 2026.
In addition, Ally Financial – which has been Bowman's sole primary sponsor over the past two seasons – will continue to adorn the sides of the No. 48 Hendrick Motorsports Chevrolet through the 2028 NASCAR Cup Series campaign after finalizing a five-year contract extension.
Ally has also backed Bowman's eponymous sprint car and midget racing team, Alex Bowman Racing, in recent years as well.
"It's hard to put into words what this opportunity means to me," said Bowman. "Having support from a sponsor like Ally, a car owner like Mr. Hendrick and a team like Hendrick Motorsports is everything you could want as a race car driver. I'm pumped about what's in store for the Ally 48 this season and love the direction we're heading.
"We have a lot to accomplish, and it all starts this week in Daytona."
Wednesday's news gives the 29-year-old Bowman a sense of continued stability at NASCAR's top level as the sport begins its 75th anniversary season this week with the 65th annual Daytona 500.
"To have Mr. Hendrick and Ally have that much faith in me for that long is really special, so [I'm] glad it's signed and done before the season started, and we can get that out of the way and just focus on going and winning races," Bowman noted. "The constant questions about it every week definitely are not my favorite thing, so [I'm just] glad to have it done and over with and excited for what the future holds."
Bowman joined Hendrick Motorsports in 2018 and has made the NASCAR Cup Series playoffs every season he's been with the organization. A seven-time winner at the top level of the sport, five of Bowman's victories have come since transitioning to the No. 48 team in 2021.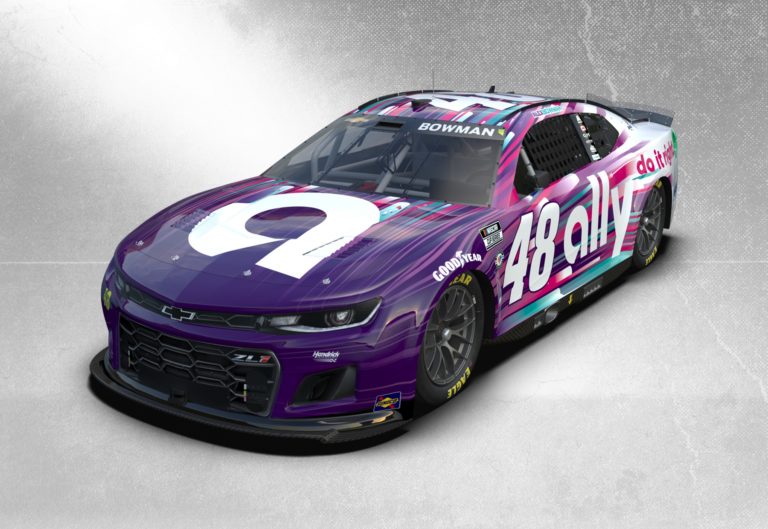 Ally has served as the full-season sponsor of the No. 48 team for the past four years, and recently added an official partnership with NASCAR to its motorsports portfolio and activation efforts.
"We couldn't ask for a better partner than Hendrick Motorsports, so extending our relationship for the next five years was a no-brainer," said Andrea Brimmer, chief marketing and public relations officer for Ally. "We're one team, and Ally, together with Hendrick Motorsports and Alex, are a winning combination. Through this extension and our recently announced NASCAR sponsorship, we are fully committed to being an active part of the sport and deepening our engagement with fans.
"Alex is our guy, and a true ally. He's an incredible driver who shares our passion for connecting to the community," Brimmer continued. "We're proud to stand by him as his longest sponsor and expand on this true partnership."
Team owner Rick Hendrick took a chance on Bowman half a decade ago, and noted that Bowman's persistence – combined with Ally's consistent support over the past two years – has led to the surge in performance that Bowman has exhibited over the more recent years of his tenure in NASCAR's premier series.
"When Ally makes a commitment to something, they're all in," said Hendrick. "It's been extremely rewarding to see their passion for the No. 48 team and the unique ways they use the sponsorship to engage with our fans. Not only do these initiatives positively influence Ally's business, they leave a lasting impact on the communities where we race. It's a special partnership that's just getting started.
"We're thrilled to extend with Alex, who is one of NASCAR's most exciting young stars. In addition to being hugely talented, he has incredible passion and commitment that set him apart. He's a proven winner, and I don't know of anyone who has worked harder to reach this level," added Hendrick. "The opportunity to continue our relationships with Alex and everyone at Ally is a great way to kick off 2023. It's a tremendous combination."
Entering Daytona 500 pole qualifying on Wednesday, Bowman is seeking a record sixth-straight front row starting spot for The Great American Race. He has earned two Daytona 500 poles during that span, both with Hendrick Motorsports.
While Bowman admitted that the history would be "fun to make," he noted that his primary focus is on winning the sport's biggest prize – the iconic Harley J. Earl Trophy – for the first time in his Cup career.
"It's [a] really cool [feeling]," Bowman tipped. "I'm not a huge part of that, I just have gotten to drive some really fast race cars down here. It's cool to be part of that and have my name attached to that … and I think we'll make it six tonight.
"Speedway racing is tough," he continued. "I think a lot of the time the guy that causes the crash doesn't end up in the crash, which is kind of interesting. You're almost better off to be that guy than not be. It's hard to make it to the end. I haven't figured out how to do it yet. I've been caught up in a lot of crashes. The magnitude of the event is really huge, though. It's cool to be a part of it and hopefully we can end up toward the front."
"I think it's been a long time since we've won a 500, so just trying to get that trophy back at Hendrick Motorsports means a lot and that's what we want to do at the end of the day."