By Jacob Seelman, Featured Contributor
DAYTONA BEACH, Fla. – After several years of tumultuous waters at the NASCAR Cup Series level, Daniel Suarez finally found a home with Trackhouse Racing and team owner Justin Marks two seasons ago.
With positivity surrounding the team and Daytona Int'l Speedway providing a fitting backdrop, Marks confirmed Wednesday that Trackhouse will be Suarez's home for the foreseeable future.
Officials from the third-year organization revealed at the start of Daytona 500 Media Day that Suarez has signed a multiyear extension that will keep him with Trackhouse Racing behind the wheel of the No. 99 Chevrolet.
Specific details of the agreement were not disclosed, but Marks tipped that Suarez will continue to be an integral part of his endeavors as Trackhouse moves forward at NASCAR's top level.
"Obviously, everyone at Trackhouse Racing is pleased with the performance and professionalism of Daniel both on and off the track," said Marks. "Culture has been of prime importance since the idea of Trackhouse existed only on a whiteboard in an office. Daniel has fulfilled every expectation and we look forward to the future.
"The best is yet to come."
Sunday's 65th Daytona 500 will mark the start of Suarez's third season with Trackhouse and his seventh Cup Series season overall. The 31-year-old native of Monterrey, Mexico, won his first Cup race last June at Sonoma (Calif.) Raceway and finished a career-best 10th in points.
"Trackhouse is my home and I am very happy with this announcement," said Suarez. "We are building something special with the No. 99 team and at Trackhouse Racing. We can't wait to get the season started Sunday."
Reflecting on the process of re-signing with Marks' team, Suarez said that the decision to stay with Trackhouse was an easy one.
"I'm very, very happy where I am. Trackhouse [and] the future of Trackhouse is very bright," he noted. "I feel like I'm experienced enough now to understand those things and to understand how important people [are].
"Everybody at Trackhouse believed in me. I've believed in Trackhouse since day one. We're building something great here," Suarez continued. "I think we have something special going on. It would be silly not to see that and to take advantage of that, to take it to the next level."
Prior to 2023, Suarez had never been with a Cup Series team longer than two seasons. Kicking off his third year with Marks and Trackhouse, Suarez noted a sense of pride and relief, as well as a hunger to build on his successes from last year.
"Last week when I signed the contract, Justin said, 'Hey, Daniel, do you realize the second that you hit the track in L.A. [for the Busch Light Clash], you were officially the longest you'd ever been with anybody in Cup?' … I never even thought about that," Suarez admitted. "If you look at it, that tells you how important it is: the consistency, working with the people, and continuing to build in those people.
"I feel so fortunate that Trackhouse has given me that opportunity, to be able to build a team around me and a team that will continue to get better as we grow."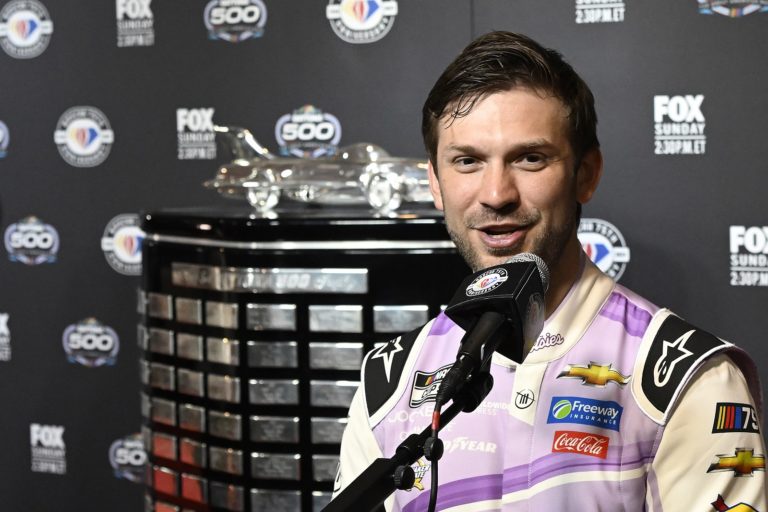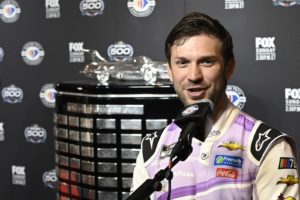 When Suarez began with Trackhouse Racing in 2021, the team was comprised of a single entry racing out of the Richard Childress Racing campus in Welcome, N.C.
Fast forward to the present day, and Team Trackhouse fields cars for both Suarez and Ross Chastain, who finished as the runner-up in Cup Series points and had a shot to win the Bill France Cup during the last race of the season in November at Arizona's Phoenix Raceway.
It's been a rapid rise that Suarez attributes to Marks' business acumen, his faith in the people around him and a fierce drive to win.
"Every year has been a process. I mean, we're still babies, man. … But we've come a long way," Suarez said. "The first year, obviously, Richard Childress Racing played a huge role. If it wasn't for them, we wouldn't be here. Huge thanks to Richard and to everyone at RCR and Chevrolet for helping us really get going. Then the second year, getting the whole [Chip] Ganassi team, that was a huge thing.
"Right now is actually the first time that things have been fairly calm. We were able to rebuild with less going on. So I feel very, very good about it. I feel we've been able to work and getting better instead of restructure the whole thing," he continued. "I feel like every year has been something new. This year, I feel like, is going to be a great opportunity for us to go out there and compete at the highest level.
Since ascending to the highest level of the sport, Suarez has been a part of numerous records in the NASCAR history books.
His win at Sonoma in 2022 made him the first Mexican-born driver to win a Cup Series race, and he was both the first Latin American and the first Drive for Diversity program graduate to win a NASCAR national series championship when he captured the Xfinity Series title in 2016.
Going into NASCAR's 75th anniversary celebration, Suarez hopes that his next page of history will be written this weekend – with a win in The Great American Race on Sunday, similar to the breakthrough victory that Trevor Bayne had with Wood Brothers Racing over a decade ago.
"When Trevor won the race, I had actually just moved to Buffalo, New York, in 2011," Suarez recalled. "I don't know what the hell I was doing there. I was living there for a couple of months. After that I moved to North Carolina.
"But I think that was my favorite moment because I thought, 'You know what? I can do this too.' It was special for me."
Regardless of Sunday's outcome, however, Suarez recognizes that every step of his NASCAR journey has helped pave a pathway for others like him to follow.
"I feel very, very humble and obviously very proud to have a small piece in [NASCAR] history," said Suarez, whose career-best Daytona 500 finish of 18th came last year with Trackhouse. "Honestly, I feel like I'm just getting started. But I feel very, very humbled and very proud to say I have contributed a little bit into this amazing sport.