By Sarah Handy, Staff Writer
NASCAR driver Brennan Poole recently competed in the NASCAR Cup Series race at Kansas, as well as both NASCAR Gander RV & Outdoors Series events. Kickin' the Tires recently spoke to Poole about Kansas, the upcoming race at New Hampshire Motor Speedway, his season and racing in general.
Kansas Speedway 1
Heading into the first of two NGROTS events at Kansas, Poole had already seen the track once on Thursday evening in the Cup Series, an event where he finished 30th.
When asked if it was difficult to pass, Poole said it was, but the experience he gained from running in the Cup race was beneficial.
"It was definitely difficult to pass, track position was pretty important," said Poole. Fortunately, for the Kansas truck race, I got to run the Cup race before the truck race. So, I had a little bit of extra knowledge and a little bit of an advantage up on some of those guys. I knew going into the truck race we were going to be too free. We maxed everything out on our previous adjustments. The first race we were incredibly, incredibly loose. I was just hanging on with my tongue out the window sideways."
"Every pit stop we were making so many adjustments that we were coming out in the back and having to come from the back every run. To get back to 12th, I thought was pretty good for that first day. I found some [really] good speed running right against the wall, which is a lot of fun. I really enjoy running against the fence."
Poole spent a majority of the race running on the high side, which he elaborated on.
"It was the only place I could find speed was to put my truck right against the wall and pack air between my truck and the wall. It was so scary because I was so loose, there were a few times in the race when it would break loose. You're right against the fence, and you don't really have room to save it because the wall is right there."
Kansas Speedway 2
It was another 12th place finish for Poole on Saturday in the second race for the NGROTS at Kansas Speedway, Kickin' the Tires asked him about the race after having raced on it for the third time in three days.
"The second day, the first run we were really good," said Poole. We drove up to second in the first stage and then I tagged the wall, lost some momentum, and fell back. We ended up finishing sixth in the first stage. Same kind of deal though, we were too loose, we ran out of adjustments."
"The end of that race, it was a long green flag run and we were just too loose, so I was hanging on for the last couple runs of that race. To finish 12th is good momentum for our small team, but we still want more and expect more even with our small operation. We work really hard; we've got some smart people on the team and with the limited resources I think everybody does a great job."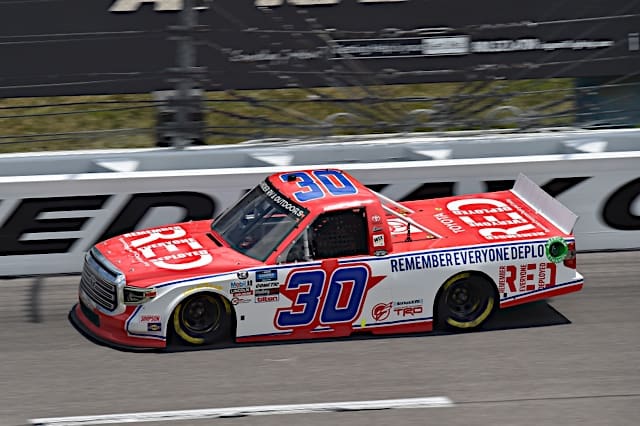 "I'm so glad I was in the Remember Everyone Deployed.Today RED truck for our solid finishes at Kansas," said Poole. "As a reminder to everyone to remember our deployed servicemen and women who are fighting for us. I wear red every Friday and ask all to join me in showing our gratitude for our military."
Tough Year in Trucks
It's been a wrong place, wrong time on a number of occasions for Poole this season, up until Kansas his best finish in a truck race in 2020 had been 15th at Las Vegas. If it wasn't getting caught up in someone else's mess, it was an equipment issue.
"We've had a tough year on the truck side of things, and I think people don't realize our truck team is very small, super limited, we have four full-time employees," explained Poole. "We're running very thin, on a very limited budget. This year has been very difficult for us without having practice, we don't have a sim or a race engineer or any of that, so it's been very challenging to come right off the truck and trailer and be fast. We've struggled with the handling of our trucks."
Michigan (Trucks)
Brennan Poole's season in trucks will end with the race at Michigan International Speedway on August 7 due to not being able to race in any truck playoff races as he's full-time in the Cup Series, running for Cup points.
"We've been stuck in that draw where the best I can start is 25th, it's been difficult. After the back-to-back 12th place finish and getting the stage points, it moved us into that next grid, so I could start as high as 11th (At Michigan). It will help us get out of that hub jub back there and start off closer to where we should respectively be running, where we would naturally qualify. Hopefully, that will give us an advantage," said Poole.
Additionally, Poole's back-to-back 12th place finishes will help with pit road selection for Michigan as well.
"If you get off pit road good, get in your box good and off good, you gain spots and that helps you too," said Poole. "At Michigan we're expecting big things, to be in the mix again, to be able to run up front and hopefully we can have track position at the end of that race and make something happen. That would be a lot of fun."
Cup Car to Truck (or vice versa)
Poole has experience in all of NASCAR's top-three series, and he often has raced in the NASCAR Gander RV & Outdoors Truck Series and the NASCAR Cup Series on the same weekend. Poole went into detail on making the adjustment from going to one series to another and what he's been experiencing this season.
"For me this year, from the cup car to the truck, whatever I'm feeling in the cup car is usually just not quite as bad as what my balance has been in the truck. But they've been almost the same," explained Poole. "The cup car in Kansas, I was pretty loose to start out with but not out of control, not totally out of the ball park, make a couple adjustments and then we were fine handling wise on the cup car."
"In the trucks, I knew going over there, okay, we're going to be too loose," said Poole. "From from the experience I've had from both teams I'm driving for the balance has been pretty similar, you're running the same tire too. Going into it I knew what to expect and that we needed to be tighter, that the balance of the truck was going to be too loose. My truck team and my cup team have been talking a little bit back and fourth on what I like, what's going to be best for me, so we can work together as a group and get the best results. I think because they've been similar it's been an easy adjustment for me to jump from one to another and gain experience."
Lack of Practice and Qualifying
The season started out with practice and qualifying taking place as it would on any normal race weekend. However, amid the COVID-19 pandemic that has been halted. No practice or qualifying will take place for the remainder of the 2020 season. The lack of both has had it's challenges as far as adjustments are concerned or where a driver would normally start if qualifying was actually taking place.
Kickin' the Tires asked Poole about the lack of both and the fact it must make things not very easy, especially with this being his first full-time season in the Cup Series.
"It's tough because I don't [really] know what to expect, because these places I haven't driven a cup car," said Poole. "Some of them I've been around them with the Xfinity car, raced the truck there. I kind of know the characteristics of the track — you watch the cup races, look back at your notes even when there from a different car, try to do the best you can.
Unfortunately, for me we're sort of starting in the back from the points draw, I try to take it easy for a moment — the first few corners, get a feel and still be bunched right up with everybody. Then I know what to expect and drive the car as hard as I can, see what I have for a balance and try make adjustments during the race. My guys have done a good job of getting it as close as they can each week.  Not getting practice, yes I wish we had it but there have been advantages and disadvantages to it for us."
2020 Cup Season Thus Far
Poole started out the year with a 16th place finish in the season opener DAYTONA 500, his first-time racing in The Great American Race. Following Daytona, they've had some parts failure and unfortunate circumstances occur, but overall heading into this weekend at New Hampshire he has one top-20, two top-25 and 11 top-30 finishes on the season.
"We've had some opportunities where we could've had some better finishes, but we've had some parts failures, things break and when you're doing it on a limited budget it's part of it. I wish some of those particular days [other races] could've gone our way but it just wasn't meant to be," expressed Poole.
"We went to Pocono and had two finishes inside the top-30, which was great. We had that momentum, Indy we got caught up in that deal on pit road which was terrible. That was a race where we had an extremely fast car, I think we would've ran inside the top-20 without all the crashes and craziness that happened that particular race. Some things that just keep happening that are out of our control, we'll keep fighting, we've had the speed. We'll have a couple chances for some good finishes, I'm looking forward to Daytona, the road course is going to be crazy, I think there is an opportunity for us there and of course another superspeedway race."
New Hampshire
Brennan Poole will see New Hampshire Motor Speedway for the first time in a Cup Series car on Sunday. However, the Texas native has made three starts in the NASCAR Xfinity Series at the track and has never finished outside the top-10.
"New Hampshire has always been a good track for me," said Poole. "For me, I've always really enjoyed going there. It's one of those tracks that naturally fits my driving style. I've grown up racing flat, worn out tracks and New Hampshire is certainly that vibe."
"You can come off the corners, slide the tires and slide into the fence," explained Poole. "There's a dip off of turn [two] and it'll snap you sideways if you're not low and straight and, in the gas, coming off the corner."
Expectations for Sunday at NHMS
Poole knows what cars he needs to beat on the race track every week and what is considered a good day for him and his team, he spoke about that and what he would be happy with when the checkered flag waves on Sunday.
"I'm going there with expectations of being able to beat all the guys we're expected to beat, and maybe if we're lucky we can get a couple other guys," said Poole. "New Hampshire isn't typically a place where there's a lot of crashes but if somethings can go your way, we can end up getting a good finish. Anytime we can finish inside the top-30 it's a victory for us.
Obviously, we all have goals, this is a particular opportunity where we could run around 25th, I'll be shooting for that. Ultimately at the end of the day if we beat all the cars we're supposed to beat, and we can run inside the top-30 that is what our goal is to do every week. I would say that goal hasn't changed, if we run inside the top-30 we'll be extremely happy as a team and an organization. But obviously if I can run 25th or even a little higher with friends coming that would be a really good day for us. You never know what can happen, that's why you race."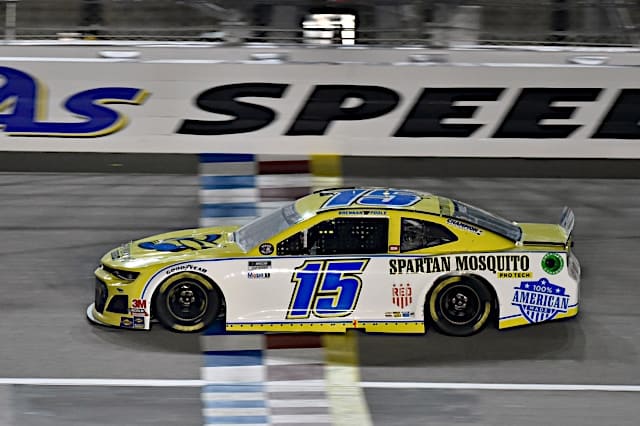 Photo By: Nigel Kinrade Photography / NKP
Fans at NHMS
NHMS will be just the fourth event since NASCAR returned to racing amid the COVID-19 pandemic to permit fans to attend. NHMS is expected to see up to 19,000 fans on Sunday. Therefore, Kickin' the Tires asked Poole if he knew fans would be in attendance this weekend.
"Yeah, I know, I have friends that are going," said Poole. My friends are coming to the New Hampshire race, a bunch of my friends are from Connecticut. It's cool, Bristol had fans and that extra energy that they bring is ridiculous. I think not having them there and now having 30,000 people in the stands at Bristol — singing the National Anthem, screaming, yelling USA — it kind of gave me chills to have it back and have that moment when I was participating in the Open race. It was really cool."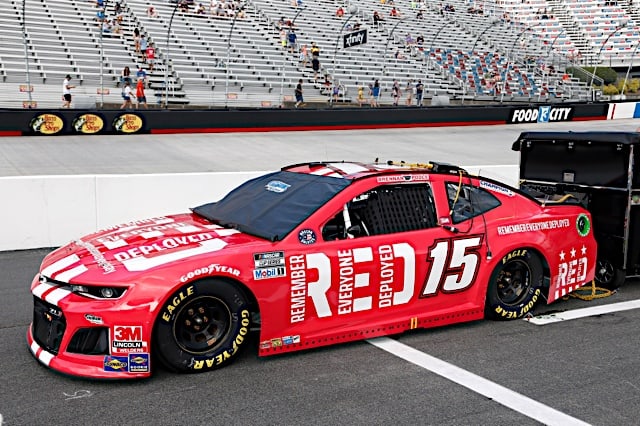 Races Without Fans
Poole further touched on the events that haven't had fans this season and how quiet it is to be at the race track whether it's been a mid-week race or a weekend race.
"The one thing is how quiet it is. Its eerie," said Poole. "I filmed it on one of my vlog episodes, I think Charlotte. You're used to walking out to the grid, music playing, people are yelling, it's madness. Now it's dead quiet, you can hear birds chirping, no noise. It's been the most odd thing. You don't have those brief interactions with your fans when you're walking to your car for qualifying, practice or those brief moments that create some excitement and energy as you're about to go race and do your job. All of that is missed, we're not doing normal driver intros, you're not going out and waving to fans – all that extra energy isn't there."
"Those moments that you have with the fans when you're walking to your car or driver intros — those moments create the energy for us," said Poole. "Once you strap into the car, you go to another place, you're focused, in your own zone and it's different, that part of it is different and deeply missed by all of us."
Tune into the Foxwoods Resort Casino 301 from NHMS on Sunday August 2 at 3:00 p.m. ET live on NBCSN and PRN to see Brennan Poole wheel the No. 15 Remember Everyone Deployed.Today Chevrolet.
Photo Credit: Nigel Kinrade Photography / NKP Photo