By Seth Eggert, Associate Editor
Stewart-Haas Racing's Chase Briscoe turned his luck around and scored a top-10 finish in Monday's Crayon 301.
Briscoe didn't enter the top-10 at New Hampshire Motor Speedway until the final stage of the 301-lap race. Through a combination of speed and strategy, the No. 14 Mobil 1 Gen G Ford Mustang battled with Bubba Wallace, Austin Dillon, and Erik Jones for a top-10 position.
As Wallace pulled away, the left the Ford Performance driver to contend with two Team Chevy cars. Dillon's fresher tires allowed him, like Wallace to stay ahead of Briscoe. Jones, however, wasn't able to clear the 28-year-old driver. When the checkered flag waved, Briscoe crossed the line in 10th.
The top-10 finish was Briscoe's first since Talladega Superspeedway in late April. Since then, he's struggled to finish inside the top-20 and received a massive penalty 120-point for a counterfeit part at Charlotte Motor Speedway. The change of pace almost felt like a victory for Briscoe.
"Out of the last two or three months, it feels like a win, truthfully," Briscoe admitted. "At the start of the race, we weren't really great by any means. But I said a couple weeks ago coming over here that it's going to take a while to figure out these cars – to learn these cars, what adjustments make the most sense and kind of what my baseline is.
"I felt like right there at the end, we were a seventh-place car, but if we could have started the weekend there, then maybe we could have been battling for the win. We're just making small steps right now and honestly to run 10th; it feels like a win – especially here. This is by far my worst racetrack.
"Hopefully we can continue on this. We just needed it honestly – something good to happen to us so we can get some momentum. Hopefully, this will kind of kickstart us in the right direction. Pocono is kind of the question mark just for how we've been running on the big tracks. Hopefully we can go there and have a good run."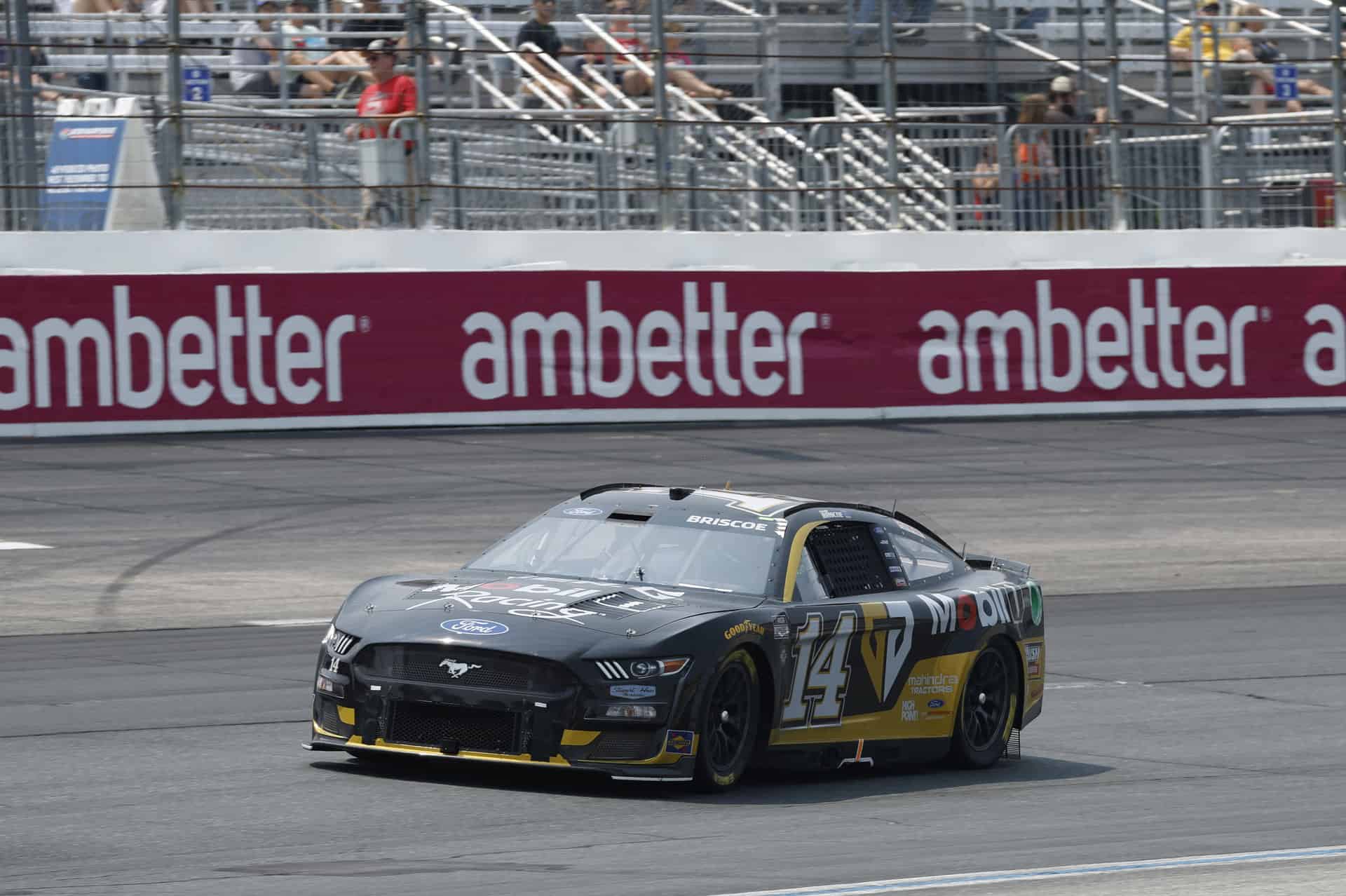 After he qualified 27th, the Mitchell, IN native did not score any points in either of the stages. The importance of track position kept the third-year driver from having a chance at additional points.
The 10th place finish was Briscoe's fifth top-10 of the 2023 NASCAR Cup Series season. It was the 18th top-10 finish of his Cup Series career.
Despite the top-10 finish, Briscoe remains 31st in the points standings because of the Charlotte penalty. He is 183-points below the playoff cutline, currently held by fellow Ford driver Michael McDowell. Only a win can guarantee the Stewart-Haas driver a chance at the NASCAR Playoffs.
Next for Briscoe is the HighPoint.com 400 at Pocono Raceway. In three Cup starts at the triangular 2.5-mile track, he has a best finish of 15th last year. Briscoe has one Xfinity Series win at 'The Tricky Triangle' in three starts.
The HighPoint.com 400 at Pocono is scheduled for Sunday, July 23 at 2:30 p.m. ET on USA Network. The race will also be broadcast on the Motor Racing Network, NBC Sports App, and SiriusXM NASCAR Radio, channel 90.