By Briar Starr, NHRA Staff Writer
It was an emotional weekend for everyone involved in the NHRA Camping World Series for the last race at the Bandimere Speedway Drag Track located in Morrison, Colorado just southwest of Denver, Colorado.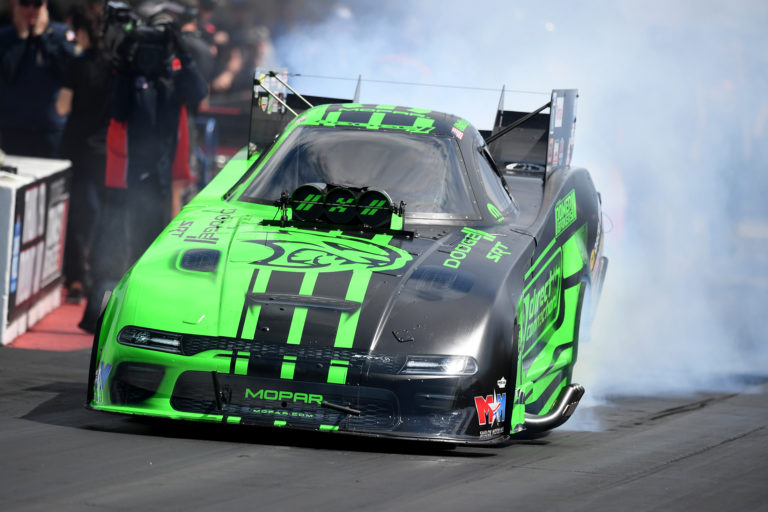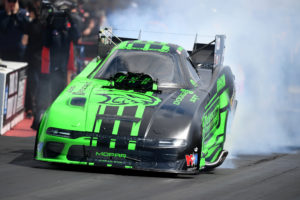 With it being the last race on the Mountains in Colorado for now, it gave a little more extra pep in the step for the drivers of the NHRA Funny Car class to collect their own piece of history of obtaining the last ever Wally at Bandimere Speedway in front of a packed crowd.
On Sunday, it was one of the most competitive eliminations at the racetrack, but as the checkered flag flew, it was Tony Stewart Racing Nitro's Matt Hagan who scored the victory and career win No. 47 and the fourth victory of the season adding to his points tally.
With Hagan not only winning the Funny Car class on Sunday, but he also doubled up by winning the Mission 2Fast2Tasty Challenge on Saturday and obtained the No. 1 qualifier for the 50th time in his career.
Hagan – Eliminated Alexis DeJoria, Ron Capps, and Chris King to pick up the win. In the finals, Hagan bested DeJoria with a 4.135 at 304.25 mph after DeJoria lost traction and shut off at half-track. She trailed Hagan to a 4.217 at 251.34 mph. The win was extra special for Hagan, as the event was sponsored by Dodge, the Tony Stewart Racing Nitro's manufacturer.
"This was a magical weekend for me and very emotional," said Hagan. "It was my mom's birthday and she passed away six months ago, so I was thinking about that throughout the weekend. But I also knew this is the last time I'd race at Bandimere Speedway and it was a Dodge-sponsored race.
"I've been on fire here before and we've blown up a lot of things on the 'Mountain,' so getting the quick qualifying time three years in a row and winning in 2021 and now today is very special. I don't think it will sink in for a few months. Wow, I took the final win light at the Dodge Power Brokers NHRA Mile-High Nationals. That's something they can never take away from me."
DeJoria – Finished runner-up for the third time this season and the ninth time of her career. Had victories impressive victories over Chad Green, Cruz Pedregon, and J.R. Todd before falling short in the finals.
"Man, that was a hard loss right there going up against Hagan," said DeJoria, the 2021 event runner-up. "It's a rematch from two years ago. I really wanted that trophy for the guys and myself and our whole team. It's the last trophy here at Bandimere.
"We came here to win, and we were gunning all weekend and had some wild rides. That Toyota 200th win is still on the table, and we're also a part of the Mission Foods #2Fast2Tasty Challenge for the next race.
"This was our third final of the year and there's many more races left, but it's tough, man," DeJoria continued. "You go up there and you just try to do your best. I almost red-lit. I almost double-stepped and red-lit but caught myself and just ended up having a bad light. We had a hurt piston pretty early on, then the pan pressure got a little too high towards the top end and it shut it off, but our incrementals were better than Hagan's for most of the run."
Ron Capps – Placed third after being eliminated in the semi-finals to eventual race winner Matt Hagan. Capps was victorious over Terry Haddock and John Force Racing's Robert Hight in the two rounds he competed in. In the semi-final match against Hagan, Capps lost on a holeshot to Hagan with Hagan cutting a light of 0.008 to Capps 0.088.
"What a bittersweet weekend. Obviously, everyone talked about wanting to take the last Bandimere Mile-High Nationals trophy but we're leaving here with our heads very high. So proud of Guido (Dean Antonelli) and the NAPA team and again, the 200th Toyota win is still out there," Capps said, referring to Toyota's 199 NHRA wins.
"I was hoping (finalists) Alexis (DeJoria) and Del (Worsham) would've got the win and they definitely deserve a win this year, but it's still up for grabs so we'll go to Seattle and keep rolling. Unfortunate loss in the semifinals today but like I told my guys, we've got a good race car, we're always in the hunt. Nothing to hang our heads about. Onto Seattle."
J.R. Todd – Finished fourth after being eliminated by DeJoria. Todd won over Tim Wilkerson and John Force and looked like he was on his way to the finals against Hagan until DeJoria drove past him. Todd ended his day with a 4.383 at 209.82 mph.
"Three semifinals in four races – that's good momentum; the DHL Toyota GR Supra ran really well today," Todd said. It's just unfortunate that it dropped a cylinder in the semifinal. It spun the tires, then the boost rev deal went off and shut the car off, and when it did that, it put the chutes out so we were a sitting duck at that point. It's a really unfortunate way to lose when we had the better car that could have contended for the win in the final round. We'll put it behind us and go on to Seattle.
"It's really hard to race up here in Denver, and I hope getting three cars in the semifinals is a sign of more good things to come. I feel like a win for at least one of our Kalitta teams is coming really soon. It's awesome to see a packed house here today – hopefully it's not the last time we race in Denver."
John Force – Force stole the spotlight on Saturday night after his qualifying run explaining how special this place was to him and his family. After all, he called it "mythical s**t" during his interview. Sunday, however, was a different story for the Peak Blue Def Chevrolet. Force qualified second with a pass of 3.920 at 323.74 mph and had a first-round match with No. 13 qualifier Steven Densham.
Force achieved a win over Densham in E1 before being eliminated by Todd in E2.
"I've said it's not over until Bandimere says it's over," Force said. "But if this really is the last race at Bandimere Speedway, the fans really showed them how much this place means. The Bandimere family built a wonderful facility here on God's Mountain. All the racers love this place.
"The next place where I hope we end up, I can't wait and I just want to wish the best of luck. I'm disappointed we couldn't get his PEAK Chevy in the winner's circle, that we didn't do better but I know we've got to get ready for the rest of the Western Swing, Seattle is next, the Flav-R-Pac Northwest Nationals, looking forward to it."
Robert Hight – Ended up sixth after an E2 loss to Ron Capps in the quarterfinals.
"Not the way this Cornwell team wanted to say goodbye to Bandimere Speedway, but fans made it special. Selling this place out, packing the grandstands, that was something to see. It's a testament to what the Bandimere family built here," Hight said. "Wish we could have had a better last memory here, but we've had some good ones. Now it's time to put our heads down and get focused for Seattle."
Cruz Pedregon – Finished Seventh and scored a round win over Bob Tasca III in E1 before being eliminated by DeJoria in E2.
"Denver has always been a challenging track because of the high altitude and low downforce to plant the tires to the track, and it was no different this year," Pedregon said. "Seems like everyone took their turns either spinning the tires or dropping cylinders. We never really recovered from the cylinder dropping and pretty much just survived E1 against (Bob) Tasca III. We both had our issues, but happened to get further down to get the win light."
"(In) E2 against Alexis (DeJoria) that was our chance to get it right and we just couldn't deliver the goods. We burnt a piston on that run and the emergency pan pressure system shut the engine off. Otherwise, I would've done what she did and gotten back in the throttle and salved the run to punch our ticket into the semi-finals. We knew we were going to have to make a good solid run eventually to have a real shot at winning, but (winning) wasn't meant to be."
"Hopefully, we'll get another opportunity to continue running up here in Denver, as we think it's a great challenge for all the teams to have a race where everyone's facing the same challenges, once or if a new track is built. Fingers crossed on that one. Great market and fan base up here. We need to be back here sooner than later."
Terry Haddock – Finished Eighth – Haddock had quite the weekend for his Funny Car team. The team blew up Saturday night during his qualifying run, which destroyed the body on the car. With there being work to do, the team stayed late into the night until 2 a.m. getting the car fixed. Unfortunately, despite their strong efforts, Haddock was eliminated by Capps in the first round.
Chad Green – Finished Ninth – Green was done early after DeJoria eliminated him with a pass of 4.818 at 224.06 mph to Green's 4.201 at 305.36 mph.
"It was so great and such an honor to be able to compete in a Nitro Funny Car with legends like John Force and Ron Capps in the last ever race at Bandimere Speedway," Green said. "What an awesome facility! I wished we could have finished better there, but the racing at that facility will be a memory I will always hold dear to me.
"The Bandimere family are some of the best and great ambassadors for the sport. I can't wait to see what they come up with next! I'm sure it will be epic!"
Tim Wilkerson – Finished 10th – Eliminated in E1 by J.R. Todd.
"This is always a tricky place to race," said Wilkerson of the challenging mile-high conditions. "We have been coming here for years, and it just never gets easier to race on the mountain. I've had a good car, and the guys are busting their butts to give us the best chance to win, and today we just didn't have it dialed to win here. We were confident, and I was looking forward to getting back in the car after the red light in Norwalk, but that's drag racing."
Alex Laughlin – Finished 11th – Lost to Robert Hight in E1.
Steven Densham – Finished 12th – Eliminated by John Force in the first round.
Bob Tasca III – Finished 13th – Uncharacteristic type day for Tasca and the Ford Performance Motorcraft Ford who was out early in E1 with a loss to Pedregon. Tasca's car was silent at half-track and Pedregon went right on by.
Chris King – Finished 14th – The firefighter out of Chicago made his return to the Funny Car class for the second time in 2023. It was a consistent weekend for King and his Funny Car team, as he made the fastest and quickest time of his career with an E.T. time of 4.724 at 242.15 mph.
Unfortunately, King's day was done before it started, as the CO2 bottle in the car ran out of air, which is required for safety purposes. As a result, he was forced to sit out, and Hagan had a bye run.
"It's definitely a learning curve especially because we don't have the same guys with us every week," said King. "We had the car ready to go, and when we went to reset the cannon and get ready to fire, we recognized that we wouldn't have been able to get on the track without major problems. It's an oversight and we're going to take it as a learning experience. At the end of the day, safety is what is most important."
Official NHRA Funny Car Results following Bandimere
Matt Hagan
Alexis DeJoria
Ron Capps
J.R. Todd
John Force
Robert Hight
Cruz Pedregon
Terry Haddock
Chad Green
Tim Wilkerson
Alex Laughlin
Steven Densham
Bob Tasca III
Chris King
Official NHRA Camping World Funny Car Point Standings
Matt Hagan, 800 points
Ron Capps, -45
Alexis Dejoria, -121
Robert Hight, -132
Chad Green, -171
Bob Tasca III, -182
Tim Wilkerson, -256
John Force, -258
J.R. Todd, -318
Cruz Pedregon, -344
Up Next: The NHRA Camping World Series will continue its Western Swing by heading up to Seattle, Washington for the Flav-R-Pac Northwest Nationals, July 21-23.