By Seth Eggert, Staff Writer
Shoved off course, slammed left and right, Bubba Wallace survived the chaos to score a top-five finish at the Indianapolis Motor Speedway Grand Prix Circuit.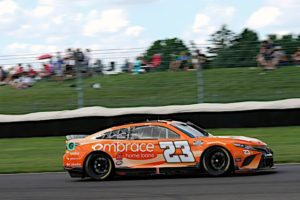 Before a race-changing debris caution with five laps to go in the Verizon 200, Wallace was running 18th. The driver of the No. 23 Embrace Home Loans Toyota Camry TRD was among the first to pit during the final pit cycle. When Wallace had ducked onto pit road, he was running inside the top-10.
As the field roared down to Turn 1 on the restart, the 23XI Racing driver was on the outside of four other cars. As the NASCAR Cup Series field turned into a game of bumper cars, Kyle Busch was shoved into Wallace. The Mobile, AL native was forced through the grass. When he rejoined the track, Wallace found himself ninth, gaining nine positions. Unlike Ross Chastain and Austin Dillon, NASCAR officials deemed that Wallace had attempted to make the corner and allowed him to keep his position.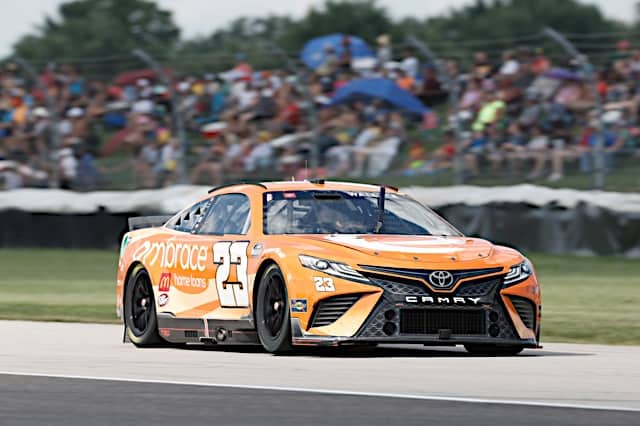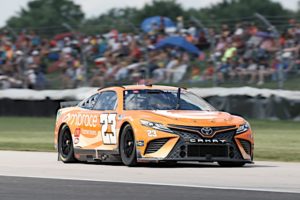 In overtime, Wallace snuck by Michael McDowell for eighth. He also passed a fading A.J. Allmendinger and Joey Logano to take the checkered flag sixth. However, the aforementioned Chastain was penalized for failing to attempt to take Turn 1. Wallace was credited with a fifth-place finish.
"Luck," Wallace joked about his first top five on a road course. "I don't know where we stacked up – top-20 all day. I've made improvements on road courses, but out there I feel like I'm busting out qualifying laps and it's just good enough to get that position. I got to figure out where to gain speed.
"I've got a great team behind me. Everybody at 23XI, I appreciate it. They gave me a decent car – a decent car to go out and learn with and survive. A good day for Embrace – in their first race for us with our Toyota Camry TRD. It was a good day. Good day to come out of Indy with a surprising top-five."
On the oval at Indianapolis Motor Speedway, Wallace had one top-five and two top-10 finishes. In last year's race on the road course, he moved into the top-10 after a wreck, however, was penalized for failing to attempt to make the Turn 4, 5, and 6 complex. The fifth-place finish marked Wallace's first top-five and top-10 on a road course.
"It's a really cool place," Wallace said of racing at Indianapolis Motor Speedway. "The last couple of races on the oval we were top-10, so it's good come back and be competitive somewhat today. I still have to do a lot of learning on these road courses, but surviving, staying in the game. Crew chief (Bootie Barker), crew, everyone at 23XI kept us in the game to have a finish like this, so it's good."
Wallace started the Verizon 200 in 19th. Barker opted to keep the 28-year-old on track at the end of Stage 2. Wallace finished the Stage in third, netting an additional eight points.
The fifth-place finish was Wallace's third this season, matching a career-high for a single season. It was his ninth career top-five in the NASCAR Cup Series and 30th top-five in NASCAR's three National Touring Series.
The top-five finish moved Wallace from 22nd to 20th in the points standings. He is 363-points behind leader Chase Elliott. Wallace is 213-points behind the playoff cutline, currently held by fellow Toyota Racing driver Martin Truex Jr. Only a victory can secure the 23XI Racing driver a spot in the NASCAR Cup Series Playoffs.
Featured Photo Credit: Photo by NKP / NKP Photo.