By Seth Eggert, Staff Writer
At Michigan International Speedway on August 7, Chris Buescher and RFK Racing will feature the LeBron James Family Foundation on the No. 17 Ford Mustang.
"We Are Family"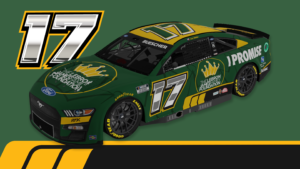 The paint scheme of the No. 17 will highlight the NBA Star's charity as well as its' I PROMISE program. The charity's program serves over 1,600 students and their families with necessities for academic success and more. The paint scheme will feature the signature green and gold colors of the LeBron James Family Foundation along with the signature crown logo and "We Are Family" philosophy.
As a minority owner of the Fenway Sports Group, James is among the ownership of RFK Racing. The NASCAR Cup Series team is co-owned by Fenway Sports Group, Brad Keselowski, and Jack Roush.
"To see our Foundation represented alongside one of the most iconic racing teams in NASCAR shows our kids from Akron that anything is possible, and nothing is out of reach for them," said Michele Campbell, Executive Director of the LeBron James Family Foundation. "It's incredible that our partners at RFK Racing have created this opportunity for them to connect with racing in a meaningful way that opens up a whole new world of possibilities for our kids and families."
2022 Statistics
In 2022 RFK Racing has scored one top-five, eight top-10s, and one pole position. The top-five finish came at Sonoma Raceway when Buescher finished runner-up. Team co-owner Keselowski scored his best finish of the season, seventh, at New Hampshire Motor Speedway.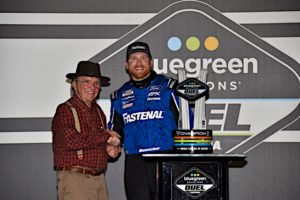 Buescher won his Bluegreen Vacations Duel race at Daytona International Speedway. Currently he sits 24th in the Cup Series points standings, 266-points behind the playoff cutline currently held by Martin Truex Jr. Buescher is 399-points behind leader Chase Elliott. Only a victory can truly lock Buescher into the 2022 NASCAR Cup Series playoffs.
James became an investor in the Fenway Sports Group in 2021. Keselowski moved from Team Penske to become a co-owner of RFK Racing following the 2021 NASCAR season. The team, which was founded in the 1980s as Roush Racing, has 137 victories in the NASCAR Cup Series across 35 seasons.
"For the students of LeBron James Family Foundation to be represented on the NASCAR track is an important symbolic first step in connecting them with the sport," said Fenway Sports Group Chairman Tom Werner. "We hope this special relationship with RFK Racing will provide these talented students with an understanding of all the opportunities available to them as they contemplate their bright future."
Michigan Statistics
At Michigan, Buescher has one top-10 finish. His sixth-place finish came in 2017 during his time with JTG-Daugherty Racing. Buescher started from the pole after an invert for the second Michigan race in 2020.
Entering the FireKeepers Casino 400 at Michigan on August 7, RFK Racing has 13 victories at the hometrack of Ford Performance. The organization has 56 top-five and 102 top-10 finishes at the 2-Mile oval. The team's most recent top-10 finish at the Brooklyn, MI track came with Ryan Newman in 2019.
So AMAZING!!!! Wow wow wow. For the love of my kids and families @LJFamFoundation @IPROMISESchool 🙏🏾✊🏾🤎👑 https://t.co/1jvdtbGPYA

— LeBron James (@KingJames) July 28, 2022
Watch Buescher and the No. 17 LeBron James Family Foundation Ford Mustang team in the FireKeepers Casino 400 at Michigan International Speedway on Sunday, August 7 on USA Network. Radio broadcast of the race will be available on the Motor Racing Network and SiriusXM NASCAR Radio.
Featured Photo Credit: Photo by NKP / NKP Photo.