By Jerry Jordan, Editor
Be thankful I took a couple of weeks off from writing my Bettin' column because I wouldn't have picked a winner at Bristol or Texas but this week, at Talladega Superspeedway, I feel confident about giving you three strong chances to visit the payout window at your favorite sportsbook.
If you are a Chase Elliott fan, that's great, but just because the oddsmakers have him as the NASCAR favorite doesn't make him a good bet. If you truly want to know the best bet on winning at Talladega, you have to go with the driver having the best odds and who is consistently in the running at the end of the race.
For me, the favorite to win this week is Joey Logano (+1200). Don't let the fact that he qualified outside the Top 20 concern you. Logano has three wins at Talladega and a tendency to be in contention for a win. Of the group of overall favorites from the WynnBET Sportsbook – sharing +1200 odds – are Elliott, Denny Hamlin, Kyle Larson, Ryan Blaney, William Byron and Logano. Still, you could conceivably bet any one of those drivers and have a shot for the win.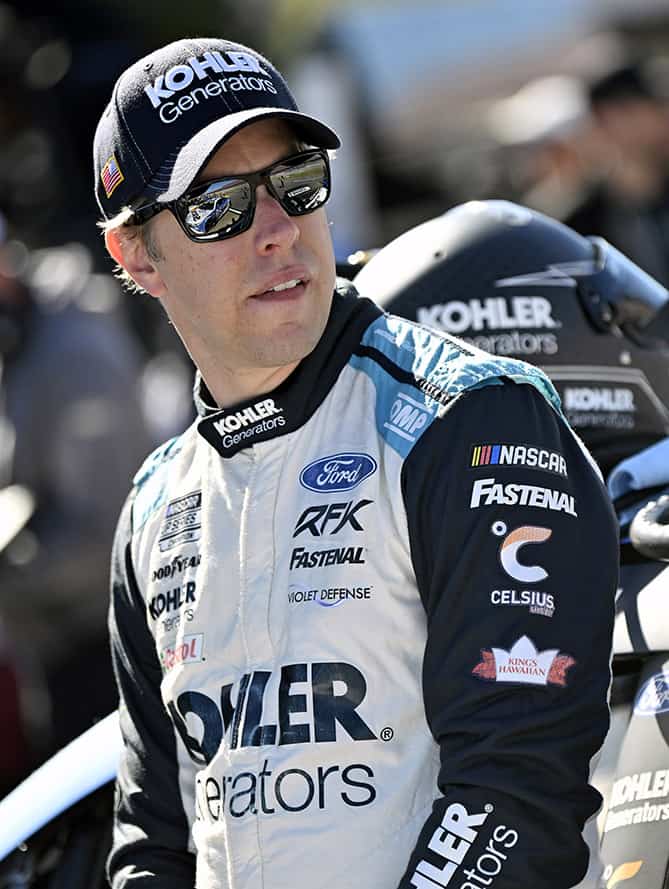 If you're looking for a driver with a little longer odds, you know, a better payout, then go with Brad Keselowski. Sure, it's a rebuilding year for Roush Fenway Keselowski Racing but look at what's been going on for the past few weeks with that team. A win, a pole, running at the front. RFK may not "be there" yet but they are moving up the ladder and at +2000, Keselowski would make a nice return on your investment.
When I was talking with Michael McDowell earlier this week, he said, there is a reason why certain drivers are always around to compete for the win at Talladega. It's not because they are lucky, it's because they have figured something out. Keselowski has the most wins (six) at Talladega of any active driver, which is why I am betting on him this week.
And speaking of McDowell, the folks at Front Row Motorsports have shown they have speed. Plus, McDowell is one of those drivers who are usually around at the end of the race. He has a win in the Daytona 500 and his runs are consistent. In fact, it's almost like he hits his peak performance on superspeedway and road courses. If you want a chance at building your bankroll on a supposed longshot bet, taking McDowell at +4000 is your chance. I don't consider McDowell a long shot.
As an aside, pay close attention to the matchups this week. There are solid bets that could help you double your money … if you are smart. Pay attention and look at the results from previous races and take your shot. Talladega has always been a solid payday for me. One last thing, Corey LaJoie is +10000 and I put $2 on him just in case.
Remember, my suggestions are based on what I see at the track and from past performances by drivers. It's called gambling for a reason and there is no guarantee the drivers I pick will end up in victory lane. If you can't afford to bet, then don't. And if you aren't 21 years of age, you cannot legally gamble, so don't even think about it. Should you have a problem with sports betting or other forms of gaming, you can get help at 1-800-522-4700.
| | |
| --- | --- |
| Chase Elliott | +1200 |
| Denny Hamlin | +1200 |
| Joey Logano | +1200 |
| Kyle Larson | +1200 |
| Ryan Blaney | +1200 |
| William Byron | +1200 |
| Austin Cindric | +1500 |
| Ross Chastain | +1500 |
| Tyler Reddick | +1500 |
| Bubba Wallace Jr | +1800 |
| Christopher Bell | +1800 |
| Kyle Busch | +1800 |
| Brad Keselowski | +2000 |
| Kevin Harvick | +2000 |
| Martin Truex Jr | +2000 |
| Noah Gragson | +2000 |
| Austin Dillon | +2500 |
| Daniel Suarez | +2500 |
| Aric Almirola | +3000 |
| Chase Briscoe | +3000 |
| Chris Buescher | +3000 |
| Eirk Jones | +3000 |
| Michael McDowell | +4000 |
| Ricky Stenhouse Jr | +4000 |
| Justin Haley | +5000 |
| Ty Gibbs | +5000 |
| Cole Custer | +7500 |
| Corey Lajoie | +10000 |
| Daniel Hemric | +10000 |
| Harrison Burton | +12500 |
| Todd Gilliland | +15000 |
| Ty Dillon | +15000 |
| BJ McLeod | +40000 |
| Cody Ware | +40000 |
| JJ Yeley | +40000 |
| Landon Cassill | +40000 |