By Justin Schuoler, Staff Writer
KANSAS CITY, Kan. – One driver fenced for the win led to disappointment and roars from the grandstands at the conclusion to the AdventHealth 400 at Kansas Speedway when Denny Hamlin collided with Kyle Larson on the final lap.
But another collision between Ross Chastain and Noah Gragson led to a conversation of fists.
Gragson approached Chastain, abruptly grabbed his collar and Chastain sent a defensive punch into Gragson's jaw. Before he could retaliate with a jab of his own, security guards stepped in between and separated the two.
To Gragson, it was boiling emotions from past incidents that led to his decision.
"Just got fenced by the 1 (of Chastain)," Gragson stated on FOX Sports. "He took care of us at Talladega, even though we're Chevrolet teammates. Didn't work with us there and then fenced us here, I'm just over it. Nobody else has the balls to at least confront him, so if you don't at least just grab him and do something, he's just going to keep doing it and I'm over it. It's the second time.
"I have respect for Justin Marks and the Trackhouse team; that's why I'm not wrecking him on the race track. I didn't even get a shot in because the security guards got in the middle of it, but nobody confronts the guy. He keeps doing it and I'm sick and tired of it.
"I'm ready to fight him."
Most rivals handle similar situations with conversations to share their viewpoints and reasonings behind their on track decisions. However, Gragson felt differently after seeing how Chastain has raced others throughout the 2023 NASCAR Cup Series season and believed there was no chance at success in conversing verbally.
"There's no talking to the guy," said a stern Gragson. "Sucks that (the security guards) all get involved, just let us two work it out and finish it off, but there's no talking to the guy."
For Chastain, he declined comment on the specifics between his fight with Gragson post-race on pit road, but shared his perspective on racing him on track.
"Tight racing off of (Turn) 4, left him one lane exactly," explained Chastain. "Everybody handles it differently, and I handled it my way."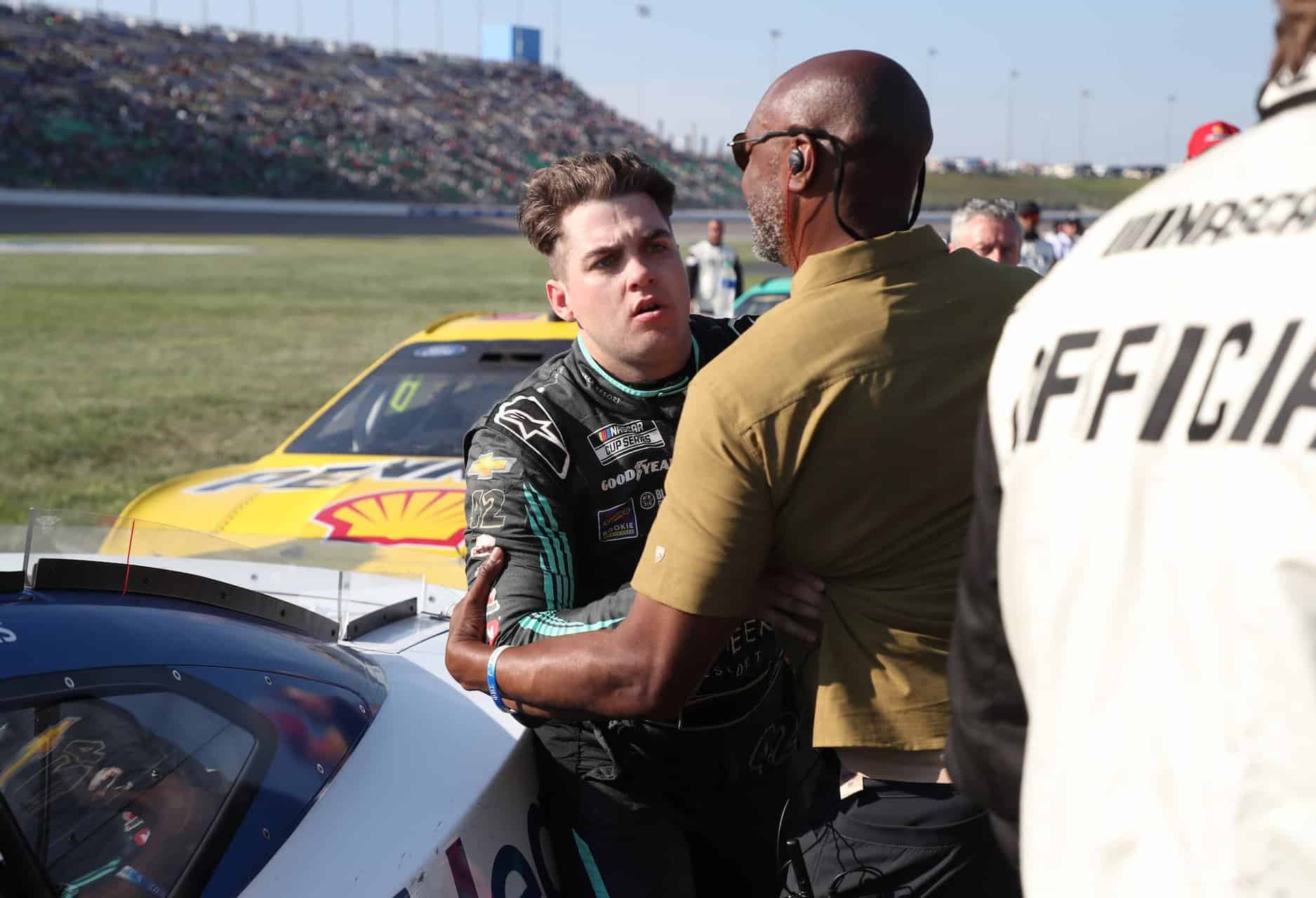 Speaking of handling it his way, Gragson also shared his perspective after the collision that damaged his car and ruined a potential top 15 run for his No. 42 Legacy Motor Club team. Instead of letting Chastain get to his head, Gragson was simply focused on bringing the best result possible for his team.
"I was trying to drive my car as fast as I could, and do the best job possible for my Sunseeker (Resort) team," Gragson continued. "What's on track is on track, and what's off track is off track."
Fans made their opinions known when Hamlin climbed out of his car in celebration on the front stretch for his 49th career win. They also let their voices be known when the fight was played on the big screen. But is the ordeal between the two settled? Gragson had two simple words in response.
"We'll see."