By Vincent Delforge, special to KickinTheTires.net
October 9, 1954 – January 24, 2022
Native of San Diego, CA, the popular driver Ron Esau left us this Monday, January 24, 2022. His eternal smile topped with a beautiful mustache having left his mark in the memory of fans of the various NASCAR series in which he participated during over 25 years.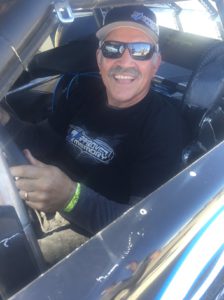 It was through his father George, himself a driver, that young Ron's passion for motor racing was born. At the age of 16 he will join his older brother Larry on the tracks. He will finish his very first career race on Speedway 605 in second. He will quickly make a name for himself in the early '70s on the Californian tracks by obtaining several victories in the Sportsman series.
In 1975 he started in the NASCAR Winston West Series (now ARCA Menards Series West) at the Riverside International Raceway. A track that he frequented in many series until its closure. Of the 17 races he competed in the NASCAR Cup Series between 1975 and 1990, no less than 12 were at Riverside.
He also had a great career in the NASCAR Southwest Series in the 80s and 90s. Winning the championship in 1986 for owner Jack Lee.
He will also be present during the first seasons of the NASCAR Camping World Truck Series, completing six races with as best result a ninth place at Evergreen in 1995.
Of all the adventures in NASCAR we saw him again during exhibition races in Australia between 1988 and 1990. Obtaining the third position at Calder Park in Melbourne in 1990.
In the NASCAR West Series, he competed in 55 races between 1975 and 1998. Obtaining his first top-10 in his third race at Gardena. He only had two full-time seasons in 1983 and 1984. Rookie of the Year in 1983, he finished fifth in the championship in 1984. By far his best season with five top-five and eight top-10s in 11 races.
Although he has used many numbers for different team owners during his racing career, he is often associated with the No. 56 of the family team Esau Racing.
To all his family and friends, we send our deepest condolences.
All his stats: www.racing-reference.info/driver/Ron_Esau/
Featured Photo Credit: Photo Courtesy of Scott Baker via Vincent Delforge.