By Seth Eggert, Associate Editor
The importance of track position in Sunday's Enjoy Illinois 300 Presented by Ticketmaster forced Michael McDowell and his Front Row Motorsports team to gamble on a two-tire call not once but twice.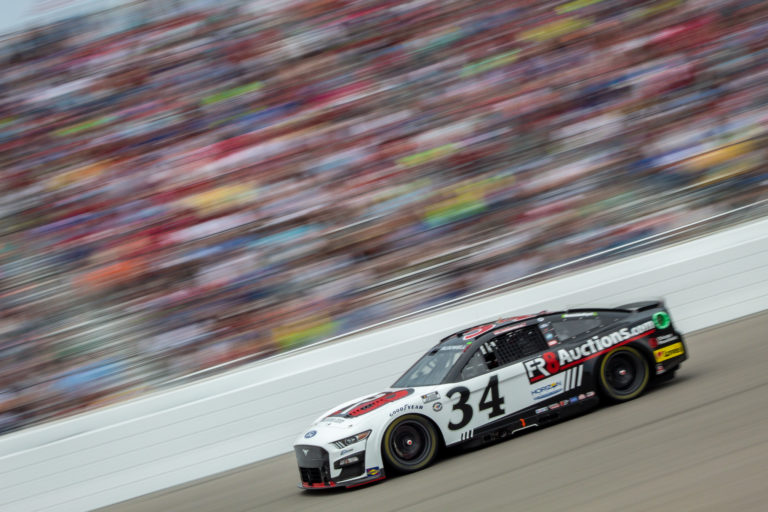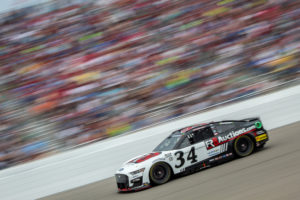 The first two-tire gamble for the No. 34 Fr8Auctions.com Ford Mustang came at the end of Stage 1 at World Wide Technology Raceway at Gateway. However, McDowell's time up front ended abruptly. Entering Turn 1, he spun after contact from Ross Chastain. The veteran driver bided his time and waited until a late-race caution to repeat the strategy.
With 40 laps to go McDowell was among those that stayed out, having pitted for two tires under the previous caution 15 laps earlier. Repeated cautions and two red flags allowed the Phoenix, AZ native to cool the tires. However, those same cautions gave those on fresh tires more opportunities to go on the attack.
After five cautions and one overtime attempt, McDowell slipped out of the top-five. He fell back to ninth after having to lift to avoid the wall. McDowell held off charges from fellow Ford Performance drivers Kevin Harvick and Chris Buescher to take the checkered flag inside the top-10.
"We kind of learned last year that track position is super important," McDowell admitted. "Taking two tires was an option last year, so we knew it'd be one this year. We did it early on and got track position, but we got spun out. So, went all the way to the back and then we put four on, and then you're just buried back there.
"We had to go for it again, put two on and just left two on. We never took four again. There were a lot of laps on the left-side tires, but track position was super important. We had a great FR8 Auctions Ford Mustang, so I knew we could kind of hold our ground. Those last few cautions kind of hurt us a bit, but still came away with a Top-10. So, it was a good day."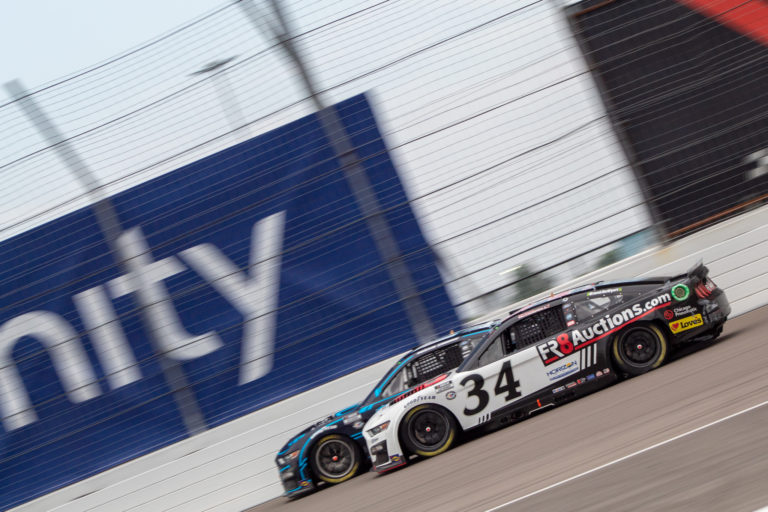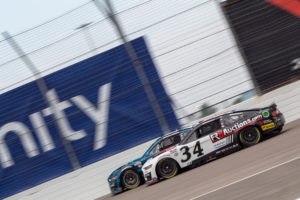 The spin in Stage 1 sent McDowell to the back of the pack. With two long green flag runs in the second Stage, he was unable to climb back into the top-10 to earn any additional points.
The ninth-place finish is McDowell's second top-10 this season, his first since Richmond Raceway. It was also the 31st top-10 finish in his NASCAR Cup Series career.
The top-10 finish moved McDowell from 21st to 20th in the points standings. He is 217-points behind leader Blaney and 35 below the playoff cutline currently held by Daniel Suarez.
Next for McDowell is the Toyota / Save Mart 350 at Sonoma Raceway. The 38-year-old has 10 starts at the 1.99-mile road course with a best finish of third last season.
The Toyota / Save Mart 350 at Sonoma is scheduled for Sunday, June 11 at 3:30 p.m. ET on FOX. The race will also be broadcast on the Performance Racing Network and SiriusXM NASCAR Radio, channel 90.