KANSAS CITY, Kan. – They say in racing that the last lap is all that matters.
For Denny Hamlin, that rings true to him.
After leading 63 laps and a majority of the final stage, he was en route to what looked to be his 51st career NASCAR Cup Series victory.
A late race caution and various pit strategies would keep that number at 50 by less than half a second.
"The car was there," said a frustrated Hamlin after the Hollywood Casino 400. "Everything was there that we needed to win the race. This one just stings a little bit more for me personally. Just having a car dominant at the end and not winning, that's what stings if anything. You're just counting down laps at the end, waiting on somebody to cause a caution and you just can't avoid it."
It's a bittersweet runner-up for the veteran Joe Gibbs Racing driver as he watched his 23XI Racing counterpart take the victory.
"I feel like I've been faster than them every time," chuckled Hamlin. "Things worked out in different ways, but we've been really fast. They bring speed every week we see it. I'm really proud of what they're doing. They're doing a lot of great things. Certainly, if we didn't win, that was the next best-case scenario. I'm too caught up in not winning for the 11 team."
The late caution caused by Chris Buescher caused many teams to roll the dice with pit strategy. As all the leaders came down pit road, some took two tires while most grabbed four fresh Goodyear Eagles. Daniel Suarez was the only car that elected to stay out for the overtime finish.
But before the green flag waved again to decide the winner of the second race of the Round of 16 Playoffs, commotion was already building in the restart zone. Hamlin noticed that Kyle Larson was laying back on the restart. That distraction caused both to miscalculate the restart and fight an extra row behind.
That one move may have been the deciding factor for Hamlin.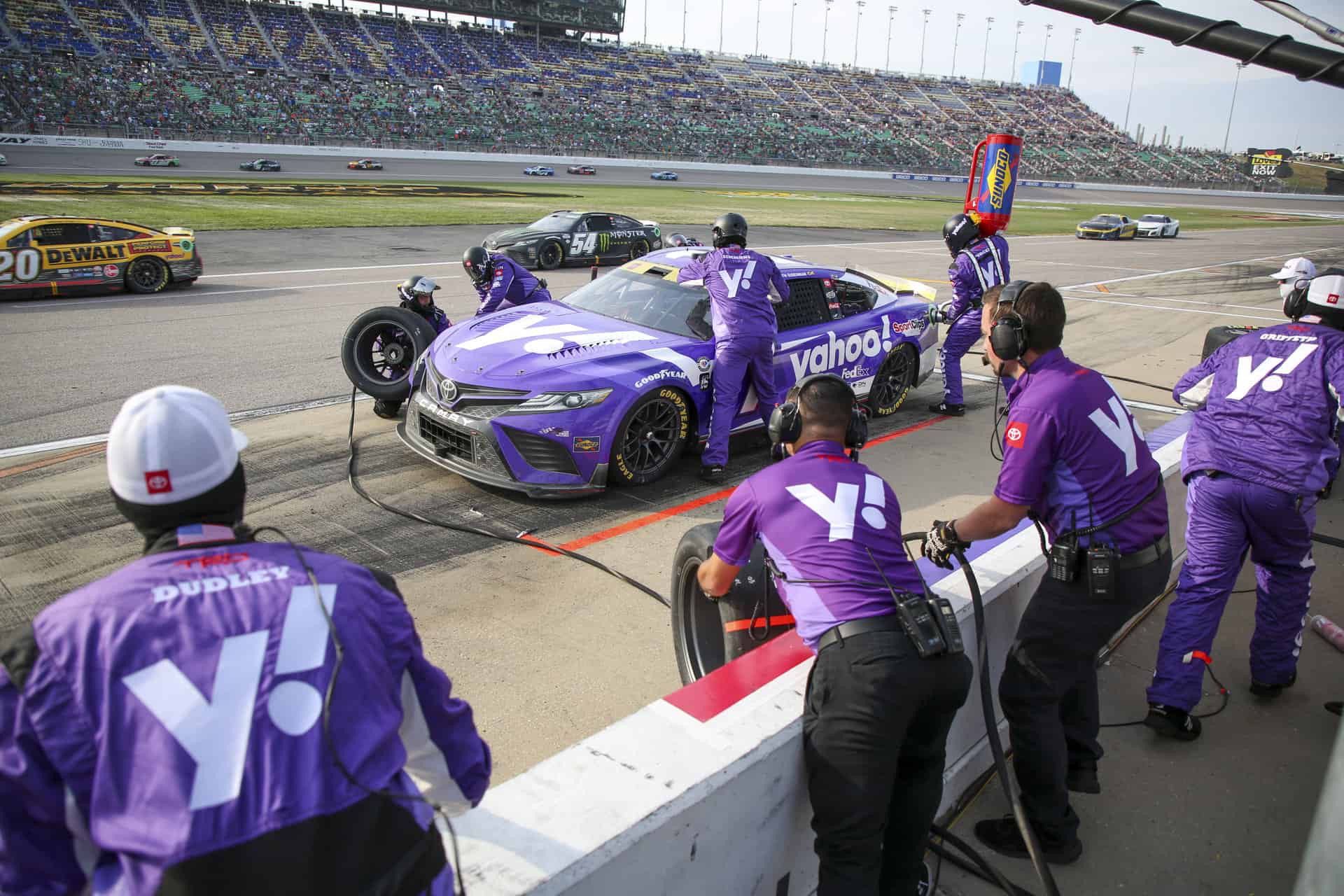 "(Larson) lagging back on us really hurt," he explained, walking reporters through the final restart. "It's super advantageous to lag back if you can get away with it, and it just seems like the end of the race, it really let that stuff go. I'm trying to back up to him because I can't afford to let him just lag way back and then split us three wide. So, I back up, the field goes green, then I'm sitting there in no man's land, so it's just a bad scenario. It allowed (Reddick) to hit the gap that I wanted to hit in the middle of (Turns) 1 and 2.
"Battling back to second is okay, but it was a tough, tough caution that wasn't good for us."
It was yet another race that got away from Hamlin and he feels it more now than ever before. After a 19-year career in the world's highest level of stock car racing, he has already accumulated 50 wins. That puts him tied for 14th, which he recognizes could be higher if he had a few more of the endings go his way instead.
"That's the thing about NASCAR racing that is so different from other sports is that things out of your control can keep you from winning," admitted Hamlin. "It doesn't matter about your performance, it's the performance of all the others. The competition can make a mistake and it cost you. And so that's why you just go for race wins and if you make it and you keep advancing, that's great. And if you can race for a championship in a one race winner-take-all, that's great. But there's still a caution that can come out at the end. You just roll the dice and hope you don't crap out.
"Back-to-back weeks, super strong car. I'm really happy about that. We just keep putting ourselves up front and hope we don't have crazy hokey stuff at the end."
Looking into the what ifs of racing is what makes drivers and their crew better. It's a way to understand different setups, strategies and calls that can help give them the shot they need at the end of a race to make it go in their favor. It can even come down to choosing the right lane for the restart with the choose cone.
"If I control the (restart), maybe two tires would work. I would have been on the front row, but I wouldn't have controlled the restart (with Suarez staying out), so it's very tough to say. (Jones) was actually very good on restarts all day, and then we blew by him on the last lap like he was sitting still. So, we would have probably got freight trained as well."
Hamlin heads into the first elimination race next Saturday night at Bristol Motor Speedway with a 49-point buffer above the cut line. If he earns at least 14 points during the race (achievable during the first two stages), he will lock into the Round of 12 regardless of a new winner.
However, as was his first-hand experience with these first two races, the only one that truly knows what is coming next is time itself.
"Who knows, right? Ifs and buts."