By Seth Eggert, Staff Writer
A strong run by Kevin Harvick was nearly derailed by a terrible pit stop late in the Toyota / Save Mart 350 at Sonoma Raceway.
With about 35 laps to go, Harvick was one of the first to duck onto pit road for his final stop in the 110-lap race. The Stewart-Haas Racing driver was running third in the No. 4 GearWrench Ford Mustang. As the Rodney Childers-led crew moved from the right side to the left, the pit stop appeared to be normal. However, Harvick's car wasn't jacked up high enough on the left side. The delay cost the 2014 NASCAR Cup Series champion nine seconds.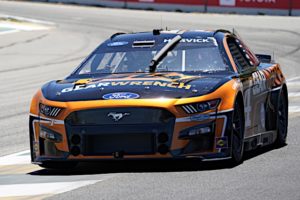 Luckily, a caution a few laps later aided Harvick's rebound at the 1.99-mile road course. He restarted just outside the top-five with 23 laps to go. In the chaotic scramble after the restart, he slipped by fellow Ford Performance drivers Ryan Blaney and Austin Cindric for fifth and fourth respectively. However, once the tires wore out, the Bakersfield, Calif. native was left to cruise to a fourth-place finish.
"We had a good car, just a terrible pit stop at the end," explained Harvick. "Fought our way back forward. Good car all day, had a decent finish, but we didn't finish where we should've. (We needed) something that wasn't a 20-second pit stop. It took away all of our chances, we should have finished second at worst. We screw up every week."
Harvick qualified 23rd after one of the only 50-minute practice sessions for the Cup Series this season. Pit strategy gave the 46-year-old track position, but ultimately cost him a chance for Stage points. Harvick finished outside the top-10 in the first two Stages.
The fourth-place finish is the fourth top-five finish for Harvick this year. It is also the 740th top-five finish in his 22-year Cup Series career. Harvick's last top-five finish came at the Coca-Cola 600 two races ago.
The top-five moved Harvick up from 13th to 12th in the Cup Series points standings. However, he is the first driver on the outside, looking in for the playoffs. Harvick is seven points behind the cutline, held by teammate Aric Almirola. He is also 120-points behind leader Chase Elliott.
Featured Photo Credit: Photo by Rachel Schuoler / Kickin' the Tires.